Abstract
Cancer relapse after chemotherapy remains a main cause of cancer-related death. Although the relapse is thought to result from the propagation of resident cancer stem cells1, a lack of experimental platforms that enable the prospective analysis of cancer stem cell dynamics with sufficient spatiotemporal resolution has hindered the testing of this hypothesis. Here we develop a live genetic lineage-tracing system that allows the longitudinal tracking of individual cells in xenotransplanted human colorectal cancer organoids, and identify LGR5+ cancer stem cells that exhibit a dormant behaviour in a chemo-naive state. Dormant LGR5+ cells are marked by the expression of p27, and intravital imaging provides direct evidence of the persistence of LGR5+p27+ cells during chemotherapy, followed by clonal expansion. Transcriptome analysis reveals that COL17A1—a cell-adhesion molecule that strengthens hemidesmosomes—is upregulated in dormant LGR5+p27+ cells. Organoids in which COL17A1 is knocked out lose the dormant LGR5+p27+ subpopulation and become sensitive to chemotherapy, which suggests that the cell–matrix interface has a role in the maintenance of dormancy. Chemotherapy disrupts COL17A1 and breaks the dormancy in LGR5+p27+ cells through FAK–YAP activation. Abrogation of YAP signalling prevents chemoresistant cells from exiting dormancy and delays the regrowth of tumours, highlighting the therapeutic potential of YAP inhibition in preventing cancer relapse. These results offer a viable therapeutic approach to overcome the refractoriness of human colorectal cancer to conventional chemotherapy.
Relevant articles
Open Access articles citing this article.
Federica Francescangeli

,

Maria Laura De Angelis

…

Ann Zeuner

Cancer and Metastasis Reviews Open Access 09 February 2023

Masaki Honda

,

Masashi Kadohisa

…

Taizo Hibi

Inflammation and Regeneration Open Access 03 February 2023

Tao Zhang

,

Ruiting Hu

…

Ganzhen Deng

Cell Communication and Signaling Open Access 23 January 2023
Access options
Access Nature and 54 other Nature Portfolio journals
Get Nature+, our best-value online-access subscription
$29.99 / 30 days
cancel any time
Subscribe to this journal
Receive 51 print issues and online access
$199.00 per year
only $3.90 per issue
Rent or buy this article
Get just this article for as long as you need it
$39.95
Prices may be subject to local taxes which are calculated during checkout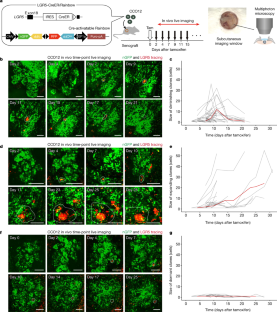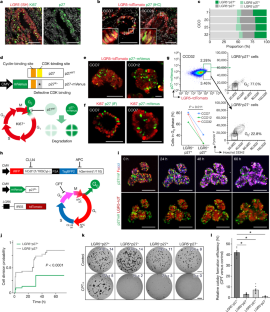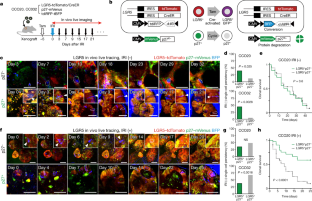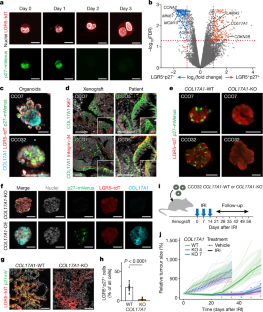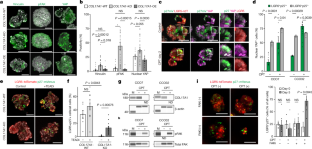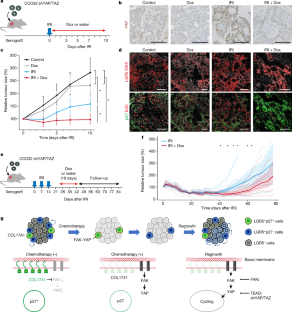 Data availability
All data relevant to this study are available from the corresponding author upon reasonable request. RNA-sequencing data were deposited in the DNA Data Bank of Japan (DDBJ) database under the accession number JGAS000350 (study) and JGAD000464 (dataset) (https://humandbs.biosciencedbc.jp/en/hum0201-v5). The human genome hg38 was obtained from GENCODE, and the YAP target genes were derived from previously reported YAP–TAZ–TEAD direct targets43. Informed consent for depositing genomic sequencing data could not be obtained from the patients with IDs CCO7 and CCO20, and the data are therefore provided as raw counts in Supplementary Table 4. Source data are provided with this paper.
References
Shen, S., Vagner, S. & Robert, C. Persistent cancer cells: the deadly survivors. Cell 183, 860–874 (2020).

Sharma, S. V. et al. A chromatin-mediated reversible drug-tolerant state in cancer cell subpopulations. Cell 141, 69–80 (2010).

Ramirez, M. et al. Diverse drug-resistance mechanisms can emerge from drug-tolerant cancer persister cells. Nat. Commun. 7, 10690 (2016).

Russo, M. et al. Adaptive mutability of colorectal cancers in response to targeted therapies. Science 366, 1473–1480 (2019).

Hong, S. P. et al. Single-cell transcriptomics reveals multi-step adaptations to endocrine therapy. Nat. Commun. 10, 3840 (2019).

Maynard, A. et al. Therapy-induced evolution of human lung cancer revealed by single-cell RNA sequencing. Cell 182, 1232–1251 (2020).

Dhimolea, E. et al. An embryonic diapause-like adaptation with suppressed Myc activity enables tumor treatment persistence. Cancer Cell 39, 240–256 (2021).

Echeverria, G. V. et al. Resistance to neoadjuvant chemotherapy in triple-negative breast cancer mediated by a reversible drug-tolerant state. Sci. Transl. Med. 11, eaav0936 (2019).

Merino, D. et al. Barcoding reveals complex clonal behavior in patient-derived xenografts of metastatic triple negative breast cancer. Nat. Commun. 10, 766 (2019).

Rehman, S. K. et al. Colorectal cancer cells enter a diapause-like DTP state to survive chemotherapy. Cell 184, 226–242 (2021).

Batlle, E. & Clevers, H. Cancer stem cells revisited. Nat. Med. 23, 1124–1134 (2017).

Shimokawa, M. et al. Visualization and targeting of LGR5+ human colon cancer stem cells. Nature 545, 187–192 (2017).

Cortina, C. et al. A genome editing approach to study cancer stem cells in human tumors. EMBO Mol. Med. 9, 869–879 (2017).

Ikeda, W., Sasai, K. & Akagi, T. Imaging window device for subcutaneous implantation tumor. Methods Mol. Biol. 1763, 153–163 (2018).

Lopez-Garcia, C., Klein, A. M., Simons, B. D. & Winton, D. J. Intestinal stem cell replacement follows a pattern of neutral drift. Science 330, 822–825 (2010).

Snippert, H. J. et al. Intestinal crypt homeostasis results from neutral competition between symmetrically dividing Lgr5 stem cells. Cell 143, 134–144 (2010).

Oki, T. et al. A novel cell-cycle-indicator, mVenus-p27K−, identifies quiescent cells and visualizes G0–G1 transition. Sci Rep. 4, 4012 (2014).

Lenos, K. J. et al. Stem cell functionality is microenvironmentally defined during tumour expansion and therapy response in colon cancer. Nat. Cell Biol. 20, 1193–1202 (2018).

Sakaue-Sawano, A. et al. Genetically encoded tools for optical dissection of the mammalian cell cycle. Mol. Cell 68, 626–640 (2017).

Liu, N. et al. Stem cell competition orchestrates skin homeostasis and ageing. Nature 568, 344–350 (2019).

Wang, W. et al. Hemidesmosomes modulate force generation via focal adhesions. J. Cell Biol. 219, e201904137 (2020).

Owen, G. R., Meredith, D. O., ap Gwynn, I. & Richards, R. G. Focal adhesion quantification—a new assay of material biocompatibility? Review. Eur. Cell Mater. 9, 85–96 (2005).

Kurppa, K. J. et al. Treatment-induced tumor dormancy through YAP-mediated transcriptional reprogramming of the apoptotic pathway. Cancer Cell 37, 104–122 (2020).

Kreso, A. et al. Variable clonal repopulation dynamics influence chemotherapy response in colorectal cancer. Science 339, 543–548 (2013).

Nassar, D. & Blanpain, C. Cancer stem cells: basic concepts and therapeutic implications. Annu. Rev. Pathol. 11, 47–76 (2016).

Phan, T. G. & Croucher, P. I. The dormant cancer cell life cycle. Nat. Rev. Cancer 20, 398–411 (2020).

Giancotti, F. G. Mechanisms governing metastatic dormancy and reactivation. Cell 155, 750–764 (2013).

Hadfield, G. The dormant cancer cell. Br. Med. J. 2, 607–610 (1954).

Balaban, N. Q., Merrin, J., Chait, R., Kowalik, L. & Leibler, S. Bacterial persistence as a phenotypic switch. Science 305, 1622–1625 (2004).

Fumagalli, A. et al. Plasticity of Lgr5-negative cancer cells drives metastasis in colorectal cancer. Cell Stem Cell 26, 569–578 (2020).

Basak, O. et al. Induced quiescence of Lgr5+ stem cells in intestinal organoids enables differentiation of hormone-producing enteroendocrine cells. Cell Stem Cell 20, 177–190 (2017).

Watanabe, M. et al. Type XVII collagen coordinates proliferation in the interfollicular epidermis. eLife 6, e26635 (2017).

Moilanen, J. M. et al. Collagen XVII expression correlates with the invasion and metastasis of colorectal cancer. Hum. Pathol. 46, 434–442 (2015).

Liu, C. C. et al. Suspension survival mediated by PP2A-STAT3-Col XVII determines tumour initiation and metastasis in cancer stem cells. Nat. Commun. 7, 11798 (2016).

Sugimoto, S. et al. Reconstruction of the human colon epithelium in vivo. Cell Stem Cell 22, 171–176 (2018).

Puig, I. et al. TET2 controls chemoresistant slow-cycling cancer cell survival and tumor recurrence. J. Clin. Invest. 128, 3887–3905 (2018).

Sanchez-Danes, A. et al. A slow-cycling LGR5 tumour population mediates basal cell carcinoma relapse after therapy. Nature 562, 434–438 (2018).

Cao, W. et al. LGR5 marks targetable tumor-initiating cells in mouse liver cancer. Nat. Commun. 11, 1961 (2020).

Touil, Y. et al. Colon cancer cells escape 5FU chemotherapy-induced cell death by entering stemness and quiescence associated with the c-Yes/YAP axis. Clin. Cancer Res. 20, 837–846 (2014).

Nguyen, C. D. K. & Yi, C. YAP/TAZ signaling and resistance to cancer therapy. Trends Cancer 5, 283–296 (2019).

Gregorieff, A., Liu, Y., Inanlou, M. R., Khomchuk, Y. & Wrana, J. L. Yap-dependent reprogramming of Lgr5+ stem cells drives intestinal regeneration and cancer. Nature 526, 715–718 (2015).

Yui, S. et al. YAP/TAZ-dependent reprogramming of colonic epithelium links ECM remodeling to tissue regeneration. Cell Stem Cell 22, 35–49 (2018).

Zanconato, F. et al. Genome-wide association between YAP/TAZ/TEAD and AP-1 at enhancers drives oncogenic growth. Nat. Cell Biol. 17, 1218–1227 (2015).

Barry, E. R. et al. Restriction of intestinal stem cell expansion and the regenerative response by YAP. Nature 493, 106–110 (2013).

Cheung, P. et al. Regenerative reprogramming of the intestinal stem cell state via Hippo signaling suppresses metastatic colorectal cancer. Cell Stem Cell 27, 590–604 (2020).

Kroemer, G., Galluzzi, L., Kepp, O. & Zitvogel, L. Immunogenic cell death in cancer therapy. Annu. Rev. Immunol. 31, 51–72 (2013).

Fujii, M. et al. A colorectal tumor organoid library demonstrates progressive loss of niche factor requirements during tumorigenesis. Cell Stem Cell 18, 827–838 (2016).

Toshimitsu, K. et al. Organoid screening reveals epigenetic vulnerabilities in human colorectal cancer. Nat. Chem. Biol. 18, 605–614 (2022).

Fujii, M., Matano, M., Nanki, K. & Sato, T. Efficient genetic engineering of human intestinal organoids using electroporation. Nat. Protoc. 10, 1474–1485 (2015).

Filonov, G. S. et al. Bright and stable near-infrared fluorescent protein for in vivo imaging. Nat. Biotechnol. 29, 757–761 (2011).

Sato, T. et al. Single Lgr5 stem cells build crypt-villus structures in vitro without a mesenchymal niche. Nature 459, 262–265 (2009).

Ohgushi, M., Minaguchi, M. & Sasai, Y. Rho-signaling-directed YAP/TAZ activity underlies the long-term survival and expansion of human embryonic stem cells. Cell Stem Cell 17, 448–461 (2015).
Acknowledgements
This work was supported by the Project for Cancer Research and Therapeutic Evolution (P-CREATE) from the Japan Agency for Medical Research and Development (AMED) (grant number 19cm0106206h0004), JSPS KAKENHI (grant number 20K17030), AMED-CREST (grant number JP20gm1210001), JST Moonshot R&D (grant number JPMJMS2022), Keio University Academic Development Funds and a Grant-in-Aid for Scientific Research on Innovative Areas 'Fluorescence Live Imaging' of the Ministry of Education, Culture, Sports, Science, and Technology (Japan) and Stand Up To Cancer (SU2C Convergence 3.1416) (USA). We thank the Collaborative Research Resources, School of Medicine, Keio University for technical assistance and JSR–Keio University Medical and Chemical Innovation Center (JKiC, JSR Corporation) for assistance with in vivo imaging. We also thank T. Kitamura for providing the p27-mVenus vector, and T. Yano, R. Kawakami and T. Saito for discussions.
Ethics declarations
Competing interests
T.S. is an inventor on several patents related to organoid culture.
Peer review
Peer review information
Nature thanks Silvia Fre, Johanna Ivaska, Vivian Li and the other, anonymous, reviewer(s) for their contribution to the peer review of this work.
Additional information
Publisher's note Springer Nature remains neutral with regard to jurisdictional claims in published maps and institutional affiliations.
Extended data figures and tables
Supplementary information
Rights and permissions
Springer Nature or its licensor holds exclusive rights to this article under a publishing agreement with the author(s) or other rightsholder(s); author self-archiving of the accepted manuscript version of this article is solely governed by the terms of such publishing agreement and applicable law.
About this article
Cite this article
Ohta, Y., Fujii, M., Takahashi, S. et al. Cell–matrix interface regulates dormancy in human colon cancer stem cells. Nature 608, 784–794 (2022). https://doi.org/10.1038/s41586-022-05043-y
Received:

Accepted:

Published:

Issue Date:

DOI: https://doi.org/10.1038/s41586-022-05043-y
Comments
By submitting a comment you agree to abide by our Terms and Community Guidelines. If you find something abusive or that does not comply with our terms or guidelines please flag it as inappropriate.