Abstract
High cholesterol is a major risk factor for cardiovascular disease1. Currently, no drug lowers cholesterol through directly promoting cholesterol excretion. Human genetic studies have identified that the loss-of-function Asialoglycoprotein receptor 1 (ASGR1) variants associate with low cholesterol and a reduced risk of cardiovascular disease2. ASGR1 is exclusively expressed in liver and mediates internalization and lysosomal degradation of blood asialoglycoproteins3. The mechanism by which ASGR1 affects cholesterol metabolism is unknown. Here, we find that Asgr1 deficiency decreases lipid levels in serum and liver by stabilizing LXRα. LXRα upregulates ABCA1 and ABCG5/G8, which promotes cholesterol transport to high-density lipoprotein and excretion to bile and faeces4, respectively. ASGR1 deficiency blocks endocytosis and lysosomal degradation of glycoproteins, reduces amino-acid levels in lysosomes, and thereby inhibits mTORC1 and activates AMPK. On one hand, AMPK increases LXRα by decreasing its ubiquitin ligases BRCA1/BARD1. On the other hand, AMPK suppresses SREBP1 that controls lipogenesis. Anti-ASGR1 neutralizing antibody lowers lipid levels by increasing cholesterol excretion, and shows synergistic beneficial effects with atorvastatin or ezetimibe, two widely used hypocholesterolaemic drugs. In summary, this study demonstrates that targeting ASGR1 upregulates LXRα, ABCA1 and ABCG5/G8, inhibits SREBP1 and lipogenesis, and therefore promotes cholesterol excretion and decreases lipid levels.
Relevant articles
Open Access articles citing this article.
Qin Luo

,

Jingfei Chen

…

Fei Luo

Lipids in Health and Disease Open Access 04 September 2023

Yiqi Zhao

,

Hao Jia

…

Jiangping Song

Current Cardiology Reports Open Access 26 July 2023

Yanan Liu

,

Longmiao Hu

…

Xiufeng Pang

Nature Communications Open Access 15 July 2023
Access options
Access Nature and 54 other Nature Portfolio journals
Get Nature+, our best-value online-access subscription
$29.99 / 30 days
cancel any time
Subscribe to this journal
Receive 51 print issues and online access
$199.00 per year
only $3.90 per issue
Rent or buy this article
Prices vary by article type
from$1.95
to$39.95
Prices may be subject to local taxes which are calculated during checkout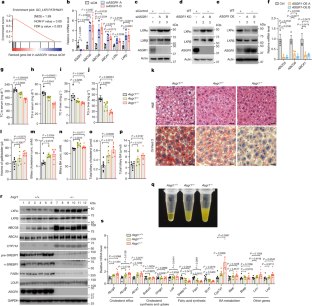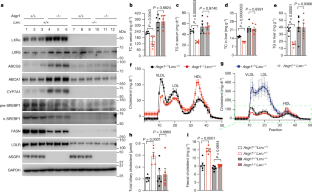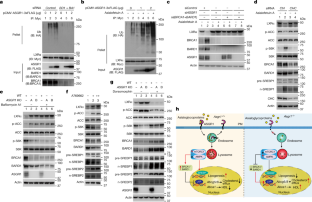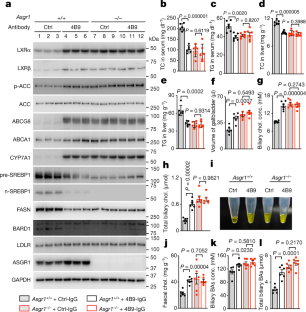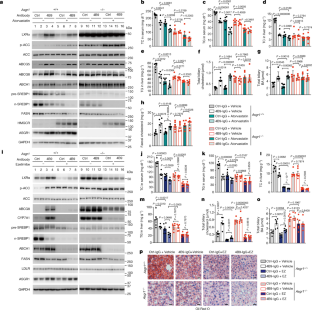 Data availability
All source data for immunoblotting are shown in Supplementary Fig. 1. All the other source data for Figs. 1, 2, 4, 5 and Extended Data Figs. 1, 2, 4–12 are provided with this paper. Next-generation sequencing data files that support the findings of this study have been deposited in the NCBI Gene Expression Omnibus (GEO) under accession GSE183013.
References
Ma, L. Y. et al. China cardiovascular diseases report 2018: an updated summary. J. Geriatr. Cardiol. 17, 1–8 (2020).

Nioi, P. et al. Variant ASGR1 associated with a reduced risk of coronary artery disease. N. Engl. J. Med. 374, 2131–2141 (2016).

Ashwell, G. & Harford, J. Carbohydrate-specific receptors of the liver. Annu. Rev. Biochem. 51, 531–554 (1982).

Luo, J., Yang, H. & Song, B. L. Mechanisms and regulation of cholesterol homeostasis. Nat. Rev. Mol. Cell Biol. 21, 225–245 (2020).

Ge, L. et al. The cholesterol absorption inhibitor ezetimibe acts by blocking the sterol-induced internalization of NPC1L1. Cell Metab. 7, 508–519 (2008).

Fruchart, J. C. et al. The residual risk reduction initiative: a call to action to reduce residual vascular risk in dyslipidaemic patients. Diabetes Vasc. Dis. Res. 5, 319–335 (2008).

Berge, K. E. et al. Accumulation of dietary cholesterol in sitosterolemia caused by mutations in adjacent ABC transporters. Science 290, 1771–1775 (2000).

Yu, L. et al. Overexpression of ABCG5 and ABCG8 promotes biliary cholesterol secretion and reduces fractional absorption of dietary cholesterol. J. Clin. Invest. 110, 671–680 (2002).

Repa, J. J. et al. Regulation of ATP-binding cassette sterol transporters ABCG5 and ABCG8 by the liver X receptors α and β. J. Biol. Chem. 277, 18793–18800 (2002).

Wang, B. & Tontonoz, P. Liver X receptors in lipid signalling and membrane homeostasis. Nat. Rev. Endocrinol. 14, 452–463 (2018).

Xu, Y. et al. Hypomorphic ASGR1 modulates lipid homeostasis via INSIG1-mediated SREBP signaling suppression. JCI Insight 6, e147038 (2021).

Xie, B. et al. Deficiency of ASGR1 in pigs recapitulates reduced risk factor for cardiovascular disease in humans. PLoS Genet. 17, e1009891 (2021).

Tozawa, R. I. et al. Asialoglycoprotein receptor deficiency in mice lacking the major receptor subunit. Its obligate requirement for the stable expression of oligomeric receptor. J. Biol. Chem. 276, 12624–12628 (2001).

Zhang, Y. et al. Liver LXRα expression is crucial for whole body cholesterol homeostasis and reverse cholesterol transport in mice. J. Clin. Invest. 122, 1688–1699 (2012).

Kim, K. H. et al. Liver X receptor ligands suppress ubiquitination and degradation of LXRα by displacing BARD1/BRCA1. Mol. Endocrinol. 23, 466–474 (2009).

González, A., Hall, M. N., Lin, S. C. & Hardie, D. G. AMPK and TOR: the yin and yang of cellular nutrient sensing and growth control. Cell Metab. 31, 472–492 (2020).

Abu-Remaileh, M. et al. Lysosomal metabolomics reveals V-ATPase- and mTOR-dependent regulation of amino acid efflux from lysosomes. Science 358, 807–813 (2017).

Palm, W. et al. The utilization of extracellular proteins as nutrients is suppressed by mTORC1. Cell 162, 259–270 (2015).

Wyant, G. A. et al. mTORC1 activator SLC38A9 Is required to efflux essential amino acids from lysosomes and use protein as a nutrient. Cell 171, 642–654.e12 (2017).

Hesketh, G. G. et al. The GATOR-Rag GTPase pathway inhibits mTORC1 activation by lysosome-derived amino acids. Science 370, 351–356 (2020).

Ling, N. X. Y. et al. mTORC1 directly inhibits AMPK to promote cell proliferation under nutrient stress. Nat. Metab. 2, 41–49 (2020).

Peterson, T. R. et al. MTOR complex 1 regulates lipin 1 localization to control the SREBP pathway. Cell 146, 408–420 (2011).

Lu, X. Y. et al. Feeding induces cholesterol biosynthesis via the mTORC1–USP20–HMGCR axis. Nature 588, 479–484 (2020).

Han, Y. et al. Post-translational regulation of lipogenesis via AMPK-dependent phosphorylation of insulin-induced gene. Nat. Commun. 10, 623 (2019).

Li, Y. et al. AMPK phosphorylates and inhibits SREBP activity to attenuate hepatic steatosis and atherosclerosis in diet-induced insulin-resistant mice. Cell Metab. 13, 376–388 (2011).

Koobotse, M. O., Schmidt, D., Holly, J. M. P. & Perks, C. M. Glucose concentration in cell culture medium influences the BRCA1‐mediated regulation of the lipogenic action of IGF‐i in breast cancer cells. Int. J. Mol. Sci. 21, 1–18 (2020).

Myers, R. W. et al. Systemic pan-AMPK activator MK-8722 improves glucose homeostasis but induces cardiac hypertrophy. Science 357, 507–511 (2017).

Zong, Y. et al. Hierarchical activation of compartmentalized pools of AMPK depends on severity of nutrient or energy stress. Cell Res. 29, 460–473 (2019).

Zhang, C. S. et al. Fructose-1,6-bisphosphate and aldolase mediate glucose sensing by AMPK. Nature 548, 112–116 (2017).

Yu, L. et al. Termination of autophagy and reformation of lysosomes regulated by mTOR. Nature 465, 942–946 (2010).

Hsieh, J. et al. TTC39B deficiency stabilizes LXR reducing both atherosclerosis and steatohepatitis. Nature 535, 303–307 (2016).

Marton, A. et al. Organ protection by SGLT2 inhibitors: role of metabolic energy and water conservation. Nat. Rev. Nephrol. 17, 65–77 (2021).

Wang, S. et al. Metabolism. Lysosomal amino acid transporter SLC38A9 signals arginine sufficiency to mTORC1. Science 347, 188–194 (2015).

Subramanian, A. et al. Gene set enrichment analysis: a knowledge-based approach for interpreting genome-wide expression profiles. Proc. Natl Acad. Sci. USA 102, 15545–15550 (2005).

Noel, M. et al. Probing the CMP-sialic acid donor specificity of two human beta-d-galactoside sialyltransferases (ST3Gal I and ST6Gal I) selectively acting on O- and N-glycosylproteins. ChemBioChem 18, 1251–1259 (2017).

Benoist, F. et al. Cholesteryl ester transfer protein mediates selective uptake of high density lipoprotein cholesteryl esters by human adipose tissue. J. Biol. Chem. 272, 23572–23577 (1997).

Hough, J. L. & Zilversmit, D. B. Comparison of various methods for in vitro cholesteryl ester labeling of lipoproteins from hypercholesterolemic rabbits. Biochim. Biophys. Acta 792, 338–347 (1984).

Adam, R. C. et al. Angiopoietin-like protein 3 governs LDL-cholesterol levels through endothelial lipase-dependent VLDL clearance. J. Lipid Res. 61, 1271–1286 (2020).
Acknowledgements
We thank J. Jing and D. Liang for technical assistance, K. Liu for proteasome antibodies, G.-H. Shui (Institute of Genetics and Developmental Biology, CAS) for measuring oxysterol, C.-T. Jiang (Peking University) for measuring BAs and W. Qi (ShanghaiTech University) for helpful discussion. This work was supported by grants from the National Natural Science Foundation (China; Nos. 91957103, 91954203 and 32021003) and the Ministry of Science and Technology (China; No. 2018YFA0800700). B.-L.S. acknowledges the support from the Tencent Foundation through the XPLORER PRIZE.
Ethics declarations
Competing interests
The authors declare no competing interests.
Peer review
Peer review information
Nature thanks Daniel Rader, Peter Tontonoz and the other, anonymous, reviewer(s) for their contribution to the peer review of this work.
Additional information
Publisher's note Springer Nature remains neutral with regard to jurisdictional claims in published maps and institutional affiliations.
Extended data figures and tables
Supplementary information
Supplementary Fig. 1, the raw images of the immunoblotting experiments, Supplementary Table 1, which lists total endogenous LXR ligands in Asgr1+/+ and Asgr1−/− mice livers, and Supplementary Table 2, containing the nucleotide sequences of the qPCR primers.
Rights and permissions
Springer Nature or its licensor holds exclusive rights to this article under a publishing agreement with the author(s) or other rightsholder(s); author self-archiving of the accepted manuscript version of this article is solely governed by the terms of such publishing agreement and applicable law.
About this article
Cite this article
Wang, JQ., Li, LL., Hu, A. et al. Inhibition of ASGR1 decreases lipid levels by promoting cholesterol excretion. Nature 608, 413–420 (2022). https://doi.org/10.1038/s41586-022-05006-3
Received:

Accepted:

Published:

Issue Date:

DOI: https://doi.org/10.1038/s41586-022-05006-3
Comments
By submitting a comment you agree to abide by our Terms and Community Guidelines. If you find something abusive or that does not comply with our terms or guidelines please flag it as inappropriate.