Abstract>
Circulating tumour DNA (ctDNA) in blood plasma is an emerging tool for clinical cancer genotyping and longitudinal disease monitoring1. However, owing to past emphasis on targeted and low-resolution profiling approaches, our understanding of the distinct populations that comprise bulk ctDNA is incomplete2,3,4,5,6,7,8,9,10,11,12. Here we perform deep whole-genome sequencing of serial plasma and synchronous metastases in patients with aggressive prostate cancer. We comprehensively assess all classes of genomic alterations and show that ctDNA contains multiple dominant populations, the evolutionary histories of which frequently indicate whole-genome doubling and shifts in mutational processes. Although tissue and ctDNA showed concordant clonally expanded cancer driver alterations, most individual metastases contributed only a minor share of total ctDNA. By comparing serial ctDNA before and after clinical progression on potent inhibitors of the androgen receptor (AR) pathway, we reveal population restructuring converging solely on AR augmentation as the dominant genomic driver of acquired treatment resistance. Finally, we leverage nucleosome footprints in ctDNA to infer mRNA expression in synchronously biopsied metastases, including treatment-induced changes in AR transcription factor signalling activity. Our results provide insights into cancer biology and show that liquid biopsy can be used as a tool for comprehensive multi-omic discovery.
Relevant articles
Open Access articles citing this article.
Kenneth Chen

,

Louise Kostos

&

Arun A. Azad

World Journal of Urology Open Access 27 August 2022
Access options
Subscribe to Nature+
Get immediate online access to Nature and 55 other Nature journal
Subscribe to Journal
Get full journal access for 1 year
$199.00
only $3.90 per issue
All prices are NET prices.
VAT will be added later in the checkout.
Tax calculation will be finalised during checkout.
Buy article
Get time limited or full article access on ReadCube.
$32.00
All prices are NET prices.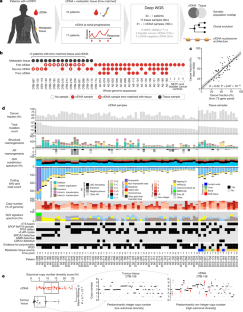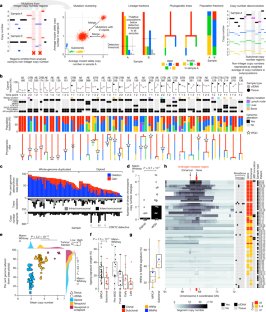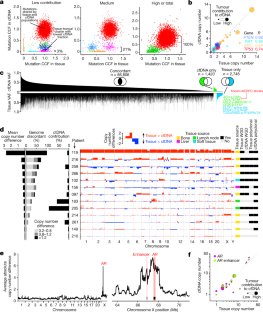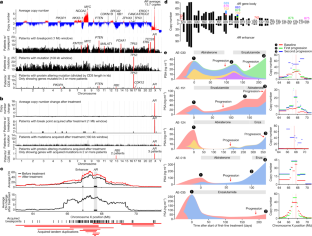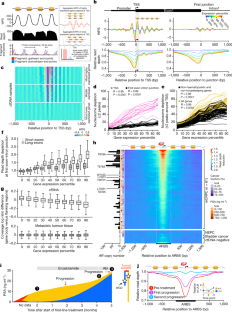 Data availability
The human reference genome hg38 was downloaded from UCSC. For cfDNA nucleosome depletion analyses, we used exon and TSS coordinates from the RefSeq Matched Annotation from NCBI and EMBL-EBI (MANE) database (genes not annotated in this database were omitted from analysis). Metastatic tissue RNA-sequencing data (cohort B) were obtained from previously published work (dbGaP study accession: phs001648.v2.p1)20. Gene sets representing housekeeping genes and highly expressed genes in haematopoietic lineages were derived from previously published work66 (Supplementary Tables 9 and 10). The 3,224 ARBSs were from previous chromatin immunoprecipitation followed by sequencing of 13 primary prostate cancer tissue samples41,42 (Supplementary Table 9). All de-identified WGS data have been deposited in the European Genome-Phenome Archive (EGA) under the accession code EGAS00001005783, and are available for download by contacting the corresponding authors. All other data supporting the findings of this study (source data) are available within the Article (including its Supplementary Information and Supplementary Tables).
References
Ignatiadis, M., Sledge, G. W. & Jeffrey, S. S. Liquid biopsy enters the clinic—implementation issues and future challenges. Nat. Rev. Clin. Oncol. 18, 297–312 (2021).

Weber, Z. T. et al. Modeling clonal structure over narrow time frames via circulating tumor DNA in metastatic breast cancer. Genome Med. 13, 89 (2021).

Abbosh, C. et al. Phylogenetic ctDNA analysis depicts early-stage lung cancer evolution. Nature 545, 446–451 (2017).

Parikh, A. R. et al. Liquid versus tissue biopsy for detecting acquired resistance and tumor heterogeneity in gastrointestinal cancers. Nat. Med. 25, 1415–1421 (2019).

Cresswell, G. D. et al. Mapping the breast cancer metastatic cascade onto ctDNA using genetic and epigenetic clonal tracking. Nat. Commun. 11, 1446 (2020).

Annala, M. et al. Evolution of castration-resistant prostate cancer in ctDNA during sequential androgen receptor pathway inhibition. Clin. Cancer Res. 27, 4610–4623 (2021).

Wyatt, A. W. et al. Concordance of circulating tumor DNA and matched metastatic tissue biopsy in prostate cancer. J. Natl Cancer Inst. 109, djx118 (2017).

Razavi, P. et al. Alterations in PTEN and ESR1 promote clinical resistance to alpelisib plus aromatase inhibitors. Nat. Cancer 1, 382–393 (2020).

Siravegna, G. et al. Radiologic and genomic evolution of individual metastases during HER2 blockade in colorectal cancer. Cancer Cell 34, 148–162 (2018).

O'Leary, B. et al. The genetic landscape and clonal evolution of breast cancer resistance to palbociclib plus fulvestrant in the PALOMA-3 trial. Cancer Discov. 8, 1390–1403 (2018).

Noorani, A. et al. Genomic evidence supports a clonal diaspora model for metastases of esophageal adenocarcinoma. Nat. Genet. 52, 74–83 (2020).

Woodcock, D. J. et al. Prostate cancer evolution from multilineage primary to single lineage metastases with implications for liquid biopsy. Nat. Commun. 11, 5070 (2020).

Snyder, M. W., Kircher, M., Hill, A. J., Daza, R. M. & Shendure, J. Cell-free DNA comprises an in vivo nucleosome footprint that informs its tissues-of-origin. Cell 164, 57–68 (2016).

Ulz, P. et al. Inference of transcription factor binding from cell-free DNA enables tumor subtype prediction and early detection. Nat. Commun. 10, 4666 (2019).

Zhu, G. et al. Tissue-specific cell-free DNA degradation quantifies circulating tumor DNA burden. Nat. Commun. 12, 1–11 (2021).

Ulz, P. et al. Inferring expressed genes by whole-genome sequencing of plasma DNA. Nat. Genet. 48, 1273–1278 (2016).

Peneder, P. et al. Multimodal analysis of cell-free DNA whole-genome sequencing for pediatric cancers with low mutational burden. Nat. Commun. 12, 3230 (2021).

Sun, K. et al. Orientation-aware plasma cell-free DNA fragmentation analysis in open chromatin regions informs tissue of origin. Genome Res. 29, 418–427 (2019).

Khalaf, D. J. et al. Optimal sequencing of enzalutamide and abiraterone acetate plus prednisone in metastatic castration-resistant prostate cancer: a multicentre, randomised, open-label, phase 2, crossover trial. Lancet Oncol. 20, 1730–1739 (2019).

Quigley, D. A. et al. Genomic hallmarks and structural variation in metastatic prostate cancer. Cell 174, 758–769 (2018).

Abida, W. et al. Genomic correlates of clinical outcome in advanced prostate cancer. Proc. Natl Acad. Sci. USA. 116, 11428–11436 (2019).

van Dessel, L. F. et al. The genomic landscape of metastatic castration-resistant prostate cancers reveals multiple distinct genotypes with potential clinical impact. Nat. Commun. 10, 5251 (2019).

Alexandrov, L. B. et al. The repertoire of mutational signatures in human cancer. Nature 578, 94–101 (2020).

Wu, Y.-M. et al. Inactivation of CDK12 delineates a distinct immunogenic class of advanced prostate cancer. Cell 173, 1770–1782 (2018).

Black, J. R. M. & McGranahan, N. Genetic and non-genetic clonal diversity in cancer evolution. Nat. Rev. Cancer 21, 379–392 (2021).

Dentro, S. C. et al. Characterizing genetic intra-tumor heterogeneity across 2,658 human cancer genomes. Cell 184, 2239–2254 (2021).

Tarabichi, M. et al. A practical guide to cancer subclonal reconstruction from DNA sequencing. Nat. Methods 18, 144–155 (2021).

Bielski, C. M. et al. Genome doubling shapes the evolution and prognosis of advanced cancers. Nat. Genet. 50, 1189–1195 (2018).

Quinton, R. J. et al. Whole-genome doubling confers unique genetic vulnerabilities on tumour cells. Nature 590, 492–497 (2021).

Cohen-Sharir, Y. et al. Aneuploidy renders cancer cells vulnerable to mitotic checkpoint inhibition. Nature 590, 486–491 (2021).

Zaccaria, S. & Raphael, B. J. Accurate quantification of copy-number aberrations and whole-genome duplications in multi-sample tumor sequencing data. Nat. Commun. 11, 4301 (2020).

Chen, C. D. et al. Molecular determinants of resistance to antiandrogen therapy. Nat. Med. 10, 33–39 (2004).

Henzler, C. et al. Truncation and constitutive activation of the androgen receptor by diverse genomic rearrangements in prostate cancer. Nat. Commun. 7, 13668 (2016).

Takeda, D. Y. et al. A somatically acquired enhancer of the androgen receptor is a noncoding driver in advanced prostate cancer. Cell 174, 422–432 (2018).

Li, Y. et al. Diverse AR gene rearrangements mediate resistance to androgen receptor inhibitors in metastatic prostate cancer. Clin. Cancer Res. 26, 1965–1976 (2020).

Annala, M. et al. Circulating tumor dna genomics correlate with resistance to abiraterone and enzalutamide in prostate cancer. Cancer Discov. 8, 444–457 (2018).

Baca, S. C. et al. Punctuated evolution of prostate cancer genomes. Cell 153, 666–677 (2013).

Viswanathan, S. R. et al. Structural alterations driving castration-resistant prostate cancer revealed by linked-read genome sequencing. Cell 174, 433–447 (2018).

Esfahani, M. S. et al. Inferring gene expression from cell-free DNA fragmentation profiles. Nat. Biotechnol. 40, 585–597 (2022).

Davies, A. H., Beltran, H. & Zoubeidi, A. Cellular plasticity and the neuroendocrine phenotype in prostate cancer. Nat. Rev. Urol. 15, 271–286 (2018).

Pomerantz, M. M. et al. The androgen receptor cistrome is extensively reprogrammed in human prostate tumorigenesis. Nat. Genet. 47, 1346–1351 (2015).

Morova, T. et al. Androgen receptor-binding sites are highly mutated in prostate cancer. Nat. Commun. 11, 832 (2020).

Rebello, R. J. et al. Prostate cancer. Nat Rev. Dis. Primers 7, 9 (2021).

Chi, K. N. et al. A prognostic index model for predicting overall survival in patients with metastatic castration-resistant prostate cancer treated with abiraterone acetate after docetaxel. Ann. Oncol. 27, 454–460 (2016).

Turajlic, S. et al. Deterministic evolutionary trajectories influence primary tumor growth: TRACERx Renal. Cell 173, 595–610 (2018).

Gundem, G. et al. The evolutionary history of lethal metastatic prostate cancer. Nature 520, 353–357 (2015).

Kumar, A. et al. Substantial interindividual and limited intraindividual genomic diversity among tumors from men with metastatic prostate cancer. Nat. Med. 22, 369–378 (2016).

Quigley, D. et al. Analysis of circulating cell-free DNA identifies multiclonal heterogeneity of reversion mutations associated with resistance to PARP inhibitors. Cancer Discov. 7, 999–1005 (2017).

Unterrainer, M. et al. Recent advances of PET imaging in clinical radiation oncology. Radiat. Oncol. 15, 88 (2020).

Brandão, M., Caparica, R., Eiger, D. & de Azambuja, E. Biomarkers of response and resistance to PI3K inhibitors in estrogen receptor-positive breast cancer patients and combination therapies involving PI3K inhibitors. Ann. Oncol. 30, x27–x42 (2019).

Parikh, A. et al. Systematic liquid biopsy identifies novel and heterogeneous mechanisms of acquired resistance in gastrointestinal (GI) cancer patients. Ann. Oncol. 28, iii137 (2017).

Balanis, N. G. et al. Pan-cancer Convergence to a small-cell neuroendocrine phenotype that shares susceptibilities with hematological malignancies. Cancer Cell 36, 17–34 (2019).

Herberts, C. & Wyatt, A. W. Technical and biological constraints on ctDNA-based genotyping. Trends Cancer Res. 7, 995–1009 (2021).

Turajlic, S., Sottoriva, A., Graham, T. & Swanton, C. Resolving genetic heterogeneity in cancer. Nat. Rev. Genet. 20, 404–416 (2019).

Scher, H. I. et al. Trial design and objectives for castration-resistant prostate cancer: updated recommendations from the prostate cancer clinical trials working group 3. J. Clin. Oncol. 34, 1402–1418 (2016).

Warner, E. et al. BRCA2, ATM, and CDK12 defects differentially shape prostate tumor driver genomics and clinical aggression. Clin. Cancer Res. 27, 1650–1662 (2021).

Martin, M. Cutadapt removes adapter sequences from high-throughput sequencing reads. EMBnet J. 17, 10 (2011).

Langmead, B. & Salzberg, S. L. Fast gapped-read alignment with Bowtie 2. Nat. Methods 9, 357–359 (2012).

Faust, G. G. & Hall, I. M. SAMBLASTER: fast duplicate marking and structural variant read extraction. Bioinformatics 30, 2503–2505 (2014).

Quinlan, A. R. & Hall, I. M. BEDTools: a flexible suite of utilities for comparing genomic features. Bioinformatics 26, 841–842 (2010).

Wang, K., Li, M. & Hakonarson, H. ANNOVAR: functional annotation of genetic variants from high-throughput sequencing data. Nucleic Acids Res. 38, e164 (2010).

Rosenthal, R., McGranahan, N., Herrero, J., Taylor, B. S. & Swanton, C. DeconstructSigs: delineating mutational processes in single tumors distinguishes DNA repair deficiencies and patterns of carcinoma evolution. Genome Biol. 17, 31 (2016).

Bergstrom, E. N. et al. SigProfilerMatrixGenerator: a tool for visualizing and exploring patterns of small mutational events. BMC Genomics 20, 685 (2019).

Landrum, M. J. et al. ClinVar: improving access to variant interpretations and supporting evidence. Nucleic Acids Res. 46, D1062–D1067 (2018).

Danecek, P. et al. Twelve years of SAMtools and BCFtools. Gigascience 10, giab008 (2021).

Eisenberg, E. & Levanon, E. Y. Human housekeeping genes, revisited. Trends Genet. 29, 569–574 (2013).
Acknowledgements
This work was funded by the Canadian Institutes of Health Research, the Canadian Cancer Society Research Institute, the Prostate Cancer Foundation, Prostate Cancer Canada, the Movember Foundation, the Jane and Aatos Erkko Foundation, the Academy of Finland Center of Excellence programme (project no. 312043), the Terry Fox New Frontiers Program and the BC Cancer Foundation. No funding sources were involved in the design or execution of the study. We thank S. Taavitsainen and R. Nätkin for their assistance, and are grateful to all participating patients and their families.
Ethics declarations
Competing interests
M.A. is a shareholder in Fluivia. R.A. has received honoraria from Clovis Oncology and has served in advisory or consulting roles for Dendreon, Advanced Accelerator Applications, Clovis Oncology, Axiom Biotechnologies, AstraZeneca, Pfizer, Merck, Amgen, Jubilant Pharmaceuticals and Alessa Therapeutics. R.A. also has research funding from Zenith Epigenetics, Novartis, Xynomic Pharma, Cancer Targeted Technology, Janssen, Merck, Abbvie, Amgen, AstraZeneca and BioXCel Therapeutics. E.J.S. has stock in Fortis, Harpoon and Teon, and has received honoraria for speaking engagements for Janssen and Johnson & Johnson. E.J.S. has also served in compensated advisory or consulting roles for Janssen, Fortis, Teon and Ultragenyx. M.E.G. is the founder of OncoGenex Technologies, Sustained Therapeutics and Sitka Pharmaceuticals, and has consulted for Astellas, AstraZeneca, Bayer, Janssen, Sanofi, Pfizer, Tersera, Roche and Genova Diagnostics. D.A.Q. has consulted for Varian and Circle Pharmaceuticals. F.Y.F. has served as a consultant or advisory board member for Janssen, Celgene, Blue Earth Diagnostics, Astellas, Myovant, Roivant, Bayer, Novartis and Foundation Medicine, has stock options in Artera and has stock options and is a scientific advisory board member for SerImmune and BlueStar Genomics. K.N.C. has research funding from Janssen, Astellas and Sanofi. K.N.C. also reports research funding and personal fees from Janssen, Astellas, AstraZeneca and Sanofi, as well as personal fees from Constellation Pharmaceuticals, Daiichi Sankyo, Merck, Novartis, Pfizer, Point Biopharma and Roche outside the submitted work. A.W.W. has served on advisory boards and/or received honoraria from AstraZeneca, Astellas, Janssen, and Merck. The laboratory of A.W.W. has a contract research agreement with ESSA Pharma. C.H., J.S., S.W.S.N., X.E.C., A.N., O.V.K., A.D.M., K.B., E.S., C.Q.B., E.R., J.V.W.B., N.A.L. and M.N. declare no competing interests.
Peer review
Peer review information
Nature thanks Martijn Lolkema, Adam Sowalsky and the other, anonymous, reviewer(s) for their contribution to the peer review of this work. Peer reviewer reports are available.
Additional information
Publisher's note Springer Nature remains neutral with regard to jurisdictional claims in published maps and institutional affiliations.
Extended data figures and tables
Supplementary information
About this article
Cite this article
Herberts, C., Annala, M., Sipola, J. et al. Deep whole-genome ctDNA chronology of treatment-resistant prostate cancer. Nature 608, 199–208 (2022). https://doi.org/10.1038/s41586-022-04975-9
Received:

Accepted:

Published:

Issue Date:

DOI: https://doi.org/10.1038/s41586-022-04975-9
This article is cited by
Kenneth Chen
Louise Kostos
Arun A. Azad

World Journal of Urology (2022)
Comments
By submitting a comment you agree to abide by our Terms and Community Guidelines. If you find something abusive or that does not comply with our terms or guidelines please flag it as inappropriate.