Abstract
The ability to associate temporally segregated information and assign positive or negative valence to environmental cues is paramount for survival. Studies have shown that different projections from the basolateral amygdala (BLA) are potentiated following reward or punishment learning1,2,3,4,5,6,7. However, we do not yet understand how valence-specific information is routed to the BLA neurons with the appropriate downstream projections, nor do we understand how to reconcile the sub-second timescales of synaptic plasticity8,9,10,11 with the longer timescales separating the predictive cues from their outcomes. Here we demonstrate that neurotensin (NT)-expressing neurons in the paraventricular nucleus of the thalamus (PVT) projecting to the BLA (PVT-BLA:NT) mediate valence assignment by exerting NT concentration-dependent modulation in BLA during associative learning. We found that optogenetic activation of the PVT-BLA:NT projection promotes reward learning, whereas PVT-BLA projection-specific knockout of the NT gene (Nts) augments punishment learning. Using genetically encoded calcium and NT sensors, we further revealed that both calcium dynamics within the PVT-BLA:NT projection and NT concentrations in the BLA are enhanced after reward learning and reduced after punishment learning. Finally, we showed that CRISPR-mediated knockout of the Nts gene in the PVT-BLA pathway blunts BLA neural dynamics and attenuates the preference for active behavioural strategies to reward and punishment predictive cues. In sum, we have identified NT as a neuropeptide that signals valence in the BLA, and showed that NT is a critical neuromodulator that orchestrates positive and negative valence assignment in amygdala neurons by extending valence-specific plasticity to behaviourally relevant timescales.
Your institute does not have access to this article
Access options
Subscribe to Nature+
Get immediate online access to the entire Nature family of 50+ journals
Subscribe to Journal
Get full journal access for 1 year
$199.00
only $3.90 per issue
All prices are NET prices.
VAT will be added later in the checkout.
Tax calculation will be finalised during checkout.
Buy article
Get time limited or full article access on ReadCube.
$32.00
All prices are NET prices.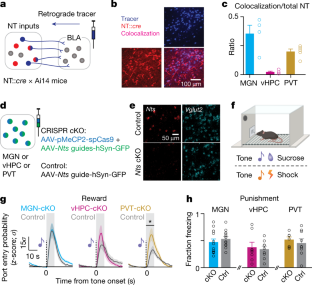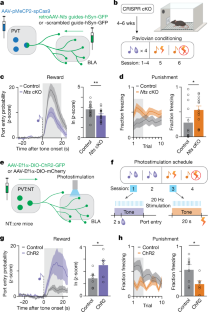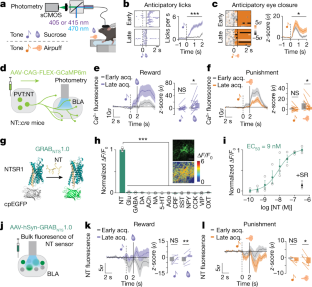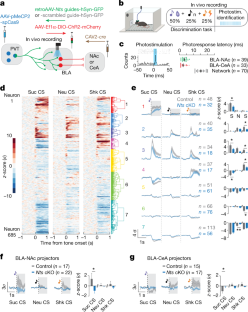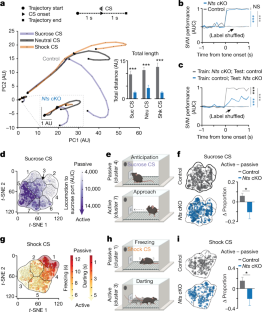 Data availability
All the raw and/or processed data shown in this manuscript are available upon request. Sequences of custom AAV9 viruses and guide RNAs used for CRISPR-based CRISPR cKO experiments are available upon request. All mouse illustrations included in the main figures were created with BioRender.com. Source data are provided with this paper.
Code availability
All the custom code used to process data shown in this manuscript is available upon request.
References
Namburi, P. et al. A circuit mechanism for differentiating positive and negative associations. Nature 520, 675–678 (2015).

Beyeler, A. et al. Divergent routing of positive and negative information from the amygdala during memory retrieval. Neuron 90, 348–361 (2016).

Beyeler, A. et al. Organization of valence-encoding and projection-defined neurons in the basolateral amygdala. Cell Rep. 22, 905–918 (2018).

Shen, C.-J. et al. Cannabinoid CB1 receptors in the amygdalar cholecystokinin glutamatergic afferents to nucleus accumbens modulate depressive-like behavior. Nat. Med. 25, 337–349 (2019).

Kim, J., Pignatelli, M., Xu, S., Itohara, S. & Tonegawa, S. Antagonistic negative and positive neurons of the basolateral amygdala. Nat. Neurosci. 19, 1636–1646 (2016).

Zhang, X. et al. Genetically identified amygdala-striatal circuits for valence-specific behaviors. Nat. Neurosci. 24, 1586–1600 (2021).

Corder, G. et al. An amygdalar neural ensemble that encodes the unpleasantness of pain. Science 363, 276–281 (2019).

Clugnet, M. C. & LeDoux, J. E. Synaptic plasticity in fear conditioning circuits: induction of LTP in the lateral nucleus of the amygdala by stimulation of the medial geniculate body. J. Neurosci. 10, 2818–2824 (1990).

Huang, Y. Y. & Kandel, E. R. Postsynaptic induction and PKA-dependent expression of LTP in the lateral amygdala. Neuron 21, 169–178 (1998).

Dan, Y. & Poo, M. Spike timing-dependent plasticity of neural circuits. Neuron 44, 23–30 (2004).

Bittner, K. C., Milstein, A. D., Grienberger, C., Romani, S. & Magee, J. C. Behavioral time scale synaptic plasticity underlies CA1 place fields. Science 357, 1033–1036 (2017).

Fuster, J. M. & Uyeda, A. A. Reactivity of limbic neurons of the monkey to appetitive and aversive signals. Electroencephalogr. Clin. Neurophysiol. 30, 281–293 (1971).

Paton, J. J., Belova, M. A., Morrison, S. E. & Salzman, C. D. The primate amygdala represents the positive and negative value of visual stimuli during learning. Nature 439, 865–870 (2006).

Britt, J. P. et al. Synaptic and behavioral profile of multiple glutamatergic inputs to the nucleus accumbens. Neuron 76, 790–803 (2012).

Gd, S. et al. Excitatory transmission from the amygdala to nucleus accumbens facilitates reward seeking. Nature 475, 377–380 (2011).

Gore, F. et al. Neural representations of unconditioned stimuli in basolateral amygdala mediate innate and learned responses. Cell 162, 134–145 (2015).

Redondo, R. L. et al. Bidirectional switch of the valence associated with a hippocampal contextual memory engram. Nature 513, 426–430 (2014).

Clem, R. L. & Huganir, R. L. Calcium-permeable AMPA receptor dynamics mediate fear memory erasure. Science 330, 1108–1112 (2010).

Janak, P. H. & Tye, K. M. From circuits to behaviour in the amygdala. Nature 517, 284–292 (2015).

McKernan, M. G. & Shinnick-Gallagher, P. Fear conditioning induces a lasting potentiation of synaptic currents in vitro. Nature 390, 607–611 (1997).

Nabavi, S. et al. Engineering a memory with LTD and LTP. Nature 511, 348–352 (2014).

Rogan, M. T., Stäubli, U. V. & LeDoux, J. E. Fear conditioning induces associative long-term potentiation in the amygdala. Nature 390, 604–607 (1997).

Rumpel, S., LeDoux, J., Zador, A. & Malinow, R. Postsynaptic receptor trafficking underlying a form of associative learning. Science 308, 83–88 (2005).

Tye, K. M., Stuber, G. D., De Ridder, B., Bonci, A. & Janak, P. H. Rapid strengthening of thalamo-amygdala synapses mediates cue–reward learning. Nature 453, 1253–1257 (2008).

Brzosko, Z., Mierau, S. B. & Paulsen, O. Neuromodulation of spike-timing-dependent plasticity: past, present, and future. Neuron 103, 563–581 (2019).

Cassenaer, S. & Laurent, G. Conditional modulation of spike-timing-dependent plasticity for olfactory learning. Nature 482, 47–52 (2012).

Lutas, A. et al. State-specific gating of salient cues by midbrain dopaminergic input to basal amygdala. Nat. Neurosci. 22, 1820–1833 (2019).

Bissière, S., Humeau, Y. & Luthi, A. Dopamine gates LTP induction in lateral amygdala by suppressing feedforward inhibition. Nat. Neurosci. 6, 587–592 (2003).

Tye, K. M. et al. Methylphenidate facilitates learning-induced amygdala plasticity. Nat. Neurosci. 13, 475–481 (2010).

Steele, F. F., Whitehouse, S. C., Aday, J. S. & Prus, A. J. Neurotensin NTS1 and NTS2 receptor agonists produce anxiolytic-like effects in the 22-kHz ultrasonic vocalization model in rats. Brain Res. 1658, 31–35 (2017).

László, K., Tóth, K., Kertes, E., Péczely, L. & Lénárd, L. The role of neurotensin in positive reinforcement in the rat central nucleus of amygdala. Behav. Brain Res. 208, 430–435 (2010).

Amano, T. et al. Heightened amygdala long-term potentiation in neurotensin receptor type-1 knockout mice. Neuropsychopharmacology 33, 3135–3145 (2008).

McCullough, K. M. et al. Molecular characterization of Thy1 expressing fear-inhibiting neurons within the basolateral amygdala. Nat. Commun. 7, 13149 (2016).

Petreanu, L., Mao, T., Sternson, S. M. & Svoboda, K. The subcellular organization of neocortical excitatory connections. Nature 457, 1142–1145 (2009).

Deltcheva, E. et al. CRISPR RNA maturation by trans-encoded small RNA and host factor RNase III. Nature 471, 602–607 (2011).

Jinek, M. et al. A programmable dual-RNA-guided DNA endonuclease in adaptive bacterial immunity. Science 337, 816–821 (2012).

Cong, L. et al. Multiplex genome engineering using CRISPR/Cas systems. Science 339, 819–823 (2013).

Mali, P. et al. RNA-guided human genome engineering via Cas9. Science 339, 823–826 (2013).

Livneh, Y. et al. Homeostatic circuits selectively gate food cue responses in insular cortex. Nature 546, 611–616 (2017).

Otis, J. M. et al. Paraventricular thalamus projection neurons integrate cortical and hypothalamic signals for cue-reward processing. Neuron 103, 423–431.e4 (2019).

Penzo, M. A. et al. The paraventricular thalamus controls a central amygdala fear circuit. Nature 519, 455–459 (2015).

Zhu, Y., Wienecke, C. F. R., Nachtrab, G. & Chen, X. A thalamic input to the nucleus accumbens mediates opiate dependence. Nature 530, 219–222 (2016).

Do-Monte, F. H., Minier-Toribio, A., Quiñones-Laracuente, K., Medina-Colón, E. M. & Quirk, G. J. Thalamic regulation of sucrose seeking during unexpected reward omission. Neuron 94, 388–400.e4 (2017).

Mathis, A. et al. DeepLabCut: markerless pose estimation of user-defined body parts with deep learning. Nat. Neurosci. 21, 1281–1289 (2018).

Berman, G. J., Choi, D. M., Bialek, W. & Shaevitz, J. W. Mapping the stereotyped behaviour of freely moving fruit flies. J. R. Soc. Interface 11, 20140672 (2014).

Weisskopf, M. G., Bauer, E. P. & LeDoux, J. E. L-type voltage-gated calcium channels mediate NMDA-independent associative long-term potentiation at thalamic input synapses to the amygdala. J. Neurosci. 19, 10512–10519 (1999).

Flagel, S. B. et al. A food predictive cue must be attributed with incentive salience for it to induce c-fos mRNA expression in cortico-striatal-thalamic brain regions. Neuroscience 196, 80–96 (2011).

Ma, J. et al. Divergent projections of the paraventricular nucleus of the thalamus mediate the selection of passive and active defensive behaviors. Nat. Neurosci. 24, 1429–1440 (2021).

Tye, K. M. Neural circuit motifs in valence processing. Neuron 100, 436–452 (2018).

Quiroga, R. Q., Nadasdy, Z. & Ben-Shaul, Y. Unsupervised spike detection and sorting with wavelets and superparamagnetic clustering. Neural Comput. 16, 1661–1687 (2004).

Choudhury, S. R. et al. In vivo selection yields AAV-B1 capsid for central nervous system and muscle gene therapy. Mol. Ther. 24, 1247–1257 (2016).

Habib, N. et al. Massively parallel single-nucleus RNA-seq with DroNc-seq. Nat. Methods 14, 955–958 (2017).

Gibson, D. G. et al. Enzymatic assembly of DNA molecules up to several hundred kilobases. Nat. Methods 6, 343–345 (2009).

Kim, C. K. et al. Simultaneous fast measurement of circuit dynamics at multiple sites across the mammalian brain. Nat. Methods 13, 325–328 (2016).

Cunningham, J. P. & Yu, B. M. Dimensionality reduction for large-scale neural recordings. Nat. Neurosci. 17, 1500–1509 (2014).

Linsenbardt, D. N., Timme, N. M. & Lapish, C. C. Encoding of the intent to drink alcohol by the prefrontal cortex is blunted in rats with a family history of excessive drinking. eNeuro 6, 0489 (2019).

Paxinos, G. & Franklin, K. B. J. The Mouse Brain in Stereotaxic Coordinates (Gulf Professional Publishing, 2004).
Acknowledgements
We thank C. Wildes for technical assistance; the entire Tye Laboratory for helpful discussion; J. Grey and S. Yorozu for the RNA-seq experiment in our 2015 Nature paper1 that led to the discovery of NT modulation in the BLA; A. Guo for preparing NTSR1 plasmids; G. Matthews for discussions on the analysis of RNAscope images; S. Hausmann for DeepLabCut troubleshooting; C. Lee, J. Du, K. Miyamoto, S. Chen, M. Silvestre, M. Cum, F. Aloboudi and N. Giles for help with data collection; S. Shao for help with MATLAB scripts; J. Diedrich and A. Pinto in the mass spectrometry core at Salk for their efforts to quantify NT in the microdialysis samples; J. Ip, V. Pham, and the Sur laboratory at MIT for generously sharing their cryostat. K.M.T. is the Wylie Vale chair at Salk Institute for Biological Studies, a HHMI Investigator, a New York Stem Cell Foundation–Robertson Investigator and a McKnight Scholar and this work was supported by funding from the JPB Foundation, the PIIF, PNDRF, JFDP, Alfred P. Sloan Foundation, New York Stem Cell Foundation, Klingenstein Foundation, McKnight Foundation, Clayton Foundation, Kavli Foundation, Dolby Family Fund, R01-MH102441 (NIMH), R37-MH102441 (NIMH), the NIH Director's New Innovator Award DP2-DK102256 (NIDDK) and Pioneer Award DP1-AT009925 (NCCIH). H.L. was supported by the K99/R00 NIH Pathway to Independence Award (K99 DA055111). P.N. was supported by Singleton, Leventhal and Whitaker fellowships, and A. Beyeler was supported by a fellowship from the Swiss National Science Foundation and NARSAD. N.H.-I. was supported by Grant-in-Aid for Scientific Research on Innovative Areas (15K21744 and 17H06043) from MEXT and the Uehara Memorial Foundation. R.W. was supported by a NARSAD Young Investigator Award (Brain and Behavior Research Foundation). J.M.O. was supported by a Brain Initiative F32 from NIMH (F32 MH115446-01). V.d.l.F. was supported by a Fulbright fellowship.
Ethics declarations
Competing interests
The authors declare no competing interests.
Peer review
Peer review information
Nature thanks the anonymous reviewers for their contribution to the peer review of this work.
Additional information
Publisher's note Springer Nature remains neutral with regard to jurisdictional claims in published maps and institutional affiliations.
Extended data figures and tables
Supplementary information
About this article
Cite this article
Li, H., Namburi, P., Olson, J.M. et al. Neurotensin orchestrates valence assignment in the amygdala. Nature (2022). https://doi.org/10.1038/s41586-022-04964-y
Received:

Accepted:

Published:

DOI: https://doi.org/10.1038/s41586-022-04964-y
Comments
By submitting a comment you agree to abide by our Terms and Community Guidelines. If you find something abusive or that does not comply with our terms or guidelines please flag it as inappropriate.