Abstract
Gastrulation controls the emergence of cellular diversity and axis patterning in the early embryo. In mammals, this transformation is orchestrated by dynamic signalling centres at the interface of embryonic and extraembryonic tissues1,2,3. Elucidating the molecular framework of axis formation in vivo is fundamental for our understanding of human development4,5,6 and to advance stem-cell-based regenerative approaches7. Here we illuminate early gastrulation of marmoset embryos in utero using spatial transcriptomics and stem-cell-based embryo models. Gaussian process regression-based 3D transcriptomes delineate the emergence of the anterior visceral endoderm, which is hallmarked by conserved (HHEX, LEFTY2, LHX1) and primate-specific (POSTN, SDC4, FZD5) factors. WNT signalling spatially coordinates the formation of the primitive streak in the embryonic disc and is counteracted by SFRP1 and SFRP2 to sustain pluripotency in the anterior domain. Amnion specification occurs at the boundaries of the embryonic disc through ID1, ID2 and ID3 in response to BMP signalling, providing a developmental rationale for amnion differentiation of primate pluripotent stem cells (PSCs). Spatial identity mapping demonstrates that primed marmoset PSCs exhibit the highest similarity to the anterior embryonic disc, whereas naive PSCs resemble the preimplantation epiblast. Our 3D transcriptome models reveal the molecular code of lineage specification in the primate embryo and provide an in vivo reference to decipher human development.
Relevant articles
Open Access articles citing this article.
Hanhua Cheng

,

Dantong Shang

&

Rongjia Zhou

Signal Transduction and Targeted Therapy Open Access 02 October 2022

BIOspektrum Open Access 30 August 2022

Anna Malkowska

,

Christopher Penfold

…

Thorsten E. Boroviak

Nature Communications Open Access 16 June 2022
Access options
Subscribe to Nature+
Get immediate online access to Nature and 55 other Nature journal
Subscribe to Journal
Get full journal access for 1 year
$199.00
only $3.90 per issue
All prices are NET prices.
VAT will be added later in the checkout.
Tax calculation will be finalised during checkout.
Buy article
Get time limited or full article access on ReadCube.
$32.00
All prices are NET prices.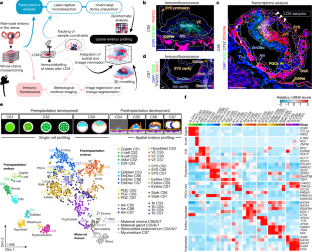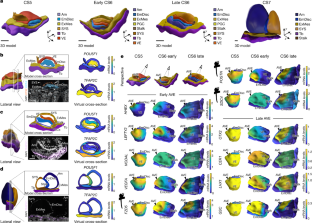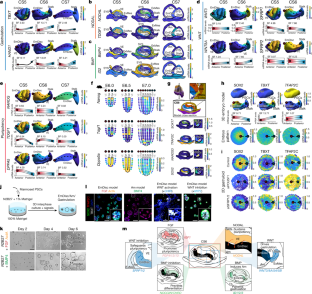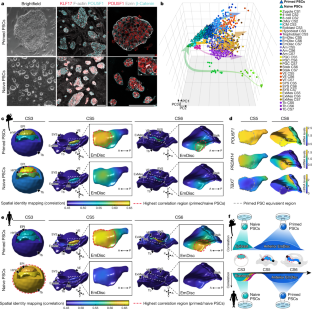 Data availability
Access to marmoset 3D transcriptomes in virtual cross-sections from zygote to gastrula is available online (http://131.111.33.80/marmoset3D/). Please allow 5–10 s to load the transcriptome data at the start. STEP and single-cell RNA-seq data are available at the ArrayExpress and Gene Expression Omnibus repositories under accession numbers E-MTAB-9367 (spatial embryo profiling of primate gastrulation), E-MTAB-9349 (primed and naive marmoset pluripotent stem cells as a model for primate development), E-MTAB-9388 (http://www.human-gastrula.net) 9, GSE136447 (ref. 12), GSE74767 (ref. 25), GSE76267 (ref. 39), E-MTAB-6819 (ref. 43) and GSE134571 (ref. 16). 3D embryo reconstructions are available through Morphosource under accession numbers: CS5 (000419264), early CS6 (000419284), late CS6 (000419272) and CS7 (000419278). Source data are provided with this paper.
References
Tam, P. P. & Loebel, D. A. Gene function in mouse embryogenesis: get set for gastrulation. Nat. Rev. Genet. 8, 368–381 (2007).

Rossant, J. & Tam, P. P. L. L. Blastocyst lineage formation, early embryonic asymmetries and axis patterning in the mouse. Development 136, 701–713 (2009).

Arnold, S. J. & Robertson, E. J. Making a commitment: cell lineage allocation and axis patterning in the early mouse embryo. Nat. Rev. Mol. Cell Biol. 10, 91–103 (2009).

Rossant, J. & Tam, P. P. L. Exploring early human embryo development. Science 360, 1075–1076 (2018).

Boroviak, T. & Nichols, J. Primate embryogenesis predicts the hallmarks of human naïve pluripotency. Development 144, 175–186 (2017).

Simunovic, M. & Brivanlou, A. H. Embryoids, organoids and gastruloids: New approaches to understanding embryogenesis. Development 144, 976–985 (2017).

Tabar, V. & Studer, L. Pluripotent stem cells in regenerative medicine: challenges and recent progress. Nat. Rev. Genet. 15, 82–92 (2014).

Ross, C. & Boroviak, T. E. Origin and function of the yolk sac in primate embryogenesis. Nat. Commun. 11, 3760 (2020) .

Tyser, R. C. V. et al. Single-cell transcriptomic characterization of a gastrulating human embryo. Nature 600, 285–289 (2021).

Deglincerti, A. et al. Self-organization of the in vitro attached human embryo. Nature 533, 251–254 (2016).

Shahbazi, M. N. et al. Self-organization of the human embryo in the absence of maternal tissues. Nat. Cell Biol. 18, 700–708 (2016).

Xiang, L. et al. A developmental landscape of 3D-cultured human pre-gastrulation embryos. Nature 577, 537–542 (2019).

Ma, H. et al. In vitro culture of cynomolgus monkey embryos beyond early gastrulation. Science 366, eaax7890 (2019).

Niu, Y. et al. Dissecting primate early post-implantation development using long-term in vitro embryo culture. Science 366, eaaw5754 (2019).

Shao, Y. et al. Self-organized amniogenesis by human pluripotent stem cells in a biomimetic implantation-like niche. Nat. Mater. 16, 419–425 (2017).

Zheng, Y. et al. Controlled modelling of human epiblast and amnion development using stem cells. Nature 573, 421–425 (2019).

Shao, Y. et al. A pluripotent stem cell-based model for post-implantation human amniotic sac development. Nat. Commun. 8, 208 (2017).

Warmflash, A., Sorre, B., Etoc, F., Siggia, E. D. & Brivanlou, A. H. A method to recapitulate early embryonic spatial patterning in human embryonic stem cells. Nat. Methods 11, 847–854 (2014).

Martyn, I., Siggia, E. D. & Brivanlou, A. H. Mapping cell migrations and fates in a gastruloid model to the human primitive streak. Development 146, dev179564 (2019).

Sato, K. et al. Generation of a nonhuman primate model of severe combined immunodeficiency using highly efficient genome editing. Cell Stem Cell 19, 127–138 (2016).

Okano, H., Hikishima, K., Iriki, A. & Sasaki, E. The common marmoset as a novel animal model system for biomedical and neuroscience research applications. Semin. Fetal Neonatal Med. 17, 336–340 (2012).

Sasaki, E. et al. Generation of transgenic non-human primates with germline transmission. Nature 459, 523–527 (2009).

Picelli, S. et al. Full-length RNA-seq from single cells using Smart-seq2. Nat. Protoc. 9, 171–181 (2014).

Boroviak, T. et al. Single cell transcriptome analysis of human, marmoset and mouse embryos reveals common and divergent features of preimplantation development. Development 145, dev167833 (2018).

Nakamura, T. et al. A developmental coordinate of pluripotency among mice, monkeys and humans. Nature 537, 57–62 (2016).

Rasmussen, C. E. & Williams, C. K. I. in Gaussian Processes for Machine Learning Ch. 2 (MIT Press, 2006).

Matheron, G. Krigeage d'un panneau rectangulaire par sa périphérie. Note Géostatistique 28 (1960).

Svensson, V., Teichmann, S. A. & Stegle, O. SpatialDE: identification of spatially variable genes. Nat. Methods 15, 343–346 (2018).

Peng, G. et al. Spatial transcriptome for the molecular annotation of lineage fates and cell identity in mid-gastrula mouse embryo. Dev. Cell 36, 681–697 (2016).

Peng, G. et al. Molecular architecture of lineage allocation and tissue organization in early mouse embryo. Nature 572, 528–532 (2019).

Rivera-Pérez, J. A. & Magnuson, T. Primitive streak formation in mice is preceded by localized activation of Brachyury and Wnt3. Dev. Biol. 288, 363–371 (2005).

Perea-Gomez, A. et al. Nodal antaginists in the anterior visceral endoderm prevent the formation of multiple primitive streaks. Dev. Cell 3, 745–756 (2002).

Molè, M. A. et al. A single cell characterisation of human embryogenesis identifies pluripotency transitions and putative anterior hypoblast centre. Nat. Commun. 12, 3679 (2021).

Wamaitha, S. E. et al. IGF1-mediated human embryonic stem cell self-renewal recapitulates the embryonic niche. Nat. Commun. 11, 764 (2020).

Zorzan, I. et al. The transcriptional regulator ZNF398 mediates pluripotency and epithelial character downstream of TGF-beta in human PSCs Nat. Commun. 11, 2364 (2020).

Nakaki, F. & Saitou, M. PRDM14: a unique regulator for pluripotency and epigenetic reprogramming. Trends Biochem. Sci. 39, 289–298 (2014).

Irie, N. et al. SOX17 is a critical specifier of human primordial germ cell fate. Cell 160, 253–268 (2015).

Kobayashi, T. & Surani, M. A. On the origin of the human germline. Development 145, dev150433 (2018).

Sasaki, K. et al. The germ cell fate of cynomolgus monkeys is specified in the nascent amnion. Dev. Cell 39, 169–185 (2016).

Tewary, M. et al. A stepwise model of reaction-diffusion and positional information governs self-organized human peri-gastrulation-like patterning. Development https://doi.org/10.1242/dev.149658 (2017).

Yang, R. et al. Amnion signals are essential for mesoderm formation in primates. Nat. Commun. 12, 5126 (2021).

Hollnagel, A., Oehlmann, V., Heymer, J., Rüther, U. & Nordheim, A. Id genes are direct targets of bone morphogenetic protein induction in embryonic stem cells. J. Biol. Chem. 274, 19838–19845 (1999).

Messmer, T. et al. Transcriptional heterogeneity in naive and primed human pluripotent stem cells at single-cell resolution. Cell Rep. 26, 815–824 (2019).

Guo, G. et al. Human naive epiblast cells possess unrestricted lineage potential. Cell Stem Cell https://doi.org/10.1016/j.stem.2021.02.025 (2021).

Dong, C. et al. Derivation of trophoblast stem cells from naïve human pluripotent stem cells. eLife 9, e52504 (2020).

Linneberg-Agerholm, M. et al. Naïve human pluripotent stem cells respond to Wnt, Nodal and LIF signalling to produce expandable naïve extra-embryonic endoderm. Development 146, dev180620 (2019).

O'Rahilly, R. & Müller, F. Developmental stages in human embryos: revised and new measurements. Cells Tissues Organs 192, 73–84 (2010).

Harlow, C. R., Hearn, J. P. & Hodges, J. K. Ovulation in the marmoset monkey: endocrinology, prediction and detection. J. Endocrinol. 103, 17–24 (1984).

Clark, S. J. et al. scNMT-seq enables joint profiling of chromatin accessibility DNA methylation and transcription in single cells. Nat. Commun. 9, 781 (2018).

Macaulay, I. C., Ponting, C. P. & Voet, T. Single-cell multiomics: multiple measurements from single cells. Trends Genet. 33, 155–168 (2017).

Krueger, F. Trim Galore. Babraham Bioinformatics http://www.bioinformatics.babraham.ac.uk/projects/trim galore/ (2016).

Dobin, A. et al. STAR: ultrafast universal RNA-seq aligner. Bioinformatics 29, 15–21 (2013).

Liao, Y., Smyth, G. K. & Shi, W. FeatureCounts: an efficient general purpose program for assigning sequence reads to genomic features. Bioinformatics 30, 923–930 (2014).

Nakamura, T. et al. Single-cell transcriptome of early embryos and cultured embryonic stem cells of cynomolgus monkeys. Sci. Data 4, 170067 (2017).

Fernandez, A. et al. The WNT receptor FZD7 is required for maintenance of the pluripotent state in human embryonic stem cells. Proc. Natl Acad. Sci. USA 111, 1409–1414 (2014).

Okae, H. et al. Derivation of human trophoblast stem cells. Cell Stem Cell 22, 50–63 e6 (2018).

McQuin, C. et al. CellProfiler 3.0: next-generation image processing for biology. PLoS Biol. 16, e2005970 (2018).

O'Hagan, A. Curve fitting and optimal design for prediction. J. R. Stat. Soc. Ser. B https://doi.org/10.1111/j.2517-6161.1978.tb01643.x (1978).

Rasmussen, C. E. & Nickisch, H. Gaussian processes for machine learning (GPML) toolbox. J. Mach. Learn. Res. 11, 3011–3015 (2010).

Kalaitzis, A. A. & Lawrence, N. D. A simple approach to ranking differentially expressed gene expression time courses through Gaussian process regression. BMC Bioinform. 12, 180 (2011).

Jeffreys, H. Some tests of significance, treated by the theory of probability. Math. Proc. Cambridge Philos. Soc. https://doi.org/10.1017/S030500410001330X (1935).

Kass, R. E. & Raftery, A. E. Bayes factors. J. Am. Stat. Assoc. https://doi.org/10.1080/01621459.1995.10476572 (1995).

Adewumi, O. et al. Characterization of human embryonic stem cell lines by the International Stem Cell Initiative. Nat. Biotechnol. 25, 803–816 (2007). 2007 257.

Tewary, M. et al. High-throughput micropatterning platform reveals Nodal-dependent bisection of peri-gastrulation–associated versus preneurulation-associated fate patterning. PLoS Biol. 17, e3000081 (2019).

Vickers, A. et al. Plating human iPSC lines on micropatterned substrates reveals role for ITGB1 nsSNV in endoderm formation. Stem Cell Rep. 16, 2628–2641 (2021).

Schneider, C. A., Rasband, W. S. & Eliceiri, K. W. NIH Image to ImageJ: 25 years of image analysis. Nat. Methods 9, 671–675 (2012).

Thomson, J. A., Kalishman, J. & Hearn, J. P. Nonsurgical uterine stage preimplantation embryo collection from the common marmoset. J. Med. Primatol. 23, 333–336 (1994).

Boroviak, T. et al. Lineage-specific profiling delineates the emergence and progression of naive pluripotency in mammalian embryogenesis. Dev. Cell 35, 366–382 (2015).

Ashburner, M. et al. Gene ontology: tool for the unification of biology. Nat. Genet. 25, 25–29 (2000).

Carbon, S. et al. The Gene Ontology Resource: 20 years and still GOing strong. Nucleic Acids Res. 47, D330–D338 (2019).

Wickham, H. ggplot2: Elegant Graphics for Data Analysis (Springer, 2009); https://doi.org/10.1007/978-0-387-98141-3

Brunson, J. ggalluvial: layered grammar for alluvial plots. J. Open Source Softw. https://doi.org/10.21105/joss.02017 (2020).

Bergmann, S., Penfold, C., Slatery, E. and Boroviak, T. E. Spatial embryo profiling (STEP) of primate implantation stages. Protocol Exchange https://doi.org/10.21203/rs.3.pex-1899/v1 (2022).

Hertig, A. On the preimplantation stages of the human ovum: a description of four normal and four abnormal specimens ranging from the second to the fifth day of development. Contrib. Embryol. 35, 119–220 (1954).

Hertig, A. T. & Rock, J. Two human ova of the pre-villous stage, having an ovulation age of about eleven and twelve days respectively. Contrib. Embryol. 29, 127–156 (1941).
Acknowledgements
We thank A. Roberts and the staff at the Cambridge marmoset research facility for providing marmoset neonates; the members of Endocrinology Laboratory of the German Primate Center for hormone analyses and the members of the Platform Degenerative Diseases for assistance; and S. Li, C. Munger, M. Schindler, I. Ampartzidis, G. Jowett, C. Kyprianou and G. Burton for contributing discussions and comments on the manuscript. P. Humphreys and D. Clements for supporting imaging; A. Surani and J. Gurdon for providing access to the computational facilities at the Gurdon Institute; C. Bradshaw for help with high-performance computing; and X. Zhao and R. Hamilton for advice and bioinformatics support. This research is supported by the Wellcome Trust (WT RG89228), the Centre for Trophoblast Research, the Isaac Newton Trust and JSPS KAKENHI (15H02360, 19H05759). E.S. is supported by a Wellcome Trust PhD studentship (WT108438/C/15/Z).
Ethics declarations
Competing interests
The authors declare no competing interests.
Peer review
Peer review information
Nature thanks Jianping Fu, Patrick Tam and the other, anonymous, reviewer(s) for their contribution to the peer review of this work. Peer reviewer reports are available.
Additional information
Publisher's note Springer Nature remains neutral with regard to jurisdictional claims in published maps and institutional affiliations.
Extended data figures and tables
Supplementary information
Rights and permissions
Springer Nature or its licensor holds exclusive rights to this article under a publishing agreement with the author(s) or other rightsholder(s); author self-archiving of the accepted manuscript version of this article is solely governed by the terms of such publishing agreement and applicable law.
About this article
Cite this article
Bergmann, S., Penfold, C.A., Slatery, E. et al. Spatial profiling of early primate gastrulation in utero. Nature 609, 136–143 (2022). https://doi.org/10.1038/s41586-022-04953-1
Received:

Accepted:

Published:

Issue Date:

DOI: https://doi.org/10.1038/s41586-022-04953-1
Comments
By submitting a comment you agree to abide by our Terms and Community Guidelines. If you find something abusive or that does not comply with our terms or guidelines please flag it as inappropriate.