Abstract
Individuals can exhibit differences in metabolism that are caused by the interplay of genetic background, nutritional input, microbiota and other environmental factors1,2,3,4. It is difficult to connect differences in metabolism to genomic variation and derive underlying molecular mechanisms in humans, owing to differences in diet and lifestyle, among others. Here we use the nematode Caenorhabditis elegans as a model to study inter-individual variation in metabolism. By comparing three wild strains and the commonly used N2 laboratory strain, we find differences in the abundances of both known metabolites and those that have not to our knowledge been previously described. The latter metabolites include conjugates between 3-hydroxypropionate (3HP) and several amino acids (3HP-AAs), which are much higher in abundance in one of the wild strains. 3HP is an intermediate in the propionate shunt pathway, which is activated when flux through the canonical, vitamin-B12-dependent propionate breakdown pathway is perturbed5. We show that increased accumulation of 3HP-AAs is caused by genetic variation in HPHD-1, for which 3HP is a substrate. Our results suggest that the production of 3HP-AAs represents a 'shunt-within-a-shunt' pathway to accommodate a reduction-of-function allele in hphd-1. This study provides a step towards the development of metabolic network models that capture individual-specific differences of metabolism and more closely represent the diversity that is found in entire species.
Access options
Access Nature and 54 other Nature Portfolio journals
Get Nature+, our best-value online-access subscription
$29.99 / 30 days
cancel any time
Subscribe to this journal
Receive 51 print issues and online access
$199.00 per year
only $3.90 per issue
Rent or buy this article
Prices vary by article type
from$1.95
to$39.95
Prices may be subject to local taxes which are calculated during checkout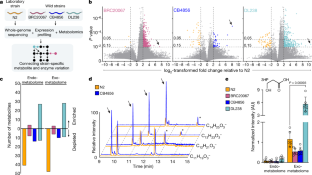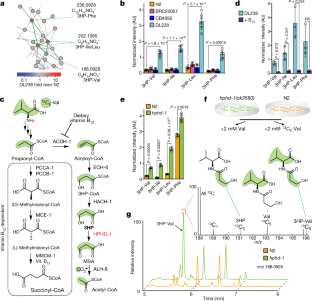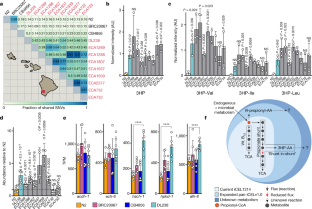 Data availability
The HPLC–MS/MS data generated during this study have been deposited in the MassIVE database under accession code MSV000087810 (https://doi.org/10.25345/C5C244). The raw sequencing reads for these samples are available from the NCBI Sequence Read Archive (project PRJNA669127). The metabolic network model with the added short chain fatty acid–amino acid conjugation reactions (pan-iCELv1.0) is available for download in SBML and JSON formats at the wormflux website (http://wormflux.umassmed.edu/download.php). Genotype data for C. elegans strains were acquired from the variant call format (VCF) file (release 20200815) available from the CeNDR (http://elegansvariation.org). Source data are provided with this paper.
References
Montgomery, M. K. et al. Mouse strain-dependent variation in obesity and glucose homeostasis in response to high-fat feeding. Diabetologia 56, 1129–1139 (2013).

Braun, J. M. Early-life exposure to EDCs: role in childhood obesity and neurodevelopment. Nat. Rev. Endocrinol. 13, 161–173 (2017).

Visconti, A. et al. Interplay between the human gut microbiome and host metabolism. Nat. Commun. 10, 4505 (2019).

Loos, R. J. F. & Yeo, G. S. H. The genetics of obesity: from discovery to biology. Nat. Rev. Genet. 23, 120–133 (2022).

Watson, E. et al. Metabolic network rewiring of propionate flux compensates vitamin B12 deficiency in C. elegans. eLife 5, e17670 (2016).

Wilcken, B., Wiley, V., Hammond, J. & Carpenter, K. Screening newborns for inborn errors of metabolism by tandem mass spectrometry. N. Engl. J. Med. 348, 2304–2312 (2003).

Deodato, F., Boenzi, S., Santorelli, F. M. & Dionisi-Vici, C. Methylmalonic and propionic aciduria. Am. J. Med. Genet. C 142C, 104–112 (2006).

Pillon, N. J., Loos, R. J. F., Marshall, S. M. & Zierath, J. R. Metabolic consequences of obesity and type 2 diabetes: balancing genes and environment for personalized care. Cell 184, 1530–1544 (2021).

Min, H. Y. & Lee, H. Y. Oncogene-driven metabolic alterations in cancer. Biomol. Ther. 26, 45–56 (2018).

Zhang, J., Holdorf, A. D. & Walhout, A. J. C. elegans and its bacterial diet as a model for systems-level understanding of host-microbiota interactions. Curr. Opin. Biotechnol. 46, 74–80 (2017).

Yilmaz, L. S. & Walhout, A. J. A Caenorhabditis elegans genome-scale metabolic network model. Cell Syst. 2, 297–311 (2016).

Yilmaz, L. S. et al. Modeling tissue-relevant Caenorhabditis elegans metabolism at network, pathway, reaction, and metabolite levels. Mol. Syst. Biol. 16, e9649 (2020).

Evans, K. S., van Wijk, M. H., McGrath, P. T., Andersen, E. C. & Sterken, M. G. From QTL to gene: C. elegans facilitates discoveries of the genetic mechanisms underlying natural variation. Trends Genet. 37, 933–947 (2021).

Nance, J. & Frokjaer-Jensen, C. The Caenorhabditis elegans transgenic toolbox. Genetics 212, 959–990 (2019).

Lee, D. et al. Balancing selection maintains hyper-divergent haplotypes in Caenorhabditis elegans. Nat. Ecol. Evol. 5, 794–807 (2021).

Boyd, W. A., McBride, S. J., Rice, J. R., Snyder, D. W. & Freedman, J. H. A high-throughput method for assessing chemical toxicity using a Caenorhabditis elegans reproduction assay. Toxicol. Appl. Pharmacol. 245, 153–159 (2010).

Domingo-Almenara, X. & Siuzdak, G. Metabolomics data processing using XCMS. Methods Mol. Biol. 2104, 11–24 (2020).

Helf, M. J., Fox, B. W., Artyukhin, A. B., Zhang, Y. K. & Schroeder, F. C. Comparative metabolomics with Metaboseek reveals functions of a conserved fat metabolism pathway in C. elegans. Nat. Commun. 13, 782 (2022).

Nguyen, D. D. et al. MS/MS networking guided analysis of molecule and gene cluster families. Proc. Natl Acad. Sci. USA 110, E2611–E2620 (2013).

Nothias, L. F. et al. Feature-based molecular networking in the GNPS analysis environment. Nat. Methods 17, 905–908 (2020).

Jansen, R. S. et al. N-lactoyl-amino acids are ubiquitous metabolites that originate from CNDP2-mediated reverse proteolysis of lactate and amino acids. Proc. Natl Acad. Sci. USA 112, 6601–6606 (2015).

Ando, T., Rasmussen, K., Nyhan, W. L. & Hull, D. 3-hydroxypropionate: significance of -oxidation of propionate in patients with propionic acidemia and methylmalonic acidemia. Proc. Natl Acad. Sci. USA 69, 2807–2811 (1972).

Walker, M. D. et al. WormPaths: Caenorhabditis elegans metabolic pathway annotation and visualization. Genetics 219, iyab089 (2021).

Kay, B. K., Williamson, M. P. & Sudol, M. The importance of being proline: the interaction of proline-rich motifs in signaling proteins with their cognate domains. FASEB J. 14, 231–241 (2000).

Hinderaker, M. P. & Raines, R. T. An electronic effect on protein structure. Protein Sci. 12, 1188–1194 (2003).

Vanhoof, G., Goossens, F., De Meester, I., Hendriks, D. & Scharpe, S. Proline motifs in peptides and their biological processing. FASEB J. 9, 736–744 (1995).

Cook, D. E., Zdraljevic, S., Roberts, J. P. & Andersen, E. C. CeNDR, the Caenorhabditis elegans natural diversity resource. Nucleic Acids Res. 45, D650–D657 (2017).

Machado, D. & Herrgard, M. Systematic evaluation of methods for integration of transcriptomic data into constraint-based models of metabolism. PLoS Comput. Biol. 10, e1003580 (2014).

Falcke, J. M. et al. Linking genomic and metabolomic natural variation uncovers nematode pheromone biosynthesis. Cell Chem. Biol. 25, 787–796 (2018).

Keurentjes, J. J. et al. The genetics of plant metabolism. Nat. Genet. 38, 842–849 (2006).

Wen, W. et al. Metabolome-based genome-wide association study of maize kernel leads to novel biochemical insights. Nat. Commun. 5, 3438 (2014).

Reichardt, N. et al. Phylogenetic distribution of three pathways for propionate production within the human gut microbiota. ISME J. 8, 1323–1335 (2014).

Na, H., Zdraljevic, S., Tanny, R. E., Walhout, A. J. M. & Andersen, E. C. Natural variation in a glucuronosyltransferase modulates propionate sensitivity in a C. elegans propionic acidemia model. PLoS Genet. 16, e1008984 (2020).

Fang, H., Kang, J. & Zhang, D. Microbial production of vitamin B12: a review and future perspectives. Microb. Cell. Fact. 16, 15 (2017).

Scolamiero, E. et al. Targeted metabolomics in the expanded newborn screening for inborn errors of metabolism. Mol. Biosyst. 11, 1525–1535 (2015).

Andersen, E. C., Bloom, J. S., Gerke, J. P. & Kruglyak, L. A variant in the neuropeptide receptor npr-1 is a major determinant of Caenorhabditis elegans growth and physiology. PLoS Genet. 10, e1004156 (2014).

Hahnel, S. R. et al. Extreme allelic heterogeneity at a Caenorhabditis elegans beta-tubulin locus explains natural resistance to benzimidazoles. PLoS Pathog. 14, e1007226 (2018).

Zheng, X. et al. A high-performance computing toolset for relatedness and principal component analysis of SNP data. Bioinformatics 28, 3326–3328 (2012).

Boyd, W. A., Smith, M. V. & Freedman, J. H. Caenorhabditis elegans as a model in developmental toxicology. Methods Mol. Biol. 889, 15–24 (2012).

Lee, D. et al. Selection and gene flow shape niche-associated variation in pheromone response. Nat. Ecol. Evol. 3, 1455–1463 (2019).

Benjamini, Y. & Hochberg, Y. Controlling the false discovery rate: a practical and powerful approach to multiple testing. J. R. Stat. Soc. B 57, 289–300 (1995).

Giese, G. E. et al. Caenorhabditis elegans methionine/S-adenosylmethionine cycle activity is sensed and adjusted by a nuclear hormone receptor. eLife 9, e60259 (2020).

Zhang, J. et al. A delicate balance between bacterial iron and reactive oxygen species supports optimal C. elegans development. Cell Host Microbe 26, 400–411 (2019).

Noble, L. M. et al. Selfing is the safest sex for Caenorhabditis tropicalis. eLife 10, e62587 (2021).

Chen, S., Zhou, Y., Chen, Y. & Gu, J. fastp: an ultra-fast all-in-one FASTQ preprocessor. Bioinformatics 34, i884–i890 (2018).

Bray, N. L., Pimentel, H., Melsted, P. & Pachter, L. Near-optimal probabilistic RNA-seq quantification. Nat. Biotechnol. 34, 525–527 (2016).

Soneson, C., Love, M. I. & Robinson, M. D. Differential analyses for RNA-seq: transcript-level estimates improve gene-level inferences. F1000Res. 4, 1521 (2015).

Love, M. I., Huber, W. & Anders, S. Moderated estimation of fold change and dispersion for RNA-seq data with DESeq2. Genome Biol. 15, 550 (2014).

Pimentel, H., Bray, N. L., Puente, S., Melsted, P. & Pachter, L. Differential analysis of RNA-seq incorporating quantification uncertainty. Nat. Methods 14, 687–690 (2017).

Hoki, J. S. et al. Deep interrogation of metabolism using a pathway-targeted click-chemistry approach. J. Am. Chem. Soc. 142, 18449–18459 (2020).
Acknowledgements
We thank members of the laboratories of A.J.M.W., E.C.A. and F.C.S, and T. Fazzio for discussion and critical reading of the manuscript. This work was supported by a grant from the National Institutes of Health DK115690 to E.C.A., F.C.S. and A.J.M.W.
Ethics declarations
Competing interests
The authors declare no competing interests.
Peer review
Peer review information
Nature thanks Alexander Soukas and the other, anonymous, reviewer(s) for their contribution to the peer review of this work. Peer reviewer reports are available.
Additional information
Publisher's note Springer Nature remains neutral with regard to jurisdictional claims in published maps and institutional affiliations.
Extended data figures and tables
Supplementary information
About this article
Cite this article
Fox, B.W., Ponomarova, O., Lee, YU. et al. C. elegans as a model for inter-individual variation in metabolism. Nature 607, 571–577 (2022). https://doi.org/10.1038/s41586-022-04951-3
Received:

Accepted:

Published:

Issue Date:

DOI: https://doi.org/10.1038/s41586-022-04951-3
Comments
By submitting a comment you agree to abide by our Terms and Community Guidelines. If you find something abusive or that does not comply with our terms or guidelines please flag it as inappropriate.