Abstract
Bipedal locomotion is one of the key adaptations that define the hominin clade. Evidence of bipedalism is known from postcranial remains of late Miocene hominins as early as 6 million years ago (Ma) in eastern Africa1,2,3,4. Bipedality of Sahelanthropus tchadensis was hitherto inferred about 7 Ma in central Africa (Chad) based on cranial evidence5,6,7. Here we present postcranial evidence of the locomotor behaviour of S. tchadensis, with new insights into bipedalism at the early stage of hominin evolutionary history. The original material was discovered at locality TM 266 of the Toros-Ménalla fossiliferous area and consists of one left femur and two, right and left, ulnae. The morphology of the femur is most parsimonious with habitual bipedality, and the ulnae preserve evidence of substantial arboreal behaviour. Taken together, these findings suggest that hominins were already bipeds at around 7 Ma but also suggest that arboreal clambering was probably a significant part of their locomotor repertoire.
Access options
Subscribe to Nature+
Get immediate online access to Nature and 55 other Nature journal
Subscribe to Journal
Get full journal access for 1 year
$199.00
only $3.90 per issue
All prices are NET prices.
VAT will be added later in the checkout.
Tax calculation will be finalised during checkout.
Buy article
Get time limited or full article access on ReadCube.
$32.00
All prices are NET prices.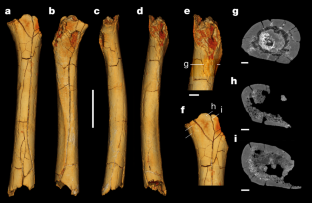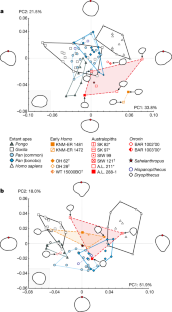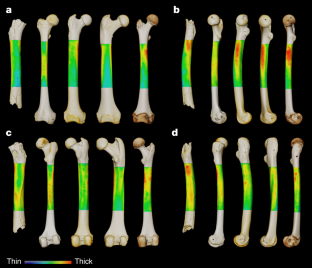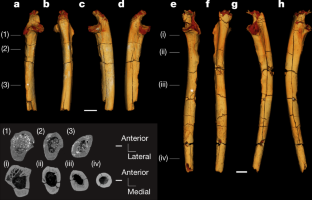 Data availability
The postcranial material from Chad is curated and conserved by the CNRD in Chad. Access to the palaeontological material collected by the MPFT is regulated by formal agreement between the Université de N'Djamena, the CNRD and the Université de Poitiers and is available for study upon approval from Chad authorities. Access to the material for loan and/or study of the material, including original 3D microtomographic data, is available upon request to the CNRD, service de paléontologie, at nekoulnanc@yahoo.fr. Data supporting the findings of this study are available within the paper and its supplementary information files.
References
Senut, B. et al. First hominid from the Miocene (Lukeino formation, Kenya). C. R. Acad. Sci. Paris IIA 332, 137–144 (2001).

Pickford, M., Senut, B., Gommery, D. & Treil, J. Bipedalism in Orrorin tugenensis revealed by its femora. C. R. Palevol. 1, 191–203 (2002).

Almécija, S. et al. The femur of Orrorin tugenensis exhibits morphometric affinities with both Miocene apes and later hominins. Nat. Commun. 4, 2888 (2013).

Richmond, B. G. & Jungers, W. L. Orrorin tugenensis femoral morphology and the evolution of hominin bipedalism. Science 319, 1662–1665 (2008).

Brunet, M. et al. A new hominid from the Upper Miocene of Chad, Central Africa. Nature 418, 145–151 (2002).

Zollikofer, C. P. et al. Virtual cranial reconstruction of Sahelanthropus tchadensis. Nature 434, 755–759 (2005).

Lebatard, A. E. et al. Cosmogenic nuclide dating of Sahelanthropus tchadensis and Australopithecus bahrelghazali: Mio-Pliocene hominids from Chad. Proc. Natl Acad. Sci. USA 105, 3226–3231 (2008).

Brunet, M. et al. New material of the earliest hominid from the Upper Miocene of Chad. Nature 434, 752–755 (2005).

Vignaud, P. et al. Geology and palaeontology of the Upper Miocene Toros-Menalla hominid locality, Chad. Nature 418, 152–155 (2002).

Heaton, J. L. et al. The long limb bones of the StW 573 Australopithecus skeleton from Sterkfontein Member 2: descriptions and proportions. J. Hum. Evol. 133, 167–197 (2019).

Ruff, C. B. Biomechanics of the hip and birth in early Homo. Am. J. Phys. Anthrop. 98, 527–574 (1995).

Böhme, M. et al. A new Miocene ape and locomotion in the ancestor of great apes and humans. Nature 575, 489–493 (2019).

Williams, S. A. et al. Reevaluating bipedalism in Danuvius. Nature 586, E1–E3 (2020).

Pina, M. Unravelling the Positional Behaviour of Fossil Hominoids Morphofunctional and Structural Analysis of the Primate Hindlimb. PhD thesis, Universitat Autònoma de Barcelona (2016).

Lovejoy, C. O., Suwa, G., Spurlock, L., Asfaw, B. & White, T. D. The pelvis and femur of Ardipithecus ramidus: the emergence of upright walking. Science 326, 71e1–71e6 (2009).

Prost, J. H. A definitional system for the classification of primate locomotion. Am. Anthropol. 67, 1198–1214 (1965).

Puymerail, L. The functionally-related signatures characterizing the endostructural organisation of the femoral shaft in modern humans and chimpanzee. C. R. Palevol. 12, 223–231 (2013).

Galik, K. et al. External and internal morphology of the BAR 1002′00 Orrorin tugenensis femur. Science 305, 1450–1453 (2004).

Ohman, J. C., Lovejoy, C. O. & White, T. D. Questions about Orrorin femur. Science 307, 845 (2005).

Puymerail, L. Caractérisation de l'endostructure et des propriétés biomécaniques de la diaphyse fémorale: la signature de la bipédie et la reconstruction des paléo-répertoires posturaux et locomoteurs des hominines (Paris, Muséum National d'Histoire Naturelle, 2011).

Wallace, I. J. et al. Functional significance of genetic variation underlying limb bone diaphyseal structure. Am. J. Phys. Anthropol. 143, 21–30 (2010).

Lieberman, D. E., Polk, J. D. & Demes, B. Predicting long bone loading from cross‐sectional geometry. Am. J. Phys. Anthropol. 123, 156–171 (2004).

Grabowski, M., Hatala, K. G., Jungers, W. L. & Richmond, B. G. Body mass estimates of hominin fossils and the evolution of human body size. J. Hum. Evol. 85, 75–93 (2015).

Ruff, C. B., Burgess, M. L., Squyres, N., Junno, J. A. & Trinkaus, E. Lower limb articular scaling and body mass estimation in Pliocene and Pleistocene hominins. J. Hum. Evol. 115, 85–111 (2018).

Nadell, J. Ontogeny and Adaptation: A Cross-Sectional Study of Primate Limb Elements. PhD thesis, Durham University (2017).

Nakatsukasa, M., Pickford, M., Egi, N. & Senut, B. Femur length, body mass, and stature estimates of Orrorin tugenensis, a 6 Ma hominid from Kenya. Primates 48, 171–178 (2007).

Lovejoy, C. O. et al. The great divides: Ardipithecus ramidus reveals the postcrania of our last common ancestors with African apes. Science 326, 73–106 (2009).

Jungers, W. L., Grabowski, M., Hatala, K. G. & Richmond, B. G. The evolution of body size and shape in the human career. Phil. Trans. R. Soc. B 371, 20150247 (2016).

Kuperavage, A., Pokrajac, D., Chavanaves, S. & Eckhardt, R. B. Earliest known hominin calcar femorale in Orrorin tugenensis provides further internal anatomical evidence for origin of human bipedal locomotion. Anat. Rec. 301, 1834–1839 (2018).

Clark, J. D. et al. Palaeoanthropological discoveries in the middle Awash Valley, Ethiopia. Nature 307, 423–428 (1984).

Hammer, A. The calcar femorale: a new perspective. J. Orthop. Surg. 27, 2309499019848778 (2019).

Zhang, Q. et al. The role of the calcar femorale in stress distribution in the proximal femur. Orthop. Surg. 1, 311–316 (2009).

Haile-Selassie, Y., Suwa, G. & White, T. Hominidae. in Ardipithecus kadabba: Late Miocene Evidence From The Middle Awash, Ethiopia (eds Haile-Selassie, Y. & WoldeGabriel, G.) 159–236 (Univ. California Press, 2009).

Araiza, I., Meyer, M. R. & Williams, S. A. Is ulna curvature in the StW 573 ('Little Foot') Australopithecus natural or pathological? J. Hum. Evol. 151, 102927 (2021).

Drapeau, M. S. M., Ward, C. V., Kimbel, W. H., Johanson, D. C. & Rak, Y. Associated cranial and forelimb remains attributed to Australopithecus afarensis from Hadar, Ethiopia. J. Hum. Evol. 48, 593–642 (2005).

Henderson, K., Pantinople, J., McCabe, K., Richards, H. L. & Milne, N. Forelimb bone curvature in terrestrial and arboreal mammals. PeerJ 5, e3229 (2017).

Drapeau, M. S. M. Functional anatomy of the olecranon process in hominoids and Plio-Pleistocene hominins. Am. J. Phys. Anthropol. 124, 297–314 (2004).

Milne, N. & Granatosky, M. C. Ulna curvature in arboreal and terrestrial primates. J. Mammal. Evol. 28, 897–909 (2021).

Carlson, K. J. et al. Role of nonbehavioral factors in adjusting long bone diaphyseal structure in free-ranging Pan troglodytes. Int. J. Primatol. 29, 1401–1420 (2008).

Schmitt, D. Mediolateral reaction forces and forelimb anatomy in quadrupedal primates: implications for interpreting locomotor behavior in fossil primates. J. Hum. Evol. 44, 47–58 (2003).

Cartmill, M. & Milton, K. The iorisiform wrist joint and the evolution of "brachiating" adaptations in the Hominoidea. Am. J. Phys. Anthrop. 47, 249–272 (1977).

Hunt, K. D. et al. Standardized descriptions of primate locomotor and postural modes. Primates 37, 363–387 (1996).

Sarmiento, E. E. Anatomy of the hominoid wrist joint: its evolutionary and functional implications. Int. J. Primatol. 9, 281–345 (1988).

Begun, D. R. Phyletic diversity and locomotion in primitive European hominids. Am. J. Phys. Anthropol. 87, 311–340 (1992).

Lovejoy, C. O., Simpson, S. W., White, T. D., Asfaw, B. & Suwa, G. Careful climbing in the Miocene: the forelimbs of Ardipithecus ramidus and humans are primitive. Science 326, 70e1–70e8 (2009).

Drapeau, M. S. M. Articular morphology of the proximal ulna in extant and fossil hominoids and hominins. J. Hum. Evol. 55, 86–102 (2008).

Alba, D. M., Almécija, S., Casanovas-Vilar, I., Méndez, J. M. & Moyà-Solà, S. A partial skeleton of the fossil great ape Hispanopithecus laietanus from Can Feu and the mosaic evolution of crown-hominoid positional behaviors. PLoS ONE 7, e39617 (2012).

Tuttle, R. H. Knuckle‐walking and the evolution of hominoid hands. Am. J. Phys. Anthrop. 26, 171–206 (1967).

Crompton, R. H., Vereecke, E. E. & Thorpe, S. K. Locomotion and posture from the common hominoid ancestor to fully modern hominins, with special reference to the last common panin/hominin ancestor. J. Anat. 212, 501–543 (2008).

Stern, J. T. & Susman, R. L. in Origine(s) de la Bipédie chez les Hominidés (eds Coppens, Y. & Senut, B.) 99–111 (CNRS, 1991).

Kozma, E. E. et al. Hip extensor mechanics and the evolution of walking and climbing capabilities in humans, apes, and fossil hominins. Proc. Natl Acad. Sci. USA 115, 4134–4139 (2018).

Macchiarelli, R., Bergeret-Medina, A., Marchi, D. & Wood, B. Nature and relationships of Sahelanthropus tchadensis. J. Hum. Evol. 149, 102898 (2020).

Gommery, D. & Senut, B. The terminal thumb phalanx of Orrorin tugenensis (Upper Miocene of Kenya). Geobios 39, 372–384 (2006).

Kirscher, U. et al. Age constraints for the Trachilos footprints from Crete. Sci. Rep. 11, 19427 (2021).

Meldrum, J. & Sarmiento, E. Comments on possible Miocene hominin footprints. Proc. Geol. Assoc. 129, 577–580 (2018).

Guy, F. et al. Morphological affinities of the Sahelanthropus tchadensis (late Miocene hominid from Chad) cranium. Proc. Natl Acad. Sci. USA 102, 18836–18841 (2005).

Neaux, D. et al. Relationship between foramen magnum position and locomotion in extant and extinct hominoids. J. Jum. Evol. 113, 1–9 (2017).

Pilbeam, D. R. & Lieberman, D. E. in Chimpanzees and Human Evolution (eds Muller, M. N., Wrangham, R. W. & Pilbeam, D. R.) 22–141 (Belknap Harvard, 2017).

Senut, B., Pickford, M., Gommery, D. & Ségalen, L. Palaeoenvironments and the origin of hominid bipedalism. Hist. Biol. 30, 284–296 (2018).

WoldeGabriel, G. et al. Geology and palaeontology of the late Miocene Middle Awash valley, Afar rift, Ethiopia. Nature 412, 175–178 (2001).

White, T. D. et al. Macrovertebrate paleontology and the Pliocene habitat of Ardipithecus ramidus. Science 326, 67–93 (2009).

Barboni, D., Ashley, G. M., Bourel, B., Arraiz, H. & Mazur, J. C. Springs, palm groves, and the record of early hominins in Africa. Rev. Palaeobot. Palynol. 266, 23–41 (2019).

Novello, A. et al. Phytoliths indicate significant arboreal cover at Sahelanthropus type locality TM266 in northern Chad and a decrease in later sites. J. Hum. Evol. 106, 66–83 (2017).

Steiper, M. E. & Seiffert, E. R. Evidence for a convergent slowdown in primate molecular rates and its implications for the timing of early primate evolution. Proc. Natl Acad. Sci. USA 109, 6006–6011 (2012).

Püschel, H. P., Bertrand, O. C., O'reilly, J. E., Bobe, R. & Püschel, T. A. Divergence-time estimates for hominins provide insight into encephalization and body mass trends in human evolution. Nat. Ecol. Evol. 5, 808–819 (2021).

Besenbacher, S., Hvilsom, C., Marques-Bonet, T., Mailund, T. & Schierup, M. H. Direct estimation of mutations in great apes reconciles phylogenetic dating. Nat. Ecol. Evol. 3, 286–292 (2019).

McBrearty, S. & Jablonski, N. G. First fossil chimpanzee. Nature 437, 105–108 (2005).

DeSilva, J., Shoreman, E. & MacLatchy, L. A fossil hominoid proximal femur from Kikorongo Crater, southwestern Uganda. J. Hum. Evol. 50, 687–695 (2006).

Ishida, H. & Pickford, M. A new late Miocene hominoid from Kenya: Samburupithecus kiptalami gen. et sp. nov. C. R. Acad. Sci. Paris 325, 823–829 (1997).

Kunimatsu, Y. et al. A new late Miocene great ape from Kenya and its implications for the origins of African great apes and humans. Proc. Natl Acad. Sci. USA 104, 19220–19225 (2007).

Suwa, G., Kono, R. T., Katoh, S., Asfaw, B. & Beyene, Y. A new species of great ape from the late Miocene epoch in Ethiopia. Nature 448, 921–924 (2007).

Katoh, S. et al. New geological and palaeontological age constraint for the gorilla–human lineage split. Nature 530, 215–218 (2016).

Begun, D. R. in Handbook of Paleoanthropology (eds Henke, W. & Tattersall, I.) 1261–1332 (Springer-Verlag, 2015).

Mongle, C. S., Strait, D. S. & Grine, F. E. Expanded character sampling underscores phylogenetic stability of Ardipithecus ramidus as a basal hominin. J. Hum. Evol. 131, 28–39 (2019).

Wood, B. & Harrison, T. The evolutionary context of the first hominins. Nature 470, 347–352 (2011).

Schindelin, J. et al. Fiji: an open-source platform for biological-image analysis. Nat. Methods 9, 676–682 (2012).

Mongle, C. S., Wallace, I. J. & Grine, F. E. Cross-sectional structural variation relative to midshaft along hominine diaphyses. II. The hind limb. Am. J. Phys. Anthropol. 158, 398–407 (2015).

Puymerail, L. et al. Structural analysis of the Kresna 11 Homo erectus femoral shaft (Sangiran, Java). J. Hum. Evol. 63, 741–749 (2012).

Ruff, C. B., McHenry, H. M. & Thackeray, J. F. Cross‐sectional morphology of the SK 82 and 97 proximal femora. Am. J. Phys. Anthrop. 109, 509–521 (1999).

Ruff, C. B. Long bone articular and diaphyseal structure in Old World monkeys and apes. I: locomotor effects. Am. J. Phys. Anthrop. 119, 305–342 (2002).

Sládek, J. et al. Effect of deriving periosteal and endosteal contours from microCT scans on computation of cross-sectional properties in non-adults: the femur. J. Anat. 233, 381–393 (2018).

Ruff, C. E., Higgins, R. W., Carlson, K. J. in Hominin Postcranial Remains from Sterkfontein, South Africa, 1936–1995 (eds Zipfel, B., Richmond B. G. & Ward, C.) 307–320 (Oxford Univ. Press, 2020).

Rohlf, F. J. tpsDig, digitize landmarks and outlines v.2.05 (Department of Ecology and Evolution, State University of New York at Stony Brook, 2005).

Senut, B. Bipédie et climat. C. R. Palevol. 5, 89–98 (2006).

Adams D., Collyer M., Kaliontzopoulou A. & Baken E. geomorph: Geometric Morphometric Analyses of 2D/3D Landmark Data. R package version 4.0. https://cran.r-project.org/package=geomorph (2021).

Baken, E. K., Collyer, M. L., Kaliontzopoulou, A. & Adams, D. C. Geomorph v4.0 and gmShiny: enhanced analytics and a new graphical interface for a comprehensive morphometric experience. Meth. Ecol. Evol. 12, 2355–2363 (2021).

The Development Core Team. R: A Language and Environment for Statistical Computing (R Foundation for Statistical Computing, 2021).

Bookstein, F. L. Pathologies of between-groups principal components analysis in geometric morphometrics. Evol. Biol. 46, 271–302 (2019).

Cardini, A., O'Higgins, P. & Rohlf, F. J. Seeing distinct groups where there are none: spurious patterns from between-group PCA. Evol. Biol. 46, 303–316 (2019).
Acknowledgements
We thank the following institutions and colleagues: the Chadian Ministère de l'Enseignement Supérieur, de la Recherche Scientifique et de l'Innovation and the Centre National de Recherche pour le développement (CNRD); the University of N'Djaména, the University of Poitiers, the Centre National de la Recherche Scientifique (CNRS), the French Ministère de l'Europe et des affaires étrangères, the Embassy of France to Chad, the région Nouvelle Aquitaine (project AH-HEM, NA2018-195586), and the French Army (MAM, Épervier and Barkhane) for its logistical support; M. Y. Khayal and B. Mallah (Director of the CNRD); all the MPFT members who participated in the field research, in particular D. Ahounta, G. Fanoné (deceased), A. Mahamat, F. Lihoreau and J. Surault; M. Brunet, head of the MPFT, for initiating this work and gathering the first comparative data as the basis of the present manuscript; the Musée Royal d'Afrique Centrale at Tervuren (E. Gillissen), the National Museum of Ethiopia, the National Museums of Kenya, Universitair Ziekenhuis at Leuven (W. Coudyzer), University of the Witwatersrand, B. Asfaw (Rift Valley Research Service), Y. Haile-Selassie (Cleveland Museum of Natural History), D. Johanson and W. Kimbel (Institute of Human Origins and Arizona State University at Tempe), C. O. Lovejoy (Kent State University), M. G. Leakey and R. Leakey, D. Pilbeam (Peabody Museum and Harvard University), T. D. White (University of California at Berkeley) and G. Suwa (University Museum of Tokyo) who granted M. Brunet and us access to their collections and contributed to the field research that collected these specimens; B. Zipfel (University of the Witwatersrand) for facilitating access to the hominin material from South Africa, including the StW 573m femur; G. Berillon, J. Braga, K. Carlson, R. Clarke, Q. Cosnefroy, R. Crompton, J. Heaton, J. Kappelman, D. Lieberman, F. Marchal, M. Pina, D. Stratford and M. Tocheri for providing comparative data and valuable comments; B. Senut, M. Pickford and D. Gommery for stimulating discussions and granting access to the CT scan and cast material of O. tugenensis; the Orrorin CT scans were done at the Clinique Pasteur (J.-P. Deymier, F. Berthoumieu, G. Larrouy, S. Charreau, A. M'Voto and P. Roch); the Orrorin Community Organisation and the Kenya Ministry of Education, Science and Technology; K. Cheboi and the Tugen palaeontology field team; all our colleagues and friends for their help and discussion, in particular D. Barboni, A. Mazurier (Plateforme Platina, IC2MP), A. Novello, O. Chavasseau, G. Merceron and J. Surault; S. Riffaut, J. Surault and X. Valentin for technical support; and G. Florent, C. Noël, G. Reynaud, C. Baron, M. Pourade and L. Painault for administrative guidance. Funding was provided by PALEVOPRIM and project AH-HEM (NA2018-195586).
Ethics declarations
Competing interests
The authors declare no competing interests.
Peer review
Peer review information
Nature thanks Christopher Ruff and the other, anonymous, reviewer(s) for their contribution to the peer review of this work.
Additional information
Publisher's note Springer Nature remains neutral with regard to jurisdictional claims in published maps and institutional affiliations.
Extended data figures and tables
Supplementary information
Rights and permissions
Springer Nature or its licensor holds exclusive rights to this article under a publishing agreement with the author(s) or other rightsholder(s); author self-archiving of the accepted manuscript version of this article is solely governed by the terms of such publishing agreement and applicable law.
About this article
Cite this article
Daver, G., Guy, F., Mackaye, H.T. et al. Postcranial evidence of late Miocene hominin bipedalism in Chad. Nature 609, 94–100 (2022). https://doi.org/10.1038/s41586-022-04901-z
Received:

Accepted:

Published:

Issue Date:

DOI: https://doi.org/10.1038/s41586-022-04901-z
This article is cited by
Nature (2022)

Nature (2022)
Comments
By submitting a comment you agree to abide by our Terms and Community Guidelines. If you find something abusive or that does not comply with our terms or guidelines please flag it as inappropriate.