Abstract
DddA-derived cytosine base editors (DdCBEs)—which are fusions of split DddA halves and transcription activator-like effector (TALE) array proteins from bacteria—enable targeted C•G-to-T•A conversions in mitochondrial DNA1. However, their genome-wide specificity is poorly understood. Here we show that the mitochondrial base editor induces extensive off-target editing in the nuclear genome. Genome-wide, unbiased analysis of its editome reveals hundreds of off-target sites that are TALE array sequence (TAS)-dependent or TAS-independent. TAS-dependent off-target sites in the nuclear DNA are often specified by only one of the two TALE repeats, challenging the principle that DdCBEs are guided by paired TALE proteins positioned in close proximity. TAS-independent off-target sites on nuclear DNA are frequently shared among DdCBEs with distinct TALE arrays. Notably, they co-localize strongly with binding sites for the transcription factor CTCF and are enriched in topologically associating domain boundaries. We engineered DdCBE to alleviate such off-target effects. Collectively, our results have implications for the use of DdCBEs in basic research and therapeutic applications, and suggest the need to thoroughly define and evaluate the off-target effects of base-editing tools.
Access options
Subscribe to Nature+
Get immediate online access to the entire Nature family of 50+ journals
Subscribe to Journal
Get full journal access for 1 year
$199.00
only $3.90 per issue
All prices are NET prices.
VAT will be added later in the checkout.
Tax calculation will be finalised during checkout.
Buy article
Get time limited or full article access on ReadCube.
$32.00
All prices are NET prices.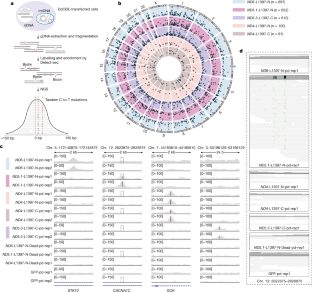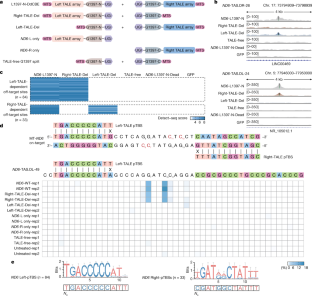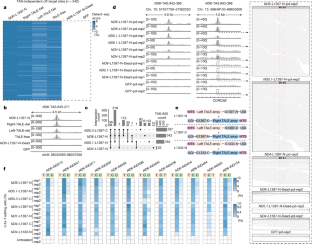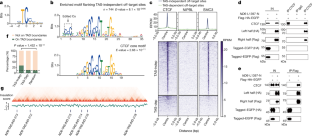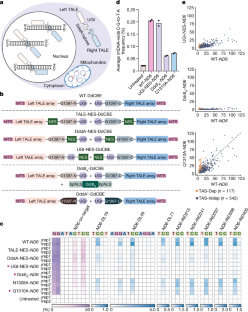 Data availability
All data generated for this paper have been deposited at NCBI Gene Expression Omnibus (GEO) and are available under GEO accession number GSE173859 (Detect-seq data), GSE173689 (ATAC-seq data and in situ ChIP–seq data) and GSE176089 (targeted deep sequencing data). hg38 was used as the reference genome. The Hi-C, DNase-seq, Bisulfite-seq and ChIP–seq data were downloaded from the GEO or ENCODE database; accession numbers of these public data sets are available in Supplementary Table 5.
Code availability
Detect-seq tools, including several Python scripts, were deposited on GitHub (https://github.com/menghaowei/Detect-seq). Detect-seq tools can help to perform Detect-seq analysis, including but not limited to Detect-seq signal finding, enrichment testing, off-target sites identification, TALE sequence alignment and alignment results visualization.
References
Mok, B. Y. et al. A bacterial cytidine deaminase toxin enables CRISPR-free mitochondrial base editing. Nature 583, 631–637 (2020).

Russell, O. M., Gorman, G. S., Lightowlers, R. N. & Turnbull, D. M. Mitochondrial diseases: hope for the future. Cell 181, 168–188 (2020).

Vafai, S. B. & Mootha, V. K. Mitochondrial disorders as windows into an ancient organelle. Nature 491, 374–383 (2012).

Stewart, J. B. & Chinnery, P. F. The dynamics of mitochondrial DNA heteroplasmy: implications for human health and disease. Nat. Rev. Genet. 16, 530–542 (2015).

Stewart, J. B. & Chinnery, P. F. Extreme heterogeneity of human mitochondrial DNA from organelles to populations. Nat. Rev. Genet. 22, 106–118 (2021).

Montano, V., Gruosso, F., Simoncini, C., Siciliano, G. & Mancuso, M. Clinical features of mtDNA-related syndromes in adulthood. Arch. Biochem. Biophys. 697, 108689 (2021).

Bacman, S. R. et al. MitoTALEN reduces mutant mtDNA load and restores tRNA(Ala) levels in a mouse model of heteroplasmic mtDNA mutation. Nat. Med. 24, 1696–1700 (2018).

Bacman, S. R., Williams, S. L., Pinto, M., Peralta, S. & Moraes, C. T. Specific elimination of mutant mitochondrial genomes in patient-derived cells by mitoTALENs. Nat. Med. 19, 1111–1113 (2013).

Gammage, P. A., Rorbach, J., Vincent, A. I., Rebar, E. J. & Minczuk, M. Mitochondrially targeted ZFNs for selective degradation of pathogenic mitochondrial genomes bearing large-scale deletions or point mutations. EMBO Mol. Med. 6, 458–466 (2014).

Lei, Z. et al. Detect-seq reveals out-of-protospacer editing and target-strand editing by cytosine base editors. Nat. Methods 18, 643–651 (2021).

Zhu, C. et al. Single-cell 5-formylcytosine landscapes of mammalian early embryos and ESCs at single-base resolution. Cell Stem Cell 20, 720–731.e725 (2017).

Shu, X. et al. Genome-wide mapping reveals that deoxyuridine is enriched in the human centromeric DNA. Nat. Chem. Biol. 14, 680–687 (2018).

Xia, B. et al. Bisulfite-free, base-resolution analysis of 5-formylcytosine at the genome scale. Nat. Methods 12, 1047–1050 (2015).

Komor, A. C., Kim, Y. B., Packer, M. S., Zuris, J. A. & Liu, D. R. Programmable editing of a target base in genomic DNA without double-stranded DNA cleavage. Nature 533, 420–424 (2016).

Nishida, K. et al. Targeted nucleotide editing using hybrid prokaryotic and vertebrate adaptive immune systems. Science 353, aaf8729 (2016).

Koblan, L. W. et al. Improving cytidine and adenine base editors by expression optimization and ancestral reconstruction. Nat. Biotechnol. 36, 843–846 (2018).

Li, X. et al. Base editing with a Cpf1-cytidine deaminase fusion. Nat. Biotechnol. 36, 324–327 (2018).

Wang, X. et al. Cas12a base editors induce efficient and specific editing with low DNA damage response. Cell Rep. 31, 107723 (2020).

Sardo, L. et al. Real-time visualization of chromatin modification in isolated nuclei. J. Cell Sci. 130, 2926–2940 (2017).

Wang, Q. et al. CoBATCH for high-throughput single-cell epigenomic profiling. Mol. Cell 76, 206–216.e207 (2019).

Boch, J. et al. Breaking the code of DNA binding specificity of TAL-type III effectors. Science 326, 1509–1512 (2009).

Moscou, M. J. & Bogdanove, A. J. A simple cipher governs DNA recognition by TAL effectors. Science 326, 1501 (2009).

Lamb, B. M., Mercer, A. C. & Barbas, C. F. III. Directed evolution of the TALE N-terminal domain for recognition of all 5′ bases. Nucleic Acids Res. 41, 9779–9785 (2013).

Jin, S. et al. Cytosine, but not adenine, base editors induce genome-wide off-target mutations in rice. Science 364, 292–295 (2019).

Zuo, E. et al. Cytosine base editor generates substantial off-target single-nucleotide variants in mouse embryos. Science 364, 289–292 (2019).

Doman, J. L., Raguram, A., Newby, G. A. & Liu, D. R. Evaluation and minimization of Cas9-independent off-target DNA editing by cytosine base editors. Nat. Biotechnol. 38, 620–628 (2020).

Nakahashi, H. et al. A genome-wide map of CTCF multivalency redefines the CTCF code. Cell Rep. 3, 1678–1689 (2013).

Schmidt, D. et al. Waves of retrotransposon expansion remodel genome organization and CTCF binding in multiple mammalian lineages. Cell 148, 335–348 (2012).

Merkenschlager, M. & Nora, E. P. CTCF and cohesin in genome folding and transcriptional gene regulation. Annu. Rev. Genomics Hum. Genet. 17, 17–43 (2016).

Rowley, M. J. & Corces, V. G. Organizational principles of 3D genome architecture. Nat. Rev. Genet. 19, 789–800 (2018).

Shi, Z., Gao, H., Bai, X. C. & Yu, H. Cryo-EM structure of the human cohesin–NIPBL–DNA complex. Science 368, 1454–1459 (2020).

Davidson, I. F. et al. DNA loop extrusion by human cohesin. Science 366, 1338–1345 (2019).

Kim, Y., Shi, Z., Zhang, H., Finkelstein, I. J. & Yu, H. Human cohesin compacts DNA by loop extrusion. Science 366, 1345–1349 (2019).

Murayama, Y. & Uhlmann, F. Biochemical reconstitution of topological DNA binding by the cohesin ring. Nature 505, 367–371 (2014).

Petela, N. J. et al. Scc2 Is a potent activator of cohesin's ATPase that promotes loading by binding Scc1 without Pds5. Mol. Cell 70, 1134–1148.e1137 (2018).

Hashimoto, H. et al. Structural basis for the versatile and methylation-dependent binding of CTCF to DNA. Mol. Cell 66, 711–720.e713 (2017).

Dixon, J. R. et al. Topological domains in mammalian genomes identified by analysis of chromatin interactions. Nature 485, 376–380 (2012).

Yu, M. & Ren, B. The three-dimensional organization of mammalian genomes. Annu. Rev. Cell Dev. Biol. 33, 265–289 (2017).

Lieberman-Aiden, E. et al. Comprehensive mapping of long-range interactions reveals folding principles of the human genome. Science 326, 289–293 (2009).

Schmitt, A. D., Hu, M. & Ren, B. Genome-wide mapping and analysis of chromosome architecture. Nat. Rev. Mol. Cell Biol. 17, 743–755 (2016).

Suzuki, K. et al. In vivo genome editing via CRISPR/Cas9 mediated homology-independent targeted integration. Nature 540, 144–149 (2016).

Yang, J. et al. ULtiMATE system for rapid assembly of customized TAL effectors. PLoS ONE 8, e75649 (2013).

Buenrostro, J. D., Wu, B., Chang, H. Y. & Greenleaf, W. J. ATAC-seq: a method for assaying chromatin accessibility genome-wide. Curr. Protoc. Mol. Biol. 109, 21–29 (2015).

Neely, A. E. & Bao, X. Nuclei isolation staining (NIS) method for imaging chromatin-associated proteins in difficult cell types. Curr. Protoc. Cell Biol. 84, e94 (2019).

Martin, M. Cutadapt removes adapter sequences from high-throughput sequencing reads. EMBnet.journal https://doi.org/10.14806/ej.17.1.200 (2011).

Krueger, F. & Andrews, S. R. Bismark: a flexible aligner and methylation caller for Bisulfite-Seq applications. Bioinformatics 27, 1571–1572 (2011).

Li, H. & Durbin, R. Fast and accurate short read alignment with Burrows–Wheeler transform. Bioinformatics 25, 1754–1760 (2009).

DePristo, M. A. et al. A framework for variation discovery and genotyping using next-generation DNA sequencing data. Nat. Genet. 43, 491–498 (2011).

Li, H. et al. The Sequence Alignment/Map format and SAMtools. Bioinformatics 25, 2078–2079 (2009).

McKenna, A. et al. The Genome Analysis Toolkit: a MapReduce framework for analyzing next-generation DNA sequencing data. Genome Res. 20, 1297–1303 (2010).

Langmead, B. & Salzberg, S. L. Fast gapped-read alignment with Bowtie 2. Nat. Methods 9, 357–359 (2012).

Zhang, Y. et al. Model-based analysis of ChIP–seq (MACS). Genome Biol 9, R137 (2008).

Ramirez, F. et al. deepTools2: a next generation web server for deep-sequencing data analysis. Nucleic Acids Res. 44, W160–W165 (2016).

Koboldt, D. C. et al. VarScan 2: somatic mutation and copy number alteration discovery in cancer by exome sequencing. Genome Res. 22, 568–576 (2012).

Servant, N. et al. HiC-Pro: an optimized and flexible pipeline for Hi-C data processing. Genome Biol. 16, 259 (2015).

Wolff, J. et al. Galaxy HiCExplorer 3: a web server for reproducible Hi-C, capture Hi-C and single-cell Hi-C data analysis, quality control and visualization. Nucleic Acids Res. 48, W177–W184 (2020).
Acknowledgements
We thank W. Wei for providing related plasmids; H. Cheng for sharing the antibodies for mitochondrial markers; W. Xie and X. Lu for discussion about the ChIP assay; X. Zhang and Chuyun Shao for help with ATAC-seq experiments and data processing; National Center for Protein Sciences at Peking University for assistance with FACS, imaging, sequencing, Imaris, Fragment Analyzer and Agilent 4150 TapeStation System; C. Shan, L. Fu, S. Qin and Y. Guo for assistance with immunofluorescence experiments, FACS and image processing; and G. Li and X. Zhang for assistance with NGS experiments. Bioinformatics analysis was performed on the High-Performance Computing Platform of the School of Life Sciences and High-Performance Computing Platform of the Center for Life Science. This work was supported by the National Natural Science Foundation of China (nos. 21825701, 91953201, 92153303 and 22107006), National Key R&D Program (2019YFA0110900 and 2019YFA0802200) and China Postdoctoral Science Foundation (2020M680218, 2021M700238). L. Liu was supported in part by the Postdoctoral Fellowship of Peking-Tsinghua Center for Life Sciences.
Ethics declarations
Competing interests
Peking University has filed patent applications on Detect-seq and optimized DdCBE variants described in this study, listing Z.L., H.M., Z.C.L., L.L, H.Z. and C.Y. as inventors.
Peer review
Peer review information
Nature thanks Bryan Dickinson and Fyodor Urnov for their contribution to the peer review of this work.
Additional information
Publisher's note Springer Nature remains neutral with regard to jurisdictional claims in published maps and institutional affiliations.
Extended data figures and tables
Supplementary information
About this article
Cite this article
Lei, Z., Meng, H., Liu, L. et al. Mitochondrial base editor induces substantial nuclear off-target mutations. Nature 606, 804–811 (2022). https://doi.org/10.1038/s41586-022-04836-5
Received:

Accepted:

Published:

Issue Date:

DOI: https://doi.org/10.1038/s41586-022-04836-5
Comments
By submitting a comment you agree to abide by our Terms and Community Guidelines. If you find something abusive or that does not comply with our terms or guidelines please flag it as inappropriate.