Abstract
Synonymous mutations in protein-coding genes do not alter protein sequences and are thus generally presumed to be neutral or nearly neutral1,2,3,4,5. Here, to experimentally verify this presumption, we constructed 8,341 yeast mutants each carrying a synonymous, nonsynonymous or nonsense mutation in one of 21 endogenous genes with diverse functions and expression levels and measured their fitness relative to the wild type in a rich medium. Three-quarters of synonymous mutations resulted in a significant reduction in fitness, and the distribution of fitness effects was overall similar—albeit nonidentical—between synonymous and nonsynonymous mutations. Both synonymous and nonsynonymous mutations frequently disturbed the level of mRNA expression of the mutated gene, and the extent of the disturbance partially predicted the fitness effect. Investigations in additional environments revealed greater across-environment fitness variations for nonsynonymous mutants than for synonymous mutants despite their similar fitness distributions in each environment, suggesting that a smaller proportion of nonsynonymous mutants than synonymous mutants are always non-deleterious in a changing environment to permit fixation, potentially explaining the common observation of substantially lower nonsynonymous than synonymous substitution rates. The strong non-neutrality of most synonymous mutations, if it holds true for other genes and in other organisms, would require re-examination of numerous biological conclusions about mutation, selection, effective population size, divergence time and disease mechanisms that rely on the assumption that synoymous mutations are neutral.
Relevant articles
Open Access articles citing this article.
Ines Leca

,

Alexander William Phillips

…

David Anthony Keays

Scientific Reports Open Access 21 January 2023

Shanghua Fan

,

Ting Zhao

&

Liu Sun

Orphanet Journal of Rare Diseases Open Access 05 January 2023

Thomas Stoeger

,

Rogan A. Grant

…

Luis A. Nunes Amaral

Nature Aging Open Access 09 December 2022
Access options
Subscribe to Nature+
Get immediate online access to Nature and 55 other Nature journal
Subscribe to Journal
Get full journal access for 1 year
$199.00
only $3.90 per issue
All prices are NET prices.
VAT will be added later in the checkout.
Tax calculation will be finalised during checkout.
Buy article
Get time limited or full article access on ReadCube.
$32.00
All prices are NET prices.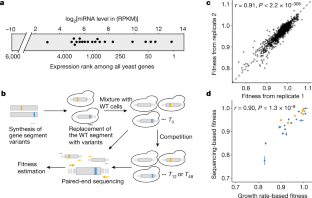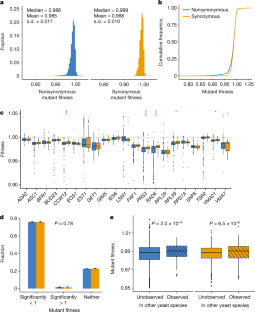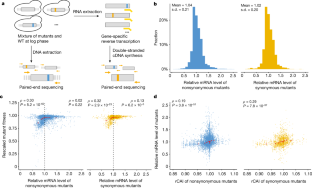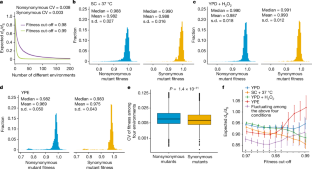 Data availability
Sequencing data generated in this study have been deposited into NCBI with the Bioproject ID PRJNA750109. Public data used include gene function annotations in the Saccharomyces Genome Database (https://www.yeastgenome.org/) and genomic coding sequences of S. paradoxus, C. glabrata, and S. castellii and genomic sequences of S. mikatae and S. uvarum from the NCBI genome assembly database (https://www.ncbi.nlm.nih.gov/assembly/). Source data are provided with this paper.
References
Kimura, M. Genetic variability maintained in a finite population due to mutational production of neutral and nearly neutral isoalleles. Genet Res 11, 247–269 (1968).

King, J. L. & Jukes, T. H. Non-Darwinian evolution. Science 164, 788–798 (1969).

Nei, M. & Kumar, S. Molecular Evolution and Phylogenetics (Oxford Univ. Press, 2000).

Li, W.-H. Molecular Evolution (Sinauer, 1997).

Graur, D., Sater, A. K. & Cooper, T. F. Molecular and Genome Evolution (Sinauer, 2016).

Hershberg, R. & Petrov, D. A. Selection on codon bias. Annu. Rev. Genet. 42, 287–299 (2008).

Chamary, J. V., Parmley, J. L. & Hurst, L. D. Hearing silence: non-neutral evolution at synonymous sites in mammals. Nat. Rev. Genet. 7, 98–108 (2006).

Plotkin, J. B. & Kudla, G. Synonymous but not the same: the causes and consequences of codon bias. Nat. Rev. Genet. 12, 32–42 (2011).

Stergachis, A. B. et al. Exonic transcription factor binding directs codon choice and affects protein evolution. Science 342, 1367–1372 (2013).

Zhou, Z. et al. Codon usage is an important determinant of gene expression levels largely through its effects on transcription. Proc. Natl Acad. Sci. USA 113, E6117–E6125 (2016).

Park, C., Chen, X., Yang, J. R. & Zhang, J. Differential requirements for mRNA folding partially explain why highly expressed proteins evolve slowly. Proc. Natl Acad. Sci. USA 110, E678–E686 (2013).

Presnyak, V. et al. Codon optimality is a major determinant of mRNA stability. Cell 160, 1111–1124 (2015).

Chen, S. et al. Codon-resolution analysis reveals a direct and context-dependent impact of individual synonymous mutations on mRNA level. Mol. Biol. Evol. 34, 2944–2958 (2017).

Kudla, G., Murray, A. W., Tollervey, D. & Plotkin, J. B. Coding-sequence determinants of gene expression in Escherichia coli. Science 324, 255–258 (2009).

Qian, W., Yang, J. R., Pearson, N. M., Maclean, C. & Zhang, J. Balanced codon usage optimizes eukaryotic translational efficiency. PLoS Genet. 8, e1002603 (2012).

Frumkin, I. et al. Codon usage of highly expressed genes affects proteome-wide translation efficiency. Proc. Natl Acad. Sci. USA 115, E4940–E4949 (2018).

Akashi, H. Synonymous codon usage in Drosophila melanogaster: natural selection and translational accuracy. Genetics 136, 927–935 (1994).

Sun, M. & Zhang, J. Preferred synonymous codons are translated more accurately: proteomic evidence, among-species variation, and mechanistic basis. Sci. Adv. (in the press).

Buhr, F. et al. Synonymous codons direct cotranslational folding toward different protein conformations. Mol. Cell. 61, 341–351 (2016).

Walsh, I. M., Bowman, M. A., Soto Santarriaga, I. F., Rodriguez, A. & Clark, P. L. Synonymous codon substitutions perturb cotranslational protein folding in vivo and impair cell fitness. Proc. Natl Acad. Sci. USA 117, 3528–3534 (2020).

Gilissen, C., Hoischen, A., Brunner, H. G. & Veltman, J. A. Disease gene identification strategies for exome sequencing. Eur. J. Hum. Genet. 20, 490–497 (2012).

Agashe, D., Martinez-Gomez, N. C., Drummond, D. A. & Marx, C. J. Good codons, bad transcript: large reductions in gene expression and fitness arising from synonymous mutations in a key enzyme. Mol. Biol. Evol. 30, 549–560 (2013).

Kristofich, J. et al. Synonymous mutations make dramatic contributions to fitness when growth is limited by a weak-link enzyme. PLoS Genet. 14, e1007615 (2018).

Lebeuf-Taylor, E., McCloskey, N., Bailey, S. F., Hinz, A. & Kassen, R. The distribution of fitness effects among synonymous mutations in a gene under directional selection. eLife 8, e45952 (2019).

Lind, P. A., Berg, O. G. & Andersson, D. I. Mutational robustness of ribosomal protein genes. Science 330, 825–827 (2010).

Sharon, E. et al. Functional genetic variants revealed by massively parallel precise genome editing. Cell 175, 544–557 (2018).

She, R. & Jarosz, D. F. Mapping causal variants with single-nucleotide resolution reveals biochemical drivers of phenotypic change. Cell 172, 478–490 (2018).

Qian, W., Ma, D., Xiao, C., Wang, Z. & Zhang, J. The genomic landscape and evolutionary resolution of antagonistic pleiotropy in yeast. Cell Rep. 2, 1399–1410 (2012).

Li, C., Qian, W., Maclean, M. & Zhang, J. The fitness landscape of a tRNA gene. Science 352, 837–840 (2016).

Chen, P. & Zhang, J. Asexual experimental evolution of yeast does not curtail transposable elements. Mol. Biol. Evol. 38, 2831–2842 (2021).

Keren, L. et al. Massively parallel interrogation of the effects of gene expression levels on fitness. Cell 166, 1282–1294 (2016).

Chang, Y. F., Imam, J. S. & Wilkinson, M. F. The nonsense-mediated decay RNA surveillance pathway. Annu. Rev. Biochem. 76, 51–74 (2007).

Monteiro, P. T. et al. YEASTRACT+: a portal for cross-species comparative genomics of transcription regulation in yeasts. Nucleic Acids Res. 48, D642–D649 (2020).

Sharp, P. M. & Li, W. H. The codon adaptation index—a measure of directional synonymous codon usage bias, and its potential applications. Nucleic Acids Res. 15, 1281–1295 (1987).

Radhakrishnan, A. et al. The DEAD-Box protein Dhh1p couples mRNA decay and translation by monitoring codon optimality. Cell 167, 122–132 (2016).

Yang, J. R., Chen, X. & Zhang, J. Codon-by-codon modulation of translational speed and accuracy via mRNA folding. PLoS Biol. 12, e1001910 (2014).

Faure, G., Ogurtsov, A. Y., Shabalina, S. A. & Koonin, E. V. Role of mRNA structure in the control of protein folding. Nucleic Acids Res. 44, 10898–10911 (2016).

Goncalves, P., Valerio, E., Correia, C., de Almeida, J. M. & Sampaio, J. P. Evidence for divergent evolution of growth temperature preference in sympatric Saccharomyces species. PLoS ONE 6, e20739 (2011).

Kimura, M. The Neutral Theory of Molecular Evolution (Cambridge Univ. Press, 1983).

Lewontin, R. C. & Cohen, D. On population growth in a randomly varying environment. Proc. Natl Acad. Sci. USA 62, 1056–1060 (1969).

Gillespie, J. H. Natural selection for within-generation variance in offspring number II. Discrite haploid models. Genetics 81, 403–413 (1975).

Kimura, M. & Ohta, T. The average number of generations until fixation of a mutant gene in a finite population. Genetics 61, 763–771 (1969).

Flynn, J. M. et al. Comprehensive fitness maps of Hsp90 show widespread environmental dependence. eLife 9, e53810 (2020).

Dandage, R. et al. Differential strengths of molecular determinants guide environment specific mutational fates. PLoS Genet. 14, e1007419 (2018).

Chen, P. & Zhang, J. Antagonistic pleiotropy conceals molecular adaptations in changing environments. Nat. Ecol. Evol. 4, 461–469 (2020).

Azizoglu, A., Brent, R. & Rudolf, F. A precisely adjustable, variation-suppressed eukaryotic transcriptional controller to enable genetic discovery. eLife 10, e69549 (2021).

Natsume, T. & Kanemaki, M. T. Conditional degrons for controlling protein expression at the protein level. Annu. Rev. Genet. 51, 83–102 (2017).

Zhang, J. & Yang, J. R. Determinants of the rate of protein sequence evolution. Nat. Rev. Genet. 16, 409–420 (2015).

Wu, Z. et al. Expression level is a major modifier of the fitness landscape of a protein coding gene. Nat. Ecol. Evol. 6, 103–115 (2022).

Sauna, Z. E. & Kimchi-Sarfaty, C. Understanding the contribution of synonymous mutations to human disease. Nat. Rev. Genet. 12, 683–691 (2011).

Lee, T. I. & Young, R. A. Transcriptional regulation and its misregulation in disease. Cell 152, 1237–1251 (2013).

Chou, H. J., Donnard, E., Gustafsson, H. T., Garber, M. & Rando, O. J. Transcriptome-wide analysis of roles for tRNA modifications in translational regulation. Mol. Cell. 68, 978–992 (2017).

Laughery, M. F. et al. New vectors for simple and streamlined CRISPR–Cas9 genome editing in Saccharomyces cerevisiae. Yeast 32, 711–720 (2015).

Warringer, J., Ericson, E., Fernandez, L., Nerman, O. & Blomberg, A. High-resolution yeast phenomics resolves different physiological features in the saline response. Proc. Natl Acad. Sci. USA 100, 15724–15729 (2003).

Honlinger, A. et al. Tom7 modulates the dynamics of the mitochondrial outer membrane translocase and plays a pathway-related role in protein import. EMBO J. 15, 2125–2137 (1996).

Potapov, V. & Ong, J. L. Examining sources of error in PCR by single-molecule sequencing. PLoS ONE 12, e0169774 (2017).

Stanke, M. & Morgenstern, B. AUGUSTUS: a web server for gene prediction in eukaryotes that allows user-defined constraints. Nucleic Acids Res. 33, W465–W467 (2005).

Ranwez, V., Douzery, E. J. P., Cambon, C., Chantret, N. & Delsuc, F. MACSE v2: toolkit for the alignment of coding sequences accounting for frameshifts and stop codons. Mol. Biol. Evol. 35, 2582–2584 (2018).

Hofacker, I. L. et al. Fast folding and comparison of RNA secondary structures. Monatsh. Chem. 125, 167–188 (1994).

Zhang, J. & He, X. Significant impact of protein dispensability on the instantaneous rate of protein evolution. Mol. Biol. Evol. 22, 1147–1155 (2005).
Acknowledgements
We thank P. Chen, H. Liu, and H. Xu for technical assistance and W. Qian, X. Wei, J.-R. Yang, and members of the Zhang laboratory for valuable comments. This work was supported by the U.S. National Institutes of Health research grant R35GM139484 to J.Z.
Ethics declarations
Competing interests
The authors declare no competing interests.
Peer review
Peer review information
Nature thanks the anonymous reviewer(s) for their contribution to the peer review of this work.
Additional information
Publisher's note Springer Nature remains neutral with regard to jurisdictional claims in published maps and institutional affiliations.
Extended data figures and tables
Supplementary information
About this article
Cite this article
Shen, X., Song, S., Li, C. et al. Synonymous mutations in representative yeast genes are mostly strongly non-neutral. Nature 606, 725–731 (2022). https://doi.org/10.1038/s41586-022-04823-w
Received:

Accepted:

Published:

Issue Date:

DOI: https://doi.org/10.1038/s41586-022-04823-w
Comments
By submitting a comment you agree to abide by our Terms and Community Guidelines. If you find something abusive or that does not comply with our terms or guidelines please flag it as inappropriate.