Abstract
Heart failure encompasses a heterogeneous set of clinical features that converge on impaired cardiac contractile function1,2 and presents a growing public health concern. Previous work has highlighted changes in both transcription and protein expression in failing hearts3,4, but may overlook molecular changes in less prevalent cell types. Here we identify extensive molecular alterations in failing hearts at single-cell resolution by performing single-nucleus RNA sequencing of nearly 600,000 nuclei in left ventricle samples from 11 hearts with dilated cardiomyopathy and 15 hearts with hypertrophic cardiomyopathy as well as 16 non-failing hearts. The transcriptional profiles of dilated or hypertrophic cardiomyopathy hearts broadly converged at the tissue and cell-type level. Further, a subset of hearts from patients with cardiomyopathy harbour a unique population of activated fibroblasts that is almost entirely absent from non-failing samples. We performed a CRISPR-knockout screen in primary human cardiac fibroblasts to evaluate this fibrotic cell state transition; knockout of genes associated with fibroblast transition resulted in a reduction of myofibroblast cell-state transition upon TGFβ1 stimulation for a subset of genes. Our results provide insights into the transcriptional diversity of the human heart in health and disease as well as new potential therapeutic targets and biomarkers for heart failure.
Your institute does not have access to this article
Access options
Subscribe to Nature+
Get immediate online access to the entire Nature family of 50+ journals
Subscribe to Journal
Get full journal access for 1 year
$199.00
only $3.90 per issue
All prices are NET prices.
VAT will be added later in the checkout.
Tax calculation will be finalised during checkout.
Buy article
Get time limited or full article access on ReadCube.
$32.00
All prices are NET prices.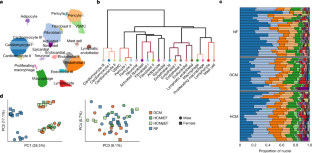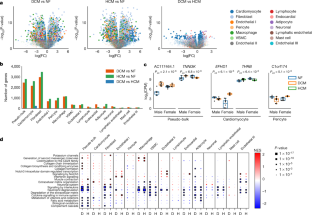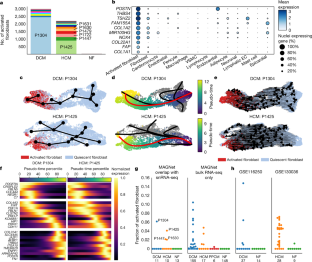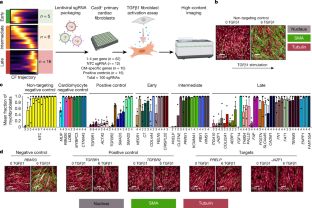 References
Savarese, G. & Lund, L. H. Global Public Health Burden of Heart Failure. Card. Fail. Rev. 03, 7 (2017).

Oktay, A. A. et al. Diabetes, Cardiomyopathy, and Heart Failure. Endotext (MDText.com, Inc., 2000).

Liu, Y. et al. RNA-Seq identifies novel myocardial gene expression signatures of heart failure. Genomics 105, 83–89 (2015).

Chen, C. Y. et al. Suppression of detyrosinated microtubules improves cardiomyocyte function in human heart failure. Nat. Med. 24, 1225–1233 (2018).

Maron, B. J. et al. Contemporary definitions and classification of the cardiomyopathies: An American Heart Association Scientific Statement from the Council on Clinical Cardiology, Heart Failure and Transplantation Committee; Quality of Care and Outcomes Research and Functional Genomics and Translational Biology Interdisciplinary Working Groups; and Council on Epidemiology and Prevention. Circulation 113, 1807–1816 (2006).

Sweet, M. E. et al. Transcriptome analysis of human heart failure reveals dysregulated cell adhesion in dilated cardiomyopathy and activated immune pathways in ischemic heart failure. BMC Genomics 19, 812 (2018).

Tucker, N. R. et al. Transcriptional and Cellular Diversity of the Human Heart. Circulation 142, 466–482 (2020).

Litviňuková, M. et al. Cells of the adult human heart. Nature 588, 466–472 (2020).

Wang, L. et al. Single-cell reconstruction of the adult human heart during heart failure and recovery reveals the cellular landscape underlying cardiac function. Nat. Cell Biol. 22, 108–119 (2020).

Ashburner, M. et al. Gene ontology: Tool for the unification of biology. Nat. Genet. 25, 25–29 (2000).

Carbon, S. et al. The Gene Ontology Resource: 20 years and still GOing strong. Nucleic Acids Res. 47, D330–D338 (2019).

Kalucka, J. et al. Single-Cell Transcriptome Atlas of Murine Endothelial Cells. Cell 180, 764–779.e20 (2020).

Crinier, A. et al. High-Dimensional Single-Cell Analysis Identifies Organ-Specific Signatures and Conserved NK Cell Subsets in Humans and Mice. Immunity 49, 971–986.e5 (2018).

Tirosh, I. et al. Dissecting the multicellular ecosystem of metastatic melanoma by single-cell RNA-seq. Science 352, 189–196 (2016).

Bajpai, G. et al. The human heart contains distinct macrophage subsets with divergent origins and functions. Nat. Med. 24, 1234–1245 (2018).

Tallquist, M. D. & Molkentin, J. D. Redefining the identity of cardiac fibroblasts. Nat. Rev. Cardiol. 14, 484–491 (2017).

Cucoranu, I. et al. NAD(P)H oxidase 4 mediates transforming growth factor-β1-induced differentiation of cardiac fibroblasts into myofibroblasts. Circ. Res. 97, 900–907 (2005).

Tillmanns, J. et al. Fibroblast activation protein alpha expression identifies activated fibroblasts after myocardial infarction. J. Mol. Cell. Cardiol. 87, 194–203 (2015).

Shinde, A. V. & Frangogiannis, N. G. Mechanisms of Fibroblast Activation in the Remodeling Myocardium. Curr. Pathobiol. Rep. 5, 145–152 (2017).

McLellan, M. A. et al. High-Resolution Transcriptomic Profiling of the Heart During Chronic Stress Reveals Cellular Drivers of Cardiac Fibrosis and Hypertrophy. Circulation 142, 1448–1463 (2020).

Forte, E. et al. Dynamic Interstitial Cell Response during Myocardial Infarction Predicts Resilience to Rupture in Genetically Diverse Mice. Cell Rep. 30, 3149–3163 (2020).

Frolova, E. G. et al. Thrombospondin‐4 regulates fibrosis and remodeling of the myocardium in response to pressure overload. FASEB J. 26, 2363–2373 (2012).

Liu, X. et al. Long non-coding and coding RNA profiling using strand-specific RNA-seq in human hypertrophic cardiomyopathy. Sci. Data 6, 90 (2019).

Bengtsson, E. et al. The Leucine-rich Repeat Protein PRELP Binds Perlecan and Collagens and May Function as a Basement Membrane Anchor. J. Biol. Chem. 277, 15061–15068 (2002).

Li, L. et al. The role of JAZF1 on lipid metabolism and related genes in vitro. Metabolism. 60, 523–530 (2011).

Guang-feng, M. et al. JAZF1 can regulate the expression of lipid metabolic genes and inhibit lipid accumulation in adipocytes. Biochem. Biophys. Res. Commun. 445, 673–680 (2014).

Yuan, L. et al. Transcription factor TIP27 regulates glucose homeostasis and insulin sensitivity in a PI3-kinase/Akt-dependent manner in mice. Int. J. Obes. 39, 949–958 (2015).

Koch, M. et al. A Novel Marker of Tissue Junctions, Collagen XXII. J. Biol. Chem. 279, 22514 (2004).

Watanabe, T. et al. A Human Skin Model Recapitulates Systemic Sclerosis Dermal Fibrosis and Identifies COL22A1 as a TGFβ Early Response Gene that Mediates Fibroblast to Myofibroblast Transition. Genes (Basel). 10, 75 (2019).

Ma, Y. et al. Cardiomyocyte d-dopachrome tautomerase protects against heart failure. JCI Insight 4, e128900 (2019).

Martin, M. Cutadapt removes adapter sequences from high-throughput sequencing reads. EMBnet.journal 17, 10 (2011).

Fleming, S. J., Marioni, J. C. & Babadi, M. CellBender remove-background: A deep generative model for unsupervised removal of background noise from scRNA-seq datasets. Preprint at bioRxiv https://doi.org/10.1101/791699 (2019).

Wolf, F. A., Angerer, P. & Theis, F. J. SCANPY: Large-scale single-cell gene expression data analysis. Genome Biol. 19, 15 (2018).

Korsunsky, I. et al. Fast, sensitive and accurate integration of single-cell data with Harmony. Nat. Methods 16, 1289–1296 (2019).

Wolock, S. L., Lopez, R. & Klein, A. M. Scrublet: Computational Identification of Cell Doublets in Single-Cell Transcriptomic Data. Cell Syst. 8, 281–291.e9 (2019).

Lun, A. T. L. & Marioni, J. C. Overcoming confounding plate effects in differential expression analyses of single-cell RNA-seq data. Biostatistics 18, 451–464 (2017).

Chen, Y., Lun, A. T. L. & Smyth, G. K. From reads to genes to pathways: Differential expression analysis of RNA-Seq experiments using Rsubread and the edgeR quasi-likelihood pipeline. F1000Research 5, 1438 (2016).

Love, M. I., Huber, W. & Anders, S. Moderated estimation of fold change and dispersion for RNA-seq data with DESeq2. Genome Biol. 15, 550 (2014).

Law, C. W., Chen, Y., Shi, W. & Smyth, G. K. Voom: Precision weights unlock linear model analysis tools for RNA-seq read counts. Genome Biol. 15, R29 (2014).

Falcon, S. & Gentleman, R. Using GOstats to test gene lists for GO term association. Bioinformatics 23, 257–258 (2007).

Büttner, M., Ostner, J., Müller, C. L., Theis, F. J. & Schubert, B. scCODA is a Bayesian model for compositional single-cell data analysis. Nat. Commun. 12, 1–10 (2021).

Brill, B., Amir, A. & Heller, R. Testing for differential abundance in compositional counts data, with application to microbiome studies. Preprint at arXiv https://arxiv.org/abs/1904.08937 (2019).

Jassal, B. et al. The reactome pathway knowledgebase. Nucleic Acids Res. 48, D498–D503 (2020).

Korotkevich, G., Sukhov, V. & Sergushichev, A. Fast gene set enrichment analysis. Preprint at bioRxiv https://doi.org/10.1101/060012 (2016).

Yu, G. & He, Q. Y. ReactomePA: An R/Bioconductor package for reactome pathway analysis and visualization. Mol. Biosyst. 12, 477–479 (2016).

Street, K. et al. Slingshot: cell lineage and pseudotime inference for single-cell transcriptomics. BMC Genomics 19, 477 (2018).

Hafemeister, C. & Satija, R. Normalization and variance stabilization of single-cell RNA-seq data using regularized negative binomial regression. Genome Biol. 20, 296 (2019).

La Manno, G. et al. RNA velocity of single cells. Nature 560, 494–498 (2018).

Bergen, V., Lange, M., Peidli, S., Wolf, F. A. & Theis, F. J. Generalizing RNA velocity to transient cell states through dynamical modeling. Nat. Biotechnol. 38, 1408–1414 (2020).

Van den Berge, K. et al. Trajectory-based differential expression analysis for single-cell sequencing data. Nat. Commun. 11, 1201 (2020).

Newman, A. M. et al. Determining cell type abundance and expression from bulk tissues with digital cytometry. Nat. Biotechnol. 37, 773–782 (2019).

Patro, R., Duggal, G., Love, M. I., Irizarry, R. A. & Kingsford, C. Salmon provides fast and bias-aware quantification of transcript expression. Nat. Methods 14, 417–419 (2017).

Li, H. Aligning sequence reads, clone sequences and assembly contigs with BWA-MEM. Preprint at arXiv https://arxiv.org/abs/1303.3997 (2013).

Poplin, R. et al. Scaling accurate genetic variant discovery to tens of thousands of samples. Preprint at bioRxiv https://doi.org/10.1101/201178 (2017).

McLaren, W. et al. The Ensembl Variant Effect Predictor. Genome Biol. 17, 122 (2016).

Schindelin, J. et al. Fiji: an open-source platform for biological-image analysis. Nat. Methods 97, 676–682 (2012).

Sanjana, N. E., Shalem, O. & Zhang, F. Improved vectors and genome-wide libraries for CRISPR screening. Nat. Methods 11, 783–784 (2014).

Sanson, K. R. et al. Optimized libraries for CRISPR-Cas9 genetic screens with multiple modalities. Nat. Commun. 9, 1–15 (2018).

Doench, J. G. et al. Optimized sgRNA design to maximize activity and minimize off-target effects of CRISPR-Cas9. Nat. Biotechnol. 34, 184–191 (2016).
Acknowledgements
The Precision Cardiology Laboratory is a joint effort between the Broad Institute and Bayer AG. This work was supported by the Fondation Leducq (14CVD01), and by grants from the National Institutes of Health to P.T.E. (1RO1HL092577, R01HL128914 and K24HL105780), N.R.T. (5K01HL140187), K.B.M. (1R01HL105993) and M.C.H. (5T32HL007208-42). This work was also supported by a grant from the American Heart Association Strategically Focused Research Networks to P.T.E. (18SFRN34110082).
Ethics declarations
Competing interests
A.-D.A. is an employee of Bayer US LLC (a subsidiary of Bayer AG) and may own stock in Bayer AG. I.P., S.H. and C.M.S. were full-time employees of Bayer when this work was performed. C.M.S. is now a full-time employee of Vifor Pharma Management. V.K.K. was a co-founder of Dogma Therapeutics and Apolo1 Bio, and is now an employee of Anji Pharmaceuticals. P.T.E. has received sponsored research support from Bayer AG and IBM Health, and he has served on advisory boards or consulted for Bayer AG, MyoKardia and Novartis. K.B.M. has research grant funding from Sanofi-Aventis, USA and has also served on advisory boards for MyoKardia and Pfizer. M.N. has received funds or material research support from Lilly, Alnylam, Biotronik, CSL Behring, GlycoMimetics, GSK, Medtronic, Novartis and Pfizer, as well as consulting fees from Biogen, Gimv, IFM Therapeutics, Molecular Imaging, Sigilon and Verseau Therapeutics. The Broad Institute, Massachusetts General Hospital and Bayer AG have a pending patent application (US application no. 17/669,904) on the identification of activated fibroblasts for the diagnosis and treatment of cardiomyopathy based on the results from this work with M.C., I.P., A.-D.A., C.M.S. and P.T.E. listed as co-inventors. All remaining authors declare no competing interests.
Peer review
Peer review information
Nature thanks Eva van Rooij and the other, anonymous, reviewer(s) for their contribution to the peer review of this work. Peer review reports are available.
Additional information
Publisher's note Springer Nature remains neutral with regard to jurisdictional claims in published maps and institutional affiliations.
Extended data figures and tables
Supplementary information
This folder contains Supplementary Tables 1–16 and a DOC file containing their accompanying legends.
About this article
Cite this article
Chaffin, M., Papangeli, I., Simonson, B. et al. Single-nucleus profiling of human dilated and hypertrophic cardiomyopathy. Nature 608, 174–180 (2022). https://doi.org/10.1038/s41586-022-04817-8
Received:

Accepted:

Published:

Issue Date:

DOI: https://doi.org/10.1038/s41586-022-04817-8
Further reading
Nature Reviews Cardiology (2022)
Comments
By submitting a comment you agree to abide by our Terms and Community Guidelines. If you find something abusive or that does not comply with our terms or guidelines please flag it as inappropriate.