Abstract
Haematopoietic stem cells (HSCs) arise in the embryo from the arterial endothelium through a process known as the endothelial-to-haematopoietic transition (EHT)1,2,3,4. This process generates hundreds of blood progenitors, of which a fraction go on to become definitive HSCs. It is generally thought that most adult blood is derived from those HSCs, but to what extent other progenitors contribute to adult haematopoiesis is not known. Here we use in situ barcoding and classical fate mapping to assess the developmental and clonal origins of adult blood in mice. Our analysis uncovers an early wave of progenitor specification—independent of traditional HSCs—that begins soon after EHT. These embryonic multipotent progenitors (eMPPs) predominantly drive haematopoiesis in the young adult, have a decreasing yet lifelong contribution over time and are the predominant source of lymphoid output. Putative eMPPs are specified within intra-arterial haematopoietic clusters and represent one fate of the earliest haematopoietic progenitors. Altogether, our results reveal functional heterogeneity during the definitive wave that leads to distinct sources of adult blood.
Access options
Subscribe to Nature+
Get immediate online access to Nature and 55 other Nature journal
Subscribe to Journal
Get full journal access for 1 year
$199.00
only $3.90 per issue
All prices are NET prices.
VAT will be added later in the checkout.
Tax calculation will be finalised during checkout.
Buy article
Get time limited or full article access on ReadCube.
$32.00
All prices are NET prices.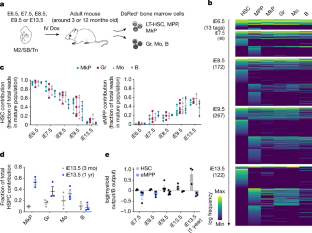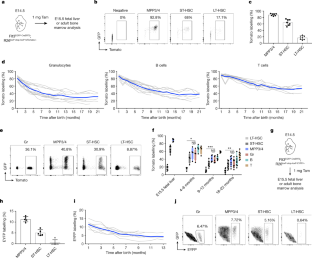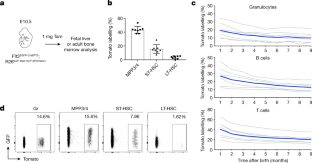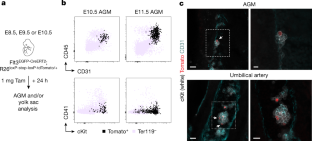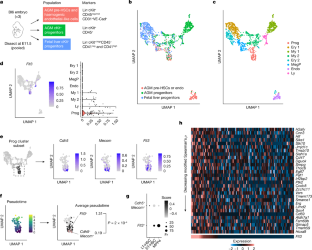 Data availability
The Gene Expression Omnibus accession number is GSE180357 ('Single-cell transcriptomic interrogation of haematopoietic progenitors within the E11.5 AGM of the mouse'), which contains the scRNA-seq data. Source data are provided with this paper.
Code availability
Custom code for transposon alignment and analysis has been previously published20.
References
Bertrand, J. Y. et al. Haematopoietic stem cells derive directly from aortic endothelium during development. Nature 464, 108–111 (2010).

Boisset, J. C. et al. In vivo imaging of haematopoietic cells emerging from the mouse aortic endothelium. Nature 464, 116–120 (2010).

Jaffredo, T., Gautier, R., Eichmann, A. & Dieterlen-Lievre, F. Intraaortic hemopoietic cells are derived from endothelial cells during ontogeny. Development 125, 4575–4583 (1998).

Yokomizo, T. & Dzierzak, E. Three-dimensional cartography of hematopoietic clusters in the vasculature of whole mouse embryos. Development 137, 3651–3661(2010).

Dzierzak, E. & Speck, N. A. Of lineage and legacy: the development of mammalian hematopoietic stem cells. Nat. Immunol. 9, 129–136 (2008).

Medvinsky, A., Rybtsov, S. & Taoudi, S. Embryonic origin of the adult hematopoietic system: advances and questions. Development 138, 1017–1031 (2011).

Boisset, J. C. et al. Progressive maturation toward hematopoietic stem cells in the mouse embryo aorta. Blood 125, 465–469 (2015).

Chen, M. J., Yokomizo, T., Zeigler, B. M., Dzierzak, E. & Speck, N. A. Runx1 is required for the endothelial to haematopoietic cell transition but not thereafter. Nature 457, 887–891 (2009).

Kumaravelu, P. et al. Quantitative developmental anatomy of definitive haematopoietic stem cells/long-term repopulating units (HSC/RUs): role of the aorta-gonad-mesonephros (AGM) region and the yolk sac in colonisation of the mouse embryonic liver. Development 129, 4891–4899 (2002).

Rybtsov, S., Ivanovs, A., Zhao, S. & Medvinsky, A. Concealed expansion of immature precursors underpins acute burst of adult HSC activity in foetal liver. Development 143, 1284–1289 (2016).

Robin, C. et al. Human placenta is a potent hematopoietic niche containing hematopoietic stem and progenitor cells throughout development. Cell Stem Cell 5, 385–395 (2009).

Zhou, F. et al. Tracing haematopoietic stem cell formation at single-cell resolution. Nature 533, 487–492 (2016).

Dzierzak, E. & Bigas, A. Blood development: hematopoietic stem cell dependence and independence. Cell Stem Cell 22, 639–651 (2018).

Pei, W. et al. Polylox barcoding reveals haematopoietic stem cell fates realized in vivo. Nature 548, 456–460 (2017).

Ganuza, M. et al. Lifelong haematopoiesis is established by hundreds of precursors throughout mammalian ontogeny. Nat. Cell Biol. 19, 1153–1163 (2017).

Henninger, J. et al. Clonal fate mapping quantifies the number of haematopoietic stem cells that arise during development. Nat. Cell Biol. 19, 17–27 (2017).

Batsivari, A. et al. Understanding hematopoietic stem cell development through functional correlation of their proliferative status with the intra-aortic cluster architecture. Stem Cell Rep. 8, 1549–1562 (2017).

Zhu, Q. et al. Developmental trajectory of prehematopoietic stem cell formation from endothelium. Blood 136, 845–856 (2020).

Baron, C. S. et al. Single-cell transcriptomics reveal the dynamic of haematopoietic stem cell production in the aorta. Nat. Commun. 9, 2517 (2018).

Sun, J. et al. Clonal dynamics of native haematopoiesis. Nature 514, 322–327 (2014).

Pietras, E. M. et al. Functionally distinct subsets of lineage-biased multipotent progenitors control blood production in normal and regenerative conditions. Cell Stem Cell 17, 35–46 (2015).

Bowling, S. et al. An engineered CRISPR–Cas9 mouse line for simultaneous readout of lineage histories and gene expression profiles in single cells. Cell 181, 1410–1422 (2020).

Christensen, J. L. & Weissman, I. L. Flk-2 is a marker in hematopoietic stem cell differentiation: a simple method to isolate long-term stem cells. Proc. Natl Acad. Sci. USA 98, 14541–14546 (2001).

Boyer, S. W., Schroeder, A. V., Smith-Berdan, S. & Forsberg, E. C. All hematopoietic cells develop from hematopoietic stem cells through Flk2/Flt3-positive progenitor cells. Cell Stem Cell 9, 64–73 (2011).

Srinivas, S. et al. Cre reporter strains produced by targeted insertion of EYFP and ECFP into the ROSA26 locus. BMC Dev. Biol. 1, 4 (2001).

Beaudin, A. E. et al. A transient developmental hematopoietic stem cell gives rise to innate-like B and T cells. Cell Stem Cell 19, 768–783 (2016).

Christodoulou, C. et al. Live-animal imaging of native haematopoietic stem and progenitor cells. Nature 578, 278–283 (2020).

Ganuza, M. et al. Murine hematopoietic stem cell activity is derived from pre-circulation embryos but not yolk sacs. Nat. Commun. 9, 5405 (2018).

Rodriguez-Fraticelli, A. E. et al. Clonal analysis of lineage fate in native haematopoiesis. Nature 553, 212–216 (2018).

Forsberg, E. C. et al. Differential expression of novel potential regulators in hematopoietic stem cells. PLoS Genet. 1, e28 (2005).

Linton, P. J. & Dorshkind, K. Age-related changes in lymphocyte development and function. Nat. Immunol. 5, 133–139 (2004).

Cazzola, A. et al. Prenatal origin of pediatric leukemia: lessons from hematopoietic development. Front. Cell Dev. Biol. 8, 618164 (2020).

Madisen, L. et al. A robust and high-throughput Cre reporting and characterization system for the whole mouse brain. Nat. Neurosci. 13, 133–140 (2010).

Dzierzak, E. & de Bruijn, M. Isolation and analysis of hematopoietic stem cells from mouse embryos. Methods Mol. Med. 63, 1–14 (2002).

Yokomizo, T. et al. Whole-mount three-dimensional imaging of internally localized immunostained cells within mouse embryos. Nat. Protoc. 7, 421–431 (2012).

Picelli, S. et al. Tn5 transposase and tagmentation procedures for massively scaled sequencing projects. Genome Res. 24, 2033–2040 (2014).

Stern, D. L. Tagmentation-based mapping (TagMap) of mobile dna genomic insertion sites. Preprint at bioRxiv https://doi.org/10.1101/037762 (2017).

Hao, Y. et al. Integrated analysis of multimodal single-cell data. Cell 184, 3573–3587 (2021).

Cao, J. et al. The single-cell transcriptional landscape of mammalian organogenesis. Nature 566, 496–502 (2019).

Lummertz da Rocha, E. et al. Reconstruction of complex single-cell trajectories using CellRouter. Nat. Commun. 9, 892 (2018).
Acknowledgements
We are grateful to members of the F.D.C. laboratory; M. Chen for scientific advice; the Harvard Stem Cell Core for technical support; and R. Mathieu and M. Paktinat for assistance and guidance with FACS. We also thank the laboratory of S. Hormoz and S. Liu for help with 10X encapsulation and sample processing. E.L.d.R. thanks CAPES (Coordination for the Improvement of Higher Education Personnel), Brazil. This work was supported by the National Institutes of Health grants HL128850-01A1 and P01HL13147, by the Evans MDS Foundation and by a Crazy 8 award from the Alex Lemonade Foundation to F.D.C. F.D.C. was a Leukemia and Lymphoma Society and a Howard Hughes Medical Institute Scholar. C.W. was funded by the Jane Coffin Childs Memorial Fund.
Ethics declarations
Competing interests
The authors declare no competing interests.
Peer review
Peer review information
Nature thanks Anna Bigas and the other, anonymous, reviewer(s) for their contribution to the peer review of this work.
Additional information
Publisher's note Springer Nature remains neutral with regard to jurisdictional claims in published maps and institutional affiliations.
Extended data figures and tables
Supplementary information
Supplementary Notes 1–4, Supplementary References, Supplementary Tables 1–3 and Supplementary Figs. 1–4.
About this article
Cite this article
Patel, S.H., Christodoulou, C., Weinreb, C. et al. Lifelong multilineage contribution by embryonic-born blood progenitors. Nature 606, 747–753 (2022). https://doi.org/10.1038/s41586-022-04804-z
Received:

Accepted:

Published:

Issue Date:

DOI: https://doi.org/10.1038/s41586-022-04804-z
This article is cited by
Emanuele Azzoni
Alessandro Fantin

Nature Cardiovascular Research (2022)

Inflammation (2022)
Comments
By submitting a comment you agree to abide by our Terms and Community Guidelines. If you find something abusive or that does not comply with our terms or guidelines please flag it as inappropriate.