Abstract
Chromosomal instability (CIN) results in the accumulation of large-scale losses, gains and rearrangements of DNA1. The broad genomic complexity caused by CIN is a hallmark of cancer2; however, there is no systematic framework to measure different types of CIN and their effect on clinical phenotypes pan-cancer. Here we evaluate the extent, diversity and origin of CIN across 7,880 tumours representing 33 cancer types. We present a compendium of 17 copy number signatures that characterize specific types of CIN, with putative aetiologies supported by multiple independent data sources. The signatures predict drug response and identify new drug targets. Our framework refines the understanding of impaired homologous recombination, which is one of the most therapeutically targetable types of CIN. Our results illuminate a fundamental structure underlying genomic complexity in human cancers and provide a resource to guide future CIN research.
Relevant articles
Open Access articles citing this article.
Weisheng Zheng

,

Mengchen Pu

…

Yingsheng Zhang

Scientific Reports Open Access 30 May 2023

Huizi Yao

,

Huimin Li

…

Xue-Song Liu

Communications Biology Open Access 16 May 2023

Brittiny Dhital

&

Veronica Rodriguez-Bravo

Chromosome Research Open Access 14 April 2023
Access options
Access Nature and 54 other Nature Portfolio journals
Get Nature+, our best-value online-access subscription
$29.99 / 30 days
cancel any time
Subscribe to this journal
Receive 51 print issues and online access
$199.00 per year
only $3.90 per issue
Rent or buy this article
Get just this article for as long as you need it
$39.95
Prices may be subject to local taxes which are calculated during checkout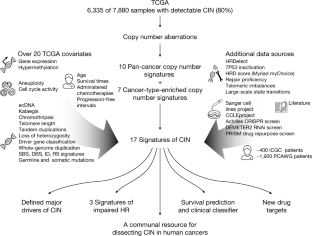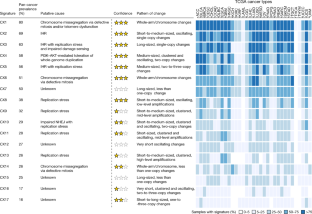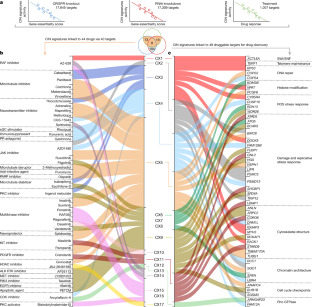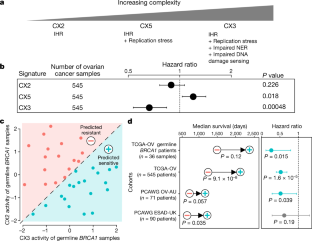 Data availability
All data used in this study were obtained from publicly available sources and are described in detail in Supplementary Table 1, section 'Data and Code' in the Supplementary Methods. Some raw data have restricted access (TCGA dbGaP accession number: phs000178.v11.p8; ICGC EGA accession number: EGAS00001001692). Access can be obtained by applying to the relevant Data Access Committees (TCGA or ICGC). The authors declare that all other data supporting the findings of this study, including the source data for all figures, are publicly available without restrictions and are also available in the Supplementary Information and the Github repositories. All data supporting the analysis of our copy number signatures are navigable via our web portal (https://markowetz.cruk.cam.ac.uk/cincompendium/).
Code availability
The code is publicly accessible via our hub repository (https://github.com/markowetzlab/Drews2022_CIN_Compendium), which describes how the CIN signatures were derived and how to reproduce the figures and tables in this publication. The repository also contains the publicly accessible data and intermediary results used and produced in this study. The hub repository links to other repositories containing the code for specialized tasks.
References
Bakhoum, S. F. & Cantley, L. C. The multifaceted role of chromosomal instability in cancer and its microenvironment. Cell 174, 1347–1360 (2018).

Hanahan, D. & Weinberg, R. A. Hallmarks of cancer: the next generation. Cell 144, 646–674 (2011).

Tijhuis, A. E., Johnson, S. C. & McClelland, S. E. The emerging links between chromosomal instability (CIN), metastasis, inflammation and tumour immunity. Mol. Cytogenet. 12, 17 (2019).

Chakravarti, D., LaBella, K. A. & DePinho, R. A. Telomeres: history, health, and hallmarks of aging. Cell 184, 306–322 (2021).

Bakhoum, S. F. et al. Chromosomal instability drives metastasis through a cytosolic DNA response. Nature 553, 467–472 (2018).

Davies, H. et al. HRDetect is a predictor of BRCA1 and BRCA2 deficiency based on mutational signatures. Nat. Med. 23, 517–525 (2017).

Cohen-Sharir, Y. et al. Aneuploidy renders cancer cells vulnerable to mitotic checkpoint inhibition. Nature 590, 486–491 (2021).

Macintyre, G. et al. Copy number signatures and mutational processes in ovarian carcinoma. Nat. Genet. 50, 1262–1270 (2018).

Steele, C. D. et al. Undifferentiated sarcomas develop through distinct evolutionary pathways. Cancer Cell 35, 441–456.e8 (2019).

Ben-David, U. & Amon, A. Context is everything: aneuploidy in cancer. Nat. Rev. Genet. 21, 44–62 (2020).

Stok, C., Kok, Y. P., van den Tempel, N. & van Vugt, M. A. T. M. Shaping the BRCAness mutational landscape by alternative double-strand break repair, replication stress and mitotic aberrancies. Nucleic Acids Res. 49, 4239–4257 (2021).

Takemon, Y. et al. Multi-omic analyses reveal a role for mammalian CIC in cell cycle regulation and mitotic fidelity Preprint at bioRxiv https://www.biorxiv.org/content/10.1101/533323v2 (2019).

Hell, M. P., Duda, M., Weber, T. C., Moch, H. & Krek, W. Tumor suppressor VHL functions in the control of mitotic fidelity. Cancer Res. 74, 2422–2431 (2014).

Brownlee, P. M., Chambers, A. L., Cloney, R., Bianchi, A. & Downs, J. A. BAF180 promotes cohesion and prevents genome instability and aneuploidy. Cell Rep. 6, 973–981 (2014).

Silverman, J. S., Skaar, J. R. & Pagano, M. SCF ubiquitin ligases in the maintenance of genome stability. Trends Biochem. Sci. 37, 66–73 (2012).

Godinho, S. A. & Pellman, D. Causes and consequences of centrosome abnormalities in cancer. Phil. Trans. R. Soc. B 369, 20130467 (2014).

Menghi, F. et al. The tandem duplicator phenotype is a prevalent genome-wide cancer configuration driven by distinct gene mutations. Cancer Cell 34, 197–210.e5 (2018).

Abkevich, V. et al. Patterns of genomic loss of heterozygosity predict homologous recombination repair defects in epithelial ovarian cancer. Br. J. Cancer 107, 1776–1782 (2012).

Popova, T. et al. Ploidy and large-scale genomic instability consistently identify basal-like breast carcinomas with BRCA1/2 inactivation. Cancer Res. 72, 5454–5462 (2012).

The Cancer Genome Atlas Research Network. Integrated genomic analyses of ovarian carcinoma. Nature 474, 609–615 (2011).

Nik-Zainal, S. et al. Landscape of somatic mutations in 560 breast cancer whole-genome sequences. Nature 534, 47–54 (2016).

Ogden, A., Rida, P. C. G. & Aneja, R. Prognostic value of CA20, a score based on centrosome amplification-associated genes, in breast tumors. Sci Rep. 7, 262 (2017).

Piazza, A. & Heyer, W.-D. Homologous recombination and the formation of complex genomic rearrangements. Trends Cell Biol. 29, 135–149 (2019).

Guirouilh-Barbat, J., Lambert, S., Bertrand, P. & Lopez, B. S. Is homologous recombination really an error-free process? Front. Genet. 5, 175 (2014).

Knijnenburg, T. A. et al. Genomic and molecular landscape of dna damage repair deficiency across The Cancer Genome Atlas. Cell Rep. 23, 239–254.e6 (2018).

Saavedra, H. I., Fukasawa, K., Conn, C. W. & Stambrook, P. J. MAPK mediates RAS-induced chromosome instability. J. Biol. Chem. 274, 38083–38090 (1999).

Perl, A. L. et al. Protein phosphatase 2A controls ongoing DNA replication by binding to and regulating cell division cycle 45 (CDC45). J. Biol. Chem. 294, 17043–17059 (2019).

Chen, L. et al. The augmented R-loop is a unifying mechanism for myelodysplastic syndromes induced by high-risk splicing factor mutations. Mol. Cell 69, 412–425.e6 (2018).

Li, Q. et al. ERCC2 helicase domain mutations confer nucleotide excision repair deficiency and drive cisplatin sensitivity in muscle-invasive bladder cancer. Clin. Cancer Res. 25, 977–988 (2019).

Menon, V. & Povirk, L. Involvement of p53 in the repair of DNA double strand breaks: multifaceted roles of p53 in homologous recombination repair (HRR) and non-homologous end joining (NHEJ). Subcell. Biochem. 85, 321–336 (2014).

Dentro, S. C. et al. Characterizing genetic intra-tumor heterogeneity across 2,658 human cancer genomes. Cell 184, 2239–2254.e39 (2021).

Dewhurst, S. M. et al. Tolerance of whole-genome doubling propagates chromosomal instability and accelerates cancer genome evolution. Cancer Discov. 4, 175–185 (2014).

Davoli, T. & de Lange, T. The causes and consequences of polyploidy in normal development and cancer. Annu. Rev. Cell Dev. Biol. 27, 585–610 (2011).

Berenjeno, I. M. et al. Oncogenic PIK3CA induces centrosome amplification and tolerance to genome doubling. Nat. Commun. 8, 1773 (2017).

Darp, R., Vittoria, M. A., Ganem, N. J. & Ceol, C. J. Oncogenic BRAF induces whole-genome doubling through suppression of cytokinesis. Preprint at bioRxiv https://doi.org/10.1101/2021.04.08.439023 (2021).

Zhang, Q. et al. FBXW7 facilitates nonhomologous end-joining via K63-linked polyubiquitylation of XRCC4. Mol. Cell 61, 419–433 (2016).

Citri, A., Skaria, K. B. & Yarden, Y. The deaf and the dumb: the biology of ErbB-2 and ErbB-3. Exp. Cell Res. 284, 54–65 (2003).

Alexandrov, L. B. et al. The repertoire of mutational signatures in human cancer. Nature 578, 94–101 (2020).

Venkatesan, S. et al. Induction of APOBEC3 exacerbates DNA replication stress and chromosomal instability in early breast and lung cancer evolution. Cancer Discov. 11, 2456–2473 (2021).

Crockford, A. et al. Cyclin D mediates tolerance of genome-doubling in cancers with functional p53. Ann. Oncol. 28, 149–156 (2017).

Ray Chaudhuri, A. & Nussenzweig, A. The multifaceted roles of PARP1 in DNA repair and chromatin remodelling. Nat. Rev. Mol. Cell Biol. 18, 610–621 (2017).

Goel, S. et al. CDK4/6 inhibition triggers anti-tumour immunity. Nature 548, 471–475 (2017).

Brownlee, P. M., Meisenberg, C. & Downs, J. A. The SWI/SNF chromatin remodelling complex: Its role in maintaining genome stability and preventing tumourigenesis. DNA Repair 32, 127–133 (2015).

Kops, G. J. P., Foltz, D. R. & Cleveland, D. W. Lethality to human cancer cells through massive chromosome loss by inhibition of the mitotic checkpoint. Proc. Natl Acad. Sci. USA 101, 8699–8704 (2004).

Quinton, R. J. et al. Whole-genome doubling confers unique genetic vulnerabilities on tumour cells. Nature 590, 492–497 (2021).

Janssen, A., Kops, G. J. P. L. & Medema, R. H. Elevating the frequency of chromosome mis-segregation as a strategy to kill tumor cells. Proc. Natl Acad. Sci. USA 106, 19108–19113 (2009).

Datta, D. et al. Nucleolar GTP-binding protein-1 (NGP-1) promotes G1 to S phase transition by activating cyclin-dependent kinase inhibitor p21 Cip1/Waf1. J. Biol. Chem. 290, 21536–21552 (2015).

Martin, L. P., Hamilton, T. C. & Schilder, R. J. Platinum resistance: the role of DNA repair pathways. Clin. Cancer Res. 14, 1291–1295 (2008).

Zack, T. I. et al. Pan-cancer patterns of somatic copy number alteration. Nat. Genet. 45, 1134–1140 (2013).

Scheinin, I. et al. DNA copy number analysis of fresh and formalin-fixed specimens by shallow whole-genome sequencing with identification and exclusion of problematic regions in the genome assembly. Genome Res. 24, 2022–2032 (2014).
Acknowledgements
We thank M. Eldridge for setting up the online resource and A. Berman for bug fixes. R.M.D., P.S.S., D.-L.C., J.D.B. and F.M. are funded by Cancer Research UK (core grants C14303/A17197, A22905 and A19274) and the Cambridge Cancer Centre (grant C9685/A25117). G.M. and B.H. are hosted by the Centro Nacional de Investigaciones Oncológicas (CNIO), which is supported by the Instituto de Salud Carlos III and recognized as a 'Severo Ochoa' Centre of Excellence (ref. CEX2019-000891-S) by the Spanish Ministry of Science and Innovation (MCIN/AEI/ 10.13039/501100011033). G.M. and B.H. were also supported by a Spanish Ministry of Science and Innovation grant PID2019-111356RA-I00 (MCIN/AEI/ 10.13039/501100011033). M.T. was supported as a postdoctoral researcher of the F.R.S.-FNRS. L.M.G. was supported by the Wellcome Trust PhD programme in Mathematical Genomics and Medicine (grant number RG92770). M.S. was supported by the Horizon 2020 (H2020) Integrated Training Network CONTRA (grant 766030-CONTRA-H2020-MSCA-ITN-2017). This work was supported by the Francis Crick Institute, which receives its core funding from Cancer Research UK (FC001202), the UK Medical Research Council (FC001202) and the Wellcome Trust (FC001202). P.V.L. is a Winton Group Leader in recognition of the Winton Charitable Foundation's support towards the establishment of The Francis Crick Institute.
Ethics declarations
Competing interests
J.D.B., G.M., F.M. are co-founders, directors and share holders of Tailor Bio Ltd. Cancer Research UK, the University of Cambridge and the Spanish National Cancer Research Centre (CNIO) are in the process of applying for a patent application GB2114203.9 covering the copy number signature methodology and drug target associations that lists R.M.D., B.H., G.M. and F.M. as inventors. G.M., F.M. and J.D.B are listed on a patent on using copy number signatures to predict response to doxorubicin treatment in ovarian cancer (PCT/EP2021/065058).
Peer review
Peer review information
Nature thanks the anonymous reviewers for their contribution to the peer review of this work. Peer reviewer reports are available.
Additional information
Publisher's note Springer Nature remains neutral with regard to jurisdictional claims in published maps and institutional affiliations.
Extended data figures and tables
Supplementary information
About this article
Cite this article
Drews, R.M., Hernando, B., Tarabichi, M. et al. A pan-cancer compendium of chromosomal instability. Nature 606, 976–983 (2022). https://doi.org/10.1038/s41586-022-04789-9
Received:

Accepted:

Published:

Issue Date:

DOI: https://doi.org/10.1038/s41586-022-04789-9
Comments
By submitting a comment you agree to abide by our Terms and Community Guidelines. If you find something abusive or that does not comply with our terms or guidelines please flag it as inappropriate.