Abstract
All multicellular organisms rely on differential gene transcription regulated by genomic enhancers, which function through cofactors that are recruited by transcription factors1,2. Emerging evidence suggests that not all cofactors are required at all enhancers3,4,5, yet whether these observations reflect more general principles or distinct types of enhancers remained unknown. Here we categorized human enhancers by their cofactor dependencies and show that these categories provide a framework to understand the sequence and chromatin diversity of enhancers and their roles in different gene-regulatory programmes. We quantified enhancer activities along the entire human genome using STARR-seq6 in HCT116 cells, following the rapid degradation of eight cofactors. This analysis identified different types of enhancers with distinct cofactor requirements, sequences and chromatin properties. Some enhancers were insensitive to the depletion of the core Mediator subunit MED14 or the bromodomain protein BRD4 and regulated distinct transcriptional programmes. In particular, canonical Mediator7 seemed dispensable for P53-responsive enhancers, and MED14-depleted cells induced endogenous P53 target genes. Similarly, BRD4 was not required for the transcription of genes that bear CCAAT boxes and a TATA box (including histone genes and LTR12 retrotransposons) or for the induction of heat-shock genes. This categorization of enhancers through cofactor dependencies reveals distinct enhancer types that can bypass broadly utilized cofactors, which illustrates how alternative ways to activate transcription separate gene expression programmes and provide a conceptual framework to understand enhancer function and regulatory specificity.
Relevant articles
Open Access articles citing this article.
Konsta Karttunen

,

Divyesh Patel

…

Biswajyoti Sahu

Nature Communications Open Access 01 September 2023

Annkatrin Bressin

,

Olga Jasnovidova

…

Andreas Mayer

Nature Communications Open Access 17 August 2023

Inês A. M. Barbosa

,

Rajaraman Gopalakrishnan

…

Giorgio G. Galli

Nature Communications Open Access 03 July 2023
Access options
Access Nature and 54 other Nature Portfolio journals
Get Nature+, our best-value online-access subscription
$29.99 / 30 days
cancel any time
Subscribe to this journal
Receive 51 print issues and online access
$199.00 per year
only $3.90 per issue
Rent or buy this article
Prices vary by article type
from$1.95
to$39.95
Prices may be subject to local taxes which are calculated during checkout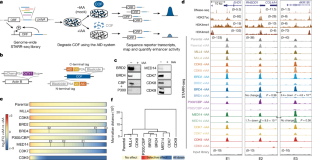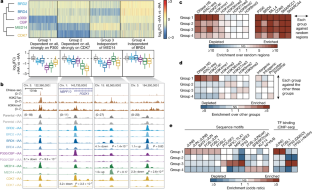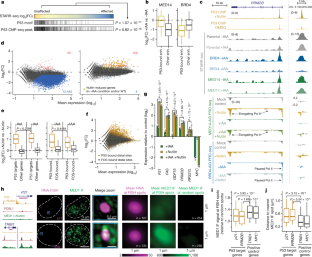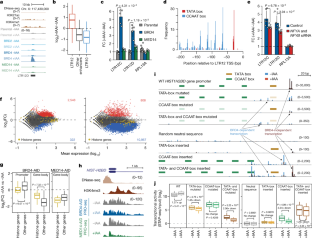 Data availability
All raw deep-sequencing data (STARR-seq, PRO-seq, ChIP-seq and STAP-seq) and associated processed data generated in this study have been deposited in the NCBI GEO database under accession number GSE156741. Previously published datasets re-analysed in this study are available in the GEO repository under the following accession numbers: GSE100432 (genome-wide STARR-seq input library), GSE97889 (ATAC-seq), GSE71510 (H3K4me1, H3K4me3, H3K27ac, SMARCC1 and SMARCA4 ChIP-seq), GSE51176 (P300 and MLL4 ChIP-seq), GSE57628 (BRD4 ChIP-seq), GSE38258 (CDK8 ChIP-seq) and GSE86164 (P53 ChIP-seq). Peak files for the following ChIP-seq datasets are available from ENCODE (https://www.encodeproject.org/): DNase-seq (ENCFF001SQU, ENCFF001WIJ, ENCFF001WIK, ENCFF175RBN, ENCFF228YKV, ENCFF851NWR, ENCFF927AHJ, ENCFF945KJN and ENCFF360XGA), H3K36me3 (ENCFF467KXG, ENCFF742ZBG and ENCFF922EIA), H3K27me3 (ENCFF237TTT, ENCFF991HKN and ENCFF029ZPV), H3K9me2 (ENCFF586SOS, ENCFF808XMV and ENCFF346SOF), H3K9me3 (ENCFF751VFZ, ENCFF577FKU and ENCFF909UTX), JUND (ENCFF001UDY, ENCFF001UDZ, ENCFF950JTT and ENCFF088WYS) and FOSL1 (ENCFF001UDW and ENCFF001UDX). The vertebrate transcription factor motif collection is available from the JASPAR database (http://jaspar.genereg.net/download/CORE/ JASPAR2020_CORE_vertebrates_non-redundant_ pfms_jaspar.zip). The SwissProt Human database is available at
https://www.uniprot.org/proteomes/UP000005640. No restrictions on data availability apply.
Code availability
All custom codes used for data processing and computational analyses are available from the authors upon request.
References
Reiter, F., Wienerroither, S. & Stark, A. Combinatorial function of transcription factors and cofactors. Curr. Opin. Genet. Dev. 43, 73–81 (2017).

Nakagawa, T., Yoneda, M., Higashi, M., Ohkuma, Y. & Ito, T. Enhancer function regulated by combinations of transcription factors and cofactors. Genes Cells 23, 808–821 (2018).

Rathert, P. et al. Transcriptional plasticity promotes primary and acquired resistance to BET inhibition. Nature 525, 543–547 (2015).

Jaeger, M. G. et al. Selective mediator dependence of cell-type-specifying transcription. Nat. Genet. 52, 719–727 (2020).

Chipumuro, E. et al. CDK7 inhibition suppresses super-enhancer-linked oncogenic transcription in MYCN-driven cancer. Cell 159, 1126–1139 (2014).

Muerdter, F. et al. Resolving systematic errors in widely used enhancer activity assays in human cells. Nat. Methods 15, 141–149 (2018).

Allen, B. L. & Taatjes, D. J. The Mediator complex: a central integrator of transcription. Nat. Rev. Mol. Cell Biol. 16, 155–166 (2015).

Adelman, K. & Lis, J. T. Promoter-proximal pausing of RNA polymerase II: emerging roles in metazoans. Nat. Rev. Genet. 13, 720–731 (2012).

Vo, N. & Goodman, R. H. CREB-binding protein and p300 in transcriptional regulation. J. Biol. Chem. 276, 13505–13508 (2001).

Gressel, S. et al. CDK9-dependent RNA polymerase II pausing controls transcription initiation. eLife 6, R106 (2017).

Visel, A. et al. ChIP-seq accurately predicts tissue-specific activity of enhancers. Nature 457, 854–858 (2009).

Hnisz, D. et al. Super-enhancers in the control of cell identity and disease. Cell 155, 934–947 (2013).

Heintzman, N. D. et al. Distinct and predictive chromatin signatures of transcriptional promoters and enhancers in the human genome. Nat. Genet. 39, 311–318 (2007).

Krebs, A. R., Karmodiya, K., Lindahl-Allen, M., Struhl, K. & Tora, L. SAGA and ATAC histone acetyl transferase complexes regulate distinct sets of genes and ATAC defines a class of p300-independent enhancers. Mol. Cell 44, 410–423 (2011).

Zuber, J. et al. RNAi screen identifies Brd4 as a therapeutic target in acute myeloid leukaemia. Nature 478, 524–528 (2011).

Filippakopoulos, P. et al. Selective inhibition of BET bromodomains. Nature 468, 1067–1073 (2010).

Pelish, H. E. et al. Mediator kinase inhibition further activates super-enhancer-associated genes in AML. Nature 526, 273–276 (2015).

El Khattabi, L. et al. A pliable mediator acts as a functional rather than an architectural bridge between promoters and enhancers. Cell 178, 1145–1158.e20 (2019).

Nishimura, K., Fukagawa, T., Takisawa, H., Kakimoto, T. & Kanemaki, M. An auxin-based degron system for the rapid depletion of proteins in nonplant cells. Nat. Methods 6, 917–922 (2009).

Watanabe, Y. et al. Frequent alteration of MLL3 frameshift mutations in microsatellite deficient colorectal cancer. PLoS ONE 6, e23320 (2011).

Cevher, M. A. et al. Reconstitution of active human core Mediator complex reveals a critical role of the MED14 subunit. Nat. Struct. Mol. Biol. 21, 1028–1034 (2014).

Liang, J. et al. CDK8 selectively promotes the growth of colon cancer metastases in the liver by regulating gene expression of TIMP3 and matrix metalloproteinases. Cancer Res. 78, 6594–6606 (2018).

Hu, D. et al. The MLL3/MLL4 branches of the COMPASS family function as major histone H3K4 monomethylases at enhancers. Mol. Cell. Biol. 33, 4745–4754 (2013).

Fan, X., Chou, D. M. & Struhl, K. Activator-specific recruitment of Mediator in vivo. Nat. Struct. Mol. Biol. 13, 117–120 (2006).

Meyer, K. D., Lin, S.-C., Bernecky, C., Gao, Y. & Taatjes, D. J. p53 activates transcription by directing structural shifts in Mediator. Nat. Struct. Mol. Biol. 17, 753–760 (2010).

Ito, M. et al. Identity between TRAP and SMCC complexes indicates novel pathways for the function of nuclear receptors and diverse mammalian activators. Mol. Cell 3, 361–370 (1999).

Andrysik, Z. et al. Identification of a core TP53 transcriptional program with highly distributed tumor suppressive activity. Genome Res. 27, 1645–1657 (2017).

Drané, P., Barel, M., Balbo, M. & Frade, R. Identification of RB18A, a 205 kDa new p53 regulatory protein which shares antigenic and functional properties with p53. Oncogene 15, 3013–3024 (1997).

Brocks, D. et al. DNMT and HDAC inhibitors induce cryptic transcription start sites encoded in long terminal repeats. Nat. Genet. 49, 1052–1060 (2017).

Krönung, S. K. et al. LTR12 promoter activation in a broad range of human tumor cells by HDAC inhibition. Oncotarget 7, 33484–33497 (2016).

Oldfield, A. J. et al. NF-Y controls fidelity of transcription initiation at gene promoters through maintenance of the nucleosome-depleted region. Nat. Commun. 10, 3072 (2019).

Winter, G. E. et al. BET bromodomain proteins function as master transcription elongation factors independent of CDK9 recruitment. Mol Cell 67, 5–18.e19 (2017).

Muhar, M. et al. SLAM-seq defines direct gene-regulatory functions of the BRD4–MYC axis. Science 360, 800–805 (2018).

Arnold, C. D. et al. Genome-wide assessment of sequence-intrinsic enhancer responsiveness at single-base-pair resolution. Nat. Biotechnol. 35, 136–144 (2017).

Lis, J. Promoter-associated pausing in promoter architecture and postinitiation transcriptional regulation. Cold Spring Harb. Symp. Quant. Biol. 63, 347–356 (1998).

Zheng, B. et al. Acute perturbation strategies in interrogating RNA polymerase II elongation factor function in gene expression. Genes Dev. 35, 273–285 (2021).

Chen, F. X., Smith, E. R. & Shilatifard, A. Born to run: control of transcription elongation by RNA polymerase II. Nat. Rev. Mol. Cell Biol. 19, 464–478 (2018).

Galbraith, M. D. et al. HIF1A employs CDK8-mediator to stimulate RNAPII elongation in response to hypoxia. Cell 153, 1327–1339 (2013).

Kubo, N., Hu, R., Ye, Z. & Ren, B. MLL3/MLL4 histone methyltranferase activity dependent chromatin organization at enhancers during embryonic stem cell differentiation. Preprint at bioRxiv https://doi.org/10.1101/2021.03.17.435905 (2021).

Kang, J. S. et al. The structural and functional organization of the yeast Mediator complex. J. Biol. Chem. 276, 42003–42010 (2001).

Rengachari, S., Schilbach, S., Aibara, S., Dienemann, C. & Cramer, P. Structure of the human Mediator–RNA polymerase II pre-initiation complex. Nature 594, 129–133 (2021).

Lee, D., Kim, S. & Lis, J. T. Different upstream transcriptional activators have distinct coactivator requirements. Gene Dev. 13, 2934–2939 (1999).

Petrenko, N., Jin, Y., Wong, K. H. & Struhl, K. Evidence that Mediator is essential for Pol II transcription, but is not a required component of the preinitiation complex in vivo. eLife 6, 155 (2017).

Anandhakumar, J., Moustafa, Y. W., Chowdhary, S., Kainth, A. S. & Gross, D. S. Evidence for multiple Mediator complexes in yeast independently recruited by activated heat shock factor. Mol. Cell. Biol. 36, 1943–1960 (2016).

Cho, W.-K. et al. RNA polymerase II cluster dynamics predict mRNA output in living cells. eLife 5, 1123 (2016).

Hochheimer, A., Zhou, S., Zheng, S., Holmes, M. C. & Tjian, R. TRF2 associates with DREF and directs promoter-selective gene expression in Drosophila. Nature 420, 439–445 (2002).

Lin, C. et al. AFF4, a component of the ELL/P-TEFb elongation complex and a shared subunit of MLL chimeras, can link transcription elongation to leukemia. Mol. Cell 37, 429–437 (2010).

Lin, C. et al. Dynamic transcriptional events in embryonic stem cells mediated by the super elongation complex (SEC). Genes Dev. 25, 1486–1498 (2011).

Bugai, A. et al. P-TEFb activation by RBM7 shapes a pro-survival transcriptional response to genotoxic stress. Mol. Cell 74, 254–267.e10 (2019).

Lis, J. T., Mason, P., Peng, J., Price, D. H. & Werner, J. P-TEFb kinase recruitment and function at heat shock loci. Genes Dev. 14, 792–803 (2000).

Haberle, V. et al. Transcriptional cofactors display specificity for distinct types of core promoters. Nature 570, 122–126 (2019).

Sakuma, T., Nakade, S., Sakane, Y., Suzuki, K.-I. T. & Yamamoto, T. MMEJ-assisted gene knock-in using TALENs and CRISPR–Cas9 with the PITCh systems. Nat. Protoc. 11, 118–133 (2016).

Dorfer, V. et al. MS Amanda, a universal identification algorithm optimized for high accuracy tandem mass spectra. J. Proteome Res. 13, 3679–3684 (2014).

Doblmann, J. et al. apQuant: accurate label-free quantification by quality filtering. J. Proteome Res. 18, 535–541 (2019).

Smyth, G. K. Linear models and empirical Bayes methods for assessing differential expression in microarray experiments. Stat. Appl. Genet. Mol. Biol. 3, Article3 (2004).

MacLean, B. et al. Skyline: an open source document editor for creating and analyzing targeted proteomics experiments. Bioinformatics 26, 966–968 (2010).

Neumayr, C., Pagani, M., Stark, A. & Arnold, C. D. STARR-seq and UMI-STARR-seq: assessing enhancer activities for genome-wide-, high-, and low-complexity candidate libraries. Curr. Protoc. Mol. Biol. 128, e105 (2019).

Mahat, D. B. et al. Base-pair-resolution genome-wide mapping of active RNA polymerases using precision nuclear run-on (PRO-seq). Nat. Protoc. 11, 1455–1476 (2016).

Boija, A. et al. Transcription factors activate genes through the phase-separation capacity of their activation domains. Cell 175, 1842–1855.e16 (2018).

Guo, Y. E. et al. Pol II phosphorylation regulates a switch between transcriptional and splicing condensates. Nature 13, 720–726 (2019).

Fornes, O. et al. JASPAR 2020: update of the open-access database of transcription factor binding profiles. Nucleic Acids Res. 48, D87–D92 (2020).

Zhang, L., Kasif, S., Cantor, C. R. & Broude, N. E. GC/AT-content spikes as genomic punctuation marks. Proc. Natl Acad. Sci. USA 101, 16855–16860 (2004).

Langmead, B., Trapnell, C., Pop, M. & Salzberg, S. L. Ultrafast and memory-efficient alignment of short DNA sequences to the human genome. Genome Biol. 10, R25 (2009).

Gentleman, R. C. et al. Bioconductor: open software development for computational biology and bioinformatics. Genome Biol. 5, R80 (2004).

Pelletier, G. et al. Competitive recruitment of CBP and Rb-HDAC regulates UBF acetylation and ribosomal transcription. Mol. Cell 6, 1059–1066 (2000).

Robinson, M. D., McCarthy, D. J. & Smyth, G. K. edgeR: a Bioconductor package for differential expression analysis of digital gene expression data. Bioinformatics 26, 139–140 (2009).

Kent, W. J. et al. The human genome browser at UCSC. Genome Res. 12, 996–1006 (2002).

ENCODE Project Consortium. An integrated encyclopedia of DNA elements in the human genome. Nature 489, 57–74 (2012).

Ponnaluri, V. K. C. et al. NicE-seq: high resolution open chromatin profiling. Genome Biol. 18, 122–15 (2017).

Mathur, R. et al. ARID1A loss impairs enhancer-mediated gene regulation and drives colon cancer in mice. Nat. Genet. 49, 296–302 (2017).

Baranello, L. et al. RNA polymerase II regulates topoisomerase 1 activity to favor efficient transcription. Cell 165, 357–371 (2016).

The FANTOM Consortium and the RIKEN PMI and CLST (DGT). A promoter-level mammalian expression atlas. Nature 507, 462–470 (2014).

Falcon, S. & Gentleman, R. Using GOstats to test gene lists for GO term association. Bioinformatics 23, 257–258 (2007).

Love, M. I., Huber, W. & Anders, S. Moderated estimation of fold change and dispersion for RNA-seq data with DESeq2. Genome Biol. 15, 550 (2014).

The R Development Core Team. R: A Language and Environment for Statistical Computing (R Foundation for Statistical Computing, 2013).

Allen, M. A. et al. Global analysis of p53-regulated transcription identifies its direct targets and unexpected regulatory mechanisms. eLife 3, R106 (2014).
Acknowledgements
We thank F. Muerdter, M. Muhar, J. Zuber and U. Schoeberl (all Research Institute of Molecular Pathology (IMP), Vienna BioCenter) for advice and help establishing the AID system and PRO-seq, respectively; R. Imre (IMP and Institute of Molecular Biotechnology, Vienna BioCenter) for help with analysing MS data; D. Hnisz (MPI Berlin) for help with Mediator ChIP-seq; R. C. Casellas, J. Kalchschmidt and S. K. Jung (NIH NIAMS) for sharing the mouse Mediator KO cell lines and data; D. Taatjes (University of Colorado), C. Bernecky (IST) and R. Young (MIT) for discussions; B. Sabari (UTSW) for feedback and help; and C. Buecker and H. Thomas (MPL), C. Plaschka (IMP) and A. Andersen (Life Science Editors) for comments on the manuscript; the staff at the IMP/IMBA in-house FACS facility, in particular G. Schmauss, and staff at the Molecular Biology Service. Deep sequencing was performed at the Vienna BioCenter Core Facilities. V.H. is supported by the Human Frontier Science Program (grant number LT000324/2016-L) and A.B. by the Swedish Research Council Postdoctoral Fellowship (VR 2017-00372). Research in the Stark group is supported by the European Research Council (ERC) under the European Union's Horizon 2020 research and innovation programme (grant agreement number 647320) and by the Austrian Science Fund (FWF, F4303-B09). Basic research at the IMP is supported by Boehringer Ingelheim and the Austrian Research Promotion Agency (FFG).
Ethics declarations
Competing interests
The authors declare no competing interests.
Peer review
Peer review information
Nature thanks the anonymous reviewers for their contribution to the peer review of this work. Peer reviewer reports are available.
Additional information
Publisher's note Springer Nature remains neutral with regard to jurisdictional claims in published maps and institutional affiliations.
Extended data figures and tables
Supplementary information
About this article
Cite this article
Neumayr, C., Haberle, V., Serebreni, L. et al. Differential cofactor dependencies define distinct types of human enhancers. Nature 606, 406–413 (2022). https://doi.org/10.1038/s41586-022-04779-x
Received:

Accepted:

Published:

Issue Date:

DOI: https://doi.org/10.1038/s41586-022-04779-x
Comments
By submitting a comment you agree to abide by our Terms and Community Guidelines. If you find something abusive or that does not comply with our terms or guidelines please flag it as inappropriate.