Abstract
Disseminated cancer cells from primary tumours can seed in distal tissues, but may take several years to form overt metastases, a phenomenon that is termed tumour dormancy. Despite its importance in metastasis and residual disease, few studies have been able to successfully characterize dormancy within melanoma. Here we show that the aged lung microenvironment facilitates a permissive niche for efficient outgrowth of dormant disseminated cancer cells—in contrast to the aged skin, in which age-related changes suppress melanoma growth but drive dissemination. These microenvironmental complexities can be explained by the phenotype switching model, which argues that melanoma cells switch between a proliferative cell state and a slower-cycling, invasive state1,2,3. It was previously shown that dermal fibroblasts promote phenotype switching in melanoma during ageing4,5,6,7,8. We now identify WNT5A as an activator of dormancy in melanoma disseminated cancer cells within the lung, which initially enables the efficient dissemination and seeding of melanoma cells in metastatic niches. Age-induced reprogramming of lung fibroblasts increases their secretion of the soluble WNT antagonist sFRP1, which inhibits WNT5A in melanoma cells and thereby enables efficient metastatic outgrowth. We also identify the tyrosine kinase receptors AXL and MER as promoting a dormancy-to-reactivation axis within melanoma cells. Overall, we find that age-induced changes in distal metastatic microenvironments promote the efficient reactivation of dormant melanoma cells in the lung.
Access options
Subscribe to Nature+
Get immediate online access to Nature and 55 other Nature journal
Subscribe to Journal
Get full journal access for 1 year
$199.00
only $3.90 per issue
All prices are NET prices.
VAT will be added later in the checkout.
Tax calculation will be finalised during checkout.
Buy article
Get time limited or full article access on ReadCube.
$32.00
All prices are NET prices.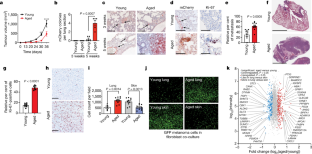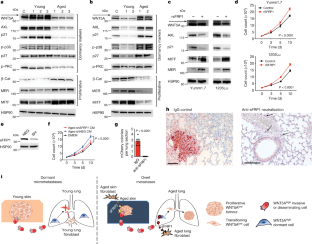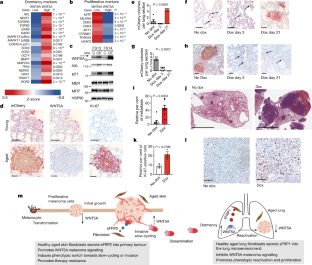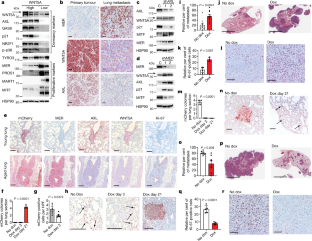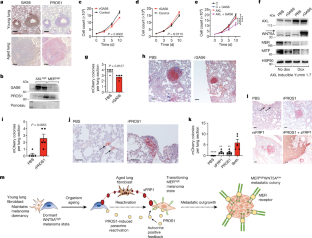 Data availability
Any data requested will be made available upon request. The mass spectrometry proteomics data have been deposited into the MassIVE (http://massive.ucsd.edu) and ProteomeXchange (http://www.proteomexchange.org) data repositories with accession numbers MSV000088977 and PXD032025, respectively.
References
Hoek, K. S. & Goding, C. R. Cancer stem cells versus phenotype-switching in melanoma. Pigment Cell Melanoma Res. 23, 746–759 (2010).

Fane, M. E., Chhabra, Y., Smith, A. G. & Sturm, R. A. BRN2, a POUerful driver of melanoma phenotype switching and metastasis. Pigment Cell Melanoma Res. 32, 9–24 (2019).

Kaur, A., Webster, M. R. & Weeraratna, A. T. In the Wnt-er of life: Wnt signalling in melanoma and ageing. Br. J. Cancer 115, 1273–1279 (2016).

Kaur, A. et al. sFRP2 in the aged microenvironment drives melanoma metastasis and therapy resistance. Nature 532, 250–254 (2016).

Webster, M. R. et al. Paradoxical role for wild-type p53 in driving therapy resistance in melanoma. Mol. Cell 77, 633–644 (2020).

Kaur, A. et al. Remodeling of the collagen matrix in aging skin promotes melanoma metastasis and affects immune cell motility. Cancer Discov. 9, 64–81 (2019).

Ecker, B. L. et al. Age-related changes in HAPLN1 increase lymphatic permeability and affect routes of melanoma metastasis. Cancer Discov. 9, 82–95 (2019).

Alicea, G. M. et al. Changes in aged fibroblast lipid metabolism induce age-dependent melanoma cell resistance to targeted therapy via the fatty acid transporter FATP2. Cancer Discov. 10, 1282–1295 (2020).

Pereira, C., Schaer, D. J., Bachli, E. B., Kurrer, M. O. & Schoedon, G. Wnt5A/CaMKII signaling contributes to the inflammatory response of macrophages and is a target for the antiinflammatory action of activated protein C and interleukin-10. Arterioscl. Thromb. Vasc. Biol. 28, 504–510 (2008).

Trevant, B. et al. Expression of secreted frizzled related protein 1, a Wnt antagonist, in brain, kidney, and skeleton is dispensable for normal embryonic development. J. Cell. Physiol. 217, 113–126 (2008).

Blakely, B. D. et al. Wnt5a regulates midbrain dopaminergic axon growth and guidance. PLoS ONE 6, e18373 (2011).

Webster, M. R. et al. Wnt5A promotes an adaptive, senescent-like stress response, while continuing to drive invasion in melanoma cells. Pigment Cell Melanoma Res. 28, 184–195 (2015).

Montagner, M. et al. Crosstalk with lung epithelial cells regulates Sfrp2-mediated latency in breast cancer dissemination. Nat. Cell Biol.  22, 289–296 (2020).

Ren, D. et al. Wnt5a induces and maintains prostate cancer cells dormancy in bone. J. Exp. Med. 216, 428–449 (2019).

Yumoto, K. et al. Axl is required for TGF-β2-induced dormancy of prostate cancer cells in the bone marrow. Sci. Rep. 6, 36520 (2016).

Lambert, A. W., Pattabiraman, D. R. & Weinberg, R. A. Emerging biological principles of metastasis. Cell 168, 670–691 (2017).

Sosa, M. S. et al. NR2F1 controls tumour cell dormancy via SOX9- and RARβ-driven quiescence programmes. Nat. Commun. 6, 6170 (2015).

Sosa, M. S., Bragado, P. & Aguirre-Ghiso, J. A. Mechanisms of disseminated cancer cell dormancy: an awakening field. Nat. Rev. Cancer 14, 611 (2014).

Gao, X. L., Zhang, M., Tang, Y. L. & Liang, X. H. Cancer cell dormancy: mechanisms and implications of cancer recurrence and metastasis. Onco. Targets Ther. 10, 5219–5228 (2017).

Gomis, R. R. & Gawrzak, S. Tumor cell dormancy. Mol. Oncol. 11, 62–78 (2017).

Weeraratna, A. T. et al. Wnt5a signaling directly affects cell motility and invasion of metastatic melanoma. Cancer Cell 1, 279–288 (2002).

Radaszkiewicz, T. et al. RNF43 inhibits WNT5A-driven signaling and suppresses melanoma invasion and resistance to the targeted therapy. eLife 10, e65759 (2021).

Luo, C. et al. H3K27me3-mediated PGC1α gene silencing promotes melanoma invasion through WNT5A and YAP. J. Clin. Invest. 130, 853–862 (2020).

O'Connell, M. P. et al. Hypoxia induces phenotypic plasticity and therapy resistance in melanoma via the tyrosine kinase receptors ROR1 and ROR2. Cancer Discov. 3, 1378–1393 (2013).

Sadeghi, R. S. et al. Wnt5a signaling induced phosphorylation increases APT1 activity and promotes melanoma metastatic behavior. eLife 7, e34362 (2018).

Wellbrock, C. & Arozarena, I. Microphthalmia-associated transcription factor in melanoma development and MAP-kinase pathway targeted therapy. Pigment Cell Melanoma Res. 28, 390–406 (2015).

Schoumacher, M. & Burbridge, M. Key roles of AXL and MER receptor tyrosine kinases in resistance to multiple anticancer therapies. Curr. Oncol. Rep. 19, 19 (2017).

Tworkoski, K. A. et al. MERTK controls melanoma cell migration and survival and differentially regulates cell behavior relative to AXL. Pigment Cell Melanoma Res. 26, 527–541 (2013).

Zhu, S. et al. A genomic screen identifies TYRO3 as a MITF regulator in melanoma. Proc. Natl Acad. Sci. USA 106, 17025–17030 (2009).

Lew, E. D. et al. Differential TAM receptor-ligand-phospholipid interactions delimit differential TAM bioactivities. eLife 3, e03385 (2014).

Davra, V., Kimani, S. G., Calianese, D. & Birge, R. B. Ligand activation of TAM family receptors—implications for tumor biology and therapeutic response. Cancers 8, 107 (2016).

Lemke, G. Biology of the TAM receptors. Cold Spring Harb. Perspect. Biol. 5, a009076 (2013).

Dutta, S. & Sengupta, P. Men and mice: relating their ages. Life Sci. 152, 244–248 (2016).

Grzelak, C. A. et al. Elimination of fluorescent protein immunogenicity permits modeling of metastasis in immune-competent settings. Cancer Cell 40, 1–2 (2022).

Cox, J. & Mann, M. MaxQuant enables high peptide identification rates, individualized p.p.b.-range mass accuracies and proteome-wide protein quantification. Nat. Biotechnol. 26, 1367–1372 (2008).

Storey, J. D. & Tibshirani, R. Statistical significance for genomewide studies. Proc. Natl Acad. Sci. USA 100, 9440–9445 (2003).
Acknowledgements
We thank the Core Facilities of the Wistar Institute (supported by P30CA010815) and of the Johns Hopkins Kimmel Cancer Center (P30CA00697356). A.T.W., S.M.D., M.E.F. and G.M.A. are supported by R01CA174746 and R01CA207935. M.E.F., A.T.W. and J.A.A.-G. are also supported by a Team Science Award from the Melanoma Research Alliance. G.M.A., X.X., M.H. and A.T.W. are also supported by P01 CA114046. X.X. and M.H. are also supported by P50CA174523. M.R.W. is supported by R00CA208012. H.-Y.T. is supported by R50CA221838. V.W.R. is supported by K01CA245124. This work was supported in part by the Wistar Science Discovery Fund. A.T.W. is also supported by U01CA227550, R01CA232256, a Bloomberg Distinguished Professorship and the EV McCollum Endowed Chair. For samples from patients with melanoma, we thank L. M. Schuchter, T. C. Mitchell, R. K. Amaravadi, G. C. Karakousis, R. Elenitsas, C. Miller and M. E. Ming. We thank C. McQueen for editing of the final manuscript.
Ethics declarations
Competing interests
J.A.A.-G. is a scientific co-founder of, scientific advisory board member of, equity owner in and receives financial compensation as a consultant for HiberCell, a Mount Sinai spin-off company that is focused on therapeutics that prevent or delay the recurrence of cancer. A.T.W. is on the board of reGAIN Therapeutics. E.M.J. reports other support from Abmeta, personal fees from Genocea, personal fees from Achilles, personal fees from DragonFly, personal fees from Candel Therapeutics, other support from the Parker Institute, grants and other support from Lustgarten, personal fees from Carta, grants and other support from Genentech, grants and other support from AstroZeneca, personal fees from NextCure and grants and other support from Break Through Cancer outside of the submitted work.
Peer review
Peer review information
Nature thanks Christin Burd, Cyrus Ghajar, Xiang Zhang and the other, anonymous, reviewer(s) for their contribution to the peer review of this work. Peer reviewer reports are available.
Additional information
Publisher's note Springer Nature remains neutral with regard to jurisdictional claims in published maps and institutional affiliations.
Extended data figures and tables
Supplementary information
About this article
Cite this article
Fane, M.E., Chhabra, Y., Alicea, G.M. et al. Stromal changes in the aged lung induce an emergence from melanoma dormancy. Nature 606, 396–405 (2022). https://doi.org/10.1038/s41586-022-04774-2
Received:

Accepted:

Published:

Issue Date:

DOI: https://doi.org/10.1038/s41586-022-04774-2
Comments
By submitting a comment you agree to abide by our Terms and Community Guidelines. If you find something abusive or that does not comply with our terms or guidelines please flag it as inappropriate.