Abstract
Most cancer vaccines target peptide antigens, necessitating personalization owing to the vast inter-individual diversity in major histocompatibility complex (MHC) molecules that present peptides to T cells. Furthermore, tumours frequently escape T cell-mediated immunity through mechanisms that interfere with peptide presentation1. Here we report a cancer vaccine that induces a coordinated attack by diverse T cell and natural killer (NK) cell populations. The vaccine targets the MICA and MICB (MICA/B) stress proteins expressed by many human cancers as a result of DNA damage2. MICA/B serve as ligands for the activating NKG2D receptor on T cells and NK cells, but tumours evade immune recognition by proteolytic MICA/B cleavage3,4. Vaccine-induced antibodies increase the density of MICA/B proteins on the surface of tumour cells by inhibiting proteolytic shedding, enhance presentation of tumour antigens by dendritic cells to T cells and augment the cytotoxic function of NK cells. Notably, this vaccine maintains efficacy against MHC class I-deficient tumours resistant to cytotoxic T cells through the coordinated action of NK cells and CD4+ T cells. The vaccine is also efficacious in a clinically important setting: immunization following surgical removal of primary, highly metastatic tumours inhibits the later outgrowth of metastases. This vaccine design enables protective immunity even against tumours with common escape mutations.
Your institute does not have access to this article
Relevant articles
Open Access articles citing this article.
Denise Lau

,

Sonal Khare

…

Aly A. Khan

Nature Communications Open Access 13 July 2022
Access options
Subscribe to Nature+
Get immediate online access to the entire Nature family of 50+ journals
Subscribe to Journal
Get full journal access for 1 year
$199.00
only $3.90 per issue
All prices are NET prices.
VAT will be added later in the checkout.
Tax calculation will be finalised during checkout.
Buy article
Get time limited or full article access on ReadCube.
$32.00
All prices are NET prices.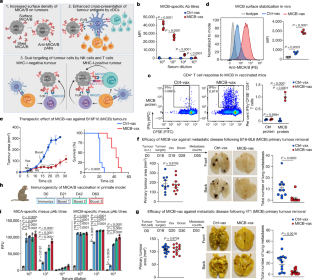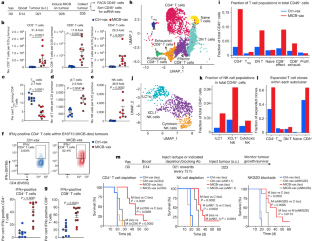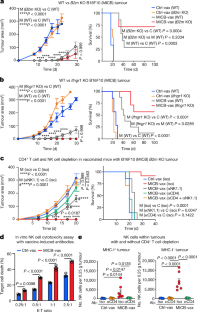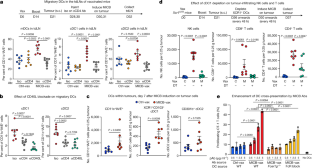 Data availability
Raw RNA-seq data have been deposited in NCBI's Gene Expression Omnibus (GEO) and are accessible through GEO series accession code GSE181997. Source data are provided with this paper.
References
Sharma, P., Hu-Lieskovan, S., Wargo, J. A. & Ribas, A. Primary, adaptive, and acquired resistance to cancer immunotherapy. Cell 168, 707–723 (2017).

Gasser, S., Orsulic, S., Brown, E. J. & Raulet, D. H. The DNA damage pathway regulates innate immune system ligands of the NKG2D receptor. Nature 436, 1186–1190 (2005).

Lanier, L. L. NKG2D receptor and its ligands in host defense. Cancer Immunol. Res. 3, 575–582 (2015).

Kaiser, B. K. et al. Disulphide-isomerase-enabled shedding of tumour-associated NKG2D ligands. Nature 447, 482–486 (2007).

Bahram, S., Bresnahan, M., Geraghty, D. E. & Spies, T. A second lineage of mammalian major histocompatibility complex class I genes. Proc. Natl Acad. Sci. USA 91, 6259–6263 (1994).

Raulet, D. H., Gasser, S., Gowen, B. G., Deng, W. & Jung, H. Regulation of ligands for the NKG2D activating receptor. Annu. Rev. Immunol. 31, 413–441 (2013).

Bauer, S. et al. Activation of NK cells and T cells by NKG2D, a receptor for stress-inducible MICA. Science 285, 727–729 (1999).

Groh, V. et al. Costimulation of CD8αβ T cells by NKG2D via engagement by MIC induced on virus-infected cells. Nat. Immunol. 2, 255–260 (2001).

Ogasawara, K. & Lanier, L. L. NKG2D in NK and T cell-mediated immunity. J. Clin. Immunol. 25, 534–540 (2005).

Holdenrieder, S. et al. Soluble MICA in malignant diseases. Int. J. Cancer 118, 684–687 (2006).

Raffaghello, L. et al. Downregulation and/or release of NKG2D ligands as immune evasion strategy of human neuroblastoma. Neoplasia 6, 558–568 (2004).

Salih, H. R., Rammensee, H. G. & Steinle, A. Cutting edge: down-regulation of MICA on human tumors by proteolytic shedding. J. Immunol. 169, 4098–4102 (2002).

Wu, J. D. et al. Prevalent expression of the immunostimulatory MHC class I chain-related molecule is counteracted by shedding in prostate cancer. J. Clin. Invest. 114, 560–568 (2004).

Liu, G. et al. Perturbation of NK cell peripheral homeostasis accelerates prostate carcinoma metastasis. J. Clin. Invest. 123, 4410–4422 (2013).

Doubrovina, E. S. et al. Evasion from NK cell immunity by MHC class I chain-related molecules expressing colon adenocarcinoma. J. Immunol. 171, 6891–6899 (2003).

Groh, V., Wu, J., Yee, C. & Spies, T. Tumour-derived soluble MIC ligands impair expression of NKG2D and T-cell activation. Nature 419, 734–738 (2002).

Hodi, F. S. et al. Immunologic and clinical effects of antibody blockade of cytotoxic T lymphocyte-associated antigen 4 in previously vaccinated cancer patients. Proc. Natl Acad. Sci. USA 105, 3005–3010 (2008).

Jinushi, M., Hodi, F. S. & Dranoff, G. Therapy-induced antibodies to MHC class I chain-related protein A antagonize immune suppression and stimulate antitumor cytotoxicity. Proc. Natl Acad. Sci. USA 103, 9190–9195 (2006).

Wang, X. et al. An six-amino acid motif in the α3 domain of MICA is the cancer therapeutic target to inhibit shedding. Biochem. Biophys. Res. Commun. 387, 476–481 (2009).

Li, P. et al. Complex structure of the activating immunoreceptor NKG2D and its MHC class I-like ligand MICA. Nat. Immunol. 2, 443–451 (2001).

Ungaro, F. et al. VLPs and particle strategies for cancer vaccines. Expert Rev. Vaccines 12, 1173–1193 (2013).

Kanekiyo, M. et al. Self-assembling influenza nanoparticle vaccines elicit broadly neutralizing H1N1 antibodies. Nature 499, 102–106 (2013).

Kim, J. et al. Injectable, spontaneously assembling, inorganic scaffolds modulate immune cells in vivo and increase vaccine efficacy. Nat. Biotechnol. 33, 64–72 (2015).

Diefenbach, A., Jamieson, A. M., Liu, S. D., Shastri, N. & Raulet, D. H. Ligands for the murine NKG2D receptor: expression by tumor cells and activation of NK cells and macrophages. Nat. Immunol. 1, 119–126 (2000).

Ferrari de Andrade, L. et al. Antibody-mediated inhibition of MICA and MICB shedding promotes NK cell-driven tumor immunity. Science 359, 1537–1542 (2018).

Demaria, S. et al. Immune-mediated inhibition of metastases after treatment with local radiation and CTLA-4 blockade in a mouse model of breast cancer. Clin. Cancer Res. 11, 728–734 (2005).

Krasnova, Y., Putz, E. M., Smyth, M. J. & Souza-Fonseca-Guimaraes, F. Bench to bedside: NK cells and control of metastasis. Clin. Immunol. 177, 50–59 (2017).

de Groot, N. G., Blokhuis, J. H., Otting, N., Doxiadis, G. G. & Bontrop, R. E. Co-evolution of the MHC class I and KIR gene families in rhesus macaques: ancestry and plasticity. Immunol. Rev. 267, 228–245 (2015).

Bottcher, J. P. et al. NK cells stimulate recruitment of cDC1 into the tumor microenvironment promoting cancer immune control. Cell 172, 1022–1037 (2018).

Gao, J. et al. Loss of IFN-γ pathway genes in tumor cells as a mechanism of resistance to anti-CTLA-4 therapy. Cell 167, 397–404 (2016).

Pitt, J. M. et al. Resistance mechanisms to immune-checkpoint blockade in cancer: tumor-intrinsic and -extrinsic factors. Immunity 44, 1255–1269 (2016).

Zaretsky, J. M. et al. Mutations associated with acquired resistance to PD-1 blockade in melanoma. N. Engl. J. Med. 375, 819–829 (2016).

Binnewies, M. et al. Unleashing type-2 dendritic cells to drive protective antitumor CD4+ T cell immunity. Cell 177, 556–571 (2019).

Merad, M., Sathe, P., Helft, J., Miller, J. & Mortha, A. The dendritic cell lineage: ontogeny and function of dendritic cells and their subsets in the steady state and the inflamed setting. Annu. Rev. Immunol. 31, 563–604 (2013).

Roberts, E. W. et al. Critical role for CD103+/CD141+ dendritic cells bearing CCR7 for tumor antigen trafficking and priming of T cell immunity in melanoma. Cancer Cell 30, 324–336 (2016).

Broz, M. L. et al. Dissecting the tumor myeloid compartment reveals rare activating antigen-presenting cells critical for T cell immunity. Cancer Cell 26, 638–652 (2014).

Ferris, S. T. et al. cDC1 prime and are licensed by CD4+ T cells to induce anti-tumour immunity. Nature 584, 624–629 (2020).

Ataide, M. A. et al. BATF3 programs CD8+ T cell memory. Nat. Immunol. 21, 1397–1407 (2020).

Hildner, K. et al. Batf3 deficiency reveals a critical role for CD8α+ dendritic cells in cytotoxic T cell immunity. Science 322, 1097–1100 (2008).

Spranger, S., Dai, D., Horton, B. & Gajewski, T. F. Tumor-residing Batf3 dendritic cells are required for effector T cell trafficking and adoptive T cell therapy. Cancer Cell 31, 711–723 (2017).

Yamazaki, C. et al. Critical roles of a dendritic cell subset expressing a chemokine receptor, XCR1. J. Immunol. 190, 6071–6082 (2013).
Acknowledgements
We thank the Dana-Farber/Harvard Cancer Center Transgenic Core Facility for generating MICB-transgenic mice; the Dana-Farber/Harvard Cancer Center Rodent Histopathology Core facility and B. Roderick for histological analysis of lung metastases; J. Agudo, H. Dong and M. Raundhal for helpful discussions; and D. Pan for providing B2m and Ifngr gRNAs. Schematic illustrations were created using BioRender.com (licence numbers XU22LPSR1O and RJ23SQGA27). This work was supported by James and Tania McCann (to K.W.W.), the Parker Institute for Cancer Immunotherapy (PICI; to K.W.W.), the Ludwig Center at Harvard Medical School (to K.W.W.), NIH grants R01 CA238039, R01 CA251599, P01 CA163222 and P01 CA236749 (to K.W.W.), R01 CA234018 (to K.W.W.) and R01 CA223255 (to D.J.M.), and a sponsored research agreement with Novartis (to K.W.W.). S.B. was supported by a US Department of Defense fellowship (DOD CA150776) and was the 2018 Baruj Benacerraf Fellow in Immunology.
Ethics declarations
Competing interests
K.W.W. serves on the scientific advisory board of TCR2 Therapeutics, TScan Therapeutics, SQZ Biotech and Nextechinvest, and he receives sponsored research funding from Novartis. He is a co-founder of Immunitas Therapeutics, a biotech company.
Peer review
Peer review information
Nature thanks Wolfgang Wick and the other, anonymous, reviewer(s) for their contribution to the peer review of this work.
Additional information
Publisher's note Springer Nature remains neutral with regard to jurisdictional claims in published maps and institutional affiliations.
Extended data figures and tables
Supplementary information
Details regarding scRNA-seq data processing.
About this article
Cite this article
Badrinath, S., Dellacherie, M.O., Li, A. et al. A vaccine targeting resistant tumours by dual T cell plus NK cell attack. Nature 606, 992–998 (2022). https://doi.org/10.1038/s41586-022-04772-4
Received:

Accepted:

Published:

Issue Date:

DOI: https://doi.org/10.1038/s41586-022-04772-4
Further reading
Denise Lau
Sonal Khare
Aly A. Khan

Nature Communications (2022)

Nature Reviews Drug Discovery (2022)

Frank Cichocki
Jeffrey S. Miller

Cell Research (2022)
Comments
By submitting a comment you agree to abide by our Terms and Community Guidelines. If you find something abusive or that does not comply with our terms or guidelines please flag it as inappropriate.