Abstract
Chromothripsis is a catastrophic mutational process that promotes tumorigenesis and causes congenital disease1,2,3,4. Chromothripsis originates from aberrations of nuclei called micronuclei or chromosome bridges5,6,7,8. These structures are associated with fragile nuclear envelopes that spontaneously rupture9,10, leading to DNA damage when chromatin is exposed to the interphase cytoplasm. Here we identify a mechanism explaining a major fraction of this DNA damage. Micronuclei accumulate large amounts of RNA–DNA hybrids, which are edited by adenine deaminases acting on RNA (ADAR enzymes) to generate deoxyinosine. Deoxyinosine is then converted into abasic sites by a DNA base excision repair (BER) glycosylase, N-methyl-purine DNA glycosylase11,12 (MPG). These abasic sites are cleaved by the BER endonuclease, apurinic/apyrimidinic endonuclease12 (APE1), creating single-stranded DNA nicks that can be converted to DNA double strand breaks by DNA replication or when closely spaced nicks occur on opposite strands13,14. This model predicts that MPG should be able to remove the deoxyinosine base from the DNA strand of RNA–DNA hybrids, which we demonstrate using purified proteins and oligonucleotide substrates. These findings identify a mechanism for fragmentation of micronuclear chromosomes, an important step in generating chromothripsis. Rather than breaking any normal chromosome, we propose that the eukaryotic cytoplasm only damages chromosomes with pre-existing defects such as the DNA base abnormality described here.
Access options
Subscribe to Nature+
Get immediate online access to the entire Nature family of 50+ journals
Subscribe to Journal
Get full journal access for 1 year
$199.00
only $3.90 per issue
All prices are NET prices.
VAT will be added later in the checkout.
Tax calculation will be finalised during checkout.
Buy article
Get time limited or full article access on ReadCube.
$32.00
All prices are NET prices.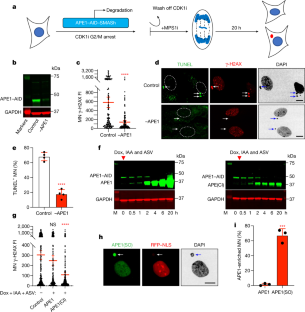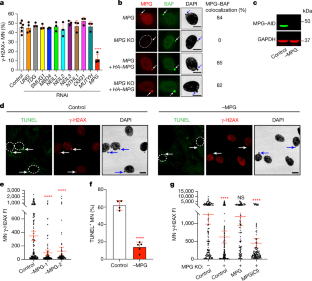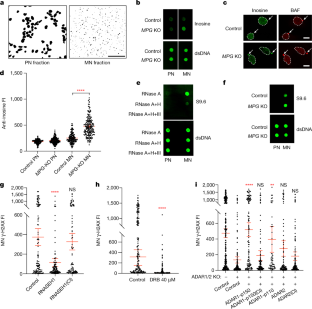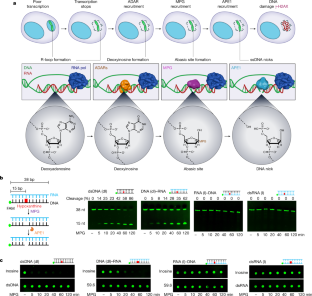 Data availability
Raw imaging data from this study are available from the corresponding author upon request. Source data are provided with this paper.
References
Maciejowski, J. & Hatch, E. M. Nuclear membrane rupture and its consequences. Annu. Rev. Cell Dev. Biol. 36, 85–114 (2020).

Ly, P. & Cleveland, D. W. Rebuilding chromosomes after catastrophe: emerging mechanisms of chromothripsis. Trends Cell Biol. 27, 917–930 (2017).

Stephens, P. J. et al. Massive genomic rearrangement acquired in a single catastrophic event during cancer development. Cell 144, 27–40 (2011).

Korbel, J. O. & Campbell, P. J. Criteria for inference of chromothripsis in cancer genomes. Cell 152, 1226–1236 (2013).

Zhang, C. Z. et al. Chromothripsis from DNA damage in micronuclei. Nature 522, 179–184 (2015).

Maciejowski, J., Li, Y., Bosco, N., Campbell, P. J. & de Lange, T. Chromothripsis and kataegis induced by telomere crisis. Cell 163, 1641–1654 (2015).

Ly, P. et al. Chromosome segregation errors generate a diverse spectrum of simple and complex genomic rearrangements. Nat. Genet. 51, 705–715 (2019).

Umbreit, N. T. et al. Mechanisms generating cancer genome complexity from a single cell division error. Science 368, aba0712 (2020).

Hatch, E. M., Fischer, A. H., Deerinck, T. J. & Hetzer, M. W. Catastrophic nuclear envelope collapse in cancer cell micronuclei. Cell 154, 47–60 (2013).

Liu, S. et al. Nuclear envelope assembly defects link mitotic errors to chromothripsis. Nature 561, 551–555 (2018).

Lee, C. Y. et al. Recognition and processing of a new repertoire of DNA substrates by human 3-methyladenine DNA glycosylase (AAG). Biochemistry 48, 1850–1861 (2009).

Krokan, H. E. & Bjoras, M. Base excision repair. Cold Spring Harb. Perspect. Biol. 5, a012583 (2013).

Strumberg, D. et al. Conversion of topoisomerase I cleavage complexes on the leading strand of ribosomal DNA into 5′-phosphorylated DNA double-strand breaks by replication runoff. Mol. Cell. Biol. 20, 3977–3987 (2000).

Yu, K. & Lieber, M. R. Current insights into the mechanism of mammalian immunoglobulin class switch recombination. Crit. Rev. Biochem. Mol. Biol. 54, 333–351 (2019).

Cortes-Ciriano, I. et al. Comprehensive analysis of chromothripsis in 2,658 human cancers using whole-genome sequencing. Nat. Genet. 52, 331–341 (2020).

Shoshani, O. et al. Chromothripsis drives the evolution of gene amplification in cancer. Nature 591, 137–141 (2021).

Kloosterman, W. P. & Cuppen, E. Chromothripsis in congenital disorders and cancer: similarities and differences. Curr. Opin. Cell Biol. 25, 341–348 (2013).

Tan, E. H. et al. Catastrophic chromosomal restructuring during genome elimination in plants. eLife 4, e06516 (2015).

Carvalho, C. M. & Lupski, J. R. Mechanisms underlying structural variant formation in genomic disorders. Nat. Rev. Genet. 17, 224–238 (2016).

Crasta, K. et al. DNA breaks and chromosome pulverization from errors in mitosis. Nature 482, 53–58 (2012).

Lemmens, B. et al. DNA replication determines timing of mitosis by restricting CDK1 and PLK1 activation. Mol. Cell 71, 117–128.e113 (2018).

Masuda, Y., Bennett, R. A. & Demple, B. Dynamics of the interaction of human apurinic endonuclease (Ape1) with its substrate and product. J. Biol. Chem. 273, 30352–30359 (1998).

Lau, A. Y., Wyatt, M. D., Glassner, B. J., Samson, L. D. & Ellenberger, T. Molecular basis for discriminating between normal and damaged bases by the human alkyladenine glycosylase, AAG. Proc. Natl Acad. Sci. USA 97, 13573–13578 (2000).

Shimizu, N., Kanda, T. & Wahl, G. M. Selective capture of acentric fragments by micronuclei provides a rapid method for purifying extrachromosomally amplified DNA. Nat. Genet. 12, 65–71 (1996).

Pang, B. et al. Defects in purine nucleotide metabolism lead to substantial incorporation of xanthine and hypoxanthine into DNA and RNA. Proc. Natl Acad. Sci. USA 109, 2319–2324 (2012).

Sakumi, K. et al. ITPA protein, an enzyme that eliminates deaminated purine nucleoside triphosphates in cells. Mutat. Res. 703, 43–50 (2010).

Gaudelli, N. M. et al. Programmable base editing of A*T to G*C in genomic DNA without DNA cleavage. Nature 551, 464–471 (2017).

Zheng, Y., Lorenzo, C. & Beal, P. A. DNA editing in DNA/RNA hybrids by adenosine deaminases that act on RNA. Nucleic Acids Res. 45, 3369–3377 (2017).

Shiromoto, Y., Sakurai, M., Minakuchi, M., Ariyoshi, K. & Nishikura, K. ADAR1 RNA editing enzyme regulates R-loop formation and genome stability at telomeres in cancer cells. Nat. Commun. 12, 1654 (2021).

Jimeno, S. et al. ADAR-mediated RNA editing of DNA:RNA hybrids is required for DNA double strand break repair. Nat. Commun. 12, 5512 (2021).

Crossley, M. P., Bocek, M. & Cimprich, K. A. R-Loops as cellular regulators and genomic threats. Mol. Cell 73, 398–411 (2019).

Smolka, J. A., Sanz, L. A., Hartono, S. R. & Chedin, F. Recognition of RNA by the S9.6 antibody creates pervasive artifacts when imaging RNA:DNA hybrids. J. Cell Biol. 220, e202004079 (2021).

Makharashvili, N. et al. Sae2/CtIP prevents R-loop accumulation in eukaryotic cells. eLife 7, e42733 (2018).

Chen, L. et al. R-ChIP using inactive RNase H reveals dynamic coupling of R-loops with transcriptional pausing at gene promoters. Mol. Cell. 68, 745–757.e745 (2017).

Nishikura, K. A-to-I editing of coding and non-coding RNAs by ADARs. Nat. Rev. Mol. Cell Biol. 17, 83–96 (2016).

Liu, Y. et al. RNA abasic sites in yeast and human cells. Proc. Natl Acad. Sci. USA 117, 20689–20695 (2020).

Han, L. et al. The genomic landscape and clinical relevance of A-to-I RNA editing in human cancers. Cancer Cell 28, 515–528 (2015).

Tsuruoka, N. et al. ADAR1 protein induces adenosine-targeted DNA mutations in senescent Bcl6 gene-deficient cells. J. Biol. Chem. 288, 826–836 (2013).

Li, J. B. et al. Genome-wide identification of human RNA editing sites by parallel DNA capturing and sequencing. Science 324, 1210–1213 (2009).

Eggington, J. M., Greene, T. & Bass, B. L. Predicting sites of ADAR editing in double-stranded RNA. Nat. Commun. 2, 319 (2011).

Alexandrov, L. B. et al. The repertoire of mutational signatures in human cancer. Nature 578, 94–101 (2020).

Maciejowski, J. et al. APOBEC3-dependent kataegis and TREX1-driven chromothripsis during telomere crisis. Nat. Genet. 52, 884–890 (2020).

Mohr, L. et al. ER-directed TREX1 limits cGAS activation at micronuclei. Mol. Cell 81, 724–738.e729 (2021).

Vietri, M. et al. Unrestrained ESCRT-III drives micronuclear catastrophe and chromosome fragmentation. Nat. Cell Biol. 22, 856–867 (2020).

Maass, K. K. et al. Altered nuclear envelope structure and proteasome function of micronuclei. Exp. Cell. Res. 371, 353–363 (2018).

Ruzov, A. et al. Lineage-specific distribution of high levels of genomic 5-hydroxymethylcytosine in mammalian development. Cell Res. 21, 1332–1342 (2011).

Taghizadeh, K. et al. Quantification of DNA damage products resulting from deamination, oxidation and reaction with products of lipid peroxidation by liquid chromatography isotope dilution tandem mass spectrometry. Nat. Protoc. 3, 1287–1298 (2008).

Yu, Y. et al. Comprehensive assessment of oxidatively induced modifications of DNA in a rat model of human Wilson's disease. Mol. Cell Proteomics 15, 810–817 (2016).
Acknowledgements
We thank D. Chowdhury, S. Hirsch, W. Johnson, I.-J. Lee, M. Liebowitz, N. Serbyn, J. Walter, and G. Zhao for comments on the manuscript; P. Beal, B. Daignan, W. Harper, P. Ly, L. Potano Vaites, J. Walter, Y. Wang, C. Z. Zhang and laboratory members for discussions; R. Davidowitz for artwork; and W. Harper, D. Durocher and H. Hochegger for reagents. D.P. is an HHMI Investigator and is supported by NIH R01 CA213404-24 and a Research Investigator Award from the Lustgarten Foundation.
Ethics declarations
Competing interests
D.P. is a member of Volastra Therapeutics scientific advisory board.
Peer review
Peer review information
Nature thanks Leilei Chen, Andre Nussenzweig and the other, anonymous, reviewer(s) for their contribution to the peer review of this work.
Additional information
Publisher's note Springer Nature remains neutral with regard to jurisdictional claims in published maps and institutional affiliations.
Extended data figures and tables
Supplementary information
Discussion of additional potential mechanisms contributing to DNA damage in micronuclei.
About this article
Cite this article
Tang, S., Stokasimov, E., Cui, Y. et al. Breakage of cytoplasmic chromosomes by pathological DNA base excision repair. Nature 606, 930–936 (2022). https://doi.org/10.1038/s41586-022-04767-1
Received:

Accepted:

Published:

Issue Date:

DOI: https://doi.org/10.1038/s41586-022-04767-1
Comments
By submitting a comment you agree to abide by our Terms and Community Guidelines. If you find something abusive or that does not comply with our terms or guidelines please flag it as inappropriate.