Abstract
Only a small proportion of patients with cancer show lasting responses to immune checkpoint blockade (ICB)-based monotherapies. The RNA-editing enzyme ADAR1 is an emerging determinant of resistance to ICB therapy and prevents ICB responsiveness by repressing immunogenic double-stranded RNAs (dsRNAs), such as those arising from the dysregulated expression of endogenous retroviral elements (EREs)1,2,3,4. These dsRNAs trigger an interferon-dependent antitumour response by activating A-form dsRNA (A-RNA)-sensing proteins such as MDA-5 and PKR5. Here we show that ADAR1 also prevents the accrual of endogenous Z-form dsRNA elements (Z-RNAs), which were enriched in the 3′ untranslated regions of interferon-stimulated mRNAs. Depletion or mutation of ADAR1 resulted in Z-RNA accumulation and activation of the Z-RNA sensor ZBP1, which culminated in RIPK3-mediated necroptosis. As no clinically viable ADAR1 inhibitors currently exist, we searched for a compound that can override the requirement for ADAR1 inhibition and directly activate ZBP1. We identified a small molecule, the curaxin CBL0137, which potently activates ZBP1 by triggering Z-DNA formation in cells. CBL0137 induced ZBP1-dependent necroptosis in cancer-associated fibroblasts and reversed ICB unresponsiveness in mouse models of melanoma. Collectively, these results demonstrate that ADAR1 represses endogenous Z-RNAs and identifies ZBP1-mediated necroptosis as a new determinant of tumour immunogenicity masked by ADAR1. Therapeutic activation of ZBP1-induced necroptosis provides a readily translatable avenue for rekindling the immune responsiveness of ICB-resistant human cancers.
Relevant articles
Open Access articles citing this article.
Jing Yang

,

Jin Xu

…

Si Shi

Signal Transduction and Targeted Therapy Open Access 22 May 2023

Yan-Dong Miao

,

Wuxia Quan

…

Fang Zhang

Cell Death Discovery Open Access 15 April 2023

Keiichiro Nakamura

,

Kunitoshi Shigeyasu

…

Hisashi Masuyama

Scientific Reports Open Access 23 March 2023
Access options
Access Nature and 54 other Nature Portfolio journals
Get Nature+, our best-value online-access subscription
$29.99 / 30 days
cancel any time
Subscribe to this journal
Receive 51 print issues and online access
$199.00 per year
only $3.90 per issue
Rent or buy this article
Get just this article for as long as you need it
$39.95
Prices may be subject to local taxes which are calculated during checkout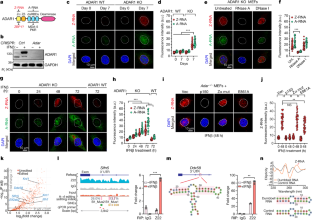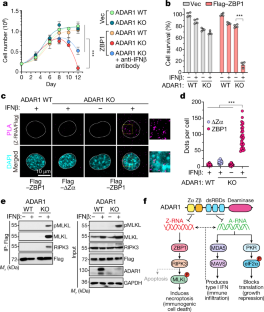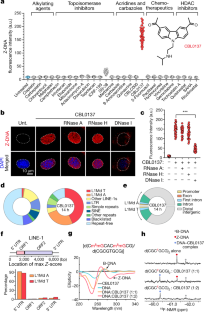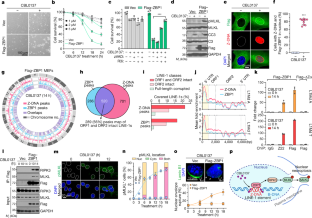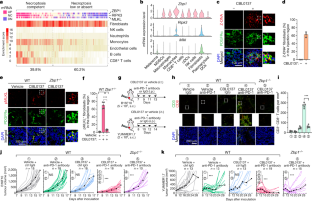 References
Liu, H. et al. Tumor-derived IFN triggers chronic pathway agonism and sensitivity to ADAR loss. Nat. Med. 25, 95–102 (2019).

Ishizuka, J. J. et al. Loss of ADAR1 in tumours overcomes resistance to immune checkpoint blockade. Nature 565, 43–48 (2019).

Mehdipour, P. et al. Epigenetic therapy induces transcription of inverted SINEs and ADAR1 dependency. Nature 588, 169–173 (2020).

Gannon, H. S. et al. Identification of ADAR1 adenosine deaminase dependency in a subset of cancer cells. Nat. Commun. 9, 5450 (2018).

Chen, R., Ishak, C. A. & De Carvalho, D. D. Endogenous retroelements and the viral mimicry response in cancer therapy and cellular homeostasis. Cancer Discov. 11, 2707–2725 (2021).

Loo Yau, H., Ettayebi, I. & De Carvalho, D. D. The cancer epigenome: exploiting its vulnerabilities for immunotherapy. Trends Cell Biol. 29, 31–43 (2019).

Heraud-Farlow, J. E., Chalk, A. M. & Walkley, C. R. Defining the functions of adenosine-to-inosine RNA editing through hematology. Curr. Opin. Hematol. 26, 241–248 (2019).

Eisenberg, E. & Levanon, E. Y. A-to-I RNA editing—immune protector and transcriptome diversifier. Nat. Rev. Genet. 19, 473–490 (2018).

Samuel, C. E. Adenosine deaminase acting on RNA (ADAR1), a suppressor of double-stranded RNA-triggered innate immune responses. J. Biol. Chem. 294, 1710–1720 (2019).

Herbert, A. ALU non-B-DNA conformations, flipons, binary codes and evolution. R. Soc. Open Sci. 7, 200222 (2020).

Chung, H. et al. Human ADAR1 prevents endogenous RNA from triggering translational shutdown. Cell 172, 811–824.e14 (2018).

George, C. X., Ramaswami, G., Li, J. B. & Samuel, C. E. Editing of cellular self-RNAs by adenosine deaminase ADAR1 suppresses innate immune stress responses. J. Biol. Chem. 291, 6158–6168 (2016).

Liddicoat, B. J. et al. RNA editing by ADAR1 prevents MDA5 sensing of endogenous dsRNA as nonself. Science 349, 1115–1120 (2015).

Herbert, A. et al. A Z-DNA binding domain present in the human editing enzyme, double-stranded RNA adenosine deaminase. Proc. Natl Acad. Sci. USA 94, 8421–8426 (1997).

Herbert, A. Mendelian disease caused by variants affecting recognition of Z-DNA and Z-RNA by the Zα domain of the double-stranded RNA editing enzyme ADAR. Eur. J. Hum. Genet. 28, 114–117 (2020).

Zhang, T. et al. Influenza virus Z-RNAs induce ZBP1-mediated necroptosis. Cell 180, 1115–1129.e13 (2020).

Hardin, C. C. et al. Stabilization of Z-RNA by chemical bromination and its recognition by anti-Z-DNA antibodies. Biochemistry 26, 5191–5199 (1987).

Schade, M., Turner, C. J., Lowenhaupt, K., Rich, A. & Herbert, A. Structure–function analysis of the Z-DNA-binding domain Zα of dsRNA adenosine deaminase type I reveals similarity to the (α + β) family of helix–turn–helix proteins. EMBO J. 18, 470–479 (1999).

Bazak, L., Levanon, E. Y. & Eisenberg, E. Genome-wide analysis of Alu editability. Nucleic Acids Res. 42, 6876–6884 (2014).

Nichols, P. J. et al. Recognition of non-CpG repeats in Alu and ribosomal RNAs by the Z-RNA binding domain of ADAR1 induces A-Z junctions. Nat. Commun. 12, 793 (2021).

Balasubramaniyam, T., Ishizuka, T., Xiao, C. D., Bao, H. L. & Xu, Y. 2′-O-Methyl-8-methylguanosine as a Z-form RNA stabilizer for structural and functional study of Z-RNA. Molecules 23, 2572–2579 (2018).

Brown, B. A. 2nd, Lowenhaupt, K., Wilbert, C. M., Hanlon, E. B. & Rich, A. The Zα domain of the editing enzyme dsRNA adenosine deaminase binds left-handed Z-RNA as well as Z-DNA. Proc. Natl Acad. Sci. USA 97, 13532–13536 (2000).

Kim, K. et al. Solution structure of the Zβ domain of human DNA-dependent activator of IFN-regulatory factors and its binding modes to B- and Z-DNAs. Proc. Natl Acad. Sci. USA 108, 6921–6926 (2011).

Peck, L. J., Nordheim, A., Rich, A. & Wang, J. C. Flipping of cloned d(pCpG)n.d(pCpG)n DNA sequences from right- to left-handed helical structure by salt, Co(III), or negative supercoiling. Proc. Natl Acad. Sci. USA 79, 4560–4564 (1982).

Chang, H. W. et al. Histone chaperone FACT and curaxins: effects on genome structure and function. J. Cancer Metastasis Treat. 5, 78 (2019).

Safina, A. et al. FACT is a sensor of DNA torsional stress in eukaryotic cells. Nucleic Acids Res. 45, 1925–1945 (2017).

Sookdeo, A., Hepp, C. M., McClure, M. A. & Boissinot, S. Revisiting the evolution of mouse LINE-1 in the genomic era. Mob. DNA 4, 3 (2013).

Beknazarov, N., Jin, S. & Poptsova, M. Deep learning approach for predicting functional Z-DNA regions using omics data. Sci Rep. 10, 19134 (2020).

Bao, H. L. & Xu, Y. Observation of Z-DNA structure via the synthesis of oligonucleotide DNA containing 8-trifluoromethyl-2-deoxyguanosine. Curr. Protoc. 1, e28 (2021).

Jeronimo, C., Watanabe, S., Kaplan, C. D., Peterson, C. L. & Robert, F. The histone chaperones FACT and Spt6 restrict H2A.Z from intragenic locations. Mol. Cell 58, 1113–1123 (2015).

Denli, A. M. et al. Primate-specific ORF0 contributes to retrotransposon-mediated diversity. Cell 163, 583–593 (2015).

Somers, K. et al. Potent antileukemic activity of curaxin CBL0137 against MLL-rearranged leukemia. Int. J. Cancer 146, 1902–1916 (2020).

Gasparian, A. V. et al. Curaxins: anticancer compounds that simultaneously suppress NF-κB and activate p53 by targeting FACT. Sci. Transl. Med. 3, 95ra74 (2011).

Carter, D. R. et al. Therapeutic targeting of the MYC signal by inhibition of histone chaperone FACT in neuroblastoma. Sci. Transl. Med. 7, 312ra176 (2015).

Koo, G. B. et al. Methylation-dependent loss of RIP3 expression in cancer represses programmed necrosis in response to chemotherapeutics. Cell Res. 25, 707–725 (2015).

Gabrilovich, D. I. & Nagaraj, S. Myeloid-derived suppressor cells as regulators of the immune system. Nat. Rev. Immunol. 9, 162–174 (2009).

Weiss, S. A., Wolchok, J. D. & Sznol, M. Immunotherapy of melanoma: facts and hopes. Clin. Cancer Res. 25, 5191–5201 (2019).

Wang, J. et al. UV-induced somatic mutations elicit a functional T cell response in the YUMMER1.7 mouse melanoma model. Pigment Cell Melanoma Res. 30, 428–435 (2017).

Nirschl, C. J. et al. IFNγ-dependent tissue-immune homeostasis is co-opted in the tumor microenvironment. Cell 170, 127–141.e15 (2017).

Benci, J. L. et al. Tumor interferon signaling regulates a multigenic resistance program to immune checkpoint blockade. Cell 167, 1540–1554.e12 (2016).

Ishii, K. J. et al. TANK-binding kinase-1 delineates innate and adaptive immune responses to DNA vaccines. Nature 451, 725–729 (2008).

Chen, P. et al. Anti-CD70 immunocytokines for exploitation of interferon-γ-induced RIP1-dependent necrosis in renal cell carcinoma. PLoS ONE 8, e61446 (2013).

Cancer Genome Atlas Network. Genomic classification of cutaneous melanoma. Cell 161, 1681–1696 (2015).

Becht, E. et al. Estimating the population abundance of tissue-infiltrating immune and stromal cell populations using gene expression. Genome Biol. 17, 218 (2016).

Gabitova-Cornell, L. et al. Cholesterol pathway inhibition induces TGF-β signaling to promote basal differentiation in pancreatic cancer. Cancer Cell 38, 567–583.e11 (2020).

Satija, R., Farrell, J. A., Gennert, D., Schier, A. F. & Regev, A. Spatial reconstruction of single-cell gene expression data. Nat. Biotechnol. 33, 495–502 (2015).

Patro, R., Duggal, G., Love, M. I., Irizarry, R. A. & Kingsford, C. Salmon provides fast and bias-aware quantification of transcript expression. Nat. Methods 14, 417–419 (2017).

Love, M. I., Huber, W. & Anders, S. Moderated estimation of fold change and dispersion for RNA-seq data with DESeq2. Genome Biol. 15, 550 (2014).

Bachu, M. et al. A versatile mouse model of epitope-tagged histone H3.3 to study epigenome dynamics. J. Biol. Chem. 294, 1904–1914 (2019).

Roth, S. H., Levanon, E. Y. & Eisenberg, E. Genome-wide quantification of ADAR adenosine-to-inosine RNA editing activity. Nat. Methods 16, 1131–1138 (2019).

Gruber, A. R., Lorenz, R., Bernhart, S. H., Neubock, R. & Hofacker, I. L. The Vienna RNA websuite. Nucleic Acids Res. 36, W70–W74 (2008).

Lo Giudice, C., Tangaro, M. A., Pesole, G. & Picardi, E. Investigating RNA editing in deep transcriptome datasets with REDItools and REDIportal. Nat. Protoc. 15, 1098–1131 (2020).

Anders, S., Pyl, P. T. & Huber, W. HTSeq—a Python framework to work with high-throughput sequencing data. Bioinformatics 31, 166–169 (2015).

Kechin, A., Boyarskikh, U., Kel, A. & Filipenko, M. cutPrimers: a new tool for accurate cutting of primers from reads of targeted next generation sequencing. J. Comput. Biol. 24, 1138–1143 (2017).

Li, H. Minimap2: pairwise alignment for nucleotide sequences. Bioinformatics 34, 3094–3100 (2018).

Li, H. et al. The sequence alignment/map format and SAMtools. Bioinformatics 25, 2078–2079 (2009).

Zhang, Y. et al. Model-based analysis of ChIP-Seq (MACS). Genome Biol. 9, R137 (2008).

Zhu, L. J. et al. ChIPpeakAnno: a Bioconductor package to annotate ChIP-seq and ChIP-chip data. BMC Bioinformatics 11, 237 (2010).

Gu, Z., Gu, L., Eils, R., Schlesner, M. & Brors, B. circlize implements and enhances circular visualization in R. Bioinformatics 30, 2811–2812 (2014).

Penzkofer, T. et al. L1Base 2: more retrotransposition-active LINE-1s, more mammalian genomes. Nucleic Acids Res. 45, D68–D73 (2017).

Sievers, F. et al. Fast, scalable generation of high-quality protein multiple sequence alignments using Clustal Omega. Mol. Syst. Biol. 7, 539 (2011).

Ho, P. S., Ellison, M. J., Quigley, G. J. & Rich, A. A computer aided thermodynamic approach for predicting the formation of Z-DNA in naturally occurring sequences. EMBO J. 5, 2737–2744 (1986).

Oki, S. et al. ChIP-Atlas: a data-mining suite powered by full integration of public ChIP-seq data. EMBO Rep. 19, e46255 (2018).

Rosenberger, C. M. Characterization of innate responses to influenza virus infection in a novel lung type I epithelial cell model. J. Gen. Virol. 95, 350–362 (2014).

Brown, D. M., Fisher, T. L., Wei, C., Frelinger, J. G. & Lord, E. M. Tumours can act as adjuvants for humoral immunity. Immunology 102, 486–497 (2001).

Rodriguez, D. A. Characterization of RIPK3-mediated phosphorylation of the activation loop of MLKL during necroptosis. Cell Death Differ. 23, 76–88 (2016).
Acknowledgements
We are grateful to E. Gurova for the CBL0137 analogues; M. Bosenberg, J. Upton, A. Degterev and D.R. Green for providing cell lines or antibodies; M. Andrake for help with molecular modelling; and A. Gupte and Z. Liang for technical assistance. This work was supported by a gift from David Wiest and the Seeds of Hope foundation of the Bucks County Board of Associates to S.B., NIH grants CA168621, CA190542, AI135025 and AI144400 to S.B., and NIH grant GM119398 to V.S. C.W. was supported by the National Health and Medical Research Council, Australia (NHMRC; APP1144049 and APP1183553). J.C.C. and P.G.T. were supported by the Mark Foundation, NIH grant U01AI150747, and the American Lebanese Syrian Associated Charities at St Jude Children's Hospital. Additional funds were provided by NIH Cancer Center Support grant P30CA006927 to S.B. A.F., N.B. and M.P. are supported by the Basic Research Program of the National Research University Higher School of Economics, for which A.H. is an International Supervisor.
Ethics declarations
Competing interests
T.Z., C.Y. and S.B. are co-inventors on a provisional patent application 'Combination of curaxins and immune checkpoint inhibitors for treating cancer' filed by the Fox Chase Cancer Center.
Peer review
Peer review information
Nature thanks William Haining, Jan Rehwinkel and the other, anonymous, reviewer(s) for their contribution to the peer review of this work.
Additional information
Publisher's note Springer Nature remains neutral with regard to jurisdictional claims in published maps and institutional affiliations.
Extended data figures and tables
Supplementary information
About this article
Cite this article
Zhang, T., Yin, C., Fedorov, A. et al. ADAR1 masks the cancer immunotherapeutic promise of ZBP1-driven necroptosis. Nature 606, 594–602 (2022). https://doi.org/10.1038/s41586-022-04753-7
Received:

Accepted:

Published:

Issue Date:

DOI: https://doi.org/10.1038/s41586-022-04753-7
Comments
By submitting a comment you agree to abide by our Terms and Community Guidelines. If you find something abusive or that does not comply with our terms or guidelines please flag it as inappropriate.