Abstract
Proper ectodermal patterning during human development requires previously identified transcription factors such as GATA3 and p63, as well as positional signalling from regional mesoderm1,2,3,4,5,6. However, the mechanism by which ectoderm and mesoderm factors act to stably pattern gene expression and lineage commitment remains unclear. Here we identify the protein Gibbin, encoded by the Xia–Gibbs AT-hook DNA-binding-motif-containing 1 (AHDC1) disease gene7,8,9, as a key regulator of early epithelial morphogenesis. We find that enhancer- or promoter-bound Gibbin interacts with dozens of sequence-specific zinc-finger transcription factors and methyl-CpG-binding proteins to regulate the expression of mesoderm genes. The loss of Gibbin causes an increase in DNA methylation at GATA3-dependent mesodermal genes, resulting in a loss of signalling between developing dermal and epidermal cell types. Notably, Gibbin-mutant human embryonic stem-cell-derived skin organoids lack dermal maturation, resulting in p63-expressing basal cells that possess defective keratinocyte stratification. In vivo chimeric CRISPR mouse mutants reveal a spectrum of Gibbin-dependent developmental patterning defects affecting craniofacial structure, abdominal wall closure and epidermal stratification that mirror patient phenotypes. Our results indicate that the patterning phenotypes seen in Xia–Gibbs and related syndromes derive from abnormal mesoderm maturation as a result of gene-specific DNA methylation decisions.
This is a preview of subscription content
Access options
Subscribe to Nature+
Get immediate online access to the entire Nature family of 50+ journals
Subscribe to Journal
Get full journal access for 1 year
$199.00
only $3.90 per issue
All prices are NET prices.
VAT will be added later in the checkout.
Tax calculation will be finalised during checkout.
Buy article
Get time limited or full article access on ReadCube.
$32.00
All prices are NET prices.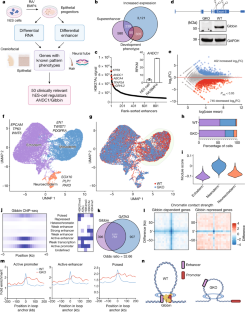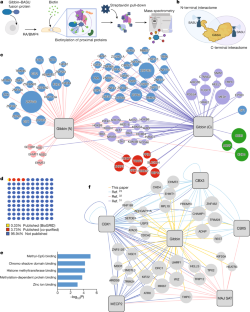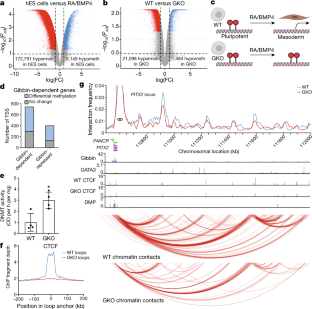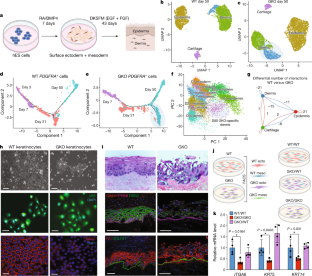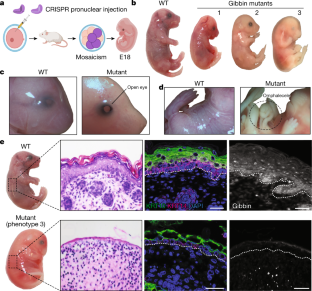 References
Abe, M. et al. GATA3 is essential for separating patterning domains during facial morphogenesis. Development 148, dev199534 (2021).

Tsarovina, K. et al. Essential role of Gata transcription factors in sympathetic neuron development. Development 131, 4775–4786 (2004).

Ralston, A. et al. Gata3 regulates trophoblast development downstream of Tead4 and in parallel to Cdx2. Development 137, 395–403 (2010).

Romano, R. A. et al. ΔNp63 knockout mice reveal its indispensable role as a master regulator of epithelial development and differentiation. Development 139, 772–782 (2012).

Pattison, J. M. et al. Retinoic acid and BMP4 cooperate with p63 to alter chromatin dynamics during surface epithelial commitment. Nat. Genet. 50, 1658–1665 (2018).

Chikh, A. et al. Expression of GATA-3 in epidermis and hair follicle: relationship to p63. Biochem. Biophys. Res. Commun. 361, 1–6 (2007).

Ellis, C., Pai, G. S. & Wine Lee, L. Atypical aplasia cutis in association with Xia Gibbs syndrome. Pediatr. Dermatol. 38, 533–535 (2021).

Jiang, Y. et al. The phenotypic spectrum of Xia-Gibbs syndrome. Am. J. Med. Genet. A 176, 1315–1326 (2018).

Ritter, A. L. et al. Variable clinical manifestations of Xia-Gibbs syndrome: findings of consecutively identified cases at a single children's hospital. Am. J. Med. Genet. A 176, 1890–1896 (2018).

Tchieu, J. et al. A modular platform for differentiation of human PSCs into all major ectodermal lineages. Cell Stem Cell 21, 399–410 (2017).

Liang, Y. C. et al. Folding keratin gene clusters during skin regional specification. Dev. Cell 53, 561–576 (2020).

Kelly, O. G. & Melton, D. A. Induction and patterning of the vertebrate nervous system. Trends Genet. 11, 273–278 (1995).

Liem, K. F., Tremml, G., Roelink, H. & Jessell, T. M. Dorsal differentiation of neural plate cells induced by BMP-mediated signals from epidermal ectoderm. Cell 82, 969–979 (1995).

Larsen, W. J. & Sherman, L. S. in Human Embryology 3rd edn 85–102; 126–130 (Churchill Livingstone, 2002).

Hota, S. K. & Bruneau, B. G. ATP-dependent chromatin remodeling during mammalian development. Development 143, 2882–2897 (2016).

Pauli, A., Rinn, J. L. & Schier, A. F. Non-coding RNAs as regulators of embryogenesis. Nat. Rev. Genet. 12, 136–149 (2011).

Liu, J. et al. Transcriptional dysregulation in NIPBL and cohesin mutant human cells. PLoS Biol. 7, e1000119 (2009).

Li, L. et al. TFAP2C- and p63-dependent networks sequentially rearrange chromatin landscapes to drive human epidermal lineage commitment. Cell Stem Cell 24, 271–284 (2019).

Li, W. & Cornell, R. A. Redundant activities of Tfap2a and Tfap2c are required for neural crest induction and development of other non-neural ectoderm derivatives in zebrafish embryos. Dev. Biol. 304, 338–354 (2007).

Sebastiano, V. et al. Human COL7A1-corrected induced pluripotent stem cells for the treatment of recessive dystrophic epidermolysis bullosa. Sci. Transl. Med. 6, 264ra163 (2014).

Chahrour, M. & Zoghbi, H. Y. The story of Rett syndrome: from clinic to neurobiology. Neuron 56, 422–437 (2007).

Sarogni, P., Pallotta, M. M. & Musio, A. Cornelia de Lange syndrome: from molecular diagnosis to therapeutic approach. J. Med. Genet. 57, 289–295 (2020).

Ostapcuk, V. et al. Activity-dependent neuroprotective protein recruits HP1 and CHD4 to control lineage-specifying genes. Nature 557, 739–743 (2018).

Xia, F. et al. De novo truncating mutations in AHDC1 in individuals with syndromic expressive language delay, hypotonia, and sleep apnea. Am. J. Hum. Genet. 94, 784–789 (2014).

Díaz-Ordoñez, L., Ramirez-Montaño, D., Candelo, E., Cruz, S. & Pachajoa, H. Syndromic intellectual disability caused by a novel truncating variant in AHDC1: a case report. Iran. J. Med. Sci. 44, 257–261 (2019).

Savic, D. et al. CETCh-seq: CRISPR epitope tagging ChIP-seq of DNA-binding proteins. Genome Res. 25, 1581–1589 (2015).

Mumbach, M. R. et al. HiChIP: efficient and sensitive analysis of protein-directed genome architecture. Nat. Methods 13, 919–922 (2016).

Ramanathan, M. et al. RNA-protein interaction detection in living cells. Nat. Methods 15, 207–212 (2018).

Roux, K. J., Kim, D. I., Raida, M. & Burke, B. A promiscuous biotin ligase fusion protein identifies proximal and interacting proteins in mammalian cells. J. Cell Biol. 196, 801–810 (2012).

Roux, K. J., Kim, D. I. & Burke, B. BioID: a screen for protein-protein interactions. Curr. Protoc. Protein Sci. 2013, 19.23.1–19.23.14 (2013).

Villaseñor, R. et al. ChromID identifies the protein interactome at chromatin marks. Nat. Biotechnol. 38, 728–736 (2020).

Saksouk, N. et al. Redundant mechanisms to form silent chromatin at pericentromeric regions rely on BEND3 and DNA methylation. Mol. Cell 56, 580–594 (2014).

Kaaij, L. J. T., Mohn, F., van der Weide, R. H., de Wit, E. & Bühler, M. The ChAHP complex counteracts chromatin looping at CTCF sites that emerged from SINE expansions in mouse. Cell 178, 1437–1451 (2019).

Maurano, M. T. et al. Role of DNA methylation in modulating transcription factor occupancy. Cell Rep. 12, 1184–1195 (2015).

Wang, H. et al. Widespread plasticity in CTCF occupancy linked to DNA methylation. Genome Res. 22, 1680–1688 (2012).

Lu, M. F., Pressman, C., Dyer, R., Johnson, R. L. & Martin, J. F. Function of Rieger syndrome gene in left-right asymmetry and craniofacial development. Nature 401, 276–278 (1999).

Günschmann, C. et al. Insulin/IGF-1 controls epidermal morphogenesis via regulation of FoxO-mediated p63 inhibition. Dev. Cell 26, 176–187 (2013).

Li, A. et al. Deciphering principles of morphogenesis from temporal and spatial patterns on the integument. Dev. Dyn. 244, 905–920 (2015).

Wolpert, L. Positional information and the spatial pattern of cellular differentiation. J. Theor. Biol. 25, 1–47 (1969).

Jin, S. et al. Inference and analysis of cell-cell communication using CellChat. Nat. Commun. 12, 1088 (2021).

Niessen, M. T., Iden, S. & Niessen, C. M. The in vivo function of mammalian cell and tissue polarity regulators—how to shape and maintain the epidermal barrier. J. Cell Sci. 125, 3501–3510 (2012).

Delaney, C. et al. Combinatorial prediction of marker panels from single‐cell transcriptomic data. Mol. Syst. Biol. 15, e9005 (2019).

Kurek, D., Garinis, G. A., van Doorninck, J. H., van der Wees, J. & Grosveld, F. G. Transcriptome and phenotypic analysis reveals Gata3-dependent signalling pathways in murine hair follicles. Development 134, 261–272 (2007).

Kaufman, C. K. et al. GATA-3: An unexpected regulator of cell lineage determination in skin. Genes Dev. 17, 2108–2122 (2003).

Bardhan, T. et al. Gata3 is required for the functional maturation of inner hair cells and their innervation in the mouse cochlea. J. Physiol. 597, 3389–3406 (2019).

Koch, P. J. et al. Targeted disruption of the pemphigus vulgaris antigen (desmoglein 3) gene in mice causes loss of keratinocyte cell adhesion with a phenotype similar to pemphigus vulgaris. J. Cell Biol. 137, 1091–1102 (1997).

Cheng, X. et al. Two Chinese Xia-Gibbs syndrome patients with partial growth hormone deficiency. Mol. Genet. Genomic Med. 7, e00596 (2019).

Yang, S. et al. Rare mutations in AHDC1 in patients with obstructive sleep apnea. Biomed. Res. Int. 2019, 5907361 (2019).

García-Acero, M. & Acosta, J. Whole-exome sequencing identifies a de novo AHDC1 mutation in a Colombian patient with Xia-Gibbs syndrome. Mol. Syndromol. 8, 308–312 (2017).

Qin, Y., Yang, S., Li, K. & Wei, Y. Extreme trait next generation sequencing identifies AHDC1 as a novel candidate gene in obstructive sleep apnea. Sleep 41, A8–A9 (2018).

Cardoso-Dos-Santos, A. C. et al. Novel AHDC1 gene mutation in a Brazilian individual: implications of Xia-Gibbs syndrome. Mol. Syndromol. 11, 24–29 (2020).

Billingham, R. E. & Silvers, W. K. Studies on the conservation of epidermal specificies of skin and certain mucosas in adult mammals. J. Exp. Med. 125, 429–446 (1967).

Dhouailly, D., Prin, F., Kanzler, B., Viallet, J. P. & Chuong, C. Molecular Basis of Epithelial Appendage Morphogenesis (Landes Biosciences, 1998).

Wu, H. J. et al. Estrogen modulates mesenchyme-epidermis interactions in the adult nipple. Development 144, 1498–1509 (2017).

Helsmoortel, C. et al. A SWI/SNF-related autism syndrome caused by de novo mutations in ADNP. Nat. Genet. 46, 380–384 (2014).

Khayat, M. M. et al. AHDC1 missense mutations in Xia-Gibbs syndrome. Hum. Genet. Genomics Adv. 2, 100049 (2021).

Buenrostro, J. D., Wu, B., Chang, H. Y. & Greenleaf, W. J. ATAC-seq: a method for assaying chromatin accessibility genome-wide. Curr. Protoc. Mol. Biol. 2015, 21.29.1–21.29.9 (2015).

Chen, E. Y. et al. Enrichr: interactive and collaborative HTML5 gene list enrichment analysis tool. BMC Bioinform. 14, 128 (2013).

Love, M. I., Huber, W. & Anders, S. Moderated estimation of fold change and dispersion for RNA-seq data with DESeq2. Genome Biol. 15, 550 (2014).

Li, Q., Brown, J. B., Huang, H. & Bickel, P. J. Measuring reproducibility of high-throughput experiments. Ann. Appl. Stat. 5, 1752–1779 (2011).

Whyte, W. A. et al. Master transcription factors and mediator establish super-enhancers at key cell identity genes. Cell 153, 307–319 (2013).

Mellacheruvu, D. et al. The CRAPome: a contaminant repository for affinity purification-mass spectrometry data. Nat. Methods 10, 730–736 (2013).

Choi, H. et al. SAINT: probabilistic scoring of affinity purificationg-mass spectrometry data. Nat. Methods 8, 70–73 (2011).

Servant, N. et al. HiC-Pro: an optimized and flexible pipeline for Hi-C data processing. Genome Biol. 16, 259 (2015).

Haarhuis, J. H. I. et al. The cohesin release factor WAPL restricts chromatin loop extension. Cell 169, 693–707 (2017).

Bhattacharyya, S., Chandra, V., Vijayanand, P. & Ay, F. Identification of significant chromatin contacts from HiChIP data by FitHiChIP. Nat. Commun. 10, 4221 (2019).

Ernst, J. & Kellis, M. Chromatin-state discovery and genome annotation with ChromHMM. Nat. Protoc. 12, 2478–2492 (2017).
Acknowledgements
We thank the members of the Oro laboratory for comments on this manuscript; S. Yamanaka for sharing the PiggyBac inducible expression plasmid and P. Khavari for sharing the BASU cDNA. This work was supported by R. L. Kirchstein NRSA (F32AR074221 to A.C.), the Stanford Dean's Fellowship (to A.C.), the Stanford Maternal and Childhood Health Research Institute (to A.C.), NIH (R01ARO73170 to A.O.) and the California Institute of Regenerative Medicine (RT3-07796 to A.O.). Mass spectrometry was performed at the Vincent Coates Foundation Mass Spectrometry Laboratory, Stanford University Mass Spectrometry and supported in part by NIH P30 CA124435 using the Stanford Cancer Institute Proteomics/Mass Spectrometry Shared Resource. FACS analysis was performed at the Stanford Shared FACS Facility using an instrument obtained with an NIH S10 Shared Instrument Grant (S10RR025518-01).
Ethics declarations
Competing interests
The authors declare no competing interests.
Peer review
Peer review information
Nature thanks Ya-Chieh Hsu and the other, anonymous, reviewer(s) for their contribution to the peer review of this work.
Additional information
Publisher's note Springer Nature remains neutral with regard to jurisdictional claims in published maps and institutional affiliations.
Extended data figures and tables
Supplementary information
About this article
Cite this article
Collier, A., Liu, A., Torkelson, J. et al. Gibbin mesodermal regulation patterns epithelial development. Nature 606, 188–196 (2022). https://doi.org/10.1038/s41586-022-04727-9
Received:

Accepted:

Published:

Issue Date:

DOI: https://doi.org/10.1038/s41586-022-04727-9
Comments
By submitting a comment you agree to abide by our Terms and Community Guidelines. If you find something abusive or that does not comply with our terms or guidelines please flag it as inappropriate.