Abstract
The entry of mammalian cells into the DNA synthesis phase (S phase) represents a key event in cell division1. According to current models of the cell cycle, the kinase CDC7 constitutes an essential and rate-limiting trigger of DNA replication, acting together with the cyclin-dependent kinase CDK2. Here we show that CDC7 is dispensable for cell division of many different cell types, as determined using chemical genetic systems that enable acute shutdown of CDC7 in cultured cells and in live mice. We demonstrate that another cell cycle kinase, CDK1, is also active during G1/S transition both in cycling cells and in cells exiting quiescence. We show that CDC7 and CDK1 perform functionally redundant roles during G1/S transition, and at least one of these kinases must be present to allow S-phase entry. These observations revise our understanding of cell cycle progression by demonstrating that CDK1 physiologically regulates two distinct transitions during cell division cycle, whereas CDC7 has a redundant function in DNA replication.
Access options
Subscribe to Nature+
Get immediate online access to Nature and 55 other Nature journal
Subscribe to Journal
Get full journal access for 1 year
$199.00
only $3.90 per issue
All prices are NET prices.
VAT will be added later in the checkout.
Tax calculation will be finalised during checkout.
Buy article
Get time limited or full article access on ReadCube.
$32.00
All prices are NET prices.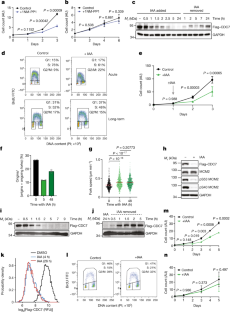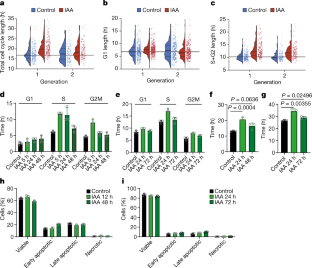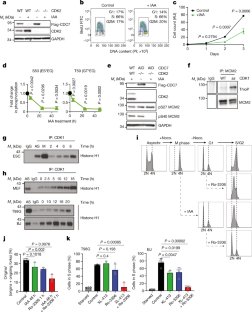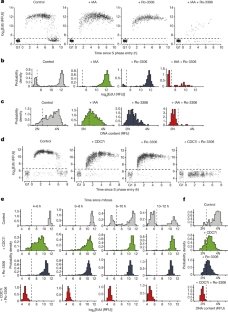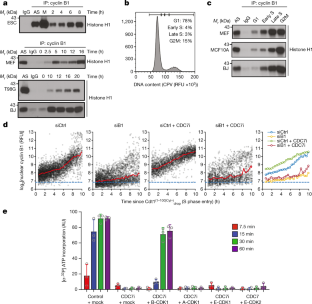 Data availability
Source data for the mass spectrometry analyses (Fig. 3d, Extended Data Fig. 7a, d, Supplementary Table 1 and Supplementary Table 2) have been deposited into the ProteomeXchange Consortium through the PRIDE partner repository with the dataset identifier PXD025625. ProteomeXchange title 'The role of Cdk1–cyclin B in G1/S transition revealed by chemical genetic inhibition of Cdc7'. Project Webpage: http://www.ebi.ac.uk/pride/archive/projects/PXD025625. Raw imagining datasets are available upon request. Source data for western blots and flow cytometry gating strategies are provided with this paper.
References
Asghar, U., Witkiewicz, A. K., Turner, N. C. & Knudsen, E. S. The history and future of targeting cyclin-dependent kinases in cancer therapy. Nat. Rev. Drug. Discov. 14, 130–146 (2015).

Chuang, L. C. et al. Phosphorylation of Mcm2 by Cdc7 promotes pre-replication complex assembly during cell-cycle re-entry. Mol. Cell 35, 206–216 (2009).

Heller, R. C. et al. Eukaryotic origin-dependent DNA replication in vitro reveals sequential action of DDK and S-CDK kinases. Cell 146, 80–91 (2011).

Lei, M. et al. Mcm2 is a target of regulation by Cdc7–Dbf4 during the initiation of DNA synthesis. Genes Dev. 11, 3365–3374 (1997).

Sheu, Y. J. & Stillman, B. Cdc7–Dbf4 phosphorylates MCM proteins via a docking site-mediated mechanism to promote S phase progression. Mol. Cell 24, 101–113 (2006).

Sheu, Y. J. & Stillman, B. The Dbf4–Cdc7 kinase promotes S phase by alleviating an inhibitory activity in Mcm4. Nature 463, 113–117 (2010).

Tsuji, T., Ficarro, S. B. & Jiang, W. Essential role of phosphorylation of MCM2 by Cdc7/Dbf4 in the initiation of DNA replication in mammalian cells. Mol. Biol. Cell 17, 4459–4472 (2006).

Yeeles, J. T., Deegan, T. D., Janska, A., Early, A. & Diffley, J. F. Regulated eukaryotic DNA replication origin firing with purified proteins. Nature 519, 431–435 (2015).

Douglas, M. E., Ali, F. A., Costa, A. & Diffley, J. F. X. The mechanism of eukaryotic CMG helicase activation. Nature 555, 265–268 (2018).

Bonte, D. et al. Cdc7–Dbf4 kinase overexpression in multiple cancers and tumor cell lines is correlated with p53 inactivation. Neoplasia 10, 920–931 (2008).

Witucki, L. A. et al. Mutant tyrosine kinases with unnatural nucleotide specificity retain the structure and phospho-acceptor specificity of the wild-type enzyme. Chem. Biol. 9, 25–33 (2002).

Michowski, W. et al. Cdk1 controls global epigenetic landscape in embryonic stem cells. Mol. Cell 78, 459–476.e13 (2020).

Santamaria, D. et al. Cdk1 is sufficient to drive the mammalian cell-cycle. Nature 448, 811–815 (2007).

Nishimura, K., Fukagawa, T., Takisawa, H., Kakimoto, T. & Kanemaki, M. An auxin-based degron system for the rapid depletion of proteins in nonplant cells. Nat. Methods 6, 917–922 (2009).

Montagnoli, A. et al. Cdc7 inhibition reveals a p53-dependent replication checkpoint that is defective in cancer cells. Cancer Res. 64, 7110–7116 (2004).

Rodriguez-Acebes, S. et al. Targeting DNA replication before it starts: Cdc7 as a therapeutic target in p53-mutant breast cancers. Am. J. Pathol. 177, 2034–2045 (2010).

Berthet, C., Aleem, E., Coppola, V., Tessarollo, L. & Kaldis, P. Cdk2 knockout mice are viable. Curr. Biol. 13, 1775–1785 (2003).

Ortega, S. et al. Cyclin-dependent kinase 2 is essential for meiosis but not for mitotic cell division in mice. Nat. Genet. 35, 25–31 (2003).

Komamura-Kohno, Y. et al. Site-specific phosphorylation of MCM4 during the cell-cycle in mammalian cells. FEBS J. 273, 1224–1239 (2006).

Lin, D. I., Aggarwal, P. & Diehl, J. A. Phosphorylation of MCM3 on Ser-112 regulates its incorporation into the MCM2-7 complex. Proc. Natl Acad. Sci. USA 105, 8079–8084 (2008).

Masai, H. et al. Human Cdc7-related kinase complex. In vitro phosphorylation of MCM by concerted actions of Cdks and Cdc7 and that of a criticial threonine residue of Cdc7 by Cdks. J. Biol. Chem. 275, 29042–29052 (2000).

Sakaue-Sawano, A. et al. Genetically encoded tools for optical dissection of the mammalian cell-cycle. Mol. Cell 68, 626–640.e5 (2017).

Aleem, E., Kiyokawa, H. & Kaldis, P. Cdc2–cyclin E complexes regulate the G1/S phase transition. Nat. Cell Biol. 7, 831–836 (2005).

Takahashi, T. S. & Walter, J. C. Cdc7–Drf1 is a developmentally regulated protein kinase required for the initiation of vertebrate DNA replication. Genes Dev. 19, 2295–2300 (2005).

Bahman, M., Buck, V., White, A. & Rosamond, J. Characterisation of the CDC7 gene product of Saccharomyces cerevisiae as a protein kinase needed for the initiation of mitotic DNA synthesis. Biochim. Biophys. Acta 951, 335–343 (1988).

Bousset, K. & Diffley, J. F. The Cdc7 protein kinase is required for origin firing during S phase. Genes Dev. 12, 480–490 (1998).

Donaldson, A. D., Fangman, W. L. & Brewer, B. J. Cdc7 is required throughout the yeast S phase to activate replication origins. Genes Dev. 12, 491–501 (1998).

Masai, H., Miyake, T. & Arai, K. hsk1+, a Schizosaccharomyces pombe gene related to Saccharomyces cerevisiae CDC7, is required for chromosomal replication. EMBO J. 14, 3094–3104 (1995).

Roberts, B. T., Ying, C. Y., Gautier, J. & Maller, J. L. DNA replication in vertebrates requires a homolog of the Cdc7 protein kinase. Proc. Natl Acad. Sci. USA 96, 2800–2804 (1999).

Silva, T., Bradley, R. H., Gao, Y. & Coue, M. Xenopus CDC7/DRF1 complex is required for the initiation of DNA replication. J. Biol. Chem. 281, 11569–11576 (2006).

Jiang, W., McDonald, D., Hope, T. J. & Hunter, T. Mammalian Cdc7–Dbf4 protein kinase complex is essential for initiation of DNA replication. EMBO J. 18, 5703–5713 (1999).

Montagnoli, A. et al. A Cdc7 kinase inhibitor restricts initiation of DNA replication and has antitumor activity. Nat. Chem. Biol. 4, 357–365 (2008).

Kim, J. M. et al. Inactivation of Cdc7 kinase in mouse ES cells results in S-phase arrest and p53-dependent cell death. EMBO J. 21, 2168–2179 (2002).

Hardy, C. F., Dryga, O., Seematter, S., Pahl, P. M. & Sclafani, R. A. mcm5/cdc46-bob1 bypasses the requirement for the S phase activator Cdc7p. Proc. Natl Acad. Sci. USA 94, 3151–3155 (1997).

Hoang, M. L. et al. Structural changes in Mcm5 protein bypass Cdc7–Dbf4 function and reduce replication origin efficiency in Saccharomyces cerevisiae. Mol. Cell. Biol. 27, 7594–7602 (2007).

Jackson, A. L., Pahl, P. M., Harrison, K., Rosamond, J. & Sclafani, R. A. Cell-cycle regulation of the yeast Cdc7 protein kinase by association with the Dbf4 protein. Mol. Cell. Biol. 13, 2899–2908 (1993).

Hayano, M. et al. Rif1 is a global regulator of timing of replication origin firing in fission yeast. Genes Dev. 26, 137–150 (2012).

Matsumoto, S., Hayano, M., Kanoh, Y. & Masai, H. Multiple pathways can bypass the essential role of fission yeast Hsk1 kinase in DNA replication initiation. J. Cell Biol. 195, 387–401 (2011).

Alver, R. C., Chadha, G. S., Gillespie, P. J. & Blow, J. J. Reversal of DDK-mediated MCM phosphorylation by Rif1–PP1 regulates replication initiation and replisome stability independently of ATR/Chk1. Cell Rep. 18, 2508–2520 (2017).

Moore, J. D., Kirk, J. A. & Hunt, T. Unmasking the S-phase-promoting potential of cyclin B1. Science 300, 987–990 (2003).

Prokhorova, T. A., Mowrer, K., Gilbert, C. H. & Walter, J. C. DNA replication of mitotic chromatin in Xenopus egg extracts. Proc. Natl Acad. Sci. USA 100, 13241–13246 (2003).

David-Pfeuty, T. & Nouvian-Dooghe, Y. Human cyclin B1 is targeted to the nucleus in G1 phase prior to its accumulation in the cytoplasm. Oncogene 13, 1447–1460 (1996).

Shen, M. et al. Detection of cyclin B1 expression in G1-phase cancer cell lines and cancer tissues by postsorting western blot analysis. Cancer Res. 64, 1607–1610 (2004).

Jones, M. J. K. et al. Human DDK rescues stalled forks and counteracts checkpoint inhibition at unfired origins to complete DNA replication. Mol. Cell 81, 426–441.e8 (2021).

Yang, C. C., Kato, H., Shindo, M. & Masai, H. Cdc7 activates replication checkpoint by phosphorylating the Chk1-binding domain of Claspin in human cells. eLife 8, e50796 (2019).

Yamada, M. et al. ATR–Chk1–APC/CCdh1-dependent stabilization of Cdc7–ASK (Dbf4) kinase is required for DNA lesion bypass under replication stress. Genes Dev. 27, 2459–2472 (2013).

Sasi, N. K. et al. DDK has a primary role in processing stalled replication forks to initiate downstream checkpoint signaling. Neoplasia 20, 985–995 (2018).

Wang, C. et al. Inducing and exploiting vulnerabilities for the treatment of liver cancer. Nature 574, 268–272 (2019).
Acknowledgements
We thank S. P. Bell, L. De Jesús-Kim, J. F. X. Diffley and L. S. Drury for discussions and help, and P. V. Jallepalli for sharing unpublished results. This work was supported by grants R01 CA247375, CA202634 and P01 CA250959 from the NIH (to P.S.), R35 GM127026 from the NIH (to T.M.), and GM097645 (to S.P.G.). J.M.S. was supported by the Mobilność Plus postdoctoral fellowship from the Ministry of Science and Higher Education of Poland (1085/MOB/2013/0), MB. by the Polish National Agency for Academic Exchange (PPN/WAL/2019/1/00023) and by the Foundation for Polish Science (START Programme). Y.G. is partially supported by R50 CA243769 from the NIH.
Ethics declarations
Competing interests
P.S. has been a consultant at Novartis, Genovis, Guidepoint, The Planning Shop, ORIC Pharmaceuticals, Cedilla Therapeutics, Syros Pharmaceuticals and Exo Therapeutics; his laboratory receives research funding from Novartis. J.M.S. is currently an employee of AstraZeneca. W.M. is currently an employee of Cedilla Therapeutics.
Peer review
Peer review information
Nature thanks Masato Kanemaki, Marcos Malumbres and the other, anonymous, reviewer(s) for their contribution to the peer review of this work.
Additional information
Publisher's note Springer Nature remains neutral with regard to jurisdictional claims in published maps and institutional affiliations.
Extended data figures and tables
Supplementary information
About this article
Cite this article
Suski, J.M., Ratnayeke, N., Braun, M. et al. CDC7-independent G1/S transition revealed by targeted protein degradation. Nature 605, 357–365 (2022). https://doi.org/10.1038/s41586-022-04698-x
Received:

Accepted:

Published:

Issue Date:

DOI: https://doi.org/10.1038/s41586-022-04698-x
Comments
By submitting a comment you agree to abide by our Terms and Community Guidelines. If you find something abusive or that does not comply with our terms or guidelines please flag it as inappropriate.