Abstract
Stomata exert considerable effects on global carbon and water cycles by mediating gas exchange and water vapour1,2. Stomatal closure prevents water loss in response to dehydration and limits pathogen entry3,4. However, prolonged stomatal closure reduces photosynthesis and transpiration and creates aqueous apoplasts that promote colonization by pathogens. How plants dynamically regulate stomatal reopening in a changing climate is unclear. Here we show that the secreted peptides SMALL PHYTOCYTOKINES REGULATING DEFENSE AND WATER LOSS (SCREWs) and the cognate receptor kinase PLANT SCREW UNRESPONSIVE RECEPTOR (NUT) counter-regulate phytohormone abscisic acid (ABA)- and microbe-associated molecular pattern (MAMP)-induced stomatal closure. SCREWs sensed by NUT function as immunomodulatory phytocytokines and recruit SOMATIC EMBRYOGENESIS RECEPTOR-LIKE KINASE (SERK) co-receptors to relay immune signalling. SCREWs trigger the NUT-dependent phosphorylation of ABA INSENSITIVE 1 (ABI1) and ABI2, which leads to an increase in the activity of ABI phosphatases towards OPEN STOMATA 1 (OST1)—a key kinase that mediates ABA- and MAMP-induced stomatal closure5,6—and a reduction in the activity of S-type anion channels. After induction by dehydration and pathogen infection, SCREW–NUT signalling promotes apoplastic water loss and disrupts microorganism-rich aqueous habitats to limit pathogen colonization. The SCREW–NUT system is widely distributed across land plants, which suggests that it has an important role in preventing uncontrolled stomatal closure caused by abiotic and biotic stresses to optimize plant fitness.
Access options
Access Nature and 54 other Nature Portfolio journals
Get Nature+, our best-value online-access subscription
$29.99 per month
cancel any time
Subscribe to this journal
Receive 51 print issues and online access
$199.00 per year
only $3.90 per issue
Rent or buy this article
Get just this article for as long as you need it
$39.95
Prices may be subject to local taxes which are calculated during checkout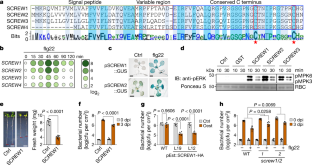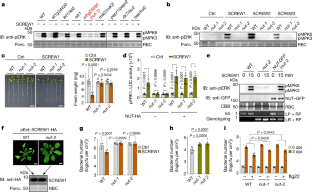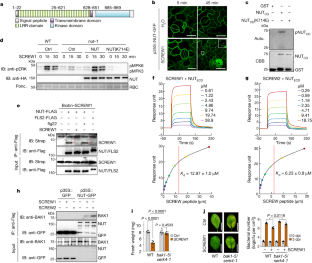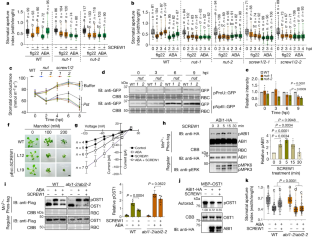 Data availability
The data supporting the findings of this study are available within the paper and its Supplementary Information files (uncropped blots and gel images, primers, peptides, and exact P values). The sequences of proteins were obtained from TAIR (https://www.arabidopsis.org/), UniProt (https://www.uniprot.org/), NCBI (https://www.ncbi.nlm.nih.gov/) and Phytozome (https://phytozome-next.jgi.doe.gov/). The protein structures were obtained from AlphaFold Protein Structure Database (https://alphafold.ebi.ac.uk/). Sequence data from this article can be found in the Arabidopsis Genome Initiative or GenBank–EMBL databases under the following accession numbers: SCREW1 (AT1G06135), SCREW2 (AT2G31345), SCREW3 (AT1G06137), SCREW4 (AT2G31335), NUT (AT5G25930), WRKY30 (AT5G24110), WRKY33 (AT2G38470), WRKY53 (AT4G23810), PR1 (AT2G14610), FRK1 (AT2G19190), MPK3 (AT3G45640), MPK4 (AT4G01370), MPK6 (AT2G43790), UBQ10 (AT4G05320), ACTIN2 (AT3G18780), BAK1 (AT4G33430), SERK1 (AT1G71830), SERK2 (AT1G34210), SERK4 (AT2G13790), FLS2 (AT5G46330), BIK1 (AT2G39660), MIK2 (AT4G08850), MIK2L (AT1G35710), RLK7 (AT1G09970), IKU2 (AT3G19700), HAE (AT4G28490), HSL2 (AT5G65710), LET1 (AT2G23200), LET2 (AT5G38990), NILR1 (AT1G74360), MIN7 (AT3G43300), ABI1 (AT4G26080), ABI2 (AT5G57050) and OST1 (AT4G33950).
References
Hetherington, A. M. & Woodward, F. I. The role of stomata in sensing and driving environmental change. Nature 424, 901–908 (2003).

Sussmilch, F. C., Schultz, J., Hedrich, R. & Roelfsema, M. R. G. Acquiring control: the evolution of stomatal signalling pathways. Trends Plant Sci. 24, 342–351 (2019).

Hsu, P. K., Dubeaux, G., Takahashi, Y. & Schroeder, J. I. Signaling mechanisms in abscisic acid-mediated stomatal closure. Plant J. 2, 307–321 (2021).

Melotto, M., Underwood, W. & He, S. Y. Role of stomata in plant innate immunity and foliar bacterial diseases. Annu. Rev. Phytopathol. 46, 101–122 (2008).

Guzel Deger, A. et al. Guard cell SLAC1-type anion channels mediate flagellin-induced stomatal closure. New Phytol. 208, 162–173 (2015).

Mustilli, A. C., Merlot, S., Vavasseur, A., Fenzi, F. & Giraudat, J. Arabidopsis OST1 protein kinase mediates the regulation of stomatal aperture by abscisic acid and acts upstream of reactive oxygen species production. Plant Cell 14, 3089–3099 (2002).

Takahashi, F., Hanada, K., Kondo, T. & Shinozaki, K. Hormone-like peptides and small coding genes in plant stress signaling and development. Curr. Opin. Plant Biol. 51, 88–95 (2019).

Olsson, V. et al. Look closely, the beautiful may be small: precursor-derived peptides in plants. Annu. Rev. Plant Biol. 70, 153–186 (2019).

Tang, D., Wang, G. & Zhou, J. M. Receptor kinases in plant–pathogen interactions: more than pattern recognition. Plant Cell 29, 618–637 (2017).

Dievart, A., Gottin, C., Perin, C., Ranwez, V. & Chantret, N. Origin and diversity of plant receptor-like kinases. Annu. Rev. Plant Biol. 71, 131–156 (2020).

Couto, D. & Zipfel, C. Regulation of pattern recognition receptor signalling in plants. Nat. Rev. Immunol. 16, 537–552 (2016).

Zhou, J. M. & Zhang, Y. Plant immunity: danger perception and signaling. Cell 181, 978–989 (2020).

Hou, S., Liu, D. & He, P. Phytocytokines function as immunological modulators of plant immunity. Stress Biol. 1, 8 (2021).

Tanaka, K. & Heil, M. Damage-associated molecular patterns (DAMPs) in plant innate immunity: applying the danger model and evolutionary perspectives. Annu. Rev. Phytopathol. 59, 53–75 (2021).

Hou, S. et al. The Arabidopsis MIK2 receptor elicits immunity by sensing a conserved signature from phytocytokines and microbes. Nat. Commun. 12, 5494 (2021).

Rhodes, J. et al. Perception of a divergent family of phytocytokines by the Arabidopsis receptor kinase MIK2. Nat. Commun. 12, 705 (2021).

Li, F. et al. Modulation of RNA polymerase II phosphorylation downstream of pathogen perception orchestrates plant immunity. Cell Host Microbe 16, 748–758 (2014).

Liang, X. & Zhou, J. M. Receptor-like cytoplasmic kinases: central players in plant receptor kinase-mediated signaling. Annu. Rev. Plant Biol. 69, 267–299 (2018).

Xu, G., Moeder, W., Yoshioka, K. & Shan, L. A tale of many families: calcium channels in plant immunity. Plant Cell 2022, koac033 (2022).

Ross, A. et al. The Arabidopsis PEPR pathway couples local and systemic plant immunity. EMBO J. 33, 62–75 (2014).

Santiago, J. et al. Mechanistic insight into a peptide hormone signaling complex mediating floral organ abscission. eLife 5, e15075 (2016).

Yamaguchi, Y., Huffaker, A., Bryan, A. C., Tax, F. E. & Ryan, C. A. PEPR2 is a second receptor for the Pep1 and Pep2 peptides and contributes to defense responses in Arabidopsis. Plant Cell 22, 508–522 (2010).

Hou, S. et al. The secreted peptide PIP1 amplifies immunity through receptor-like kinase 7. PLoS Pathog. 10, e1004331 (2014).

Furumizu, C. et al. The sequenced genomes of nonflowering land plants reveal the innovative evolutionary history of peptide signaling. Plant Cell 33, 2915–2934 (2021).

Chen, Y. et al. An aphid RNA transcript migrates systemically within plants and is a virulence factor. Proc. Natl Acad. Sci. USA 117, 12763–12771 (2020).

Ma, X., Xu, G., He, P. & Shan, L. SERKing coreceptors for receptors. Trends Plant Sci. 21, 1017–1033 (2016).

Lin, W., Ma, X., Shan, L. & He, P. Big roles of small kinases: the complex functions of receptor-like cytoplasmic kinases in plant immunity and development. J. Integr. Plant Biol. 55, 1188–1197 (2013).

Melotto, M., Underwood, W., Koczan, J., Nomura, K. & He, S. Y. Plant stomata function in innate immunity against bacterial invasion. Cell 126, 969–980 (2006).

Aung, K., Jiang, Y. & He, S. Y. The role of water in plant–microbe interactions. Plant J. 93, 771–780 (2018).

Beattie, G. A. Water relations in the interaction of foliar bacterial pathogens with plants. Annu. Rev. Phytopathol. 49, 533–555 (2011).

Freeman, B. C. & Beattie, G. A. Bacterial growth restriction during host resistance to Pseudomonas syringae is associated with leaf water loss and localized cessation of vascular activity in Arabidopsis thaliana. Mol. Plant Microbe Interact. 22, 857–867 (2009).

Xin, X. F. et al. Bacteria establish an aqueous living space in plants crucial for virulence. Nature 539, 524–529 (2016).

Axtell, C. A. & Beattie, G. A. Construction and characterization of a proU-gfp transcriptional fusion that measures water availability in a microbial habitat. Appl. Environ. Microbiol. 68, 4604–4612 (2002).

Tanaka, T., Tanaka, H., Machida, C., Watanabe, M. & Machida, Y. A new method for rapid visualization of defects in leaf cuticle reveals five intrinsic patterns of surface defects in Arabidopsis. Plant J. 37, 139–146 (2004).

Yoshida, T., Mogami, J. & Yamaguchi-Shinozaki, K. ABA-dependent and ABA-independent signaling in response to osmotic stress in plants. Curr. Opin. Plant Biol. 21, 133–139 (2014).

Zhu, J. K. Abiotic stress signaling and responses in plants. Cell 167, 313–324 (2016).

Munemasa, S. et al. Mechanisms of abscisic acid-mediated control of stomatal aperture. Curr. Opin. Plant Biol. 28, 154–162 (2015).

Vahisalu, T. et al. SLAC1 is required for plant guard cell S-type anion channel function in stomatal signalling. Nature 452, 487–U415 (2008).

Maierhofer, T. et al. Site- and kinase-specific phosphorylation-mediated activation of SLAC1, a guard cell anion channel stimulated by abscisic acid. Sci. Signal. 7, ra86 (2014).

Yoshida, R. et al. ABA-activated SnRK2 protein kinase is required for dehydration stress signaling in Arabidopsis. Plant Cell Physiol. 43, 1473–1483 (2002).

Ye, W. et al. Stomatal immunity against fungal invasion comprises not only chitin-induced stomatal closure but also chitosan-induced guard cell death. Proc. Natl Acad. Sci. USA 117, 20932–20942 (2020).

Lin, P. A. et al. Stomata-mediated interactions between plants, herbivores, and the environment. Trends Plant Sci. (2021).

Liu, X. S. et al. The LRR-RLK protein HSL3 regulates stomatal closure and the drought stress response by modulating hydrogen peroxide homeostasis. Front. Plant Sci. 11, 548034 (2020).

Rhodes, J. et al. Perception of a conserved family of plant signalling peptides by the receptor kinase HSL3. Preprint at bioRxiv https://doi.org/10.1101/2021.10.25.465685 (2022).

Wu, F. et al. Hydrogen peroxide sensor HPCA1 is an LRR receptor kinase in Arabidopsis. Nature 578, 577–581 (2020).

Mendy, B. et al. Arabidopsis leucine-rich repeat receptor–like kinase NILR1 is required for induction of innate immunity to parasitic nematodes. PLoS Pathog. 13, e1006284 (2017).

Huang, Y. et al. A trimeric CrRLK1L–LLG1 complex genetically modulates SUMM2-mediated autoimmunity. Nat. Commun. 11, 4859 (2020).

Liu, J. et al. The malectin-like receptor-like kinase LETUM1 modulates NLR protein SUMM2 activation via MEKK2 scaffolding. Nat. Plants 6, 1106–1115 (2020).

Meng, X. et al. Ligand-induced receptor-like kinase complex regulates floral organ abscission in Arabidopsis. Cell Rep. 14, 1330–1338 (2016).

Li, B. et al. Phosphorylation of trihelix transcriptional repressor ASR3 by MAP KINASE4 negatively regulates Arabidopsis immunity. Plant Cell 27, 839–856 (2015).

de Oliveira, M. V. V. et al. Specific control of Arabidopsis BAK1/SERK4-regulated cell death by protein glycosylation. Nat. Plants 2, 15218 (2016).

Li, L. et al. TMK4 receptor kinase negatively modulates ABA signaling by phosphorylating ABI2 and enhancing its activity. J. Integr. Plant Biol. 63, 1161–1178 (2021).

Wu, Y. et al. Genome-wide expression pattern analyses of the Arabidopsis leucine-rich repeat receptor-Like kinases. Mol. Plant 9, 289–300 (2016).

Li, F. et al. Modulation of RNA polymerase II phosphorylation downstream of pathogen perception orchestrates plant immunity. Cell Host Microbe 16, 748–758 (2014).

Yu, X. et al. The receptor kinases BAK1/SERK4 regulate Ca2+ channel-mediated cellular homeostasis for cell death containment. Curr. Biol. 29, 3778–3790 (2019).

He, P., Shan, L. & Sheen, J. in Plant–Pathogen Interactions (ed. Ronald, P. C.) 1–9 (Humana Press, 2007).

Maintz, J. et al. Comparative analysis of MAMP-induced calcium influx in Arabidopsis seedlings and protoplasts. Plant Cell Physiol. 55, 1813–1825 (2014).

Zhou, J. et al. Proteolytic processing of SERK3/BAK1 regulates plant immunity, development, and cell death. Plant Physiol. 180, 543–558 (2019).

Lei, J. et al. BOTRYTIS-INDUCED KINASE1 modulates Arabidopsis resistance to green peach aphids via PHYTOALEXIN DEFICIENT4. Plant Physiol. 165, 1657–1670 (2014).

Rodrigues, O. et al. Aquaporins facilitate hydrogen peroxide entry into guard cells to mediate ABA- and pathogen-triggered stomatal closure. Proc. Natl Acad. Sci. USA 114, 9200–9205 (2017).

Babilonia, K. et al. A nonproteinaceous Fusarium cell wall extract triggers receptor-like protein-dependent immune responses in Arabidopsis and cotton. New Phytol. 230, 275–289 (2021).

Eisele, J. F., Fassler, F., Burgel, P. F. & Chaban, C. A rapid and simple method for microscopy-based stomata analyses. PLoS One 11, e0164576 (2016).

Brandt, B. et al. Calcium specificity signaling mechanisms in abscisic acid signal transduction in Arabidopsis guard cells. eLife 4, e03599 (2015).

Munemasa, S. et al. Ethylene inhibits methyl jasmonate-induced stomatal closure by modulating guard cell slow-type anion channel activity via the OPEN STOMATA 1/SnRK2.6 kinase-independent pathway in Arabidopsis. Plant Cell Physiol. 60, 2263–2271 (2019).

Sun, Y. et al. Structural basis for flg22-induced activation of the Arabidopsis FLS2–BAK1 immune complex. Science 342, 624–628 (2013).
Acknowledgements
We thank the Arabidopsis Biological Resource Center (ABRC) and the Nottingham Arabidopsis Stock Centre (NASC) for providing the Arabidopsis T-DNA insertion lines; G. A Beattie for sharing water potential reporters, bacterial strains and assay protocols; R. Panstruga for the p35S::mCherry-AEQ construct; F. Yu for providing abi1-2/abi2-2 mutants; J. Chai and Z. Han for providing BAK1ECD proteins; and J. Li for providing pNUT::GUS seeds. We also thank J. Schroeder and P.-K. Hsu for help with the stomatal conductance experiment and for critical reading of the manuscript, and members of the laboratories of L.S. and P.H. for discussions and comments on the experiments. The work was supported by the National Science Foundation (NSF) (IOS-1951094) and the National Institutes of Health (NIH) (R01GM092893) to P.H.; the NIH (R35GM144275), the NSF (IOS-2049642) and the Robert A. Welch Foundation (A-2122) to L.S.; the National Natural Science Foundation of China (NSFC) (31500971), the Youth Innovation Technology Project of Higher School in Shandong Province (2020KJF013) and the Natural Science Foundation of Shandong Province (ZR2020MC022) to S.H.; the Science and Technology Development Program of Shandong Province (2012GSF11712) to H.W.; and the Natural Science Foundation of Shandong Province (ZR201807100168) to W.Z.
Ethics declarations
Competing interests
The authors declare no competing interests.
Peer review
Peer review information
Nature thanks Jian-Min Zhou and the other, anonymous, reviewer(s) for their contribution to the peer review of this work. Peer reviewer reports are available.
Additional information
Publisher's note Springer Nature remains neutral with regard to jurisdictional claims in published maps and institutional affiliations.
Extended data figures and tables
Supplementary information
About this article
Cite this article
Liu, Z., Hou, S., Rodrigues, O. et al. Phytocytokine signalling reopens stomata in plant immunity and water loss. Nature 605, 332–339 (2022). https://doi.org/10.1038/s41586-022-04684-3
Received:

Accepted:

Published:

Issue Date:

DOI: https://doi.org/10.1038/s41586-022-04684-3
Comments
By submitting a comment you agree to abide by our Terms and Community Guidelines. If you find something abusive or that does not comply with our terms or guidelines please flag it as inappropriate.