Abstract
A globally invasive form of the mosquito Aedes aegypti specializes in biting humans, making it an efficient disease vector1. Host-seeking female mosquitoes strongly prefer human odour over the odour of animals2,3, but exactly how they distinguish between the two is not known. Vertebrate odours are complex blends of volatile chemicals with many shared components4,5,6,7, making discrimination an interesting sensory coding challenge. Here we show that human and animal odours evoke activity in distinct combinations of olfactory glomeruli within the Ae. aegypti antennal lobe. One glomerulus in particular is strongly activated by human odour but responds weakly, or not at all, to animal odour. This human-sensitive glomerulus is selectively tuned to the long-chain aldehydes decanal and undecanal, which we show are consistently enriched in human odour and which probably originate from unique human skin lipids. Using synthetic blends, we further demonstrate that signalling in the human-sensitive glomerulus significantly enhances long-range host-seeking behaviour in a wind tunnel, recapitulating preference for human over animal odours. Our research suggests that animal brains may distil complex odour stimuli of innate biological relevance into simple neural codes and reveals targets for the design of next-generation mosquito-control strategies.
Relevant articles
Open Access articles citing this article.
Pranjul Singh

,

Shefali Goyal

…

Nitin Gupta

Nature Communications Open Access 15 June 2023
Access options
Access Nature and 54 other Nature Portfolio journals
Get Nature+, our best-value online-access subscription
$29.99 / 30 days
cancel any time
Subscribe to this journal
Receive 51 print issues and online access
$199.00 per year
only $3.90 per issue
Rent or buy this article
Prices vary by article type
from$1.95
to$39.95
Prices may be subject to local taxes which are calculated during checkout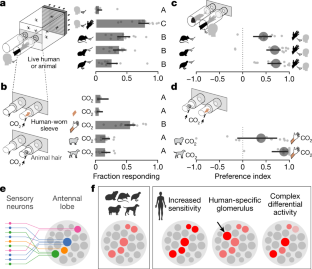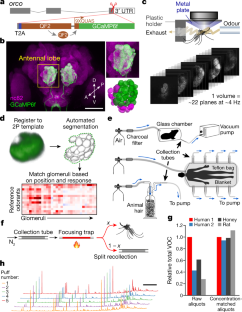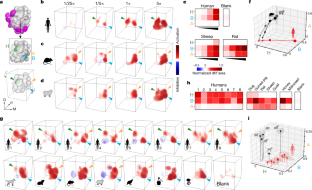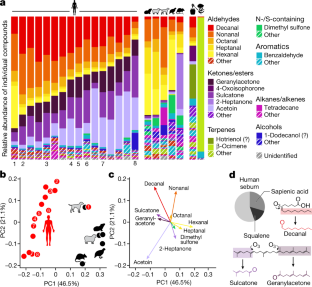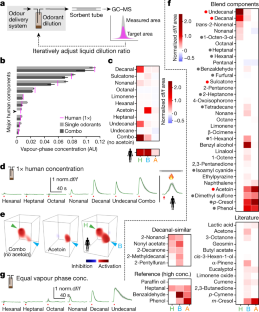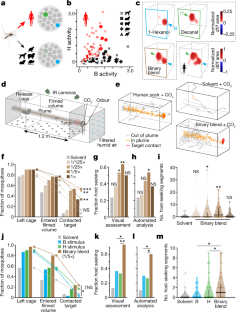 Data availability
All relevant data supporting the findings of this study are available from the corresponding authors on request. For odour-profile analysis, data are included in Supplementary Table 1. Source data are provided with this paper.
References
Powell, J. R., Gloria-Soria, A. & Kotsakiozi, P. Recent history of Aedes aegypti: vector genomics and epidemiology records. BioScience 68, 854–860 (2018).

Gouck, H. K. Host preferences of various strains of Aedes aegypti and A. simpsoni as determined by an olfactometer. Bull. World Health Organ. 47, 680–683 (1972).

McBride, C. S. et al. Evolution of mosquito preference for humans linked to an odorant receptor. Nature 515, 222–227 (2014).

Dormont, L., Bessière, J.-M. & Cohuet, A. Human skin volatiles: a review. J. Chem. Ecol. 39, 569–578 (2013).

Jaleta, K. T., Hill, S. R., Birgersson, G., Tekie, H. & Ignell, R. Chicken volatiles repel host-seeking malaria mosquitoes. Malar. J. 15, 354 (2016).

Verhulst, N. O. et al. Do apes smell like humans? The role of skin bacteria and volatiles of primates in mosquito host selection. J. Exp. Biol. 221, jeb185959 (2018).

Syed, Z. & Leal, W. S. Acute olfactory response of Culex mosquitoes to a human- and bird-derived attractant. Proc. Natl Acad. Sci. USA 106, 18803–18808 (2009).

Malnic, B., Hirono, J., Sato, T. & Buck, L. B. Combinatorial receptor codes for odors. Cell 96, 713–723 (1999).

Chong, E. et al. Manipulating synthetic optogenetic odors reveals the coding logic of olfactory perception. Science 368, eaba2357 (2020).

Wang, J. W., Wong, A. M., Flores, J., Vosshall, L. B. & Axel, R. Two-photon calcium imaging reveals an odor-evoked map of activity in the fly brain. Cell 112, 271–282 (2003).

Joerges, J., Küttner, A., Galizia, C. G. & Menzel, R. Representations of odours and odour mixtures visualized in the honeybee brain. Nature 387, 285–288 (1997).

Ruta, V. et al. A dimorphic pheromone circuit in Drosophila from sensory input to descending output. Nature 468, 686–690 (2010).

Stensmyr, M. C. et al. A conserved dedicated olfactory circuit for detecting harmful microbes in Drosophila. Cell 151, 1345–1357 (2012).

Demir, E. et al. The pheromone darcin drives a circuit for innate and reinforced behaviours. Nature 578, 137–141 (2020).

Nakagawa, T., Sakurai, T., Nishioka, T. & Touhara, K. Insect sex-pheromone signals mediated by specific combinations of olfactory receptors. Science 307, 1638–1642 (2005).

Knudsen, J. T., Eriksson, R., Gershenzon, J. & Ståhl, B. Diversity and distribution of floral scent. Bot. Rev. 72, 1 (2006).

Mansourian, S. et al. Fecal-derived phenol induces egg-laying aversion in Drosophila. Curr. Biol. 26, 2762–2769 (2016).

Lin, D. Y., Shea, S. D. & Katz, L. C. Representation of natural stimuli in the rodent main olfactory bulb. Neuron 50, 937–949 (2006).

Semmelhack, J. L. & Wang, J. W. Select Drosophila glomeruli mediate innate olfactory attraction and aversion. Nature 459, 218–223 (2009).

Riffell, J. A., Lei, H., Christensen, T. A. & Hildebrand, J. G. Characterization and coding of behaviorally significant odor mixtures. Curr. Biol. 19, 335–340 (2009).

Schubert, M., Hansson, B. S. & Sachse, S. The banana code-natural blend processing in the olfactory circuitry of Drosophila melanogaster. Front. Physiol. 5, 59 (2014).

Rose, N. H. et al. Climate and urbanization drive mosquito preference for humans. Curr. Biol. 30, 3570–3579 (2020).

Cardé, R. T. Multi-cue integration: how female mosquitoes locate a human host. Curr. Biol. 25, R793–R795 (2015).

Takken, W. & Verhulst, N. O. Host preferences of blood-feeding mosquitoes. Annu. Rev. Entomol. 58, 433–453 (2013).

Geier, M., Bosch, O. J. & Boeckh, J. Ammonia as an attractive component of host odour for the yellow fever mosquito, Aedes aegypti. Chem. Senses 24, 647–653 (1999).

Bernier, U. R., Kline, D. L., Allan, S. A. & Barnard, D. R. Laboratory comparison of Aedes aegypti attraction to human odors and to synthetic human odor compounds and blends. J. Am. Mosq. Control Assoc. 23, 288–293 (2007).

Mclver, S. B. Sensilla of mosquitoes (Diptera: Culicidae). J. Med. Entomol. 19, 489–535 (1982).

Vosshall, L. B. & Stocker, R. F. Molecular architecture of smell and taste in. Drosophila. Annu. Rev. Neurosci. 30, 505–533 (2007).

DeGennaro, M. et al. orco mutant mosquitoes lose strong preference for humans and are not repelled by volatile DEET. Nature 498, 487–491 (2013).

Kistler, K. E., Vosshall, L. B. & Matthews, B. J. Genome engineering with CRISPR-Cas9 in the mosquito Aedes aegypti. Cell Rep. 11, 51–60 (2015).

Riabinina, O. et al. Organization of olfactory centres in the malaria mosquito Anopheles gambiae. Nat. Commun. 7, 13010 (2016).

Vargo, A. M. & Foster, W. A. Responsiveness of female Aedes aegypti (Diptera: Culicidae) to flower extracts. J. Med. Entomol. 19, 710–718 (1982).

Brockerhoff, E. G. & Grant, G. G. Correction for differences in volatility among olfactory stimuli and effect on EAG responses of Dioryctria abietivorella to plant volatiles. J. Chem. Ecol. 25, 1353–1367 (1999).

Woolfenden, E. In Gas Chromatography (ed. Poole, C. F.) 235–289 (Elsevier, 2012).

Ignell, R., Dekker, T., Ghaninia, M. & Hansson, B. S. Neuronal architecture of the mosquito deutocerebrum. J. Comp. Neurol. 493, 207–240 (2005).

Cook, J. I. et al. Enantiomeric selectivity in behavioural and electrophysiological responses of Aedes aegypti and Culex quinquefasciatus mosquitoes. Bull. Entomol. Res. 101, 541–550 (2011).

Majeed, S., Hill, S. R., Birgersson, G. & Ignell, R. Detection and perception of generic host volatiles by mosquitoes modulate host preference: context dependence of (R)-1-octen-3-ol. R. Soc. Open Sci. 3, 160467 (2016).

Dekker, T., Steib, B., Cardé, R. T. & Geier, M. l-Lactic acid: a human-signifying host cue for the anthropophilic mosquito Anopheles gambiae. Med. Vet. Entomol. 16, 91–98 (2002).

Pitts, R. J., Derryberry, S. L., Zhang, Z. & Zwiebel, L. J. Variant ionotropic receptors in the malaria vector mosquito Anopheles gambiae tuned to amines and carboxylic acids. Sci Rep. 7, 40297 (2017).

Raji, J. I. et al. Aedes aegypti mosquitoes detect acidic volatiles found in human odor using the IR8a pathway. Curr. Biol. 29, 1253–1262 (2019).

Wisthaler, A. & Weschler, C. J. Reactions of ozone with human skin lipids: sources of carbonyls, dicarbonyls, and hydroxycarbonyls in indoor air. Proc. Natl Acad. Sci. USA 107, 6568–6575 (2010).

Huang, Z.-R., Lin, Y.-K. & Fang, J.-Y. Biological and pharmacological activities of squalene and related compounds: potential uses in cosmetic dermatology. Molecules 14, 540–554 (2009).

Prouty, S. M. & Pappas, A. In Lipids and Skin Health (ed. Pappas, A.) 139–157 (Springer, 2015).

He, X. & Slupsky, C. M. Metabolic fingerprint of dimethyl sulfone (DMSO2) in microbial–mammalian co-metabolism. J. Proteome Res. 13, 5281–5292 (2014).

Dekker, T. & Cardé, R. T. Moment-to-moment flight manoeuvres of the female yellow fever mosquito (Aedes aegypti L.) in response to plumes of carbon dioxide and human skin odour. J. Exp. Biol. 214, 3480–3494 (2011).

Obaldia, M. E. D. et al. Differential mosquito attraction to humans is associated with skin-derived carboxylic acid levels. Preprint at bioRxiv https://doi.org/10.1101/2022.01.05.475088 (2022).

Nicolaides, N. Skin lipids: their biochemical uniqueness. Science 186, 19–26 (1974).

Kligman, A. M. & Shelley, W. B. An investigation of the biology of the human sebaceous gland. J. Invest. Dermatol. 30, 99–125 (1958).

Green, S. C., Stewart, M. E. & Downing, D. T. Variation in sebum fatty acid composition among adult humans. J. Invest. Dermatol. 83, 114–117 (1984).

Pappas, A., Johnsen, S., Liu, J.-C. & Eisinger, M. Sebum analysis of individuals with and without acne. Dermatoendocrinol. 1, 157–161 (2009).
Acknowledgements
We thank V. Ruta, L. Vosshall, M. Murthy, J. Pillow, E. De Obaldia, E. Dennis, J. Breda, L. Yang, M. Mihalopoulos and members of the McBride laboratory for discussion and comments on the manuscript; D. Wevill for helping us adapt the thermal desorption system for stimulus delivery during neural imaging; R. Cohn and A. Gelperin for advice on odour-delivery systems; S. Sachse, A. Mohamed, D. Pacheco and D. Deutsch for guidance on antennal lobe imaging; H. Kazama for advice on two-photon data analysis; R. Harrell for mosquito embryo injections; S. Kotb for help with human odour collections; M. Khallaf for advice on XCMS odour-profile analysis; and staff at the Howell Living History Farm, Nassau Park Pavilion PetSmart and several dog owners for wool/hair samples. This work was funded in part by grants from the National Institutes of Health (NIDCD, R00DC012069; NIAID, DP2AI144246) to C.S.M.; the Swedish Research Council and Swedish University of Agricultural Sciences (senior career award) to R.I.; and the German Research Foundation (Deutsche Forschungsgemeinschaft, ME3737/3-1) to D.M. The C.S.M. laboratory is also supported by a Pew Scholar Award, a Searle Scholar Award, a Klingenstein-Simons Fellowship, a Rosalind Franklin New Investigator Award and the New York Stem Cell Foundation. C.S.M. is a New York Stem Cell Foundation–Robertson Investigator.
Ethics declarations
Competing interests
Princeton University has filed a patent (US 62/705,910, status pending) for using synthetic blends that mimic the response to human odour in the mosquito brain as mosquito attractants, listing C.S.M. and Z.Z. as inventors. The other authors declare no competing interests.
Peer review
Peer review information
Nature thanks Olena Riabinina, Marcus Stensmyr and the other, anonymous, reviewer(s) for their contribution to the peer review of this work. Peer reviewer reports are available.
Additional information
Publisher's note Springer Nature remains neutral with regard to jurisdictional claims in published maps and institutional affiliations.
Extended data figures and tables
Supplementary information
About this article
Cite this article
Zhao, Z., Zung, J.L., Hinze, A. et al. Mosquito brains encode unique features of human odour to drive host seeking. Nature 605, 706–712 (2022). https://doi.org/10.1038/s41586-022-04675-4
Received:

Accepted:

Published:

Issue Date:

DOI: https://doi.org/10.1038/s41586-022-04675-4
This article is cited by
Pranjul Singh
Shefali Goyal
Nitin Gupta

Nature Communications (2023)

Science China Life Sciences (2023)

Jiajun Zhang
Yongjie Zhang
Zhengbo He

Journal of Pest Science (2023)
Comments
By submitting a comment you agree to abide by our Terms and Community Guidelines. If you find something abusive or that does not comply with our terms or guidelines please flag it as inappropriate.