Abstract
Microbial communities and their associated bioactive compounds1,2,3 are often disrupted in conditions such as the inflammatory bowel diseases (IBD)4. However, even in well-characterized environments (for example, the human gastrointestinal tract), more than one-third of microbial proteins are uncharacterized and often expected to be bioactive5,6,7. Here we systematically identified more than 340,000 protein families as potentially bioactive with respect to gut inflammation during IBD, about half of which have not to our knowledge been functionally characterized previously on the basis of homology or experiment. To validate prioritized microbial proteins, we used a combination of metagenomics, metatranscriptomics and metaproteomics to provide evidence of bioactivity for a subset of proteins that are involved in host and microbial cell–cell communication in the microbiome; for example, proteins associated with adherence or invasion processes, and extracellular von Willebrand-like factors. Predictions from high-throughput data were validated using targeted experiments that revealed the differential immunogenicity of prioritized Enterobacteriaceae pilins and the contribution of homologues of von Willebrand factors to the formation of Bacteroides biofilms in a manner dependent on mucin levels. This methodology, which we term MetaWIBELE (workflow to identify novel bioactive elements in the microbiome), is generalizable to other environmental communities and human phenotypes. The prioritized results provide thousands of candidate microbial proteins that are likely to interact with the host immune system in IBD, thus expanding our understanding of potentially bioactive gene products in chronic disease states and offering a rational compendium of possible therapeutic compounds and targets.
This is a preview of subscription content
Access options
Subscribe to Nature+
Get immediate online access to the entire Nature family of 50+ journals
Subscribe to Journal
Get full journal access for 1 year
$199.00
only $3.90 per issue
All prices are NET prices.
VAT will be added later in the checkout.
Tax calculation will be finalised during checkout.
Buy article
Get time limited or full article access on ReadCube.
$32.00
All prices are NET prices.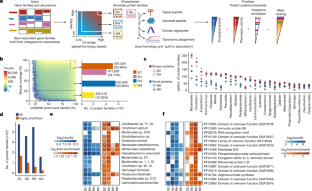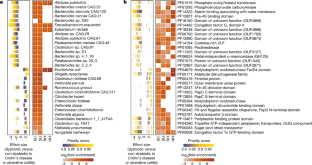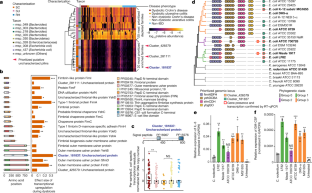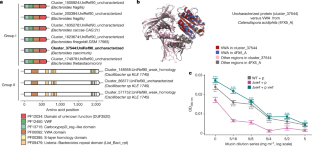 Data availability
Associated data generated during this study are included in the published Article and its Supplementary Tables. All assembled metagenomic contigs, ORFs, gene families, protein families, functional profiles, taxonomic profiles and prioritized profiles of protein families related with this study are available at http://huttenhower.sph.harvard.edu/metawibele. The raw data for the HMP2 metagenomes, metatranscriptomes and metaproteomes were obtained from the IBDMDB website (https://ibdmdb.org, NCBI BioProject PRJNA398089). Sequence data for the Red Sea metagenomes were obtained from SRA BioProject PRJNA289734. The following public databases were used: UniProt (https://www.uniprot.org), UniRef90 (https://www.uniprot.org/uniref), Pfam (https://pfam.xfam.org), DOMINE (https://manticore.niehs.nih.gov/cgi-bin/Domine), the Expression Atlas (https://www.ebi.ac.uk/gxa), SIFTS (https://www.ebi.ac.uk/pdbe/docs/sifts), the Database of Essential Genes (http://essentialgene.org) and the PDB (https://www.rcsb.org).
References
Cohen, L. J. et al. Commensal bacteria make GPCR ligands that mimic human signalling molecules. Nature 549, 48–53 (2017).

Guo, C. J. et al. Discovery of reactive microbiota-derived metabolites that inhibit host proteases. Cell 168, 517–526 (2017).

Bhattarai, Y. et al. Gut microbiota-produced tryptamine activates an epithelial G-protein-coupled receptor to increase colonic secretion. Cell Host Microbe 23, 775–785 (2018).

Lloyd-Price, J. et al. Multi-omics of the gut microbial ecosystem in inflammatory bowel diseases. Nature 569, 655–662 (2019).

Galperin, M. Y. & Koonin, E. V. 'Conserved hypothetical' proteins: prioritization of targets for experimental study. Nucleic Acids Res. 32, 5452–5463 (2004).

Galperin, M. Y. & Koonin, E. V. From complete genome sequence to 'complete' understanding? Trends Biotechnol. 28, 398–406 (2010).

Joice, R., Yasuda, K., Shafquat, A., Morgan, X. C. & Huttenhower, C. Determining microbial products and identifying molecular targets in the human microbiome. Cell Metab. 20, 731–741 (2014).

Buffie, C. G. et al. Precision microbiome reconstitution restores bile acid mediated resistance to Clostridium difficile. Nature 517, 205–208 (2015).

Zipperer, A. et al. Human commensals producing a novel antibiotic impair pathogen colonization. Nature 535, 511–516 (2016).

Morgan, X. C. et al. Dysfunction of the intestinal microbiome in inflammatory bowel disease and treatment. Genome Biol. 13, R79 (2012).

Suzek, B. E., Huang, H., McGarvey, P., Mazumder, R. & Wu, C. H. UniRef: comprehensive and non-redundant UniProt reference clusters. Bioinformatics 23, 1282–1288 (2007).

Ashburner, M. et al. Gene ontology: tool for the unification of biology. The Gene Ontology Consortium. Nat. Genet. 25, 25–29 (2000).

UniProt Consortium. UniProt: a hub for protein information. Nucleic Acids Res. 43, D204–D212 (2015).

Konstantinidis, K. T. & Tiedje, J. M. Towards a genome-based taxonomy for prokaryotes. J. Bacteriol. 187, 6258–6264 (2005).

Parks, D. H. et al. A standardized bacterial taxonomy based on genome phylogeny substantially revises the tree of life. Nat. Biotechnol. 36, 996–1004 (2018).

Plaza Oñate, F. et al. MSPminer: abundance-based reconstitution of microbial pan-genomes from shotgun metagenomic data. Bioinformatics 35, 1544–1552 (2019).

Li, J. et al. An integrated catalog of reference genes in the human gut microbiome. Nat. Biotechnol. 32, 834–841 (2014).

Jandhyala, S. M. et al. Role of the normal gut microbiota. World J. Gastroenterol. 21, 8787–8803 (2015).

Zhang, R., Ou, H. Y. & Zhang, C. T. DEG: a database of essential genes. Nucleic Acids Res. 32, D271–D272 (2004).

Sokol, H. et al. Faecalibacterium prausnitzii is an anti-inflammatory commensal bacterium identified by gut microbiota analysis of Crohn disease patients. Proc. Natl Acad. Sci. USA 105, 16731–16736 (2008).

Lopez-Siles, M., Duncan, S. H., Garcia-Gil, L. J. & Martinez-Medina, M. Faecalibacterium prausnitzii: from microbiology to diagnostics and prognostics. ISME J. 11, 841–852 (2017).

Schirmer, M., Garner, A., Vlamakis, H. & Xavier, R. J. Microbial genes and pathways in inflammatory bowel disease. Nat. Rev. Microbiol. 17, 497–511 (2019).

Lewis, J. D. et al. Inflammation, antibiotics, and diet as environmental stressors of the gut microbiome in pediatric Crohn's disease. Cell Host Microbe 18, 489–500 (2015).

Franzosa, E. A. et al. Gut microbiome structure and metabolic activity in inflammatory bowel disease. Nature Microbiol. 4, 293–305 (2019).

Hall, A. B. et al. A novel Ruminococcus gnavus clade enriched in inflammatory bowel disease patients. Genome Med. 9, 103 (2017).

Hughes, E. R. et al. Microbial respiration and formate oxidation as metabolic signatures of inflammation-associated dysbiosis. Cell Host Microbe 21, 208–219 (2017).

Högbom, M. & Ihalin, R. Functional and structural characteristics of bacterial proteins that bind host cytokines. Virulence 8, 1592–1601 (2017).

Wells, T. J., Tree, J. J., Ulett, G. C. & Schembri, M. A. Autotransporter proteins: novel targets at the bacterial cell surface. FEMS Microbiol. Lett. 274, 163–172 (2007).

Pizarro-Cerdá, J. & Cossart, P. Bacterial adhesion and entry into host cells. Cell 124, 715–727 (2006).

Palmela, C. et al. Adherent-invasive Escherichia coli in inflammatory bowel disease. Gut 67, 574–587 (2018).

Xu, Q. et al. A Distinct type of pilus from the human microbiome. Cell 165, 690–703 (2016).

Zhang, Y., Thompson, K. N., Huttenhower, C. & Franzosa, E. A. Statistical approaches for differential expression analysis in metatranscriptomics. Bioinformatics 37, i34–i41 (2021).

Starks, A. M., Froehlich, B. J., Jones, T. N. & Scott, J. R. Assembly of CS1 pili: the role of specific residues of the major pilin, CooA. J. Bacteriol. 188, 231–239 (2006).

Galkin, V. E. et al. The structure of the CS1 pilus of enterotoxigenic Escherichia coli reveals structural polymorphism. J. Bacteriol. 195, 1360–1370 (2013).

Vatanen, T. et al. Variation in microbiome LPS immunogenicity contributes to autoimmunity in humans. Cell 165, 842–853 (2016).

Dalbey, R. E. & Kuhn, A. Protein traffic in Gram-negative bacteria—how exported and secreted proteins find their way. FEMS Microbiol. Rev. 36, 1023–1045 (2012).

Costa, T. R. et al. Secretion systems in Gram-negative bacteria: structural and mechanistic insights. Nat. Rev. Microbiol. 13, 343–359 (2015).

Shipman, J. A., Berleman, J. E. & Salyers, A. A. Characterization of four outer membrane proteins involved in binding starch to the cell surface of Bacteroides thetaiotaomicron. J. Bacteriol. 182, 5365–5372 (2000).

Berman, H. M. et al. The Protein Data Bank. Nucleic Acids Res. 28, 235–242 (2000).

Kelley, L. A., Mezulis, S., Yates, C. M., Wass, M. N. & Sternberg, M. J. The Phyre2 web portal for protein modeling, prediction and analysis. Nat. Protoc. 10, 845–858 (2015).

Dong, R., Pan, S., Peng, Z., Zhang, Y. & Yang, J. mTM-align: a server for fast protein structure database search and multiple protein structure alignment. Nucleic Acids Res. 46, W380–w386 (2018).

Treuner-Lange, A. et al. PilY1 and minor pilins form a complex priming the type IVa pilus in Myxococcus xanthus. Nat. Commun. 11, 5054 (2020).

Co, J. Y. et al. Mucins trigger dispersal of Pseudomonas aeruginosa biofilms. NPJ Biofilms Microbiomes 4, 23 (2018).

Medema, M. H. et al. antiSMASH: rapid identification, annotation and analysis of secondary metabolite biosynthesis gene clusters in bacterial and fungal genome sequences. Nucleic Acids Res. 39, W339–W346 (2011).

Haroon, M. F., Thompson, L. R., Parks, D. H., Hugenholtz, P. & Stingl, U. A catalogue of 136 microbial draft genomes from Red Sea metagenomes. Sci. Data 3, 160050 (2016).
Acknowledgements
This work has been supported in part by a research agreement with Takeda Pharmaceuticals (C.H.) and by NIH NIDDK grants R24DK110499 (C.H., W.S.G. and R.J.X.), P30DK043351 (R.J.X.), the Center for Microbiome Informatics and Therapeutics (R.J.X.), NIH AT009708 (R.J.X.), and DK 127171 (R.J.X.). We especially appreciate the participants in the HMP2 Inflammatory Bowel Disease Multi-omics Database who made this study possible. The computations in this paper were run in part on the FASRC Cannon cluster supported by the FAS Division of Science Research Computing Group at Harvard University.
Ethics declarations
Competing interests
C.H. is on the scientific advisory board of Seres Therapeutics and Empress Therapeutics. W.S.G. is on the scientific advisory board of Freya Biosciences, Senda Biosciences, Artizan Biosciences and Tenza. The laboratory of W.S.G. receives funding from Merck. R.J.X. is a member of the scientific advisory board of Nestle and Senda Biosciences. A.K. presents employment by Takeda that may gain or lose financially through this publication.
Peer review
Peer review information
Nature thanks Robert Quinn, Paul Wilmes and the other, anonymous, reviewer(s) for their contribution to the peer review of this work.
Additional information
Publisher's note Springer Nature remains neutral with regard to jurisdictional claims in published maps and institutional affiliations.
Extended data figures and tables
Supplementary information
About this article
Cite this article
Zhang, Y., Bhosle, A., Bae, S. et al. Discovery of bioactive microbial gene products in inflammatory bowel disease. Nature 606, 754–760 (2022). https://doi.org/10.1038/s41586-022-04648-7
Received:

Accepted:

Published:

Issue Date:

DOI: https://doi.org/10.1038/s41586-022-04648-7
Comments
By submitting a comment you agree to abide by our Terms and Community Guidelines. If you find something abusive or that does not comply with our terms or guidelines please flag it as inappropriate.