Abstract
The body axis of vertebrate embryos is periodically segmented into bilaterally symmetric pairs of somites1,2. The anteroposterior length of somites, their position and left–right symmetry are thought to be molecularly determined before somite morphogenesis3,4. Here we show that, in zebrafish embryos, initial somite anteroposterior lengths and positions are imprecise and, consequently, many somite pairs form left–right asymmetrically. Notably, these imprecisions are not left unchecked and we find that anteroposterior lengths adjust within an hour after somite formation, thereby increasing morphological symmetry. We find that anteroposterior length adjustments result entirely from changes in somite shape without change in somite volume, with changes in anteroposterior length being compensated by corresponding changes in mediolateral length. The anteroposterior adjustment mechanism is facilitated by somite surface tension, which we show by comparing in vivo experiments and in vitro single-somite explant cultures using a mechanical model. Length adjustment is inhibited by perturbation of molecules involved in surface tension, such as integrin and fibronectin. By contrast, the adjustment mechanism is unaffected by perturbations to the segmentation clock, therefore revealing a distinct process that influences morphological segment lengths. We propose that tissue surface tension provides a general mechanism to adjust shapes and ensure precision and symmetry of tissues in developing embryos.
Relevant articles
Open Access articles citing this article.
Emi Murayama

,

Catherine Vivier

…

Philippe Herbomel

Nature Communications Open Access 01 March 2023

Ece Özelçi

,

Erik Mailand

…

Mahmut Selman Sakar

Nature Communications Open Access 24 December 2022

D. Blanco-Obregon

,

K. El Marzkioui

…

L. Boulan

Nature Communications Open Access 26 September 2022
Access options
Access Nature and 54 other Nature Portfolio journals
Get Nature+, our best-value online-access subscription
$29.99 / 30 days
cancel any time
Subscribe to this journal
Receive 51 print issues and online access
$199.00 per year
only $3.90 per issue
Rent or buy this article
Prices vary by article type
from$1.95
to$39.95
Prices may be subject to local taxes which are calculated during checkout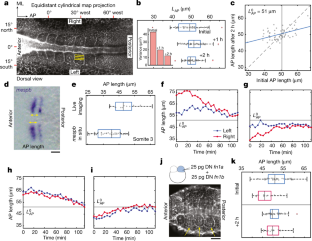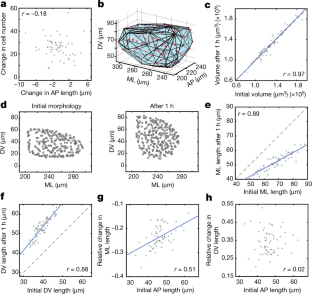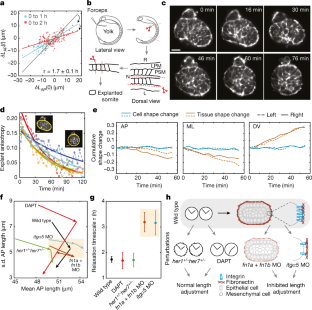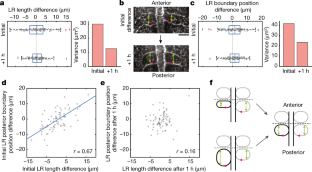 Data availability
Map-projected light sheet data are available at Zenodo (https://doi.org/10.5281/zenodo.4146919). Raw imaging data combining both the multiview and single-view light-sheet datasets are 15 TB in size and are available on request from the corresponding author without any restrictions. Source data are provided with this paper.
References
Oates, A. C., Morelli, L. G. & Ares, S. Patterning embryos with oscillations: structure, function and dynamics of the vertebrate segmentation clock. Development 139, 625–639 (2012).

Naganathan, S. R. & Oates, A. C. Patterning and mechanics of somite boundaries in zebrafsh embryos. Semin. Cell Dev. Biol. 107, 170–178 (2020).

Brend, T. & Holley, S. A. Balancing segmentation and laterality during vertebrate development. Semin. Cell Dev. Biol. 20, 472–478 (2009).

Pourquié, O. Segmentation of the vertebrate spine: From clock to scoliosis. Cell 145, 650–663 (2011).

Wang, W. J. et al. Top theories for the etiopathogenesis of adolescent idiopathic scoliosis. J. Pediatr. Orthop. 31, S14–S27 (2011).

Kusumi, K. & Dunwoodie, S. L. The Genetics and Development of Scoliosis (Springer, 2018).

Goldberg, C. J., Fogarty, E. E., Moore, D. P. & Dowling, F. E. Scoliosis and developmental theory adolescent idiopathic scoliosis. Spine 22, 2228–2238 (1997).

Cooke, J. & Zeeman, E. C. A clock and wavefront model for control of the number of repeated structures during animal morphogenesis. J. Theor. Biol. 58, 455–476 (1976).

Palmeirim, I., Henrique, D., Ish-Horowicz, D. & Pourquié, O. Avian hairy gene expression identifies a molecular clock linked to vertebrate segmentation and somitogenesis. Cell 91, 639–648 (1997).

Vermot, J. et al. Retinoic acid controls the bilateral symmetry of somite formation in the mouse embryo. Science 308, 563–566 (2005).

Vermot, J. & Pourquié, O. Retinoic acid coordinates somitogenesis and left–right patterning in vertebrate embryos. Nature 435, 215–220 (2005).

Kawakami, Y., Raya, A., Raya, R. M., Rodríguez-Esteban, C. & Belmonte, J. C. I. Retinoic acid signalling links left–right asymmetric patterning and bilaterally symmetric somitogenesis in the zebrafish embryo. Nature 435, 165–171 (2005).

Packard, D. S. & Jacobson, A. G. Analysis of the physical forces that influence the shape of chick somites. J. Exp. Zool. 207, 81–92 (1979).

Dias, A. S., de Almeida, I., Belmonte, J. M., Glazier, J. A. & Stern, C. D. Somites without a clock. Science 343, 791–795 (2014).

Bard, J. B. L. A traction-based mechanism for somitogenesis in the chick. Rouxs Arch. Dev. Biol. 197, 513–517 (1988).

Nelemans, B. K., Schmitz, M., Tahir, H., Merks, R. M. & Smit, T. H. Somite division and new boundary formation by mechanical strain. iScience 23, 100976 (2020).

Grima, R. & Schnell, S. Can tissue surface tension drive somite formation? Dev. Biol. 307, 248–257 (2007).

Yabe, T., Hoshijima, K., Yamamoto, T. & Takada, S. Quadruple zebrafish mutant reveals different roles of Mesp genes in somite segmentation between mouse and zebrafish. Development 143, 2842–2852 (2016).

Compagnon, J. et al. The notochord breaks bilateral symmetry by controlling cell shapes in the zebrafish laterality organ. Dev. Cell 31, 774–783 (2014).

Guillon, E. et al. Fibronectin is a smart adhesive that both influences and responds to the mechanics of early spinal column development. eLife 9, e48964 (2020).

Mongera, A. et al. A fluid-to-solid jamming transition underlies vertebrate body axis elongation. Nature 561, 401–405 (2018).

Kim, S., Pochitaloff, M., Stooke-Vaughan, G. A. & Campàs, O. Embryonic tissues as active foams. Nat. Phys. 17, 859–866 (2021).

Shelton, E. R. et al. Stress-driven tissue fluidization physically segments vertebrate somites. Preprint at bioRxiv https://doi.org/10.1101/2021.03.27.437325 (2021).

Robinson, E. E. α5β1 integrin mediates strong tissue cohesion. J. Cell Sci. 116, 377–386 (2003).

Lecuit, T. & Lenne, P.-F. Cell surface mechanics and the control of cell shape, tissue patterns and morphogenesis. Nat. Rev. Mol. Cell Biol. 8, 633–644 (2007).

Ehrig, S. et al. Surface tension determines tissue shape and growth kinetics. Sci. Adv. 5, eaav9394 (2019).

Jülich, D., Geisler, R. & Holley, S. A. Integrinα5 and delta/notch signaling have complementary spatiotemporal requirements during zebrafish somitogenesis. Dev. Cell 8, 575–586 (2005).

Riedel-Kruse, I. H., Müller, C. & Oates, A. C. Synchrony dynamics during initiation, failure, and rescue of the segmentation clock. Science 317, 1911–1915 (2007).

Wang, H., Holland, P. W. H. & Takahashi, T. Gene profiling of head mesoderm in early zebrafish development: insights into the evolution of cranial mesoderm. EvoDevo 10, 14 (2019).

Das, D., Chatti, V., Emonet, T. & Holley, S. A. Patterned disordered cell motion ensures vertebral column symmetry. Dev. Cell 42, 170–180 (2017).

Grimes, D. T. Making and breaking symmetry in development, growth and disease. Development 146, dev170985 (2019).

Stern, C. D. & Bellairs, R. The roles of node regression and elongation of the area pellucida in the formation of somites in avian embryos. J. Embryol. Exp. Morphol. 81, 75–92 (1984).

Green, A. A., Mosaliganti, K. R., Swinburne, I. A., Obholzer, N. D. & Megason, S. G. Recovery of shape and size in a developing organ pair: Shape and Size Recovery in Developing Organs. Dev. Dyn. 246, 451–465 (2017).

Abrams, M. J., Basinger, T., Yuan, W., Guo, C.-L. & Goentoro, L. Self-repairing symmetry in jellyfish through mechanically driven reorganization. Proc. Natl Acad. Sci. USA 112, E3365–E3373 (2015).

Hervieux, N. et al. Mechanical shielding of rapidly growing cells buffers growth heterogeneity and contributes to organ shape reproducibility. Curr. Biol. 27, 3468–3479 (2017).

Eritano, A. S. et al. Tissue-scale mechanical coupling reduces morphogenetic noise to ensure precision during epithelial folding. Dev. Cell 53, 212–228 (2020).

Huch, M., Knoblich, J. A., Lutolf, M. P. & Martinez-Arias, A. The hope and the hype of organoid research. Development 144, 938–941 (2017).

Félix, M.-A. & Barkoulas, M. Pervasive robustness in biological systems. Nat. Rev. Genet. 16, 483–496 (2015).

DiFrisco, J. & Jaeger, J. Genetic causation in complex regulatory systems: an integrative dynamic perspective. BioEssays 42, 1900226 (2020).

Weber, M., Mickoleit, M. & Huisken, J. Multilayer mounting for longterm light sheet microscopy of zebrafish. J. Vis. Exp. 84, e51119 (2014).

Schindelin, J. Fiji: an open-source platform for biological-image analysis. Nat. Methods 9, 676–682 (2012).

Preibisch, S., Saalfeld, S., Schindelin, J. & Tomancak, P. Software for bead-based registration of selective plane illumination microscopy data. Nat. Methods 7, 417–418 (2010).

Sendra, G. H., Hoerth, C. H., Wunder, C. & Lorenz, H. 2D map projections for visualization and quantitative analysis of 3D fluorescence micrographs. Sci. Rep. 5, 12457 (2015).

Frangi, A. F., Niessen, W. J., Vincken, K. L. & Viergever, M. A. Multiscale vessel enhancement filtering, in Proc. Medical Image Computing and Computer-Assisted Intervention—MICCAI'98 (Wells, W. M. et al.) Vol. 1496, 130–137 (Springer, 1998).

Pietzsch, T., Saalfeld, S., Preibisch, S. & Tomancak, P. BigDataViewer: visualization and processing for large image data sets. Nat. Methods 12, 481–483 (2015).

Etournay, R. et al. Interplay of cell dynamics and epithelial tension during morphogenesis of the Drosophila pupal wing. eLife 4, e07090 (2015).

Guirao, B. et al. Unified quantitative characterization of epithelial tissue development. eLife 4, e08519 (2015).

Virtanen, P. et al. SciPy 1.0: fundamental algorithms for scientific computing in Python. Nat. Methods 17, 261–272 (2020).

Sawada, A. et al. Zebrafish Mesp family genes, mesp-a and mesp-b are segmentally expressed in the presomitic mesoderm, and Mesp-b confers the anterior identity to the developing somites. Development 127, 1691–1702 (2000).

Narayanan, R. & Oates, A. C. Detection of mRNA by whole mount in situ hybridization and DNA extraction for genotyping of zebrafish embryos. Bio Protoc. 9, e3193 (2019).
Acknowledgements
We thank the members of the Oates laboratory, M. Gonzales-Gaitan, S. W. Grill, M. Labouesse, P. Tomancak, G. Salbreux, J. Bois, K. Uriu, V. Krishnamurthy, P. Gross, Z. Hadjivasiliou and P. Chugh for comments on the manuscript; and the staff of the zebrafish facility in the Center for PhenoGenomics and the Bioimaging and OPtics (BiOP) core facility of École polytechnique fédérale de Lausanne. M. Popovic thanks M. Wyart for supporting the collaboration with the Oates laboratory. We acknowledge the vital early input of C. Qian in the project; P. Strnad and A. Boni for building the Viventis LS1 live light-sheet system; C. Remy for building the ablation module in the Viventis LS1 live light-sheet system; L. Rhode for input on explant preparation; J-Y. Tinevez and A. Bercowsky-Rama for building and adapting the Mastodon plugin, respectively, for identifying and tracking cells in zebrafish embryos; C. Jollivet, F. Lang and G. Valentin for assistance with zebrafish husbandry and line maintenance; O. Burri for building the laser ablation module in a spinning disk confocal system, R. Narayanan for optimizing the in situ hybridization protocol; the members of the Heisenberg laboratory for sharing the DN fibronectin constructs; and D. Jülich and the members of the Holley laboratory for sharing the fn1a-mKIK construct. This work was supported by EPFL, Wellcome (WT098025MA); the Francis Crick Institute, receiving its core funding from Cancer Research UK, the Medical Research Council, and Wellcome. S.R.N. was supported by a Long-Term Human Frontier Science Program postdoctoral fellowship (LT000078/2016). M.P. was supported by the Swiss National Science Foundation (grant no. 200021-165509) and the Simons Foundation (grant no. 454953).
Ethics declarations
Competing interests
The authors declare no competing interests.
Peer review
Peer review information
Nature thanks M. Lisa Manning and the other, anonymous, reviewer(s) for their contribution to the peer review of this work. Peer reviewer reports are available.
Additional information
Publisher's note Springer Nature remains neutral with regard to jurisdictional claims in published maps and institutional affiliations.
Extended data figures and tables
Supplementary information
About this article
Cite this article
Naganathan, S.R., Popović, M. & Oates, A.C. Left–right symmetry of zebrafish embryos requires somite surface tension. Nature 605, 516–521 (2022). https://doi.org/10.1038/s41586-022-04646-9
Received:

Accepted:

Published:

Issue Date:

DOI: https://doi.org/10.1038/s41586-022-04646-9
Comments
By submitting a comment you agree to abide by our Terms and Community Guidelines. If you find something abusive or that does not comply with our terms or guidelines please flag it as inappropriate.