Abstract
Confining particles to distances below their de Broglie wavelength discretizes their motional state. This fundamental effect is observed in many physical systems, ranging from electrons confined in atoms or quantum dots1,2 to ultracold atoms trapped in optical tweezers3,4. In solid-state photonics, a long-standing goal has been to achieve fully tunable quantum confinement of optically active electron–hole pairs, known as excitons. To confine excitons, existing approaches mainly rely on material modulation5, which suffers from poor control over the energy and position of trapping potentials. This has severely impeded the engineering of large-scale quantum photonic systems. Here we demonstrate electrically controlled quantum confinement of neutral excitons in 2D semiconductors. By combining gate-defined in-plane electric fields with inherent interactions between excitons and free charges in a lateral p–i–n junction, we achieve exciton confinement below 10 nm. Quantization of excitonic motion manifests in the measured optical response as a ladder of discrete voltage-dependent states below the continuum. Furthermore, we observe that our confining potentials lead to a strong modification of the relative wave function of excitons. Our technique provides an experimental route towards creating scalable arrays of identical single-photon sources and has wide-ranging implications for realizing strongly correlated photonic phases6,7 and on-chip optical quantum information processors8,9.
Access options
Subscribe to Nature+
Get immediate online access to the entire Nature family of 50+ journals
Subscribe to Journal
Get full journal access for 1 year
$199.00
only $3.90 per issue
All prices are NET prices.
VAT will be added later in the checkout.
Tax calculation will be finalised during checkout.
Buy article
Get time limited or full article access on ReadCube.
$32.00
All prices are NET prices.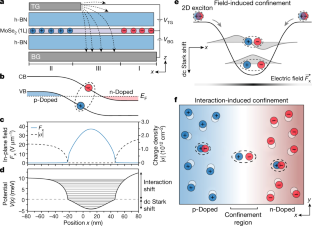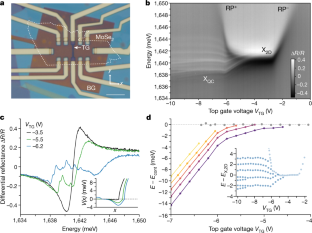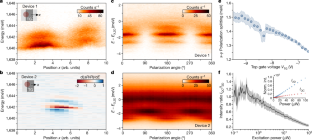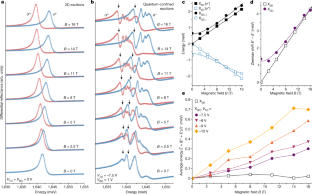 References
Hawrylak, P. & Korkusiński, M. in Single Quantum Dots: Fundamentals, Applications, and New Concepts (ed. Michler, P.) 25–92 (Springer, 2003).

Harrison, P. & Valavanis, A. Quantum Wells, Wires and Dots: Theoretical and Computational Physics of Semiconductor Nanostructures 241–265 (Wiley, 2016).

Serwane, F. et al. Deterministic preparation of a tunable few-fermion system. Science 332, 336–338 (2011).

Kaufman, A. M., Lester, B. J. & Regal, C. A. Cooling a single atom in an optical tweezer to its quantum ground state. Phys. Rev. X 2, 041014 (2012).

Davies, J. H. The Physics of Low-dimensional Semiconductors 118–129 (Cambridge Univ. Press, 1997).

Carusotto, I. & Ciuti, C. Quantum fluids of light. Rev. Mod. Phys. 85, 299–366 (2013).

Noh, C. & Angelakis, D. G. Quantum simulations and many-body physics with light. Rep. Prog. Phys. 80, 016401 (2016).

O'Brien, J. L., Furusawa, A. & Vučković, J. Photonic quantum technologies. Nat. Photonics 3, 687–695 (2009).

Aspuru-Guzik, A. & Walther, P. Photonic quantum simulators. Nat. Phys. 8, 285–291 (2012).

Hagn, M., Zrenner, A., Böhm, G. & Weimann, G. Electric-field-induced exciton transport in coupled quantum well structures. Appl. Phys. Lett. 67, 232 (1995).

Rapaport, R. et al. Electrostatic traps for dipolar excitons. Phys. Rev. B 72, 075428 (2005).

Gärtner, A., Prechtel, L., Schuh, D., Holleitner, A. W. & Kotthaus, J. P. Micropatterned electrostatic traps for indirect excitons in coupled GaAs quantum wells. Phys. Rev. B 76, 085304 (2007).

Vögele, X. P., Schuh, D., Wegscheider, W., Kotthaus, J. P. & Holleitner, A. W. Density enhanced diffusion of dipolar excitons within a one-dimensional channel. Phys. Rev. Lett. 103, 126402 (2009).

Schinner, G. J. et al. Confinement and interaction of single indirect excitons in a voltage-controlled trap formed inside double InGaAs quantum wells. Phys. Rev. Lett. 110, 127403 (2013).

Butov, L. V. Excitonic devices. Superlattices Microstruct. 108, 2–26 (2017).

Hammack, A. T. et al. Excitons in electrostatic traps. J. Appl. Phys. 99, 066104 (2006).

Unuchek, D. et al. Room-temperature electrical control of exciton flux in a van der Waals heterostructure. Nature 560, 340–344 (2018).

Wang, G. et al. Colloquium: Excitons in atomically thin transition metal dichalcogenides. Rev. Mod. Phys. 90, 021001 (2018).

Liu, Y. et al. Electrically controllable router of interlayer excitons. Sci. Adv. 6, 1830 (2020).

Jauregui, L. A. et al. Electrical control of interlayer exciton dynamics in atomically thin heterostructures. Science 366, 870–875 (2019).

Shanks, D. N. et al. Nanoscale trapping of interlayer excitons in a 2D semiconductor heterostructure. Nano Lett. 21, 5641–5647 (2021).

Goryca, M. et al. Revealing exciton masses and dielectric properties of monolayer semiconductors with high magnetic fields. Nat. Commun. 10, 4172 (2019).

Cavalcante, L. S., Da Costa, D. R., Farias, G. A., Reichman, D. R. & Chaves, A. Stark shift of excitons and trions in two-dimensional materials. Phys. Rev. B 98, 245309 (2018).

Efimkin, D. K. & MacDonald, A. H. Many-body theory of trion absorption features in two-dimensional semiconductors. Phys. Rev. B 95, 035417 (2017).

Sidler, M. et al. Fermi polaron-polaritons in charge-tunable atomically thin semiconductors. Nat. Phys. 13, 255–261 (2017).

Chervy, T. et al. Accelerating polaritons with external electric and magnetic fields. Phys. Rev. 10, 011040 (2020).

Wang, J. Highly polarized photoluminescence and photodetection from single indium phosphide nanowires. Science 293, 1455–1457 (2001).

Akiyama, H., Someya, T. & Sakaki, H. Optical anisotropy in 5-nm-scale T-shaped quantum wires fabricated by the cleaved-edge overgrowth method. Phys. Rev. B 53, 4229–4232 (1996).

Lefebvre, J., Fraser, J. M., Finnie, P. & Homma, Y. Photoluminescence from an individual single-walled carbon nanotube. Phys. Rev. B 69, 075403 (2004).

Bai, Y. et al. Excitons in strain-induced one-dimensional moiré potentials at transition metal dichalcogenide heterojunctions. Nat. Mater. 19, 1068–1073 (2020).

Wang, Q. et al. Highly polarized single photons from strain-induced quasi-1D localized excitons in WSe2. Nano Lett. 21, 7175–7182 (2021).

Glazov, M. M. et al. Spin and valley dynamics of excitons in transition metal dichalcogenide monolayers. Phys. Status Solidi B 252, 2349–2362 (2015).

Yu, H., Cui, X., Xu, X. & Yao, W. Valley excitons in two-dimensional semiconductors. Natl Sci. Rev. 2, 57–70 (2015).

Nagamune, Y. et al. Photoluminescence spectra and anisotropic energy shift of GaAs quantum wires in high magnetic fields. Phys. Rev. Lett. 69, 2963–2966 (1992).

Togan, E., Lim, H.-T., Faelt, S., Wegscheider, W. & Imamoglu, A. Enhanced interactions between dipolar polaritons. Phys. Rev. Lett. 121, 227402 (2018).

Lim, H.-T., Togan, E., Kroner, M., Miguel-Sanchez, J. & Imamoglu, A. Electrically tunable artificial gauge potential for polaritons. Nat. Commun. 8, 14540 (2017).

Chestnov, I. Y., Arakelian, S. M. & Kavokin, A. V. Giant synthetic gauge field for spinless microcavity polaritons in crossed electric and magnetic fields. New J. Phys. 23, 023024 (2021).

Li, W., Lu, X., Dubey, S., Devenica, L. & Srivastava, A. Dipolar interactions between localized interlayer excitons in van der Waals heterostructures. Nat. Mater. 19, 624–629 (2020).

Kremser, M. et al. Discrete interactions between a few interlayer excitons trapped at a MoSe2–WSe2 heterointerface. NPJ 2D Mater. Appl. 4, 8 (2020).

Baek, H. et al. Highly energy-tunable quantum light from moiré-trapped excitons. Sci. Adv. 6, eaba8526 (2020).

Rosenberg, I. et al. Strongly interacting dipolar-polaritons. Sci. Adv. 4, eaat8880 (2018).

Lodahl, P., Mahmoodian, S. & Stobbe, S. Interfacing single photons and single quantum dots with photonic nanostructures. Rev. Mod. Phys. 87, 347–400 (2015).

Carusotto, I. et al. Fermionized photons in an array of driven dissipative nonlinear cavities. Phys. Rev. Lett. 103, 033601 (2009).

Ołdziejewski, R., Chiocchetta, A., Knörzer, J. & Schmidt, R. Excitonic Tonks-Girardeau and charge-density wave phases in monolayer semiconductors. Preprint at https://arxiv.org/abs/2106.07290 (2021).

Hartmann, M. J., Brandao, F. G. & Plenio, M. B. Strongly interacting polaritons in coupled arrays of cavities. Nat. Phys. 2, 849–855 (2006).

Greentree, A. D., Tahan, C., Cole, J. H. & Hollenberg, L. C. Quantum phase transitions of light. Nat. Phys. 2, 856–861 (2006).

Zomer, P. J., Guimarães, M. H. D., Brant, J. C., Tombros, N. & van Wees, B. J. Fast pick up technique for high quality heterostructures of bilayer graphene and hexagonal boron nitride. Appl. Phys. Lett. 105, 013101 (2014).

Telford, E. J. et al. Via method for lithography free contact and preservation of 2D materials. Nano Lett. 18, 1416–1420 (2018).

Jung, Y. et al. Transferred via contacts as a platform for ideal two-dimensional transistors. Nat. Electron. 2, 187–194 (2019).

Wilson, N. R. et al. Determination of band offsets, hybridization, and exciton binding in 2D semiconductor heterostructures. Sci. Adv. 3, 1601832 (2017).

Larentis, S. et al. Large effective mass and interaction-enhanced Zeeman splitting of K-valley electrons in MoSe2. Phys. Rev. B 97, 201407 (2018).

Zhang, Y. et al. Direct observation of the transition from indirect to direct bandgap in atomically thin epitaxial MoSe2. Nat. Nanotechnol. 9, 111–115 (2014).

Laturia, A., de Put, M. L. V. & Vandenberghe, W. G. Dielectric properties of hexagonal boron nitride and transition metal dichalcogenides: from monolayer to bulk. NPJ 2D Mater. Appl. 2, 6 (2018).

Smoleński, T. et al. Interaction-induced Shubnikov–de Haas oscillations in optical conductivity of monolayer MoSe2. Phys. Rev. Lett. 123, 097403 (2019).

Scuri, G. et al. Large excitonic reflectivity of monolayer MoSe2 encapsulated in hexagonal boron nitride. Phys. Rev. Lett. 120, 037402 (2018).

Lozovik, Y. E., Ovchinnikov, I. V., Volkov, S. Y., Butov, L. V. & Chemla, D. S. Quasi-two-dimensional excitons in finite magnetic fields. Phys. Rev. B 65, 235304 (2002).
Acknowledgements
We thank A. Srivastava, I. Schwartz, R. Schmidt, A. Bergschneider and N. Lassaline for insightful discussions. This work was produced within the scope of the National Research Programme NCCR QSIT, which was financed by the Swiss National Science Foundation (SNSF) and supported by the SNSF grant 200021-178909/1. P.A.M. acknowledges financing from the European Union's Horizon 2020 programme under Marie Skłodowska-Curie grant MSCA-IF-OptoTransport (843842). K.W. and T.T. acknowledge support from the Elemental Strategy Initiative conducted by MEXT, Japan, A3 Foresight by JSPS and CREST (grant number JPMJCR15F3) and JST. D.T. and D.J.N. acknowledge support by the SNSF under grant 200021-165559. T.C. acknowledges support from NTT Research, Inc., USA. Synthesis of MoSe2 crystals in Device 2 was supported by the United States National Science Foundation Materials Research Science and Engineering Centers DMR-2011738.
Ethics declarations
Competing interests
D.T., P.A.M., M.K., A.P. and A.I. are seeking patent protection for ideas described in this work.
Peer review
Peer review information
Nature thanks Mikhail Glazov, Libai Huang and the other, anonymous, reviewer for their contribution to the peer review of this work. Peer reviewer reports are available.
Additional information
Publisher's note Springer Nature remains neutral with regard to jurisdictional claims in published maps and institutional affiliations.
Extended data figures and tables
Supplementary information
About this article
Cite this article
Thureja, D., Imamoglu, A., Smoleński, T. et al. Electrically tunable quantum confinement of neutral excitons. Nature 606, 298–304 (2022). https://doi.org/10.1038/s41586-022-04634-z
Received:

Accepted:

Published:

Issue Date:

DOI: https://doi.org/10.1038/s41586-022-04634-z
Comments
By submitting a comment you agree to abide by our Terms and Community Guidelines. If you find something abusive or that does not comply with our terms or guidelines please flag it as inappropriate.