Abstract
Lacrimal glands are the main exocrine glands of the eyes. Situated within the orbit, behind the upper eyelid and towards the temporal side of each eye, they secrete lacrimal fluid as a major component of the tear film. Here we identify cells with characteristics of lacrimal gland primordia that emerge in two-dimensional eye-like organoids cultured from human pluripotent stem cells1. When isolated by cell sorting and grown under defined conditions, the cells form a three-dimensional lacrimal-gland-like tissue organoid with ducts and acini, enabled by budding and branching. Clonal colony analyses indicate that the organoids originate from multipotent ocular surface epithelial stem cells. The organoids exhibit notable similarities to native lacrimal glands on the basis of their morphology, immunolabelling characteristics and gene expression patterns, and undergo functional maturation when transplanted adjacent to the eyes of recipient rats, developing lumina and producing tear-film proteins.
Your institute does not have access to this article
Access options
Subscribe to Nature+
Get immediate online access to the entire Nature family of 50+ journals
Subscribe to Journal
Get full journal access for 1 year
$199.00
only $3.90 per issue
All prices are NET prices.
VAT will be added later in the checkout.
Tax calculation will be finalised during checkout.
Buy article
Get time limited or full article access on ReadCube.
$32.00
All prices are NET prices.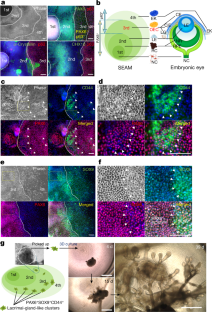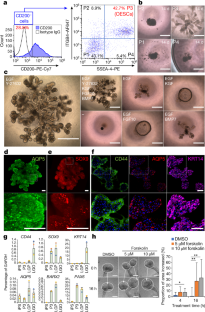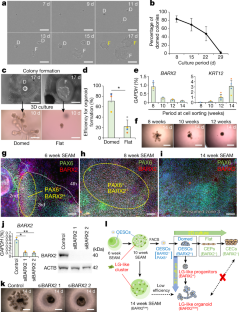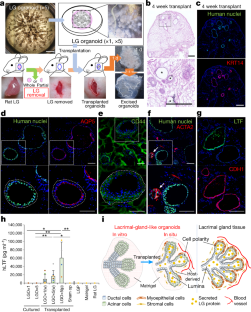 Data availability
Bulk RNA-seq and scRNA-seq datasets have been deposited at the NCBI GEO repository under accession numbers GSE157678 and GSE174653. Source data are provided with this paper.
References
Hayashi, R. et al. Co-ordinated ocular development from human iPS cells and recovery of corneal function. Nature 531, 376–380 (2016).

Janssen, P. & Van Bijsterveld, O. Origin and biosynthesis of human tear fluid proteins. Invest. Ophthalmol. Vis. Sci. 24, 623–630 (1983).

Ramos-Casals, M., Tzioufas, A. G., Stone, J. H., Sisó, A. & Bosch, X. Treatment of primary Sjögren syndrome: a systematic review. JAMA 304, 452–460 (2010).

Pflugfelder, S. C., Solomon, A. & Stern, M. E. The diagnosis and management of dry eye: a twenty-five–year review. Cornea 19, 644–649 (2000).

Hirayama, M. et al. Functional lacrimal gland regeneration by transplantation of a bioengineered organ germ. Nat. Commun. 4, 2497 (2013).

Shatos, M. A., Haugaard-Kedstrom, L., Hodges, R. R. & Dartt, D. A. Isolation and characterization of progenitor cells in uninjured, adult rat lacrimal gland. Invest. Ophthalmol. Vis. Sci. 53, 2749–2759 (2012).

Kobayashi, S. et al. Characterization of cultivated murine lacrimal gland epithelial cells. Mol. Vis. 18, 1271–1277 (2012).

Bannier-Hélaouët, M. et al. Exploring the human lacrimal gland using organoids and single-cell sequencing. Cell Stem Cell 28, 1221–1232 (2021).

Basova, L. et al. Origin and lineage plasticity of endogenous lacrimal gland epithelial stem/progenitor cells. iScience 23, 101230 (2020).

Jeong, S. Y. et al. Establishment of functional epithelial organoids from human lacrimal glands. Stem Cell Res. Ther. 12, 247 (2021).

Hayashi, R. et al. Coordinated generation of multiple ocular-like cell lineages and fabrication of functional corneal epithelial cell sheets from human iPS cells. Nat. Protoc. 12, 683–696 (2017).

Hayashi, R., Ishikawa, Y., Katayama, T., Quantock, A. J. & Nishida, K. CD200 facilitates the isolation of corneal epithelial cells derived from human pluripotent stem cells. Sci. Rep. 8, 16550 (2018).

Nomi, K. et al. Generation of functional conjunctival epithelium, including goblet cells, from human iPSCs. Cell Rep. 34, 108715 (2021).

Makarenkova, H. P. et al. FGF10 is an inducer and Pax6 a competence factor for lacrimal gland development. Development 127, 2563–2572 (2000).

Yoshida, K., Nitatori, T. & Uchiyama, Y. Localization of glycosaminoglycans and CD44 in the human lacrimal gland. Arch. Histol. Cytol. 59, 505–513 (1996).

Chen, Z. et al. FGF signaling activates a Sox9-Sox10 pathway for the formation and branching morphogenesis of mouse ocular glands. Development 141, 2691–2701 (2014).

Shah, D. et al. Histatin-1 expression in human lacrimal epithelium. PLoS ONE 11, e0148018 (2016).

Ohuchi, H. et al. FGF10 acts as a major ligand for FGF receptor 2 IIIb in mouse multi-organ development. Biochem. Biophys. Res. Commun. 277, 643–649 (2000).

Dean, C., Ito, M., Makarenkova, H. P., Faber, S. C. & Lang, R. A. Bmp7 regulates branching morphogenesis of the lacrimal gland by promoting mesenchymal proliferation and condensation. Development 131, 4155–4165 (2004).

Lin, H., Liu, Y. & Yiu, S. Three dimensional culture of potential epithelial progenitor cells in human lacrimal gland. Transl. Vis. Sci. Technol. 8, 32 (2019).

Farmer, D. T. et al. miR-205 is a critical regulator of lacrimal gland development. Dev. Biol. 427, 12–20 (2017).

Shibata, S. et al. Selective laminin-directed differentiation of human induced pluripotent stem cells into distinct ocular lineages. Cell Rep. 25, 1668–1679 (2018).

Ishida, N., Hirai, S.-I. & Mita, S. Immunolocalization of aquaporin homologs in mouse lacrimal glands. Biochem. Biophys. Res. Commun. 238, 891–895 (1997).

Tsubota, K., Hirai, S., King, L. S., Agre, P. & Ishida, N. Defective cellular trafficking of lacrimal gland aquaporin-5 in Sjögren's syndrome. Lancet 357, 688–689 (2001).

Hirayama, M., Liu, Y., Kawakita, T., Shimmura, S. & Tsubota, K. Cytokeratin expression in mouse lacrimal gland germ epithelium. Exp. Eye Res. 146, 54–59 (2016).

Farmer, D. T. et al. Defining epithelial cell dynamics and lineage relationships in the developing lacrimal gland. Development 144, 2517–2528 (2017).

Makarenkova, H. P. & Dartt, D. A. Myoepithelial cells: their origin and function in lacrimal gland morphogenesis, homeostasis, and repair. Curr. Mol. Biol. Rep. 1, 115–123 (2015).

Tsau, C. et al. Barx2 and Fgf10 regulate ocular glands branching morphogenesis by controlling extracellular matrix remodeling. Development 138, 3307–3317 (2011).

Voronov, D. et al. Transcription factors Runx1 to 3 are expressed in the lacrimal gland epithelium and are involved in regulation of gland morphogenesis and regeneration. Invest. Ophthalmol. Vis. Sci. 54, 3115–3125 (2013).

Hirayama, M. et al. Identification of transcription factors that promote the differentiation of human pluripotent stem cells into lacrimal gland epithelium-like cells. NPJ Aging Mech. Dis. 3, 1 (2017).

Haynes, R. J., Tighe, P. J. & Dua, H. S. Antimicrobial defensin peptides of the human ocular surface. Br. J. Ophthalmol. 83, 737–741 (1999).

Hayashi, R. et al. N-Cadherin is expressed by putative stem/progenitor cells and melanocytes in the human limbal epithelial stem cell niche. Stem Cells 25, 289–296 (2007).

Girolamo, N. D. et al. Localization of the low‐affinity nerve growth factor receptor p75 in human limbal epithelial cells. J. Cell. Mol. Med. 12, 2799–2811 (2008).

Moroishi, T. et al. A YAP/TAZ-induced feedback mechanism regulates Hippo pathway homeostasis. Genes Dev. 29, 1271–1284 (2015).

Bron, A. J., Tripathi, R. C. & Tripathi, B. J. Wolff's Anatomy of the Eye and Orbit 8th Edn, 72–75 (Chapman & Hall, 1997).

Avila, M. Y. Restoration of human lacrimal function following platelet-rich plasma injection. Cornea 33, 18–21 (2014).

Zhang, Y., Deng, C., Qian, J., Zhang, M. & Li, X. Improvement of radiotherapy-induced lacrimal gland injury by induced pluripotent stem cell-derived conditioned medium via MDK and inhibition of the p38/JNK pathway. Int. J. Mol. Sci. 15, 18407–18421 (2014).

Beyazyıldız, E. et al. Efficacy of topical mesenchymal stem cell therapy in the treatment of experimental dry eye syndrome model. Stem Cells Int. 2014, 250230 (2014).

Weng, J. et al. Mesenchymal stromal cells treatment attenuates dry eye in patients with chronic graft-versus-host disease. Mol. Ther. 20, 2347–2354 (2012).

Okubo T. et al. Fabrication of three-dimensional lacrimal-gland-like tissue organoids from human pluripotent stem cells. Protocol Exchange https://doi.org/10.21203/rs.3.pex-1821/v1 (2022).

Nakagawa, M. et al. A novel efficient feeder-free culture system for the derivation4 of human induced pluripotent stem cells. Sci. Rep. 4, 3594 (2014).

Yoshimoto, S. et al. Inhibition of Alk signaling promotes the induction of human salivary-gland-derived organoids. Dis. Model Mech. 13, dmm045054 (2020).

Leir, S.-H. et al. An organoid model to assay the role of CFTR in the human epididymis epithelium. Cell Tissue Res. 381, 327–336 (2020).

Zheng, G. X. et al. Massively parallel digital transcriptional profiling of single cells. Nat. Commun. 8, 14049 (2017).

Stuart, T. et al. Comprehensive integration of single-cell data. Cell 177, 1888–1902 (2019).

Trapnell, C. et al. The dynamics and regulators of cell fate decisions are revealed by pseudotemporal ordering of single cells. Nat. Biotechnol. 32, 381–386 (2014).
Acknowledgements
We thank K. Nomi, T. Soma, K. Maruyama and J. Mantel for technical support and for providing experimental equipment and supporting research grants; D. Okuzaki and the staff at the NGS Core Facility of the Genome Information Research Center at the Research Institute for Microbial Diseases, Osaka University for support in RNA-seq and data analysis; and Y. Honma of ROHTO Pharmaceutical for scientific discussions. This work was supported in part by the Project for the Realization of Regenerative Medicine from The Japan Agency for Medical Research and Development (AMED, JP19bm0404058h0001, JP20bm0404058h0002, JP21bm0404058h0003), Grant-in-Aid for Scientific Research (17K11480, 20H03842) from Japan Society for the Promotion of Science (JSPS) and AMED-CREST (JP20gm1210004h0002, JP21gm1210004h0004).
Ethics declarations
Competing interests
R.H. is the holder of an Endowed Chair provided by ROHTO Pharmaceutical. The other authors declare no competing interests.
Peer review
Peer review information
Nature thanks Karl Koehler and the other, anonymous, reviewer(s) for their contribution to the peer review of this work.
Additional information
Publisher's note Springer Nature remains neutral with regard to jurisdictional claims in published maps and institutional affiliations.
Extended data figures and tables
Supplementary information
About this article
Cite this article
Hayashi, R., Okubo, T., Kudo, Y. et al. Generation of 3D lacrimal gland organoids from human pluripotent stem cells. Nature 605, 126–131 (2022). https://doi.org/10.1038/s41586-022-04613-4
Received:

Accepted:

Published:

Issue Date:

DOI: https://doi.org/10.1038/s41586-022-04613-4
Comments
By submitting a comment you agree to abide by our Terms and Community Guidelines. If you find something abusive or that does not comply with our terms or guidelines please flag it as inappropriate.