Abstract
Gate-model quantum computers promise to solve currently intractable computational problems if they can be operated at scale with long coherence times and high-fidelity logic. Neutral-atom hyperfine qubits provide inherent scalability owing to their identical characteristics, long coherence times and ability to be trapped in dense, multidimensional arrays1. Combined with the strong entangling interactions provided by Rydberg states2,3,4, all the necessary characteristics for quantum computation are available. Here we demonstrate several quantum algorithms on a programmable gate-model neutral-atom quantum computer in an architecture based on individual addressing of single atoms with tightly focused optical beams scanned across a two-dimensional array of qubits. Preparation of entangled Greenberger–Horne–Zeilinger (GHZ) states5 with up to six qubits, quantum phase estimation for a chemistry problem6 and the quantum approximate optimization algorithm (QAOA)7 for the maximum cut (MaxCut) graph problem are demonstrated. These results highlight the emergent capability of neutral-atom qubit arrays for universal, programmable quantum computation, as well as preparation of non-classical states of use for quantum-enhanced sensing.
Access options
Subscribe to Nature+
Get immediate online access to the entire Nature family of 50+ journals
Subscribe to Journal
Get full journal access for 1 year
$199.00
only $3.90 per issue
All prices are NET prices.
VAT will be added later in the checkout.
Tax calculation will be finalised during checkout.
Buy article
Get time limited or full article access on ReadCube.
$32.00
All prices are NET prices.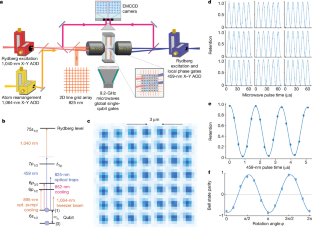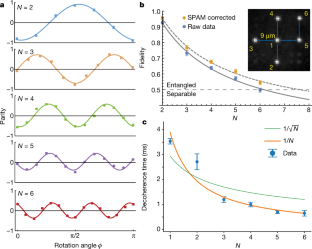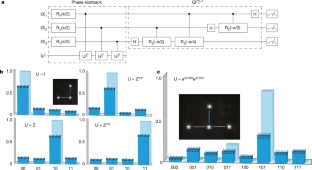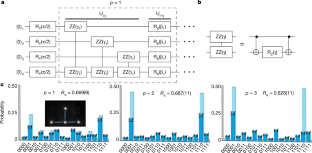 Data availability
The data presented here are available from the corresponding author on reasonable request.
References
Saffman, M., Walker, T. G. & Mølmer, K. Quantum information with Rydberg atoms. Rev. Mod. Phys. 82, 2313–2363 (2010).

Jaksch, D. et al. Fast quantum gates for neutral atoms. Phys. Rev. Lett. 85, 2208–2211 (2000).

Gaëtan, A. et al. Observation of collective excitation of two individual atoms in the Rydberg blockade regime. Nat. Phys. 5, 115–118 (2009).

Urban, E. et al. Observation of Rydberg blockade between two atoms. Nat. Phys. 5, 110–114 (2009).

Greenberger, D. M., Horne, M. A. & Zeilinger, A. in Bell's Theorem, Quantum Theory and Conceptions of the Universe (ed. Kafatos, M.) 69–72 (Springer, 1989).

Aspuru-Guzik, A., Dutoi, A. D., Love, P. J. & Head-Gordon, M. Simulated quantum computation of molecular energies. Science 309, 1704–1707 (2005).

Farhi, E., Goldstone, J. & Gutmann, S. A quantum approximate optimization algorithm. Preprint at https://arxiv.org/abs/1411.4028 (2014).

Martinez, E. A. et al. Real-time dynamics of lattice gauge theories with a few-qubit quantum computer. Nature 534, 516–519 (2016).

Figgatt, C. et al. Complete 3-qubit Grover search on a programmable quantum computer. Nat. Commun. 8, 1918 (2017).

DiCarlo, L. et al. Demonstration of two-qubit algorithms with a superconducting quantum processor. Nature 460, 240–244 (2009).

Harrigan, M. P. et al. Quantum approximate optimization of non-planar graph problems on a planar superconducting processor. Nat. Phys. 17, 332–336 (2021).

Watson, T. F. et al. A programmable two-qubit quantum processor in silicon. Nature 555, 633–637 (2018).

Zhou, X.-Q., Kalasuwan, P., Ralph, T. C. & O'Brien, J. L. Calculating unknown eigenvalues with a quantum algorithm. Nat. Photonics 7, 223–228 (2013).

Scholl, P. et al. Quantum simulation of 2D antiferromagnets with hundreds of Rydberg atoms. Nature 595, 233–238 (2021).

Ebadi, S. et al. Quantum phases of matter on a 256-atom programmable quantum simulator. Nature 595, 227–232 (2021).

Hauke, P., Cucchietti, F. M., Tagliacozzo, L., Deutsch, I. & Lewenstein, M. Can one trust quantum simulators? Rep. Prog. Phys. 75, 082401 (2012).

Xia, T. et al. Randomized benchmarking of single-qubit gates in a 2D array of neutral-atom qubits. Phys. Rev. Lett. 114, 100503 (2015).

Wang, Y., Kumar, A., Wu, T.-Y. & Weiss, D. S. Single-qubit gates based on targeted phase shifts in a 3D neutral atom array. Science 352, 1562–1565 (2016).

Graham, T. et al. Rydberg mediated entanglement in a two-dimensional neutral atom qubit array. Phys. Rev. Lett. 123, 230501 (2019).

Barredo, D., de Leséléuc, S., Lienhard, V., Lahaye, T. & Browaeys, A. An atom-by-atom assembler of defect-free arbitrary two-dimensional atomic arrays. Science 354, 1021–1023 (2016).

Endres, M. et al. Atom-by-atom assembly of defect-free one-dimensional cold atom arrays. Science 354, 1024–1027 (2016).

Kim, H. et al. In situ single-atom array synthesis using dynamic holographic optical tweezers. Nat. Commun. 7, 13317 (2016).

Gisin, N. & Bechmann-Pasquinucci, H. Bell inequality, Bell states and maximally entangled states for n qubits. Phys. Lett. A 246, 1–6 (1998).

Song, C. et al. Generation of multicomponent atomic Schrödinger cat states of up to 20 qubits. Science 365, 574–577 (2019).

Pogorelov, I. et al. Compact ion-trap quantum computing demonstrator. PRX Quantum 2, 020343 (2021).

Omran, A. et al. Generation and manipulation of Schrödinger cat states in Rydberg atom arrays. Science 365, 570–574 (2019).

Wineland, D. J., Bollinger, J. J., Itano, W. M., Moore, F. L. & Heinzen, D. J. Spin squeezing and reduced quantum noise in spectroscopy. Phys. Rev. A 46, R6797–R6800 (1992).

Giovannetti, V., Lloyd, S. & Maccone, L. Quantum-enhanced measurements: beating the standard quantum limit. Science 306, 1330–1336 (2004).

Saffman, M. & Walker, T. G. Analysis of a quantum logic device based on dipole-dipole interactions of optically trapped Rydberg atoms. Phys. Rev. A 72, 022347 (2005).

Carr, A. W. & Saffman, M. Doubly magic optical trapping for Cs atom hyperfine clock transitions. Phys. Rev. Lett. 117, 150801 (2016).

Monz, T. et al. 14-qubit entanglement: creation and coherence. Phys. Rev. Lett. 106, 130506 (2011).

Abrams, D. S. & Lloyd, S. Quantum algorithm providing exponential speed increase for finding eigenvalues and eigenvectors. Phys. Rev. Lett. 83, 5162–5165 (1999).

Bravyi, S. B. & Kitaev, A. Y. Fermionic quantum computation. Ann. Phys. 298, 210–226 (2002).

Bravyi, S., Gambetta, J. M., Mezzacapo, A. & Temme, K. Tapering off qubits to simulate fermionic Hamiltonians. Preprint at https://arxiv.org/abs/1701.08213 (2017).

Kołos, W., Szalewicz,, K. & Monkhorst, H. J. New Born–Oppenheimer potential energy curve and vibrational energies for the electronic ground state of the hydrogen molecule. J. Chem. Phys. 84, 3278–3283 (1986).

Preskill, J. Quantum computing in the NISQ era and beyond. Quantum 2, 79 (2018).

Peruzzo, A. et al. A variational eigenvalue solver on a photonic quantum processor. Nat. Commun. 5, 4213 (2014).

Shor, P. W. Algorithms for quantum computation: discrete logarithms and factoring. In Proc. 35th Annual Symposium on Foundations of Computer Science 124–134 (IEEE, 1994).

Harrow, A. W., Hassidim,, A. & Lloyd, S. Quantum algorithm for linear systems of equations. Phys. Rev. Lett. 103, 150502 (2009).

O'Brien, T. E., Tarasinski, B. & Terhal, B. M. Quantum phase estimation of multiple eigenvalues for small-scale (noisy) experiments. New J. Phys. 21, 023022 (2019).

Endo, S., Cai, Z., Benjamin, S. C. & Yuan, X. Hybrid quantum-classical algorithms and quantum error mitigation. J. Phys. Soc. Jpn. 90, 032001 (2021).

Bluvstein, D. et al. A quantum processor based on coherent transport of entangled atom arrays. Nature https://doi.org/10.1038/s41586-022-04592-6 (2022).

Hsiao, Y.-F., Lin, Y.-J. & Chen, Y.-C. Λ-enhanced gray-molasses cooling of cesium atoms on the D2 line. Phys. Rev. A 98, 033419 (2018).

Gillen-Christandl, K., Gillen, G., Piotrowicz, M. J. & Saffman, M. Comparison of Gaussian and super Gaussian laser beams for addressing atomic qubits. Appl. Phys. B 122, 131 (2016).

Gullion, T., Baker, D. B. & Conradi, M. S. New, compensated Carr-Purcell sequences. J. Magn. Reson. 89, 479–484 (1990).

Kuhr, S. et al. Analysis of dephasing mechanisms in a standing-wave dipole trap. Phys. Rev. A 72, 023406 (2005).

Levine, H. et al. Parallel implementation of high-fidelity multiqubit gates with neutral atoms. Phys. Rev. Lett. 123, 170503 (2019).

Robicheaux, F., Graham, T. & Saffman, M. Photon-recoil and laser-focusing limits to Rydberg gate fidelity. Phys. Rev. A 103, 022424 (2021).

Saffman, M., Beterov, I. I., Dalal, A., Paez, E. J. & Sanders, B. C. Symmetric Rydberg controlled-Z gates with adiabatic pulses. Phys. Rev. A 101, 062309 (2020).

Zhang, S., Robicheaux, F. & Saffman, M. Magic wavelength optical traps for Rydberg atoms. Phys. Rev. A 84, 043408 (2011).
Acknowledgements
This work was supported by DARPA ONISQ contract no. HR001120C0068, NSF award PHY-1720220, NSF award 2016136 for the QLCI for Hybrid Quantum Architectures and Networks, U.S. Department of Energy under award no. DE-SC0019465 and through Innovate UK's Sustainable Innovation Fund Small Business Research Initiative (SBRI).
Ethics declarations
Competing interests
M.E., J.C., M.T.L., M.G., J.G., D.B., T.B., C.C., E.D.D., T.N. and M.S. are shareholders of ColdQuanta, Inc. O.C., N.S.B. and B.R. are employees of Riverlane, Ltd.
Peer review
Peer review information
Nature thanks Hannah Williams and the other, anonymous, reviewers for their contribution to the peer review of this work.
Additional information
Publisher's note Springer Nature remains neutral with regard to jurisdictional claims in published maps and institutional affiliations.
Extended data figures and tables
Supplementary information
The supplementary information contains the complete circuit diagrams used for the GHZ state preparation, phase estimation and QAOA algorithms.
About this article
Cite this article
Graham, T.M., Song, Y., Scott, J. et al. Multi-qubit entanglement and algorithms on a neutral-atom quantum computer. Nature 604, 457–462 (2022). https://doi.org/10.1038/s41586-022-04603-6
Received:

Accepted:

Published:

Issue Date:

DOI: https://doi.org/10.1038/s41586-022-04603-6
This article is cited by
C. B. Young
A. Safari
M. Saffman

Applied Physics B (2022)
Comments
By submitting a comment you agree to abide by our Terms and Community Guidelines. If you find something abusive or that does not comply with our terms or guidelines please flag it as inappropriate.