Abstract
The structure of the human neocortex underlies species-specific traits and reflects intricate developmental programs. Here we sought to reconstruct processes that occur during early development by sampling adult human tissues. We analysed neocortical clones in a post-mortem human brain through a comprehensive assessment of brain somatic mosaicism, acting as neutral lineage recorders1,2. We combined the sampling of 25 distinct anatomic locations with deep whole-genome sequencing in a neurotypical deceased individual and confirmed results with 5 samples collected from each of three additional donors. We identified 259 bona fide mosaic variants from the index case, then deconvolved distinct geographical, cell-type and clade organizations across the brain and other organs. We found that clones derived after the accumulation of 90–200 progenitors in the cerebral cortex tended to respect the midline axis, well before the anterior–posterior or ventral–dorsal axes, representing a secondary hierarchy following the overall patterning of forebrain and hindbrain domains. Clones across neocortically derived cells were consistent with a dual origin from both dorsal and ventral cellular populations, similar to rodents, whereas the microglia lineage appeared distinct from other resident brain cells. Our data provide a comprehensive analysis of brain somatic mosaicism across the neocortex and demonstrate cellular origins and progenitor distribution patterns within the human brain.
Access options
Subscribe to Nature+
Get immediate online access to the entire Nature family of 50+ journals
Subscribe to Journal
Get full journal access for 1 year
$199.00
only $3.90 per issue
All prices are NET prices.
VAT will be added later in the checkout.
Tax calculation will be finalised during checkout.
Buy article
Get time limited or full article access on ReadCube.
$32.00
All prices are NET prices.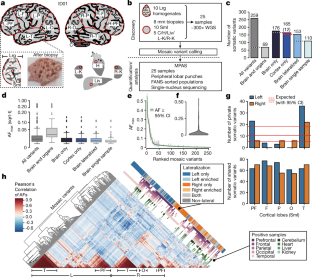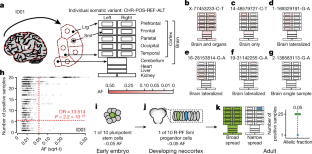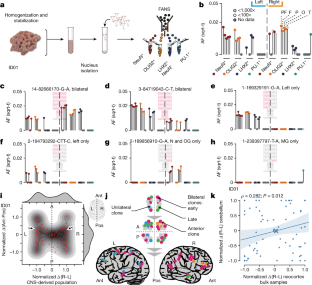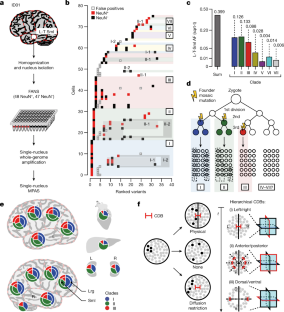 References
Freed, D., Stevens, E. L. & Pevsner, J. Somatic mosaicism in the human genome. Genes 5, 1064–1094 (2014).

Woodworth, M. B., Girskis, K. M. & Walsh, C. A. Building a lineage from single cells: genetic techniques for cell lineage tracking. Nat. Rev. Genet. 18, 230–244 (2017).

D'Gama, A. M. & Walsh, C. A. Somatic mosaicism and neurodevelopmental disease. Nat. Neurosci. 21, 1504–1514 (2018).

Bae, T. et al. Different mutational rates and mechanisms in human cells at pregastrulation and neurogenesis. Science 359, 550–555 (2018).

Ye, A. Y. et al. A model for postzygotic mosaicisms quantifies the allele fraction drift, mutation rate, and contribution to de novo mutations. Genome Res. 28, 943–951 (2018).

Machiela, M. J. & Chanock, S. J. The ageing genome, clonal mosaicism and chronic disease. Curr. Opin. Genet. Dev. 42, 8–13 (2017).

Kalhor, R. et al. Developmental barcoding of whole mouse via homing CRISPR. Science 361, eaat9804 (2018).

Bowling, S. et al. An engineered CRISPR-Cas9 mouse line for simultaneous readout of lineage histories and gene expression profiles in single cells. Cell 181, 1410–1422 (2020).

Lawson, A. R. J. et al. Extensive heterogeneity in somatic mutation and selection in the human bladder. Science 370, 75–82 (2020).

Li, R. et al. Macroscopic somatic clonal expansion in morphologically normal human urothelium. Science 370, 82–89 (2020).

Martincorena, I. et al. Somatic mutant clones colonize the human esophagus with age. Science 362, 911–917 (2018).

Coorens, T. H. H. et al. Extensive phylogenies of human development inferred from somatic mutations. Nature 597, 387–392 (2021).

Park, S. et al. Clonal dynamics in early human embryogenesis inferred from somatic mutation. Nature 597, 393–397 (2021).

Lee-Six, H. et al. Population dynamics of normal human blood inferred from somatic mutations. Nature 561, 473–478 (2018).

Rakic, P. Neurons in rhesus monkey visual cortex: systematic relation between time of origin and eventual disposition. Science 183, 425–427 (1974).

Bergles, D. E. & Richardson, W. D. Oligodendrocyte development and plasticity. Cold Spring Harb. Perspect. Biol. 8, a020453 (2015).

Bayraktar, O. A., Fuentealba, L. C., Alvarez-Buylla, A. & Rowitch, D. H. Astrocyte development and heterogeneity. Cold Spring Harb. Perspect. Biol. 7, a020362 (2014).

Gao, P., Sultan, K. T., Zhang, X. J. & Shi, S. H. Lineage-dependent circuit assembly in the neocortex. Development 140, 2645–2655 (2013).

Marin, O. & Rubenstein, J. L. A long, remarkable journey: tangential migration in the telencephalon. Nat. Rev. Neurosci. 2, 780–790 (2001).

Lim, L., Mi, D., Llorca, A. & Marin, O. Development and functional diversification of cortical interneurons. Neuron 100, 294–313 (2018).

Prinz, M., Jung, S. & Priller, J. Microglia biology: one century of evolving concepts. Cell 179, 292–311 (2019).

Walsh, C. & Cepko, C. L. Clonal dispersion in proliferative layers of developing cerebral cortex. Nature 362, 632–635 (1993).

Walsh, C. & Cepko, C. L. Widespread dispersion of neuronal clones across functional regions of the cerebral cortex. Science 255, 434–440 (1992).

Gao, P. et al. Deterministic progenitor behavior and unitary production of neurons in the neocortex. Cell 159, 775–788 (2014).

Lodato, M. A. et al. Aging and neurodegeneration are associated with increased mutations in single human neurons. Science 359, 555–559 (2018).

Lodato, M. A. et al. Somatic mutation in single human neurons tracks developmental and transcriptional history. Science 350, 94–98 (2015).

Huang, A. Y. et al. Distinctive types of postzygotic single-nucleotide mosaicisms in healthy individuals revealed by genome-wide profiling of multiple organs. PLoS Genet. 14, e1007395 (2018).

Bizzotto, S. et al. Landmarks of human embryonic development inscribed in somatic mutations. Science 371, 1249–1253 (2021).

Rodin, R. E. et al. The landscape of somatic mutation in cerebral cortex of autistic and neurotypical individuals revealed by ultra-deep whole-genome sequencing. Nat. Neurosci. 24, 176–185 (2021).

Wang, Y. et al. Comprehensive identification of somatic nucleotide variants in human brain tissue. Genome Biol. 22, 92 (2021).

Yang, X. et al. Developmental and temporal characteristics of clonal sperm mosaicism. Cell 184, 4772–4783 (2021).

Breuss, M. W. et al. Autism risk in offspring can be assessed through quantification of male sperm mosaicism. Nat. Med. 26, 143–150 (2020).

Dou, Y. et al. Accurate detection of mosaic variants in sequencing data without matched controls. Nat. Biotechnol. 38, 314–319 (2020).

Nott, A. et al. Brain cell type-specific enhancer-promoter interactome maps and disease-risk association. Science 366, 1134–1139 (2019).

Wang, C. F. et al. Lhx2 expression in postmitotic cortical neurons initiates assembly of the thalamocortical somatosensory circuit. Cell Rep. 18, 849–856 (2017).

Kriegstein, A. & Alvarez-Buylla, A. The glial nature of embryonic and adult neural stem cells. Annu. Rev. Neurosci. 32, 149–184 (2009).

Ginhoux, F. & Garel, S. The mysterious origins of microglia. Nat. Neurosci. 21, 897–899 (2018).

Hevner, R. F. Layer-specific markers as probes for neuron type identity in human neocortex and malformations of cortical development. J. Neuropathol. Exp. Neurol. 66, 101–109 (2007).

Huang, A. Y. et al. Parallel RNA and DNA analysis after deep sequencing (PRDD-seq) reveals cell type-specific lineage patterns in human brain. Proc. Natl Acad. Sci. USA 117, 13886–13895 (2020).

Suchard, M. A. et al. Bayesian phylogenetic and phylodynamic data integration using BEAST 1.10. Virus Evol. 4, vey016 (2018).

Drummond, A. J. & Rambaut, A. BEAST: Bayesian evolutionary analysis by sampling trees. BMC Evol. Biol. 7, 214 (2007).

Takaoka, K. & Hamada, H. Cell fate decisions and axis determination in the early mouse embryo. Development 139, 3–14 (2012).

Rossant, J. & Tam, P. P. Blastocyst lineage formation, early embryonic asymmetries and axis patterning in the mouse. Development 136, 701–713 (2009).

Levin, M. Left-right asymmetry in embryonic development: a comprehensive review. Mech. Dev. 122, 3–25 (2005).

Burdine, R. D. & Schier, A. F. Conserved and divergent mechanisms in left-right axis formation. Genes Dev. 14, 763–776 (2000).

King, T. & Brown, N. A. Embryonic asymmetry: the left side gets all the best genes. Curr. Biol. 9, R18–R22 (1999).

Kessaris, N. et al. Competing waves of oligodendrocytes in the forebrain and postnatal elimination of an embryonic lineage. Nat. Neurosci. 9, 173–179 (2006).

Molho-Pessach, V. & Schaffer, J. V. Blaschko lines and other patterns of cutaneous mosaicism. Clin. Dermatol. 29, 205–225 (2011).

Cibulskis, K. et al. Sensitive detection of somatic point mutations in impure and heterogeneous cancer samples. Nat. Biotechnol. 31, 213–219 (2013).

Kim, S. et al. Strelka2: fast and accurate calling of germline and somatic variants. Nat. Methods 15, 591–594 (2018).

Huang, A. Y. et al. MosaicHunter: accurate detection of postzygotic single-nucleotide mosaicism through next-generation sequencing of unpaired, trio, and paired samples. Nucleic Acids Res. 45, e76 (2017).

Karczewski, K. J. et al. The mutational constraint spectrum quantified from variation in 141,456 humans. Nature 581, 434–443 (2020).

Heinz, S. et al. Transcription elongation can affect genome 3D structure. Cell 174, 1522–1536 (2018).

Heinz, S. et al. Simple combinations of lineage-determining transcription factors prime cis-regulatory elements required for macrophage and B cell identities. Mol. Cell 38, 576–589 (2010).

Consortium, E. P. et al. Expanded encyclopaedias of DNA elements in the human and mouse genomes. Nature 583, 699–710 (2020).

Canela, A. et al. Genome organization drives chromosome fragility. Cell 170, 507–521 (2017).

Hansen, R. S. et al. Sequencing newly replicated DNA reveals widespread plasticity in human replication timing. Proc. Natl Acad. Sci. USA 107, 139–144 (2010).

Griffiths, R. C. & Tavare, S. Sampling theory for neutral alleles in a varying environment. Phil. Trans. R. Soc. Lond. B 344, 403–410 (1994).

Popic, V. et al. Fast and scalable inference of multi-sample cancer lineages. Genome Biol. 16, 91 (2015).
Acknowledgements
We thank the individuals who donate their bodies and tissues for the advancement of research; S. Lee, C. Zhu and I. Tang for feedback; D. Weinberger, J. Kleinman, T. Hyde and R. Narukar for the samples; and R. Sinkovits, A. Majumdar and S. Strande at the San Diego Supercomputer Center. Sequencing is supported by the Rady Children's Institute for Genomic Medicine and the UCSD Institute for Genomic Medicine. M.W.B. was supported by an EMBO Long-Term Fellowship (no. ALTF 174-2015), the Marie Curie Actions of the European Commission (nos LTFCOFUND2013 and GA-2013-609409) and an Erwin Schrödinger Fellowship by the Austrian Science Fund (no. J 4197-B30). This study was supported by grants to J.G.G. from the Howard Hughes Medical Institute, NIMH (1U01 MH108898, R01 MH124890 and R21 AG070462), and to C.K.G. from NIA (RF1 AG061060-02, R01 AG056511-02, R01 NS096170-04), and the UC San Diego IGM Genomics Center (S10 OD026929). A.N. was supported by the UK Dementia Research Institute, which receives its funding from UK DRI Ltd, funded by the UK Medical Research Council, Alzheimer's Society, and Alzheimer's Research UK.
Ethics declarations
Competing interests
The authors declare no competing interests.
Peer review
Peer review information
Nature thanks the anonymous reviewers for their contribution to the peer review of this work. Peer reviewer reports are available.
Additional information
Publisher's note Springer Nature remains neutral with regard to jurisdictional claims in published maps and institutional affiliations.
Extended data figures and tables
Supplementary information
About this article
Cite this article
Breuss, M.W., Yang, X., Schlachetzki, J.C.M. et al. Somatic mosaicism reveals clonal distributions of neocortical development. Nature 604, 689–696 (2022). https://doi.org/10.1038/s41586-022-04602-7
Received:

Accepted:

Published:

Issue Date:

DOI: https://doi.org/10.1038/s41586-022-04602-7
Comments
By submitting a comment you agree to abide by our Terms and Community Guidelines. If you find something abusive or that does not comply with our terms or guidelines please flag it as inappropriate.