Abstract
All tissue-resident macrophages of the central nervous system (CNS)—including parenchymal microglia, as well as CNS-associated macrophages (CAMs1) such as meningeal and perivascular macrophages2,3,4,5,6,7—are part of the CNS endogenous innate immune system that acts as the first line of defence during infections or trauma2,8,9,10. It has been suggested that microglia and all subsets of CAMs are derived from prenatal cellular sources in the yolk sac that were defined as early erythromyeloid progenitors11,12,13,14,15. However, the precise ontogenetic relationships, the underlying transcriptional programs and the molecular signals that drive the development of distinct CAM subsets in situ are poorly understood. Here we show, using fate-mapping systems, single-cell profiling and cell-specific mutants, that only meningeal macrophages and microglia share a common prenatal progenitor. By contrast, perivascular macrophages originate from perinatal meningeal macrophages only after birth in an integrin-dependent manner. The establishment of perivascular macrophages critically requires the presence of arterial vascular smooth muscle cells. Together, our data reveal a precisely timed process in distinct anatomical niches for the establishment of macrophage subsets in the CNS.
Relevant articles
Open Access articles citing this article.
Humberto Mestre

,

Natasha Verma

…

Rupal I. Mehta

Nature Communications Open Access 06 July 2022
Access options
Subscribe to Nature+
Get immediate online access to the entire Nature family of 50+ journals
Subscribe to Journal
Get full journal access for 1 year
$199.00
only $3.90 per issue
All prices are NET prices.
VAT will be added later in the checkout.
Tax calculation will be finalised during checkout.
Buy article
Get time limited or full article access on ReadCube.
$32.00
All prices are NET prices.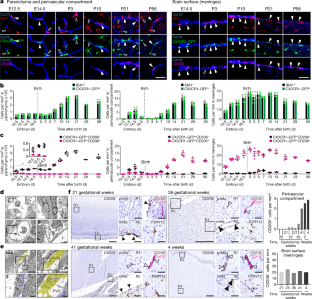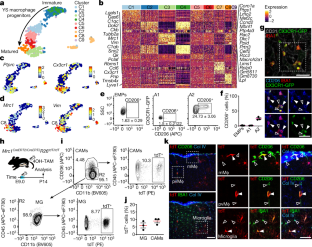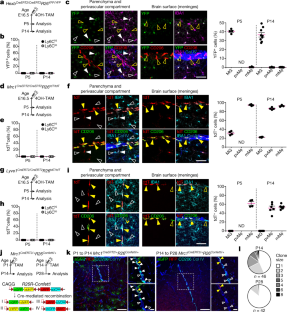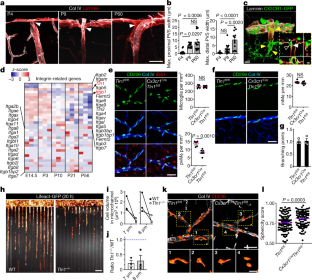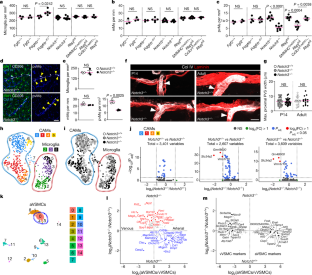 Data availability
The RNA-seq data that support the findings of this study have been deposited in the Gene Expression Omnibus (GEO) under accession codes GSE194432, GSE194433, GSE195437 and GSE192510. All other data that support the findings of this study are available from the corresponding authors upon reasonable request. Source data are provided with this paper.
References
Van Hove, H. et al. A single-cell atlas of mouse brain macrophages reveals unique transcriptional identities shaped by ontogeny and tissue environment. Nat. Neurosci. 22, 1021–1035 (2019).

Kierdorf, K., Masuda, T., Jordao, M. J. C. & Prinz, M. Macrophages at CNS interfaces: ontogeny and function in health and disease. Nat. Rev. Neurosci. 20, 547–562 (2019).

Herz, J., Filiano, A. J., Smith, A., Yogev, N. & Kipnis, J. Myeloid cells in the central nervous system. Immunity 46, 943–956 (2017).

Prinz, M., Jung, S. & Priller, J. Microglia biology: one century of evolving concepts. Cell 179, 292–311 (2019).

Prinz, M., Erny, D. & Hagemeyer, N. Ontogeny and homeostasis of CNS myeloid cells. Nat. Immunol. 18, 385–392 (2017).

Colonna, M. & Butovsky, O. Microglia function in the central nervous system during health and neurodegeneration. Annu. Rev. Immunol. 35, 441–468 (2017).

Prinz, M., Masuda, T., Wheeler, M. A. & Quintana, F. J. Microglia and central nervous system-associated macrophages-from origin to disease modulation. Annu. Rev. Immunol. 39, 251–277 (2021).

Santisteban, M. M. et al. Endothelium–macrophage crosstalk mediates blood–brain barrier dysfunction in hypertension. Hypertension 76, 795–807 (2020).

Faraco, G. et al. Perivascular macrophages mediate the neurovascular and cognitive dysfunction associated with hypertension. J. Clin. Invest. 126, 4674–4689 (2016).

Pires, P. W. et al. Improvement in middle cerebral artery structure and endothelial function in stroke-prone spontaneously hypertensive rats after macrophage depletion. Microcirculation 20, 650–661 (2013).

Goldmann, T. et al. Origin, fate and dynamics of macrophages at central nervous system interfaces. Nat. Immunol. 17, 797–805 (2016).

Gomez Perdiguero, E. et al. Tissue-resident macrophages originate from yolk-sac-derived erythro-myeloid progenitors. Nature 518, 547–551 (2015).

Kierdorf, K. et al. Microglia emerge from erythromyeloid precursors via Pu.1- and Irf8-dependent pathways. Nat. Neurosci. 16, 273–280 (2013).

Ginhoux, F. & Guilliams, M. Tissue-resident macrophage ontogeny and homeostasis. Immunity 44, 439–449 (2016).

Ginhoux, F. et al. Fate mapping analysis reveals that adult microglia derive from primitive macrophages. Science 330, 841–845 (2010).

Hagemeyer, N. et al. Transcriptome-based profiling of yolk sac-derived macrophages reveals a role for Irf8 in macrophage maturation. EMBO J. 35, 1730–1744 (2016).

Jordao, M. J. C. et al. Single-cell profiling identifies myeloid cell subsets with distinct fates during neuroinflammation. Science 363, eaat7554 (2019).

Masuda, T. et al. Novel Hexb-based tools for studying microglia in the CNS. Nat. Immunol. 21, 802–815 (2020).

Mrdjen, D. et al. High-dimensional single-cell mapping of central nervous system immune cells reveals distinct myeloid subsets in health, aging, and disease. Immunity 48, 380–395 (2018).

Masuda, T. et al. Spatial and temporal heterogeneity of mouse and human microglia at single-cell resolution. Nature 566, 388–392 (2019).

Hammond, T. R. et al. Single-cell RNA sequencing of microglia throughout the mouse lifespan and in the injured brain reveals complex cell-state changes. Immunity 50, 253–271 (2019).

Dasgupta, K. & Jeong, J. Developmental biology of the meninges. Genesis 57, e23288 (2019).

Munro, D. A. D. et al. CNS macrophages differentially rely on an intronic Csf1r enhancer for their development. Development 147, dev194449 (2020).

Zhao, Z., Nelson, A. R., Betsholtz, C. & Zlokovic, B. V. Establishment and dysfunction of the blood–brain barrier. Cell 163, 1064–1078 (2015).

Vanlandewijck, M. et al. A molecular atlas of cell types and zonation in the brain vasculature. Nature 554, 475–480 (2018).

Langen, U. H., Ayloo, S. & Gu, C. Development and cell biology of the blood–brain barrier. Annu. Rev. Cell Dev. Biol. 35, 591–613 (2019).

Corada, M. et al. Sox17 is indispensable for acquisition and maintenance of arterial identity. Nat. Commun. 4, 2609 (2013).

Zahr, A. et al. Endomucin prevents leukocyte-endothelial cell adhesion and has a critical role under resting and inflammatory conditions. Nat. Commun. 7, 10363 (2016).

Werner, Y. et al. Cxcr4 distinguishes HSC-derived monocytes from microglia and reveals monocyte immune responses to experimental stroke. Nat. Neurosci. 23, 351–362 (2020).

Ydens, E. et al. Profiling peripheral nerve macrophages reveals two macrophage subsets with distinct localization, transcriptome and response to injury. Nat. Neurosci. 23, 676–689 (2020).

Bertrand, J. Y. et al. Three pathways to mature macrophages in the early mouse yolk sac. Blood 106, 3004–3011 (2005).

Butler, A., Hoffman, P., Smibert, P., Papalexi, E. & Satija, R. Integrating single-cell transcriptomic data across different conditions, technologies, and species. Nat. Biotechnol. 36, 411–420 (2018).

Utz, S. G. et al. Early fate defines microglia and non-parenchymal brain macrophage development. Cell 181, 557–573 (2020).

Tay, T. L. et al. A new fate mapping system reveals context-dependent random or clonal expansion of microglia. Nat. Neurosci. 20, 793–803 (2017).

Michael, M. & Parsons, M. New perspectives on integrin-dependent adhesions. Curr. Opin. Cell Biol. 63, 31–37 (2020).

Calderwood, D. A., Campbell, I. D. & Critchley, D. R. Talins and kindlins: partners in integrin-mediated adhesion. Nat. Rev. Mol. Cell Biol. 14, 503–517 (2013).

Mastorakos, P. & McGavern, D. The anatomy and immunology of vasculature in the central nervous system. Sci. Immunol. 4, eaav0492 (2019).

Irmady, K., Zechel, S. & Unsicker, K. Fibroblast growth factor 2 regulates astrocyte differentiation in a region-specific manner in the hindbrain. Glia 59, 708–719 (2011).

Shoneye, T. et al. Differential proliferation and maturation of subcortical astrocytes during postnatal development. Front. Neurosci. 14, 435 (2020).

Daneman, R., Zhou, L., Kebede, A. A. & Barres, B. A. Pericytes are required for blood–brain barrier integrity during embryogenesis. Nature 468, 562–566 (2010).

Wang, Q., Zhao, N., Kennard, S. & Lilly, B. Notch2 and Notch3 function together to regulate vascular smooth muscle development. PLoS ONE 7, e37365 (2012).

Henshall, T. L. et al. Notch3 is necessary for blood vessel integrity in the central nervous system. Arterioscler. Thromb. Vasc. Biol. 35, 409–420 (2015).

Domenga, V. et al. Notch3 is required for arterial identity and maturation of vascular smooth muscle cells. Genes Dev. 18, 2730–2735 (2004).

Han, H. et al. Inducible gene knockout of transcription factor recombination signal binding protein-J reveals its essential role in T versus B lineage decision. Int. Immunol. 14, 637–645 (2002).

Wirth, A. et al. G12-G13–LARG-mediated signaling in vascular smooth muscle is required for salt-induced hypertension. Nat. Med. 14, 64–68 (2008).

Fouillade, C. et al. Transcriptome analysis for Notch3 target genes identifies Grip2 as a novel regulator of myogenic response in the cerebrovasculature. Arterioscler. Thromb. Vasc. Biol. 33, 76–86 (2013).

Sankowski, R., Monaco, G. & Prinz, M. Evaluating microglial phenotypes using single-cell technologies. Trends Neurosci. 45, 133–144 (2022).

de Boer, J. et al. Transgenic mice with hematopoietic and lymphoid specific expression of Cre. Eur. J. Immunol. 33, 314–325 (2003).

Petrich, B. G. et al. Talin is required for integrin-mediated platelet function in hemostasis and thrombosis. J. Exp. Med. 204, 3103–3111 (2007).

Dono, R., Texido, G., Dussel, R., Ehmke, H. & Zeller, R. Impaired cerebral cortex development and blood pressure regulation in FGF-2-deficient mice. EMBO J. 17, 4213–4225 (1998).

Mitchell, K. J. et al. Functional analysis of secreted and transmembrane proteins critical to mouse development. Nat. Genet. 28, 241–249 (2001).

Potocnik, A. J., Brakebusch, C. & Fassler, R. Fetal and adult hematopoietic stem cells require β1 integrin function for colonizing fetal liver, spleen, and bone marrow. Immunity 12, 653–663 (2000).

Feng, J. et al. IFN regulatory factor 8 restricts the size of the marginal zone and follicular B cell pools. J. Immunol. 186, 1458–1466 (2011).

Snippert, H. J. et al. Intestinal crypt homeostasis results from neutral competition between symmetrically dividing Lgr5 stem cells. Cell 143, 134–144 (2010).

Yu, W. M. et al. A Gata3-Mafb transcriptional network directs post-synaptic differentiation in synapses specialized for hearing. eLife 2, e01341 (2013).

Hashimshony, T. et al. CEL-Seq2: sensitive highly-multiplexed single-cell RNA-seq. Genome Biol. 17, 77 (2016).

Herman, J. S., Sagar, & Grun, D. FateID infers cell fate bias in multipotent progenitors from single-cell RNA-seq data. Nat. Methods 15, 379–386 (2018).

Li, H. & Durbin, R. Fast and accurate long-read alignment with Burrows–Wheeler transform. Bioinformatics 26, 589–595 (2010).

Baker, S. C. et al. The External RNA Controls Consortium: a progress report. Nat. Methods 2, 731–734 (2005).

Grun, D., Kester, L. & van Oudenaarden, A. Validation of noise models for single-cell transcriptomics. Nat. Methods 11, 637–640 (2014).

Picelli, S. et al. Full-length RNA-seq from single cells using Smart-seq2. Nat. Protoc. 9, 171–181 (2014).

Dobin, A. et al. STAR: ultrafast universal RNA-seq aligner. Bioinformatics 29, 15–21 (2013).

Harrow, J. et al. GENCODE: the reference human genome annotation for The ENCODE Project. Genome Res. 22, 1760–1774 (2012).

Ritchie, M. E. et al. limma powers differential expression analyses for RNA-sequencing and microarray studies. Nucleic Acids Res. 43, e47 (2015).

Paterson, N & Lämmermann, T. Macrophage network dynamics depend on haptokinesis for optimal local surveillance. eLife 11, e75354 (2022).

R Core Team. R: A Language and Environment for Statistical Computing http://www.R-project.org/ (R Foundation for Statistical Computing, 2020).
Acknowledgements
We thank E. Barleon and M. Fukuzaki for technical assistance and D. Grün and Sagar for their support with the preparation of the scRNA-seq data. We thank the Lighthouse Core Facility (LCF) for their support with cell sorting. LCF is funded in part by the Medical Faculty, University of Freiburg (Project numbers 2021/A2-Fol; 2021/B3-Fol) and the DFG (Project number 450392965). We are also grateful to R. Fässler and D. Critchley for providing mouse strains. T.M. was supported by AMED (JP20gm6310016 (PRIME), JP21wm0425001), JSPS (KAKENHI JP20K22687, JP21H02752, JP21H00204), the Kanae Foundation, the Naito Foundation, the Inamori Foundation and the Takeda Science Foundation. M.P. was supported by the Sobek Foundation, the Ernst Jung Foundation, the Novo Nordisk Prize, the DFG SFB 992 (Project ID 192904750), SFB1160 (Project ID 256073931), Reinhart-Koselleck-Grant (Project ID 279642606) and Gottfried Wilhelm Leibniz Prize, the Alzheimer Forschung Initiative e.V. (AFI) and the Ministry of Science, Research and Arts, Baden-Wuerttemberg (Sonderlinie 'Neuroinflammation'). This study was supported by the DFG under Germany's Excellence Strategy (CIBSS – EXC-2189 – Project ID 390939984). J.P. was supported by the UK DRI Momentum and Programme Leader Awards and the DFG SFB/TRR265. K.K. was supported by the Fritz Thyssen Foundation, by the DFG project grant (Project ID 432207796). K.K. and M.P. were supported by the DFG project grants within the CRC1479 (Project ID 441891347). K.K., K.-P.K., J.P., E.N., T.L. and M.P. were supported by the DFG-funded CRC/TRR167 'NeuroMac', Project ID 259373024. K.-P.K. was supported by the DFG GRK 2606 (Project ID 423813989). C.B. and U.L. were supported by the Swedish Brain Foundation and Erling-Persson Foundation. N.P. was supported by the DFG-funded project ID 89986987 (SFB 850).
Ethics declarations
Competing interests
The authors declare no competing interests.
Peer review
Peer review information
Nature thanks the anonymous reviewers for their contribution to the peer review of this work.
Additional information
Publisher's note Springer Nature remains neutral with regard to jurisdictional claims in published maps and institutional affiliations.
Extended data figures and tables
Supplementary information
This file contains Supplementary Figure 1.
Rights and permissions
Springer Nature or its licensor holds exclusive rights to this article under a publishing agreement with the author(s) or other rightsholder(s); author self-archiving of the accepted manuscript version of this article is solely governed by the terms of such publishing agreement and applicable law.
About this article
Cite this article
Masuda, T., Amann, L., Monaco, G. et al. Specification of CNS macrophage subsets occurs postnatally in defined niches. Nature 604, 740–748 (2022). https://doi.org/10.1038/s41586-022-04596-2
Received:

Accepted:

Published:

Issue Date:

DOI: https://doi.org/10.1038/s41586-022-04596-2
This article is cited by
Humberto Mestre
Natasha Verma
Rupal I. Mehta

Nature Communications (2022)
Comments
By submitting a comment you agree to abide by our Terms and Community Guidelines. If you find something abusive or that does not comply with our terms or guidelines please flag it as inappropriate.