Abstract
The brain consists of thousands of neuronal types that are generated by stem cells producing different neuronal types as they age. In Drosophila, this temporal patterning is driven by the successive expression of temporal transcription factors (tTFs)1,2,3,4,5,6. Here we used single-cell mRNA sequencing to identify the complete series of tTFs that specify most Drosophila optic lobe neurons. We verify that tTFs regulate the progression of the series by activating the next tTF(s) and repressing the previous one(s), and also identify more complex mechanisms of regulation. Moreover, we establish the temporal window of origin and birth order of each neuronal type in the medulla and provide evidence that these tTFs are sufficient to explain the generation of all of the neuronal diversity in this brain region. Finally, we describe the first steps of neuronal differentiation and show that these steps are conserved in humans. We find that terminal differentiation genes, such as neurotransmitter-related genes, are present as transcripts, but not as proteins, in immature larval neurons. This comprehensive analysis of a temporal series of tTFs in the optic lobe offers mechanistic insights into how tTF series are regulated, and how they can lead to the generation of a complete set of neurons.
Relevant articles
Open Access articles citing this article.
Mengmeng Ge

,

Amirhossein Sheikhshahrokh

…

Qing-Feng Wu

Neuroscience Bulletin Open Access 10 October 2022
Access options
Subscribe to Nature+
Get immediate online access to Nature and 55 other Nature journal
Subscribe to Journal
Get full journal access for 1 year
$199.00
only $3.90 per issue
All prices are NET prices.
VAT will be added later in the checkout.
Tax calculation will be finalised during checkout.
Buy article
Get time limited or full article access on ReadCube.
$32.00
All prices are NET prices.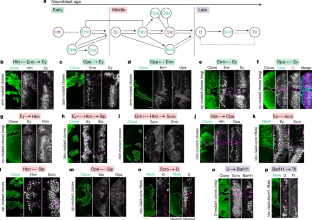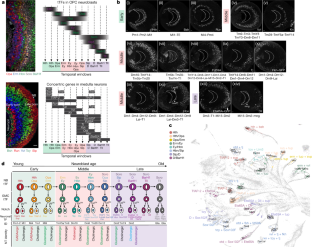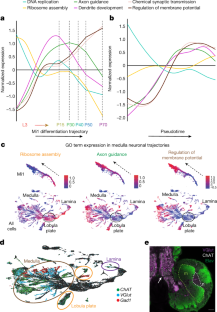 Data availability
All Drosophila raw and processed data referenced were uploaded to the GEO under accession number GSE167266. The human source data described in this manuscript are available at the PsychENCODE Knowledge Portal (https://psychencode.synapse.org/). The PsychENCODE Knowledge Portal is a platform for accessing data, analyses and tools generated through grants funded by the National Institute of Mental Health (NIMH) PsychENCODE programme. Data are available for general research use according to the requirements for data access and data attribution detailed online (https://psychencode.synapse.org/DataAccess). The content described in this manuscript is available online (https://doi.org/10.7303/syn24975927). The publicly available single-cell sequencing datasets that were used can be found at the GEO: GSE142787 (Drosophila pupal development), GSE118953 (mouse cortical radial glia) and GSE118614 (mouse retinal progenitors).
References
Pearson, B. J. & Doe, C. Q. Specification of temporal identity in the developing nervous system. Annu. Rev. Cell Dev. Biol. 20, 619–647 (2004).

Sato, M., Yasugi, T. & Trush, O. Temporal patterning of neurogenesis and neural wiring in the fly visual system. Neurosci. Res. 138, 49–58 (2019).

Doe, C. Q. Temporal patterning in the Drosophila CNS. Annu. Rev. Cell Dev. Biol. 33, 219–240 (2017).

Rossi, A. M., Fernandes, V. M. & Desplan, C. Timing temporal transitions during brain development. Curr. Opin. Neurobiol. 42, 84–92 (2017).

Holguera, I. & Desplan, C. Neuronal specification in space and time. Science 362, 176–180 (2018).

Azevedo, F. A. C. et al. Equal numbers of neuronal and nonneuronal cells make the human brain an isometrically scaled-up primate brain. J. Comp. Neurol. 513, 532–541 (2009).

Oberst, P., Agirman, G. & Jabaudon, D. Principles of progenitor temporal patterning in the developing invertebrate and vertebrate nervous system. Curr. Opin. Neurobiol. 56, 185–193 (2019).

Brody, T. & Odenwald, W. F. Programmed transformations in neuroblast gene expression during Drosophila CNS lineage development. Dev. Biol. 226, 34–44 (2000).

Pearson, B. J. & Doe, C. Q. Regulation of neuroblast competence in Drosophila. Nature 425, 624–628 (2003).

Isshiki, T., Pearson, B., Holbrook, S. & Doe, C. Q. Drosophila neuroblasts sequentially express transcription factors which specify the temporal identity of their neuronal progeny. Cell 106, 511–521 (2001).

Li, X. et al. Temporal patterning of Drosophila medulla neuroblasts controls neural fates. Nature 498, 456–462 (2013).

Elliott, J., Jolicoeur, C., Ramamurthy, V. & Cayouette, M. Ikaros confers early temporal competence to mouse retinal progenitor cells. Neuron 60, 26–39 (2008).

Mattar, P., Ericson, J., Blackshaw, S. & Cayouette, M. A conserved regulatory logic controls temporal identity in mouse neural progenitors. Neuron 85, 497–504 (2015).

Konstantinides, N., Rossi, A. M. & Desplan, C. Common temporal identity factors regulate neuronal diversity in fly ventral nerve cord and mouse retina. Neuron 85, 447–449 (2015).

Javed, A. et al. Pou2f1 and Pou2f2 cooperate to control the timing of cone photoreceptor production in the developing mouse retina. Development 147, dev188730 (2020).

Alsiö, J. M. et al. Ikaros promotes early-born neuronal fates in the cerebral cortex. Proc. Natl Acad. Sci. USA 110, E716–E725 (2013).

Fischbach, K. F. & Dittrich, A. P. The optic lobe of Drosophila melanogaster. I. A Golgi analysis of wild-type structure. Cell Tissue Res. 258, 441–445 (1989).

Konstantinides, N. et al. Phenotypic convergence: distinct transcription factors regulate common terminal features. Cell 174, 622–635 (2018).

Özel, M. N. et al. Neuronal diversity and convergence in a visual system developmental atlas. Nature 589, 88–95 (2020).

Kurmangaliyev, Y. Z., Yoo, J., Valdes-Aleman, J., Sanfilippo, P. & Zipursky, S. L. Transcriptional programs of circuit assembly in the Drosophila visual system. Neuron 108, 1045–1057 (2020).

Nériec, N. & Desplan, C. From the eye to the brain: development of the Drosophila visual system. Curr. Top. Dev. Biol. 116, 247–271 (2016).

Ngo, K. T., Andrade, I. & Hartenstein, V. Spatio-temporal pattern of neuronal differentiation in the Drosophila visual system: a user's guide to the dynamic morphology of the developing optic lobe. Dev. Biol. 428, 1–24 (2017).

Suzuki, T., Kaido, M., Takayama, R. & Sato, M. A temporal mechanism that produces neuronal diversity in the Drosophila visual center. Dev. Biol. 380, 12–24 (2013).

McInnes, L., Healy, J. & Melville, J. UMAP: uniform manifold approximation and projection for dimension reduction. Preprint at https://arxiv.org/abs/1802.03426 (2018).

Erclik, T. et al. Integration of temporal and spatial patterning generates neural diversity. Nature 541, 365–370 (2017).

Qiu, X. et al. Reversed graph embedding resolves complex single-cell trajectories. Nat. Methods 14, 979–982 (2017).

Lee, T. & Luo, L. Mosaic analysis with a repressible cell marker for studies of gene function in neuronal morphogenesis. Neuron 22, 451–461 (1999).

Erclik, T., Hartenstein, V., McInnes, R. R. & Lipshitz, H. D. Eye evolution at high resolution: the neuron as a unit of homology. Dev. Biol. 332, 70–79 (2009).

Hasegawa, E. et al. Concentric zones, cell migration and neuronal circuits in the Drosophila visual center. Development 138, 983–993 (2011).

Mark, B. et al. A developmental framework linking neurogenesis and circuit formation in the Drosophila CNS. eLife 10, e67510 (2021).

Noctor, S. C., Martínez-Cerdeño, V., Ivic, L. & Kriegstein, A. R. Cortical neurons arise in symmetric and asymmetric division zones and migrate through specific phases. Nat. Neurosci. 7, 136–144 (2004).

Sagner, A. & Briscoe, J. Establishing neuronal diversity in the spinal cord: a time and a place. Development 146, dev182154 (2019).

Sagner, A. et al. A shared transcriptional code orchestrates temporal patterning of the central nervous system. PLoS Biol. 19, e3001450 (2021).

Telley, L. et al. Temporal patterning of apical progenitors and their daughter neurons in the developing neocortex. Science 364, eaav2522 (2019).

Clark, B. S. et al. Single-cell RNA-seq analysis of retinal development identifies NFI factors as regulating mitotic exit and late-born cell specification. Neuron 102, 1111–1126 (2019).

Cepko, C. Intrinsically different retinal progenitor cells produce specific types of progeny. Nat. Rev. Neurosci. 15, 615–627 (2014).

Abdusselamoglu, M. D., Eroglu, E., Burkard, T. R. & Knoblich, J. A. The transcription factor odd-paired regulates temporal identity in transit-amplifying neural progenitors via an incoherent feed-forward loop. eLife 8, e46566 (2019).

Chen, Z. et al. A unique class of neural progenitors in the Drosophila optic lobe generates both migrating neurons and glia. Cell Rep. 15, 774–786 (2016).

Ferreira, A. A. G., Sieriebriennikov, B. & Whitbeck, H. HCR RNA-FISH protocol for the whole-mount brains of Drosophila and other insects. Protocols.io, https://doi.org/10.17504/protocols.io.bzh5p386 (2021).

Davis, F. P. et al. A genetic, genomic, and computational resource for exploring neural circuit function. eLife 9, e50901 (2020).

Naidu, V. G. et al. Temporal progression of Drosophila medulla neuroblasts generates the transcription factor combination to control T1 neuron morphogenesis. Dev. Biol. 464, 35–44 (2020).

Stoeckius, M. et al. Cell hashing with barcoded antibodies enables multiplexing and doublet detection for single cell genomics. Genome Biol. 19, 224 (2018).

Southall, T. et al. Cell-type-specific profiling of gene expression and chromatin binding without cell isolation: assaying RNA pol II occupancy in neural stem cells. Dev. Cell 26, 101–112 (2013).

Gold, K. S. & Brand, A. H. Optix defines a neuroepithelial compartment in the optic lobe of the Drosophila brain. Neural Dev. 9, 18 (2014).

Guillermin, O., Perruchoud, B., Sprecher, S. G. & Egger, B. Characterization of tailless functions during Drosophila optic lobe formation. Dev. Biol. 405, 202–213 (2015).

Chotard, C., Leung, W. & Salecker, I. glial cells missing and gcm2 cell autonomously regulate both glial and neuronal development in the visual system of Drosophila. Neuron 48, 237–251 (2005).

Shiau, F., Ruzycki, P. A. & Clark, B. S. A single-cell guide to retinal development: cell fate decisions of multipotent retinal progenitors in scRNA-seq. Dev. Biol. 478, 41–58 (2021).
Acknowledgements
We thank the members of the fly community; C.-Y. Lee, D. Hursh, J. Nambu, A. Tomlinson and M. Kurusu for fly lines; P. Gergen, K. Choi, H. Aberle, D. Godt, J. Skeath, R. Mann and T. Cook for antibodies; the members of the Desplan laboratory and S. Aerts for feedback on the manuscript, as well as R. Miyares and T. Lee for the reviewing process; S. Córdoba for the optic lobe illustration in Fig. 1a; and K. Hossain and A. Tadros for help with preliminary experiments. This work was supported by NIH grant EY019716 and EY10312 to C.D. N.K. was supported by the National Eye Institute (K99 EY029356-01). I.H. was supported by an HFSP postdoctoral fellowship (LT000757/2017-L) and by the Kimmel Center for Stem Cell Biology Senior Postdoctoral Fellowship. A.M.R. was supported by funding from NIH (T32 HD007520), and by NYU's Dean's Dissertation Fellowship. A.M.M.J. was supported by the NYU SURP program. M.N.O. is a Leon Levy Neuroscience Fellow.
Ethics declarations
Competing interests
The authors declare no competing interests.
Peer review
Peer review information
Nature thanks Tzumin Lee and the other, anonymous, reviewer(s) for their contribution to the peer review of this work. Peer reviewer reports are available.
Additional information
Publisher's note Springer Nature remains neutral with regard to jurisdictional claims in published maps and institutional affiliations.
Extended data figures and tables
Supplementary information
About this article
Cite this article
Konstantinides, N., Holguera, I., Rossi, A.M. et al. A complete temporal transcription factor series in the fly visual system. Nature 604, 316–322 (2022). https://doi.org/10.1038/s41586-022-04564-w
Received:

Accepted:

Published:

Issue Date:

DOI: https://doi.org/10.1038/s41586-022-04564-w
This article is cited by
Mengmeng Ge
Amirhossein Sheikhshahrokh
Qing-Feng Wu

Neuroscience Bulletin (2022)
Comments
By submitting a comment you agree to abide by our Terms and Community Guidelines. If you find something abusive or that does not comply with our terms or guidelines please flag it as inappropriate.