Abstract
Methane (CH4), the most abundant hydrocarbon in the atmosphere, originates largely from biogenic sources1 linked to an increasing number of organisms occurring in oxic and anoxic environments. Traditionally, biogenic CH4 has been regarded as the final product of anoxic decomposition of organic matter by methanogenic archaea. However, plants2,3, fungi4, algae5 and cyanobacteria6 can produce CH4 in the presence of oxygen. Although methanogens are known to produce CH4 enzymatically during anaerobic energy metabolism7, the requirements and pathways for CH4 production by non-methanogenic cells are poorly understood. Here, we demonstrate that CH4 formation by Bacillus subtilis and Escherichia coli is triggered by free iron and reactive oxygen species (ROS), which are generated by metabolic activity and enhanced by oxidative stress. ROS-induced methyl radicals, which are derived from organic compounds containing sulfur- or nitrogen-bonded methyl groups, are key intermediates that ultimately lead to CH4 production. We further show CH4 production by many other model organisms from the Bacteria, Archaea and Eukarya domains, including in several human cell lines. All these organisms respond to inducers of oxidative stress by enhanced CH4 formation. Our results imply that all living cells probably possess a common mechanism of CH4 formation that is based on interactions among ROS, iron and methyl donors, opening new perspectives for understanding biochemical CH4 formation and cycling.
Relevant articles
Open Access articles citing this article.
Leonard Ernst

,

Uladzimir Barayeu

…

Johannes G. Rebelein

Nature Communications Open Access 01 August 2023

César Ordóñez

,

Tonya DelSontro

…

Daniel F. McGinnis

Nature Communications Open Access 15 April 2023

Teona Taseska

,

Wanqing Yu

…

Astrid M. Müller

Topics in Catalysis Open Access 11 March 2023
Access options
Access Nature and 54 other Nature Portfolio journals
Get Nature+, our best-value online-access subscription
$29.99 / 30 days
cancel any time
Subscribe to this journal
Receive 51 print issues and online access
$199.00 per year
only $3.90 per issue
Rent or buy this article
Prices vary by article type
from$1.95
to$39.95
Prices may be subject to local taxes which are calculated during checkout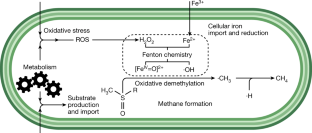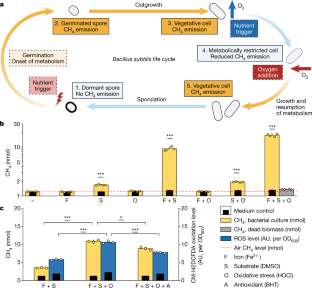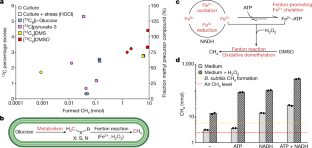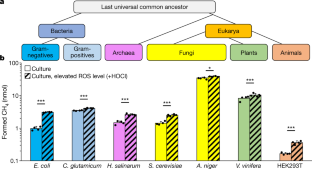 Data availability
The data reported in this paper are available in the Supplementary Information provided with this paper and on request from the corresponding authors. Source data are provided with this paper.
References
Saunois, M. et al. The global methane budget 2000–2017. Earth Syst. Sci. Data 12, 1561–1623 (2020).

Keppler, F., Hamilton, J. T. G., Braß, M. & Röckmann, T. Methane emissions from terrestrial plants under aerobic conditions. Nature 439, 187–191 (2006).

McLeod, A. R. et al. Ultraviolet radiation drives methane emissions from terrestrial plant pectins. New Phytol. 180, 124–132 (2008).

Lenhart, K. et al. Evidence for methane production by saprotrophic fungi. Nat. Commun. 3, 1046 (2012).

Klintzsch, T. et al. Methane production by three widespread marine phytoplankton species: release rates, precursor compounds, and potential relevance for the environment. Biogeosciences 16, 4129–4144 (2019).

Bižić, M. et al. Aquatic and terrestrial cyanobacteria produce methane. Sci. Adv. 6, eaax5343 (2020).

Thauer, R. K. Methyl (alkylalkyl)-coenzyme M reductases: nickel F-430-containing enzymes involved in anaerobic methane formation and in anaerobic oxidation of methane or of short chain alkanes. Biochemistry 58, 5198–5220 (2019).

Conrad, R. The global methane cycle: recent advances in understanding the microbial processes involved. Env. Microbiol. Rep. 1, 285–292 (2009).

DeLong, E. F. Exploring marine planktonic archaea: then and now. Front. Microbiol. 11, 3527 (2021).

Vorholt, J., Kunow, J., Stetter, K. O. & Thauer, R. K. Enzymes and coenzymes of the carbon monoxide dehydrogenase pathway for autotrophic CO2 fixation in Archaeoglobus lithotrophicus and the lack of carbon monoxide dehydrogenase in the heterotrophic A. profundus. Arch. Microbiol. 163, 112–118 (1995).

Hartmann, J. F. et al. High spatiotemporal dynamics of methane production and emission in oxic surface water. Environ. Sci. Technol. 54, 1451–1463 (2020).

Kamat, S. S., Williams, H. J., Dangott, L. J., Chakrabarti, M. & Raushel, F. M. The catalytic mechanism for aerobic formation of methane by bacteria. Nature 497, 132–136 (2013).

Metcalf, W. W. et al. Synthesis of methylphosphonic acid by marine microbes: a source for methane in the aerobic ocean. Science 337, 1104–1107 (2012).

Zheng, Y. et al. A pathway for biological methane production using bacterial iron-only nitrogenase. Nat. Microbiol. 3, 281–286 (2018).

North, J. A. et al. A nitrogenase-like enzyme system catalyzes methionine, ethylene, and methane biogenesis. Science 369, 1094–1098 (2020).

Wang, Q. et al. Aerobic bacterial methane synthesis. Proc. Natl Acad. Sci. USA 118, e2019229118 (2021).

Postgate, J. R. Methane as a minor product of pyruvate metabolism by sulphate-reducing and other bacteria. J. Gen. Microbiol. 57, 293–302 (1969).

Althoff, F. et al. Abiotic methanogenesis from organosulphur compounds under ambient conditions. Nat. Commun. 5, 4205 (2014).

Enami, S., Sakamoto, Y. & Colussi, A. J. Fenton chemistry at aqueous interfaces. Proc. Natl Acad. Sci. USA 111, 623–628 (2014).

Mittler, R. ROS are good. Trends Plant Sci. 22, 11–19 (2017).

Braun, V. & Hantke, K. Recent insights into iron import by bacteria. Curr. Opin. Chem. Biol. 15, 328–334 (2011).

Dunbar, K. L., Scharf, D. H., Litomska, A. & Hertweck, C. Enzymatic carbon–sulfur bond formation in natural product biosynthesis. Chem. Rev. 117, 5521–5577 (2017).

Wax, R. & Freese, E. Initiation of the germination of Bacillus subtilis spores by a combination of compounds in place of l-alanine. J. Bacteriol. 95, 433–438 (1968).

Ewing, D. The effects of dimethylsulfoxide (DMSO) on the radiation sensitivity of bacterial spores. Radiat. Res. 90, 348–355 (1982).

Setlow, B., Melly, E. & Setlow, P. Properties of spores of Bacillus subtilis blocked at an intermediate stage in spore germination. J. Bacteriol. 183, 4894–4899 (2001).

Candeias, L. P., Stratford, M. R. L. & Wardman, P. Formation of hydroxyl radicals on reaction of hypochlorous acid with ferrocyanide, a model iron(II) complex. Free Radical Res. 20, 241–249 (2009).

Bruskov, V. I., Masalimov, Z. K. & Chernikov, A. V. Heat-induced generation of reactive oxygen species in water. Dokl. Biochem. Biophys. 384, 181–184 (2002).

Foyer, C. H. & Noctor, G. Ascorbate and glutathione: the heart of the redox hub. Plant Physiol. 155, 2–18 (2011).

Rush, J. D. & Koppenol, W. H. Reactions of Fe(II)–ATP and Fe(II)–citrate complexes with t-butyl hydroperoxide and cumyl hydroperoxide. FEBS Lett. 275, 114–116 (1990).

Wongnate, T. et al. The radical mechanism of biological methane synthesis by methyl-coenzyme M reductase. Science 352, 953–958 (2016).

Ross, M. O. & Rosenzweig, A. C. A tale of two methane monooxygenases. J. Biol. Inorg. Chem. 22, 307–319 (2016).

Mols, M. & Abee, T. Primary and secondary oxidative stress in Bacillus. Environ. Microbiol. 13, 1387–1394 (2011).

Wishkerman, A. et al. Enhanced formation of methane in plant cell cultures by inhibition of cytochrome c oxidase. Plant Cell Environ. 34, 457–464 (2011).

Tuboly, E. et al. Methane biogenesis during sodium azide-induced chemical hypoxia in rats. Am. J. Physiol. Cell Physiol. 304, 207–214 (2013).

Klintzsch, T. et al. Effects of temperature and light on methane production of widespread marine phytoplankton. J. Geophys. Res. Biogeosci. 125, e2020JG005793 (2020).

Polag, D., Leiß, O. & Keppler, F. Age dependent breath methane in the German population. Sci. Total Environ. 481, 582–587 (2014).

Zhang, X. et al. Methane limit LPS-induced NF-κB/MAPKs signal in macrophages and suppress immune response in mice by enhancing PI3K/AKT/GSK-3β-mediated IL-10 expression. Sci. Rep. 6, 293591 (2016).

Qaderi, M. M. & Reid, D. M. Methane emissions from six crop species exposed to three components of global climate change: temperature, ultraviolet-B radiation and water stress. Physiol. Plant 137, 139–147 (2009).

Brüggemann, N. et al. Nonmicrobial aerobic methane emission from poplar shoot cultures under low-light conditions. New Phytol. 182, 912–918 (2009).

Harwood, C. R. & Cutting, S. M. (eds) Molecular Biological Methods for Bacillus. Vol. 1 (John Wiley & Sons, 1990).

Mutlu, A. et al. Phenotypic memory in Bacillus subtilis links dormancy entry and exit by a spore quantity–quality tradeoff. Nat. Commun. 9, 69 (2018).
Acknowledgements
We thank M. Schneider, M. Schroll, J. Hädeler, I. Ralenekova, M. Greule, B. Knape, S. Rheinberger, C. Kaspar, Y. Gietz, C. Walter, E. Wiedtke, N. Fischer and L. Dietz for technical support; T. Erb, S. Greiner, M. Baumgart, M. Knop and R. Fischer for providing strains (affiliations included in the Supplementary information); R. Thauer for providing critical comments; and P. Hardy and J. Hamilton for editing the manuscript. Figures 1, 2a and 3b,c, Extended Data Fig. 6 and Supplementary Fig. 7a were created with BioRender.com. This work was supported by funds from the Max Planck Society (I.B.B., J.G.R., L.E., B.S.), Friedrich Naumann Foundation (L.E.) and the Landesgraduiertenstiftung Baden-Württemberg (B.S.). L.E., J.G.R., F.K., T.K. and D.G. were supported by the German Research Foundation (DFG; 446841743, KE 884/8-2 and KE 884/16-2). The EPR core facility was supported by 3DMM2O–Cluster of Excellence (EXC-2082/1–390761711) at Heidelberg University.
Ethics declarations
Competing interests
The authors declare no competing interests.
Peer review
Peer review information
Nature thanks Stephen Ragsdale, Marc Strous, David Valentine and Jingyao Zhang for their contribution to the peer review of this work. Peer reviewer reports are available.
Additional information
Publisher's note Springer Nature remains neutral with regard to jurisdictional claims in published maps and institutional affiliations.
Extended data figures and tables
Supplementary information
About this article
Cite this article
Ernst, L., Steinfeld, B., Barayeu, U. et al. Methane formation driven by reactive oxygen species across all living organisms. Nature 603, 482–487 (2022). https://doi.org/10.1038/s41586-022-04511-9
Received:

Accepted:

Published:

Issue Date:

DOI: https://doi.org/10.1038/s41586-022-04511-9
Comments
By submitting a comment you agree to abide by our Terms and Community Guidelines. If you find something abusive or that does not comply with our terms or guidelines please flag it as inappropriate.