Abstract
The natural habitats of microorganisms in the human microbiome, ocean and soil ecosystems are full of colloids and macromolecules. Such environments exhibit non-Newtonian flow properties, drastically affecting the locomotion of microorganisms1,2,3,4,5. Although the low-Reynolds-number hydrodynamics of swimming flagellated bacteria in simple Newtonian fluids has been well developed6,7,8,9, our understanding of bacterial motility in complex non-Newtonian fluids is less mature10,11. Even after six decades of research, fundamental questions about the nature and origin of bacterial motility enhancement in polymer solutions are still under debate12,13,14,15,16,17,18,19,20,21,22,23. Here we show that flagellated bacteria in dilute colloidal suspensions display quantitatively similar motile behaviours to those in dilute polymer solutions, in particular a universal particle-size-dependent motility enhancement up to 80% accompanied by a strong suppression of bacterial wobbling18,24. By virtue of the hard-sphere nature of colloids, whose size and volume fraction we vary across experiments, our results shed light on the long-standing controversy over bacterial motility enhancement in complex fluids and suggest that polymer dynamics may not be essential for capturing the phenomenon12,13,14,15,16,17,18,19,20,21,22,23. A physical model that incorporates the colloidal nature of complex fluids quantitatively explains bacterial wobbling dynamics and mobility enhancement in both colloidal and polymeric fluids. Our findings contribute to the understanding of motile behaviours of bacteria in complex fluids, which are relevant for a wide range of microbiological processes25 and for engineering bacterial swimming in complex environments26,27.
This is a preview of subscription content
Access options
Subscribe to Nature+
Get immediate online access to the entire Nature family of 50+ journals
Subscribe to Journal
Get full journal access for 1 year
$199.00
only $3.90 per issue
All prices are NET prices.
VAT will be added later in the checkout.
Tax calculation will be finalised during checkout.
Buy article
Get time limited or full article access on ReadCube.
$32.00
All prices are NET prices.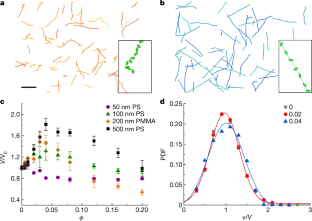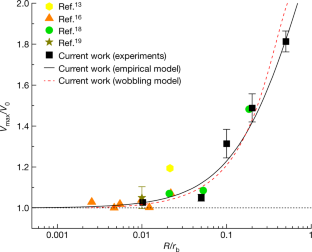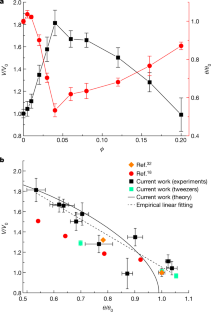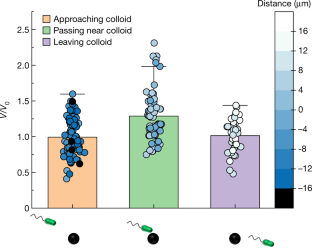 Code availability
The codes used for tracking bacterial swimming speeds and wobble angles are available from the University of Minnesota Data Repository: https://doi.org/10.13020/nfr5-te36.
References
Celli, J. P. et al. Helicobacter pylori moves through mucus by reducing mucin viscoelasticity. Proc. Natl Acad. Sci. USA 106, 14321–14326 (2009).

Suarez, S. S. & Pacey, A. A. Sperm transport in the female reproductive tract. Hum. Reprod. Update 12, 23–37 (2006).

Wells, M. L. & Goldberg, E. D. Occurrence of small colloids in sea water. Nature 353, 342–344 (1991).

Verdugo, P. et al. The oceanic gel phase: a bridge in the DOM–POM continuum. Mar. Chem. 92, 67–85 (2004).

Azam, F. & Malfatti, F. Microbial structuring of marine ecosystems. Nat. Rev. Microbiol. 5, 782–791 (2007).

Lauga, E. & Powers, T. R. The hydrodynamics of swimming microorganisms. Rep. Prog. Phys. 72, 096601 (2009).

Childress, S. Mechanics of Swimming and Flying (Cambridge Univ. Press, 1981).

Berg, H. C. E. coli in Motion (Springer, 2004).

Lauga, E. Bacterial hydrodynamics. Annu. Rev. Fluid Mech. 48, 105–130 (2016).

Elfring, G. J. & Lauga, E. in Complex Fluids in Biological Systems (ed. Spagnolie, S.) 283–317 (Springer, 2015).

Patteson, A. E., Gopinath, A. & Arratia, P. E. Active colloids in complex fluids. Curr. Opin. Colloid Interf. Sci. 21, 86–96 (2016).

Shoesmith, J. G. The measurement of bacterial motility. Microbiology 22, 528–535 (1960).

Schneider, W. R. & Doetsch, R. N. Effect of viscosity on bacterial motility. J. Bacteriol. 117, 696–701 (1974).

Berg, H. C. & Turner, L. Movement of microorganisms in viscous environments. Nature 278, 349–351 (1979).

Magariyama, Y. & Kudo, S. A mathematical explanation of an increase in bacterial swimming speed with viscosity in linear-polymer solutions. Biophys. J. 83, 733–739 (2002).

Martinez, V. A. et al. Flagellated bacterial motility in polymer solutions. Proc. Natl Acad. Sci. USA 111, 17771–17776 (2014).

Zhang, Y., Li, G. & Ardekani, A. M. Reduced viscosity for flagella moving in a solution of long polymer chains. Phys. Rev. Fluids 3, 023101 (2018).

Patteson, A. E., Gopinath, A., Goulian, M. & Arratia, P. E. Running and tumbling with E. coli in polymeric solutions. Sci. Rep. 5, 15761 (2015).

Qu, Z., Temel, F. Z., Henderikx, R. & Breuer, K. S. Changes in the flagellar bundling time account for variations in swimming behavior of flagellated bacteria in viscous media. Proc. Natl Acad. Sci. USA 115, 1707–1712 (2018).

Qu, Z. & Breuer, K. S. Effects of shear-thinning viscosity and viscoelastic stresses on flagellated bacteria motility. Phys. Rev. Fluids 5, 073103 (2020).

Zöttl, A. & Yeomans, J. M. Enhanced bacterial swimming speeds in macromolecular polymer solutions. Nat. Phys. 15, 554–558 (2019).

Binagia, J. P., Phoa, A., Housiadas, K. D. & Shaqfeh, E. S. G. Swimming with swirl in a viscoelastic fluid. J. Fluid Mech. 900, A4 (2020).

Man, Y. & Lauga, E. Phase-separation models for swimming enhancement in complex fluids. Phys. Rev. E 92, 023004 (2015).

Hyon, Y., Marcos, Powers, T. R., Stocker, R. & Fu, H. C. The wiggling trajectories of bacteria. J. Fluid Mech. 705, 58–76 (2012).

Hibbing, M. E., Fuqua, C., Parsek, M. R. & Peterson, S. B. Bacterial competition: surviving and thriving in the microbial jungle. Nat. Rev. Microbiol. 8, 15–25 (2010).

Nelson, B. J., Kaliakatsos, I. K. & Abbott, J. J. Microrobots for minimally invasive medicine. Annu. Rev. Biomed. Eng. 12, 55–85 (2010).

Bechinger, C. et al. Active particles in complex and crowded environments. Rev. Mod. Phys. 88, 045006 (2016).

Peng, Y., Liu, Z. & Cheng, X. Imaging the emergence of bacterial turbulence: phase diagram and transition kinetics. Sci. Adv. 7, eabd1240 (2021).

Liu, Z., Zeng, W., Ma, X. & Cheng, X. Density fluctuations and energy spectra of 3D bacterial suspensions. Soft Matter 17, 10806–10817 (2021).

Lauga, E., DiLuzio, W. R., Whitesides, G. M. & Stone, H. A. Swimming in circles: motion of bacteria near solid boundaries. Biophys. J. 90, 400–412 (2006).

Hiemenz, P. C. & Lodge, T. Polymer Chemistry 2nd edn (CRC Press, 2007).

Darnton, N. C., Turner, L., Rojevsky, S. & Berg, H. C. On torque and tumbling in swimming Escherichia coli. J. Bacteriol. 189, 1756–1764 (2007).

Macosko, C. W. Rheology: Principles, Measurements, and Applications (VCH, 1994).

Jeffrey, D. J. & Onishi, Y. Calculation of the resistance and mobility functions for two unequal rigid spheres in low-Reynolds-number flow. J. Fluid Mech. 139, 261–290 (1984).

Zhang, B. K., Leishangthem, P. K., Ding, Y. & Xu, X. L. An effective and efficient model of the near-field hydrodynamic interactions for active suspensions of bacteria. Proc. Natl Acad. Sci. USA 118, e2100145118 (2021).

Li, G., Tam, L.-K. & Tang, J. X. Amplified effect of Brownian motion in bacterial near-surface swimming. Proc. Natl Acad. Sci. USA 105, 18355–18359 (2008).

Block, S. M., Blair, D. F. & Berg, H. C. Compliance of bacterial flagella measured with optical tweezers. Nature 338, 514–518 (1989).

Berg, H. C. & Brown, D. A. Chemotaxis in Escherichia coli analysed by three-dimensional tracking. Nature 239, 500–504 (1972).

Crenshaw, H. C. A new look at locomotion in microorganisms: rotating and translating. Am. Zool. 36, 608–618 (1996).

Rossi, M., Cicconofri, G., Beran, A., Noselli, G. & DeSimone, A. Kinematics of flagellar swimming in Euglena gracilis: helical trajectories and flagellar shapes. Proc. Natl Acad. Sci. USA 114, 13085–13090 (2017).

Cortese, D. & Wan, K. Y. Control of helical navigation by three-dimensional flagellar beating. Phys. Rev. Lett. 126, 088003 (2021).

Shimogonya, Y. et al. Torque-induced precession of bacterial flagella. Sci. Rep. 5, 18488 (2015).

Poon, W. C. K., Weeks, E. R. & Royall, C. P. On measuring colloidal volume fractions. Soft Matter 8, 21–30 (2012).

Crocker, J. C. & Grier, D. G. Methods of digital video microscopy for colloidal studies. J. Colloid Interf. Sci. 179, 298–310 (1996).
Acknowledgements
We thank P. Agrawal, S. Ghosh, Y. Kim, Z. Liu, R. Patel and G. Pradipta for help with experiments and data analysis and S. Guo, P. Kolliopoulos, E. Lauga, Y. Man and Z. Qu for fruitful discussions. We would also like to acknowledge the late Professor Howard Berg, who answered our questions on E. coli mutant strains. This research is supported by the IPRIME program of University of Minnesota, and by the US National Science Foundation CBET-1702352 and 2028652. X.X. acknowledges the financial support from National Natural Science Foundation of China no. 11974038 and no. U1930402. Portions of this work were conducted in the Minnesota Nano Center, which is supported by the US National Science Foundation through the National Nano Coordinated Infrastructure Network (NNCI) under award number ECCS-2025124.
Ethics declarations
Competing interests
The authors declare no competing interests.
Peer review
Peer review information
Nature thanks Paulo Arratia and the other, anonymous, reviewer(s) for their contribution to the peer review of this work. Peer reviewer reports are available.
Additional information
Publisher's note Springer Nature remains neutral with regard to jurisdictional claims in published maps and institutional affiliations.
Extended data figures and tables
Supplementary information
Supplementary text presenting a summary of our experimental finding and a detailed description and derivation of our model.
Supplementary Video The swimming of a bacterium near a colloid held in an optical trap. The radius of the colloid is 1.5 μm. The data points on the right show the swimming speed of bacteria (red squares) and the orientation of the bacterium with respect to the local tangential direction of the bacterial trajectory (black squares). Playing at 0.5× speed, the video shows the simultaneous increase of bacterial swimming speed and reduction of bacterial wobbling when the bacterium swims near to the colloid (the green region).
About this article
Cite this article
Kamdar, S., Shin, S., Leishangthem, P. et al. The colloidal nature of complex fluids enhances bacterial motility. Nature 603, 819–823 (2022). https://doi.org/10.1038/s41586-022-04509-3
Received:

Accepted:

Published:

Issue Date:

DOI: https://doi.org/10.1038/s41586-022-04509-3
Comments
By submitting a comment you agree to abide by our Terms and Community Guidelines. If you find something abusive or that does not comply with our terms or guidelines please flag it as inappropriate.