Abstract
Infections of the central nervous system are among the most serious infections1,2, but the mechanisms by which pathogens access the brain remain poorly understood. The model microorganism Listeria monocytogenes (Lm) is a major foodborne pathogen that causes neurolisteriosis, one of the deadliest infections of the central nervous system3,4. Although immunosuppression is a well-established host risk factor for neurolisteriosis3,5, little is known about the bacterial factors that underlie the neuroinvasion of Lm. Here we develop a clinically relevant experimental model of neurolisteriosis, using hypervirulent neuroinvasive strains6 inoculated in a humanized mouse model of infection7, and we show that the bacterial surface protein InlB protects infected monocytes from Fas-mediated cell death by CD8+ T cells in a manner that depends on c-Met, PI3 kinase and FLIP. This blockade of specific anti-Lm cellular immune killing lengthens the lifespan of infected monocytes, and thereby favours the transfer of Lm from infected monocytes to the brain. The intracellular niche that is created by InlB-mediated cell-autonomous immune resistance also promotes Lm faecal shedding, which accounts for the selection of InlB as a core virulence gene of Lm. We have uncovered a specific mechanism by which a bacterial pathogen confers an increased lifespan to the cells it infects by rendering them resistant to cell-mediated immunity. This promotes the persistence of Lm within the host, its dissemination to the central nervous system and its transmission.
Relevant articles
Open Access articles citing this article.
Rupert L. Mayer

,

Rein Verbeke

…

Francis Impens

Nature Communications Open Access 14 October 2022
Access options
Subscribe to Nature+
Get immediate online access to Nature and 55 other Nature journal
Subscribe to Journal
Get full journal access for 1 year
$199.00
only $3.90 per issue
All prices are NET prices.
VAT will be added later in the checkout.
Tax calculation will be finalised during checkout.
Buy article
Get time limited or full article access on ReadCube.
$32.00
All prices are NET prices.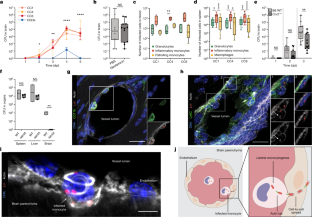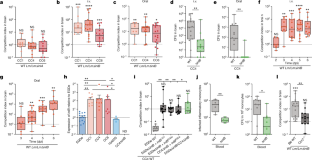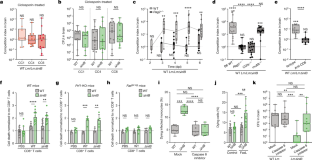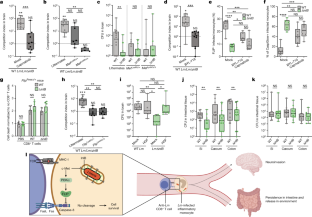 Data availability
The datasets generated and/or analysed during this study are available as Source Data. Source data are provided with this paper.
References
Schuchat, A. et al. Bacterial meningitis in the United States in 1995. N. Engl. J. Med. 337, 970–976 (1997).

van de Beek, D. et al. Clinical features and prognostic factors in adults with bacterial meningitis. N. Engl. J. Med. 351, 1849–1859 (2004).

Charlier, C. et al. Clinical features and prognostic factors of listeriosis: the MONALISA national prospective cohort study. Lancet Infect. Dis. 17, 510–519 (2017).

Mailles, A. & Stahl, J. Infectious encephalitis in France in 2007: a national prospective study. Clin. Infect. Dis. 49, 1838–1847 (2009).

Skogberg, K. et al. Clinical presentation and outcome of listeriosis in patients with and without immunosuppressive therapy. Clin. Infect. Dis. 14, 815–821 (1992).

Maury, M. M. et al. Uncovering Listeria monocytogenes hypervirulence by harnessing its biodiversity. Nat. Genet. 48, 308–313 (2016).

Disson, O. et al. Conjugated action of two species-specific invasion proteins for fetoplacental listeriosis. Nature 455, 1114–1118 (2008).

Drevets, D. A., Jelinek, T. A. & Freitag, N. E. Listeria monocytogenes-infected phagocytes can initiate central nervous system infection in mice. Infect. Immun. 69, 1344–1350 (2001).

Join-Lambert, O. F. et al. Listeria monocytogenes-infected bone marrow myeloid cells promote bacterial invasion of the central nervous system. Cell. Microbiol. 7, 167–180 (2005).

Cantinelli, T. et al. "Epidemic clones" of Listeria monocytogenes are widespread and ancient clonal groups. J. Clin. Microbiol. 51, 3770–3779 (2013).

Bécavin, C. et al. Comparison of widely used Listeria monocytogenes strains EGD, 10403S, and EGD-e highlights genomic variations underlying differences in pathogenicity. mBio 5, e00969-14 (2014).

Pizarro-Cerdá, J., Lecuit, M. & Cossart, P. in Molecular Cellular Microbiology Vol. 31 (eds Sansonetti, P. & Zychlinsky, A.) 161–177 (Academic Press, 2002).

Boring, L. et al. Impaired monocyte migration and reduced type 1 (Th1) cytokine responses in C-C chemokine receptor 2 knockout mice. J. Clin. Invest. 100, 2552–2561 (1997).

Kocks, C. et al. L. monocytogenes-induced actin assembly requires the actA gene product, a surface protein. Cell 68, 521–531 (1992).

Tilney, L. G. & Portnoy, D. A. Actin filaments and the growth, movement, and spread of the intracellular bacterial parasite, Listeria monocytogenes. J. Cell Biol. 109, 1597–1608 (1989).

Lecuit, M. et al. A transgenic model for listeriosis: role of internalin in crossing the intestinal barrier. Science 292, 1722–1725 (2001).

Moura, A. et al. Whole genome-based population biology and epidemiological surveillance of Listeria monocytogenes. Nat. Microbiol. 2, 16185 (2016).

Gaillard, J. L., Jaubert, F. & Berche, P. The inlAB locus mediates the entry of Listeria monocytogenes into hepatocytes in vivo. J. Exp. Med. 183, 359–369 (1996).

Braun, L. et al. InlB: an invasion protein of Listeria monocytogenes with a novel type of surface association. Mol. Microbiol. 25, 285–294 (1997).

Dramsi, S. et al. Entry of Listeria monocytogenes into hepatocytes requires expression of InIB, a surface protein of the internalin multigene family. Mol. Microbiol. 16, 251–261 (1995).

Lane, F. C. & Unanue, E. R. Requirement of thymus (T) lymphocytes for resistance to listeriosis. J. Exp. Med. 135, 1104–1112 (1972).

Schlüter, D. et al. Systemic immunization induces protective CD4+ and CD8+ T cell‐mediated immune responses in murine Listeria monocytogenes meningoencephalitis. Eur. J. Immunol. 25, 2384–2391 (1995).

Khanna, K. M., McNamara, J. T. & Lefrançois, L. In situ imaging of the endogenous CD8 T cell response to infection. Science 318, 116–120 (2007).

Doherty, P. Cell-mediated cytotoxicity. Cell 75, 607–612 (1993).

Muzio, M. et al. FLICE, a novel FADD-homologous ICE/CED-3-like protease, is recruited to the CD95 (Fas/APO-1) death-inducing signaling complex. Cell 85, 817–827 (1996).

Shen, Y., Naujokas, M., Park, M. & Ireton, K. InIB-dependent internalization of Listeria is mediated by the Met receptor tyrosine kinase. Cell 103, 501–510 (2000).

Bierne, H. et al. A role for cofilin and LIM kinase in Listeria-induced phagocytosis. J. Cell Biol. 155, 101 (2001).

Weidner, K. M. et al. Interaction between Gab1 and the c-Met receptor tyrosine kinase is responsible for epithelial morphogenesis. Nature 384, 173–176 (1996).

Bowers, D. C. et al. Scatter factor/hepatocyte growth factor protects against cytotoxic death in human glioblastoma via phosphatidylinositol 3-kinase- and AKT-dependent pathways. Cancer Res. 60, 4277–4283 (2000).

Xiao, G.-H. et al. Anti-apoptotic signaling by hepatocyte growth factor/Met via the phosphatidylinositol 3-kinase/Akt and mitogen-activated protein kinase pathways. Proc. Natl Acad. Sci. USA 98, 247–252 (2001).

Tsai, Y. H. L., Orsi, R. H., Nightingale, K. K. & Wiedmann, M. Listeria monocytogenes internalins are highly diverse and evolved by recombination and positive selection. Infect. Genet. Evol. 6, 378–389 (2006).

Louie, A., Zhang, T., Becattini, S., Waldor, M. K. & Portnoy, D. A. A multiorgan trafficking circuit provides purifying selection of Listeria monocytogenes virulence genes. mBio 10, e02948-19 (2019).

Coureuil, M., Lécuyer, H., Bourdoulous, S. & Nassif, X. A journey into the brain: insight into how bacterial pathogens cross blood–brain barriers. Nat. Rev. Microbiol. 15, 149–159 (2017).

Devraj, G. et al. HIF-1α is involved in blood–brain barrier dysfunction and paracellular migration of bacteria in pneumococcal meningitis. Acta Neuropathol. 140, 183–208 (2020).

Liu, Y., Li, J. Y., Chen, S. T., Huang, H. R. & Cai, H. The rLrp of Mycobacterium tuberculosis inhibits proinflammatory cytokine production and downregulates APC function in mouse macrophages via a TLR2-mediated PI3K/Akt pathway activation-dependent mechanism. Cell. Mol. Immunol. 13, 729–746 (2016).

Quan, J. H. et al. Intracellular networks of the PI3K/AKT and MAPK pathways for regulating Toxoplasma gondii-induced IL-23 and IL-12 production in human THP-1 cells. PLoS One 10, e0141550 (2015).

Klenerman, P. & Hill, A. T cells and viral persistence: lessons from diverse infections. Nat. Immunol. 6, 873–879 (2005).

Protzer, U., Maini, M. K. & Knolle, P. A. Living in the liver: hepatic infections. Nat. Rev. Immunol. 12, 201–213 (2012).

Mackaness, G. B. Cellular resistance to infection. J. Exp. Med. 116, 381–406 (1962).

Pamer, E. G. Immune responses to Listeria monocytogenes. Nat. Rev. Immunol. 4, 812–823 (2004).

Shen, H. et al. Recombinant Listeria monocytogenes as a live vaccine vehicle for the induction of protective anti-viral cell-mediated immunity. Proc. Natl Acad. Sci. USA 92, 3987–3991 (2006).

Spranger, S., Bao, R. & Gajewski, T. F. Melanoma-intrinsic β-catenin signalling prevents anti-tumour immunity. Nature 523, 231–235 (2015).

Tauriello, D. V. F. et al. TGFβ drives immune evasion in genetically reconstituted colon cancer metastasis. Nature 554, 538–543 (2018).

Ricci, A. et al. Listeria monocytogenes contamination of ready-to-eat foods and the risk for human health in the EU. EFSA J. 16, 5134 (2018).

Maury, M. M. et al. Spontaneous loss of virulence in natural populations of Listeria monocytogenes. Infect. Immun. 85, e00541-17 (2017).

Shinkai, Y. et al. RAG-2-deficient mice lack mature lymphocytes owing to inability to initiate V(D)J rearrangement. Cell 68, 855–867 (1992).

Malissen, M. et al. Altered T cell development in mice with a targeted mutation of the CD3-epsilon gene. EMBO J. 14, 4641–4653 (1995).

Kitamura, D., Roes, J., Kühn, R. & Rajewsky, K. A B cell-deficient mouse by targeted disruption of the membrane exon of the immunoglobulin μ chain gene. Nature 350, 423–426 (1991).

Jung, S. et al. Analysis of fractalkine receptor CX3CR1 function by targeted deletion and green fluorescent protein reporter gene insertion. Mol. Cell. Biol. 20, 4106–4114 (2000).

Hameyer, D. et al. Toxicity of ligand-dependent Cre recombinases and generation of a conditional Cre deleter mouse allowing mosaic recombination in peripheral tissues. Physiol. Genomics 31, 32–41 (2007).

Buch, T. et al. A Cre-inducible diphtheria toxin receptor mediates cell lineage ablation after toxin administration. Nat. Methods 2, 419–426 (2005).

Matsuzawa, A. et al. A new allele of the lpr locus, lprcg, that complements the gld gene in induction of lymphadenopathy in the mouse. J. Exp. Med. 171, 519–531 (1990).

Kägi, D. et al. Cytotoxicity mediated by T cells and natural killer cells is greatly impaired in perforin-deficient mice. Nature 369, 31–37 (1994).

Huang, Q. Q. et al. FLIP: a novel regulator of macrophage differentiation and granulocyte homeostasis. Blood 116, 4968–4977 (2010).

Huh, C.-G. et al. Hepatocyte growth factor/c-met signaling pathway is required for efficient liver regeneration and repair. Proc. Natl Acad. Sci. USA 101, 4477–4482 (2004).

Canli, Ö. et al. Myeloid cell-derived reactive oxygen species induce epithelial mutagenesis. Cancer Cell 32, 869–883 (2017).

Monk, I. R., Gahan, C. G. M. & Hill, C. Tools for functional postgenomic analysis of listeria monocytogenes. Appl. Environ. Microbiol. 74, 3921–3934 (2008).

Arnaud, M., Chastanet, A. & Débarbouillé, M. New vector for efficient allelic replacement in naturally nontransformable, low-GC-content, Gram-positive bacteria. Appl. Environ. Microbiol. 70, 6887–6891 (2004).

Argov, T., Rabinovich, L., Sigal, N. & Herskovits, A. A. An effective counterselection system for Listeria monocytogenes and its use to characterize the monocin genomic region of strain 10403S. Appl. Environ. Microbiol. 83, e02927-16 (2017).

Balestrino, D. et al. Single-cell techniques using chromosomally tagged fluorescent bacteria to study Listeria monocytogenes infection processes. Appl. Environ. Microbiol. 76, 3625–3636 (2010).

Quereda, J. J. et al. A dual microscopy-based assay to assess Listeria monocytogenes cellular entry and vacuolar escape. Appl. Environ. Microbiol. 82, 211–217 (2016).

Disson, O. et al. Modeling human listeriosis in natural and genetically engineered animals. Nat. Protoc. 4, 799–810 (2009).

Lu, H. et al. Subcutaneous angiotensin II infusion using osmotic pumps induces aortic aneurysms in mice. J. Vis. Exp. 103, e53191 (2015).
Acknowledgements
We thank P. Bousso and A. Fischer for discussions and the members of the Biology of Infection Unit for their support, in particular L. Travier for technical help on brain microscopy and L. Hafner for contributing to data analysis, and the National Reference Center Listeria. We thank the Cytometry and Biomarkers Unit of Technology and Service (CB UTechS), the Center for Animal Resources and Research (C2RA) and D. Ershov and J.-Y. Tinevez from the Image Analysis Hub at Institut Pasteur. We are grateful to G. de Saint Basile and F. Sepuvelda for the Prf1 KO mice, F. Rieux-Laucat for the Faslpr-cg mice, R. Pope for the Flipflox/flox mice, F. Greten for the LysM-CreERT2 mice, A. Eychene for the Metflox/flox mice and J. Pizarro-Cerda and P. Cossart for the pAD β-lactamase plasmid. Figures 1j, 4l and Extended Data Figs. 5l, 9a were created with BioRender. Work in the M.L. laboratory is funded by the Institut Pasteur, Inserm, ERC, ANR, DIM1HEALTH, Labex IBEID (ANR-10-LABX-62-IBEID) and the Fondation Le Roch-Les Mousquetaires. C.M. and M.K. were recipients of the Roux-Cantarini fellowship of the Institut Pasteur. L.H., C.G. and J.G. were supported by the Université de Paris; Y.-H.T. by the Pasteur–Paris University (PPU) International PhD Program under the European Union's Horizon 2020 research and innovation program, Marie Sklodowska-Curie grant agreement no 665807; and S.L. by FRM (ECO201906009119) and 'Ecole Doctorale FIRE-Programme Bettencourt'. M.L. is a member of the Institut Universitaire de France.
Ethics declarations
Competing interests
The authors declare no competing interests.
Peer review
Peer review information
Nature thanks Keith Ireton, Junying Yuan and the other, anonymous, reviewer(s) for their contribution to the peer review of this work. Peer reviewer reports are available.
Additional information
Publisher's note Springer Nature remains neutral with regard to jurisdictional claims in published maps and institutional affiliations.
Extended data figures and tables
Supplementary information
About this article
Cite this article
Maudet, C., Kheloufi, M., Levallois, S. et al. Bacterial inhibition of Fas-mediated killing promotes neuroinvasion and persistence. Nature 603, 900–906 (2022). https://doi.org/10.1038/s41586-022-04505-7
Received:

Accepted:

Published:

Issue Date:

DOI: https://doi.org/10.1038/s41586-022-04505-7
This article is cited by
Rupert L. Mayer
Rein Verbeke
Francis Impens

Nature Communications (2022)

Nature Reviews Microbiology (2022)
Comments
By submitting a comment you agree to abide by our Terms and Community Guidelines. If you find something abusive or that does not comply with our terms or guidelines please flag it as inappropriate.