Abstract
Discrimination of self from non-self is fundamental to a wide range of immunological processes1. During pregnancy, the mother does not recognize the placenta as immunologically foreign because antigens expressed by trophoblasts, the placental cells that interface with the maternal immune system, do not activate maternal T cells2. Currently, these activation defects are thought to reflect suppression by regulatory T cells3. By contrast, mechanisms of B cell tolerance to trophoblast antigens have not been identified. Here we provide evidence that glycan-mediated B cell suppression has a key role in establishing fetomaternal tolerance in mice. B cells specific for a model trophoblast antigen are strongly suppressed through CD22–LYN inhibitory signalling, which in turn implicates the sialylated glycans of the antigen as key suppressive determinants. Moreover, B cells mediate the MHC-class-II-restricted presentation of antigens to CD4+ T cells, which leads to T cell suppression, and trophoblast-derived sialoglycoproteins are released into the maternal circulation during pregnancy in mice and humans. How protein glycosylation promotes non-immunogenic placental self-recognition may have relevance to immune-mediated pregnancy complications and to tumour immune evasion. We also anticipate that our findings will bolster efforts to harness glycan biology to control antigen-specific immune responses in autoimmune disease.
Access options
Access Nature and 54 other Nature Portfolio journals
Get Nature+, our best-value online-access subscription
$29.99 / 30 days
cancel any time
Subscribe to this journal
Receive 51 print issues and online access
$199.00 per year
only $3.90 per issue
Rent or buy this article
Prices vary by article type
from$1.95
to$39.95
Prices may be subject to local taxes which are calculated during checkout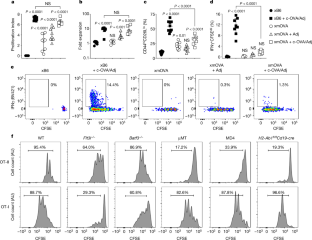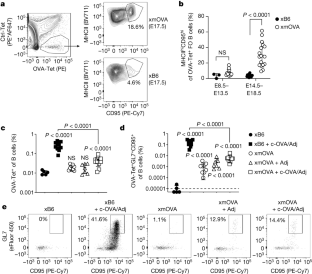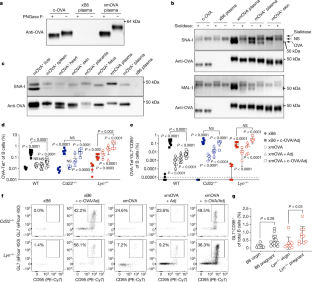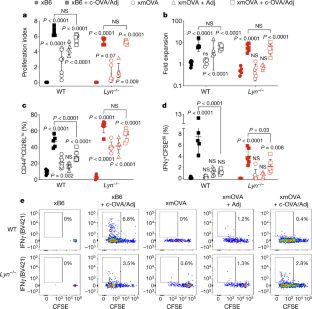 Data availability
The MS proteomics data are publicly available within the ProteomeXchange Consortium (http://proteomecentral.proteomexchange.org) under the dataset identifier PXD029966. All other data generated and analysed during this study are included in this published article (and its Supplementary Information files). Source data are provided with this paper.
References
Janeway, C. A. Jr. The immune system evolved to discriminate infectious nonself from noninfectious self. Immunol. Today 13, 11–16 (1992).

Erlebacher, A. Mechanisms of T cell tolerance towards the allogeneic fetus. Nat. Rev. Immunol. 13, 23–33 (2013).

Jiang, T. T. et al. Regulatory T cells: new keys for further unlocking the enigma of fetal tolerance and pregnancy complications. J. Immunol. 192, 4949–4956 (2014).

Erlebacher, A., Vencato, D., Price, K. A., Zhang, D. & Glimcher, L. H. Constraints in antigen presentation severely restrict T cell recognition of the allogeneic fetus. J. Clin. Invest. 117, 1399–1411 (2007).

Barton, B. M., Xu, R., Wherry, E. J. & Porrett, P. M. Pregnancy promotes tolerance to future offspring by programming selective dysfunction in long-lived maternal T cells. J. Leukoc. Biol. 101, 975–987 (2017).

Jasti, S., Farahbakhsh, M., Nguyen, S., Petroff, B. K. & Petroff, M. G. Immune response to a model shared placenta/tumor-associated antigen reduces cancer risk in parous mice. Biol. Reprod. 96, 134–144 (2017).

Kinder, J. M. et al. CD8+ T cell functional exhaustion overrides pregnancy-induced fetal antigen alloimmunization. Cell Rep. 31, 107784 (2020).

Tay, C. S., Tagliani, E., Collins, M. K. & Erlebacher, A. Cis-acting pathways selectively enforce the non-immunogenicity of shed placental antigen for maternal CD8 T cells. PLoS ONE 8, e84064 (2013).

Ehst, B. D., Ingulli, E. & Jenkins, M. K. Development of a novel transgenic mouse for the study of interactions between CD4 and CD8 T cells during graft rejection. Am. J. Transplant. 3, 1355–1362 (2003).

Filatenkov, A. A. et al. CD4 T cell-dependent conditioning of dendritic cells to produce IL-12 results in CD8-mediated graft rejection and avoidance of tolerance. J. Immunol. 174, 6909–6917 (2005).

Moldenhauer, L. M. et al. Cross-presentation of male seminal fluid antigens elicits T cell activation to initiate the female immune response to pregnancy. J. Immunol. 182, 8080–8093 (2009).

Rowe, J. H., Ertelt, J. M., Aguilera, M. N., Farrar, M. A. & Way, S. S. Foxp3+ regulatory T cell expansion required for sustaining pregnancy compromises host defense against prenatal bacterial pathogens. Cell Host Microbe 10, 54–64 (2011).

Rowe, J. H., Ertelt, J. M., Xin, L. & Way, S. S. Pregnancy imprints regulatory memory that sustains anergy to fetal antigen. Nature 490, 102–106 (2012).

Bouaziz, J. D. et al. Therapeutic B cell depletion impairs adaptive and autoreactive CD4+ T cell activation in mice. Proc. Natl Acad. Sci. USA 104, 20878–20883 (2007).

Taylor, J. J. et al. Deletion and anergy of polyclonal B cells specific for ubiquitous membrane-bound self-antigen. J. Exp. Med. 209, 2065–2077 (2012).

Harvey, D. J., Wing, D. R., Kuster, B. & Wilson, I. B. Composition of N-linked carbohydrates from ovalbumin and co-purified glycoproteins. J. Am. Soc. Mass. Spectrom. 11, 564–571 (2000).

Perdicchio, M. et al. Sialic acid-modified antigens impose tolerance via inhibition of T-cell proliferation and de novo induction of regulatory T cells. Proc. Natl Acad. Sci. USA 113, 3329–3334 (2016).

Meyer, S. J., Linder, A. T., Brandl, C. & Nitschke, L. B cell Siglecs—news on signaling and its interplay with ligand binding. Front. Immunol. 9, 2820 (2018).

Hibbs, M. L. et al. Multiple defects in the immune system of Lyn-deficient mice, culminating in autoimmune disease. Cell 83, 301–311 (1995).

Chu, C. L. & Lowell, C. A. The Lyn tyrosine kinase differentially regulates dendritic cell generation and maturation. J. Immunol. 175, 2880–2889 (2005).

Nancy, P. et al. Chemokine gene silencing in decidual stromal cells limits T cell access to the maternal–fetal interface. Science 336, 1317–1321 (2012).

Abeln, M. et al. Sialic acid is a critical fetal defense against maternal complement attack. J. Clin. Invest. 129, 422–436 (2019).

Hromatka, B. S. et al. Polysialic acid enhances the migration and invasion of human cytotrophoblasts. Glycobiology 23, 593–602 (2013).

Chen, Q. et al. Evidence for differential glycosylation of trophoblast cell types. Mol. Cell Proteomics 15, 1857–1866 (2016).

Pfrengle, F., Macauley, M. S., Kawasaki, N. & Paulson, J. C. Copresentation of antigen and ligands of Siglec-G induces B cell tolerance independent of CD22. J. Immunol. 191, 1724–1731 (2013).

Tokatlian, T. et al. Innate immune recognition of glycans targets HIV nanoparticle immunogens to germinal centers. Science 363, 649–654 (2019).

Archambault, A. S. et al. Cutting edge: conditional MHC class II expression reveals a limited role for B cell antigen presentation in primary and secondary CD4 T cell responses. J. Immunol. 191, 545–550 (2013).

Brodie, E. J., Infantino, S., Low, M. S. Y. & Tarlinton, D. M. Lyn, lupus, and (B) lymphocytes, a lesson on the critical balance of kinase signaling in immunity. Front. Immunol. 9, 401 (2018).

Lateef, A. & Petri, M. Management of pregnancy in systemic lupus erythematosus. Nat. Rev. Rheumatol. 8, 710–718 (2012).

Laubli, H. & Varki, A. Sialic acid-binding immunoglobulin-like lectins (Siglecs) detect self-associated molecular patterns to regulate immune responses. Cell. Mol. Life Sci. 77, 593–605 (2020).

Hogquist, K. A. et al. T cell receptor antagonist peptides induce positive selection. Cell 76, 17–27 (1994).

Barnden, M. J., Allison, J., Heath, W. R. & Carbone, F. R. Defective TCR expression in transgenic mice constructed using cDNA-based α- and β-chain genes under the control of heterologous regulatory elements. Immunol. Cell Biol. 76, 34–40 (1998).

Hildner, K. et al. Batf3 deficiency reveals a critical role for CD8α+ dendritic cells in cytotoxic T cell immunity. Science 322, 1097–1100 (2008).

Kitamura, D., Roes, J., Kuhn, R. & Rajewsky, K. A B cell-deficient mouse by targeted disruption of the membrane exon of the immunoglobulin mu chain gene. Nature 350, 423–426 (1991).

Kim, J. M., Rasmussen, J. P. & Rudensky, A. Y. Regulatory T cells prevent catastrophic autoimmunity throughout the lifespan of mice. Nat. Immunol. 8, 191–197 (2007).

McKenna, H. J. et al. Mice lacking Flt3 ligand have deficient hematopoiesis affecting hematopoietic progenitor cells, dendritic cells, and natural killer cells. Blood 95, 3489–3497 (2000).

Rickert, R. C., Roes, J. & Rajewsky, K. B lymphocyte-specific, Cre-mediated mutagenesis in mice. Nucleic Acids Res. 25, 1317–1318 (1997).

Miyake, Y. et al. Critical role of macrophages in the marginal zone in the suppression of immune responses to apoptotic cell-associated antigens. J. Clin. Invest. 117, 2268–2278 (2007).

Mason, D. Y., Jones, M. & Goodnow, C. C. Development and follicular localization of tolerant B lymphocytes in lysozyme/anti-lysozyme IgM/IgD transgenic mice. Int. Immunol. 4, 163–175 (1992).

Lewandoski, M., Meyers, E. N. & Martin, G. R. Analysis of Fgf8 gene function in vertebrate development. Cold Spring Harb. Symp. Quant. Biol. 62, 159–168 (1997).

Chan, V. W., Meng, F., Soriano, P., DeFranco, A. L. & Lowell, C. A. Characterization of the B lymphocyte populations in Lyn-deficient mice and the role of Lyn in signal initiation and down-regulation. Immunity 7, 69–81 (1997).

Otipoby, K. L. et al. CD22 regulates thymus-independent responses and the lifespan of B cells. Nature 384, 634–637 (1996).

Tanigaki, K. et al. Endothelial Fcγ receptor IIB activation blunts insulin delivery to skeletal muscle to cause insulin resistance in mice. Diabetes 65, 1996–2005 (2016).

Quah, B. J., Warren, H. S. & Parish, C. R. Monitoring lymphocyte proliferation in vitro and in vivo with the intracellular fluorescent dye carboxyfluorescein diacetate succinimidyl ester. Nat. Protoc. 2, 2049–2056 (2007).

Dahlgren, M. W. et al. T follicular helper, but not Th1, cell differentiation in the absence of conventional dendritic cells. J. Immunol. 194, 5187–5199 (2015).

Okeke, E. B., Okwor, I. & Uzonna, J. E. Regulatory T cells restrain CD4+ T cells from causing unregulated immune activation and hypersensitivity to lipopolysaccharide challenge. J. Immunol. 193, 655–662 (2014).

van Rooijen, N. & van Nieuwmegen, R. Elimination of phagocytic cells in the spleen after intravenous injection of liposome-encapsulated dichloromethylene diphosphonate. An enzyme-histochemical study. Cell Tissue Res. 238, 355–358 (1984).

Hong, S. et al. B cells are the dominant antigen-presenting cells that activate naive CD4+ T cells upon immunization with a virus-derived nanoparticle antigen. Immunity 49, 695–708.e4 (2018).

Maley, F., Trimble, R. B., Tarentino, A. L. & Plummer, T. H. Jr. Characterization of glycoproteins and their associated oligosaccharides through the use of endoglycosidases. Anal. Biochem. 180, 195–204 (1989).

Liu, H., Gaza-Bulseco, G., Chumsae, C. & Newby-Kew, A. Characterization of lower molecular weight artifact bands of recombinant monoclonal IgG1 antibodies on non-reducing SDS–PAGE. Biotechnol. Lett. 29, 1611–1622 (2007).

Drake, P. M. et al. A lectin affinity workflow targeting glycosite-specific, cancer-related carbohydrate structures in trypsin-digested human plasma. Anal. Biochem. 408, 71–85 (2011).

Collins, B. E. et al. High-affinity ligand probes of CD22 overcome the threshold set by cis ligands to allow for binding, endocytosis, and killing of B cells. J. Immunol. 177, 2994–3003 (2006).

Wu, C., Jin, X., Tsueng, G., Afrasiabi, C. & Su, A. I. BioGPS: building your own mash-up of gene annotations and expression profiles. Nucleic Acids Res. 44, D313–D316 (2016).

Marsh, B. & Blelloch, R. Single nuclei RNA-seq of mouse placental labyrinth development. eLife 9, e60266 (2020).

Dziadek, M. A. & Andrews, G. K. Tissue specificity of alpha-fetoprotein messenger RNA expression during mouse embryogenesis. EMBO J. 2, 549–554 (1983).

Jones, E. A., Clement-Jones, M., James, O. F. & Wilson, D. I. Differences between human and mouse alpha-fetoprotein expression during early development. J. Anat. 198, 555–559 (2001).

Moore, T. & Dveksler, G. S. Pregnancy-specific glycoproteins: complex gene families regulating maternal–fetal interactions. Int. J. Dev. Biol. 58, 273–280 (2014).

Mendoza, M. et al. Glycan characterization of pregnancy-specific glycoprotein 1 and its identification as a novel Galectin-1 ligand. Glycobiology 30, 895–909 (2020).

Zhu, B. C. et al. Human placental (fetal) fibronectin: increased glycosylation and higher protease resistance than plasma fibronectin. Presence of polylactosamine glycopeptides and properties of a 44-kilodalton chymotryptic collagen-binding domain: difference from human plasma fibronectin. J. Biol. Chem. 259, 3962–3970 (1984).
Acknowledgements
This work was supported by NIH grant K08AI137209 (to G.R.); the UCSF Department of Laboratory Medicine and School of Medicine (to A.E.); and the UCSF Parnassus Flow Cytometry Core Facility with funding from DRC Center Grant NIH P30 DK063720. We thank D. Hirshhorn-Cymerman for helpful discussions, A. DeFranco for comments on the manuscript, C. Mineo for mice, D. Mueller for providing the tetramer synthesis protocol and S. Gaw for providing plasma collected from healthy mothers.
Ethics declarations
Competing interests
S.J.F. is a consultant for Novo Nordisk, and J.Z. is a consultant for Walking Fish Therapeutics. G.R., J.F.B., S.T.T., T.I.M., S.M., D.R. and A.E. declare no competing interests.
Peer review
Peer review information
Nature thanks Pascal Gagneux, Shiv Pillai and the other, anonymous, reviewer(s) for their contribution to the peer review of this work. Peer reviewer reports are available.
Additional information
Publisher's note Springer Nature remains neutral with regard to jurisdictional claims in published maps and institutional affiliations.
Extended data figures and tables
Supplementary information
Full (uncropped) gels for Fig. 3a–c, and Extended Data Figs. 7a–c, 9c–i and 10c.
About this article
Cite this article
Rizzuto, G., Brooks, J.F., Tuomivaara, S.T. et al. Establishment of fetomaternal tolerance through glycan-mediated B cell suppression. Nature 603, 497–502 (2022). https://doi.org/10.1038/s41586-022-04471-0
Received:

Accepted:

Published:

Issue Date:

DOI: https://doi.org/10.1038/s41586-022-04471-0
This article is cited by
Theresa Kissel
René E. M. Toes
Manfred Wuhrer

Nature Reviews Rheumatology (2023)

Ashley Moffett
Norman Shreeve

Nature Reviews Immunology (2023)

John J. Erickson
Stephanie Archer-Hartmann
Sing Sing Way

Nature (2022)
Comments
By submitting a comment you agree to abide by our Terms and Community Guidelines. If you find something abusive or that does not comply with our terms or guidelines please flag it as inappropriate.