Abstract
Two forms of associative learning—delay conditioning and trace conditioning—have been widely investigated in humans and higher-order mammals1. In delay conditioning, an unconditioned stimulus (for example, an electric shock) is introduced in the final moments of a conditioned stimulus (for example, a tone), with both ending at the same time. In trace conditioning, a 'trace' interval separates the conditioned stimulus and the unconditioned stimulus. Trace conditioning therefore relies on maintaining a neural representation of the conditioned stimulus after its termination (hence making distraction possible2), to learn the conditioned stimulus–unconditioned stimulus contingency3; this makes it more cognitively demanding than delay conditioning4. Here, by combining virtual-reality behaviour with neurogenetic manipulations and in vivo two-photon brain imaging, we show that visual trace conditioning and delay conditioning in Drosophila mobilize R2 and R4m ring neurons in the ellipsoid body. In trace conditioning, calcium transients during the trace interval show increased oscillations and slower declines over repeated training, and both of these effects are sensitive to distractions. Dopaminergic activity accompanies signal persistence in ring neurons, and this is decreased by distractions solely during trace conditioning. Finally, dopamine D1-like and D2-like receptor signalling in ring neurons have different roles in delay and trace conditioning; dopamine D1-like receptor 1 mediates both forms of conditioning, whereas the dopamine D2-like receptor is involved exclusively in sustaining ring neuron activity during the trace interval of trace conditioning. These observations are similar to those previously reported in mammals during arousal5, prefrontal activation6 and high-level cognitive learning7,8.
This is a preview of subscription content
Access options
Subscribe to Nature+
Get immediate online access to the entire Nature family of 50+ journals
Subscribe to Journal
Get full journal access for 1 year
$199.00
only $3.90 per issue
All prices are NET prices.
VAT will be added later in the checkout.
Tax calculation will be finalised during checkout.
Buy article
Get time limited or full article access on ReadCube.
$32.00
All prices are NET prices.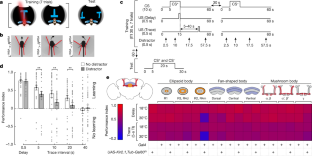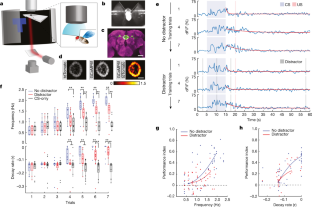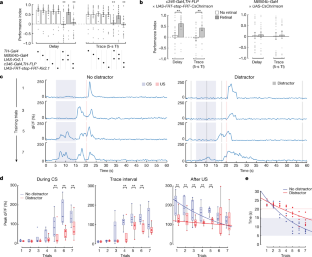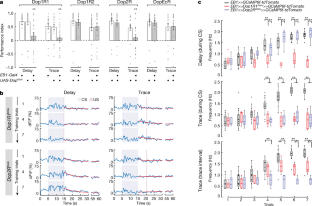 Data availability
Datasets generated as part of this study are available from the corresponding author on reasonable request. Source data are provided with this paper.
References
Clark, R. E. & Squire, L. R. Classical conditioning and brain systems: the role of awareness. Science 280, 77–81 (1998).

Han, C. J. et al. Trace but not delay fear conditioning requires attention and the anterior cingulate cortex. Proc. Natl Acad. Sci. USA 100, 13087–13092 (2003).

Garner, A. R. et al. Generation of a synthetic memory trace. Science 335, 1513–1516 (2012).

Raybuck, J. D. & Lattal, K. M. Bridging the interval: theory and neurobiology of trace conditioning. Behav. Processes 101, 103–111 (2014).

Colgin, L. L. Mechanisms and functions of theta rhythms. Annu. Rev. Neurosci. 36, 295–312 (2013).

Koechlin, E. Prefrontal executive function and adaptive behavior in complex environments. Curr. Opin. Neurobiol. 37, 1–6 (2016).

Nichols, M. J. & Newsome, W. T. The neurobiology of cognition. Nature 402, C35–C38 (1999).

Milner, B., Squire, L. R. & Kandel, E. R. Cognitive neuroscience and the study of memory. Neuron 20, 445–468 (1998).

Knight, D. C., Cheng, D. T., Smith, C. N., Stein, E. A. & Helmstetter, F. J. Neural substrates mediating human delay and trace fear conditioning. J. Neurosci. 24, 218–228 (2004).

Kronforst-Collins, M. A. & Disterhoft, J. F. Lesions of the caudal area of rabbit medial prefrontal cortex impair trace eyeblink conditioning. Neurobiol. Learn. Mem. 69, 147–162 (1998).

Connor, D. A. & Gould, T. J. The role of working memory and declarative memory in trace conditioning. Neurobiol. Learn. Mem. 134, 193–209 (2016).

LeDoux, J. E. & Lau, H. Seeing consciousness through the lens of memory. Curr. Biol. 30, R1018–R1022 (2020).

Venken, K. J. T., Simpson, J. H. & Bellen, H. J. Genetic manipulation of genes and cells in the nervous system of the fruit fly. Neuron 72, 202–230 (2011).

Haberkern, H. & Jayaraman, V. Studying small brains to understand the building blocks of cognition. Curr. Opin. Neurobiol. 37, 59–65 (2016).

Tully, T. & Quinn, W. G. Classical conditioning and retention in normal and mutant Drosophila melanogaster. J. Comp. Physiol. A 157, 263–277 (1985).

Owald, D. & Waddell, S. Olfactory learning skews mushroom body output pathways to steer behavioral choice in Drosophila. Curr. Opin. Neurobiol. 35, 178–184 (2015).

Busto, G. U., Cervantes-Sandoval, I. & Davis, R. L. Olfactory learning in Drosophila. Physiology 25, 338–346 (2010).

Galili, D. S., Lüdke, A., Galizia, C. G., Szyszka, P. & Tanimoto, H. Olfactory trace conditioning in Drosophila. J. Neurosci. 31, 7240–7248 (2011).

Shuai, Y., Hu, Y., Qin, H., Campbell, R. A. A. & Zhong, Y. Distinct molecular underpinnings of Drosophila olfactory trace conditioning. Proc. Natl Acad. Sci. USA 108, 20201–20206 (2011).

Dill, M., Wolf, R. & Heisenberg, M. Visual pattern recognition in Drosophila involves retinotopic matching. Nature 365, 751–753 (1993).

Kamikouchi, A. et al. The neural basis of Drosophila gravity-sensing and hearing. Nature 458, 165–171 (2009).

Pacheco, D. A., Thiberge, S. Y., Pnevmatikakis, E. & Murthy, M. Auditory activity is diverse and widespread throughout the central brain of Drosophila. Nat. Neurosci. 24, 93–104 (2021).

Neuser, K., Triphan, T., Mronz, M., Poeck, B. & Strauss, R. Analysis of a spatial orientation memory in Drosophila. Nature 453, 1244–1247 (2008).

Ofstad, T. A., Zuker, C. S. & Reiser, M. B. Visual place learning in Drosophila melanogaster. Nature 474, 204–209 (2011).

Liu, G. et al. Distinct memory traces for two visual features in the Drosophila brain. Nature 439, 551–556 (2006).

Vogt, K. et al. Shared mushroom body circuits underlie visual and olfactory memories in Drosophila. eLife 3, e02395 (2014).

Zhang, K., Guo, J. Z., Peng, Y., Xi, W. & Guo, A. Dopamine–mushroom body circuit regulates saliency-based decision-making in Drosophila. Science 316, 1901–1904 (2007).

Aso, Y. et al. Mushroom body output neurons encode valence and guide memory-based action selection in Drosophila. eLife 3, e04580 (2014).

Cognigni, P., Felsenberg, J. & Waddell, S. Do the right thing: neural network mechanisms of memory formation, expression and update in Drosophila. Curr. Opin. Neurobiol. 49, 51–58 (2018).

Srinivasan, S., Greenspan, R. J., Stevens, C. F. & Grover, D. Deep(er) learning. J. Neurosci. 38, 7365–7374 (2018).

Mao, Z. & Davis, R. L. Eight different types of dopaminergic neurons innervate the Drosophila mushroom body neuropil: anatomical and physiological heterogeneity. Front. Neural Circuits 3, 5 (2009).

Liang, X. et al. Morning and evening circadian pacemakers independently drive premotor centers via a specific dopamine relay. Neuron 102, 843–857 (2019).

Lebestky, T. et al. Two different forms of arousal in Drosophila are oppositely regulated by the dopamine D1 receptor ortholog DopR via distinct neural circuits. Neuron 64, 522–536 (2009).

Aso, Y. et al. The neuronal architecture of the mushroom body provides a logic for associative learning. eLife 3, e04577 (2014).

Knudsen, E. I. Fundamental components of attention. Annu. Rev. Neurosci. 30, 57–78 (2007).

Carter, R. M. K., Hofstötter, C., Tsuchiya, N. & Koch, C. Working memory and fear conditioning. Proc. Natl Acad. Sci. USA. 100, 1399–1404 (2003).

Kim, R. & Sejnowski, T. J. Strong inhibitory signaling underlies stable temporal dynamics and working memory in spiking neural networks. Nat. Neurosci. 24, 129–139 (2021).

Renn, S. C. P. et al. Genetic analysis of the Drosophila ellipsoid body neuropil: organization and development of the central complex. J. Neurobiol. 41, 189–207 (1999).

Hollerman, J. R. & Schultz, W. Dopamine neurons report an error in the temporal prediction of reward during learning. Nat. Neurosci. 1, 304–309 (1998).

Sutton, R. S. & Barto, A. G. Toward a modern theory of adaptive networks: Expectation and prediction. Psychol. Rev. 88, 135–170 (1981).

Schultz, W. Dopamine reward prediction error coding. Dialogues Clin. Neurosci. 18, 23–32 (2016).

Tobler, P. N., Fiorillo, C. D. & Schultz, W. Adaptive coding of reward value by dopamine neurons. Science 307, 1642–1645 (2005).

Lak, A. et al. Dopaminergic and prefrontal basis of learning from sensory confidence and reward value. Neuron 105, 700–711 (2020).

Sabandal, J. M., Berry, J. A. & Davis, R. L. Dopamine-based mechanism for transient forgetting. Nature 591, 426–430 (2021).

Seelig, J. D. & Jayaraman, V. Neural dynamics for landmark orientation and angular path integration. Nature 521, 186–191 (2015).

Green, J., Vijayan, V., Mussells Pires, P., Adachi, A. & Maimon, G. A neural heading estimate is compared with an internal goal to guide oriented navigation. Nat. Neurosci. 22, 1460–1468 (2019).

Shih, C. T. et al. Connectomics-based analysis of information flow in the drosophila brain. Curr. Biol. 25, 1249–1258 (2015).

Franconville, R., Beron, C. & Jayaraman, V. Building a functional connectome of the drosophila central complex. eLife 7, e37017 (2018).

Fisher, Y. E., Lu, J., D'Alessandro, I. & Wilson, R. I. Sensorimotor experience remaps visual input to a heading-direction network. Nature 576, 121–125 (2019).

Mashour, G. A., Roelfsema, P., Changeux, J. P. & Dehaene, S. Conscious processing and the global neuronal workspace hypothesis. Neuron 105, 776–798 (2020).

Xie, T. et al. A genetic toolkit for dissecting dopamine circuit function in Drosophila. Cell Rep. 23, 652–665 (2018).

Baines, R. A., Uhler, J. P., Thompson, A., Sweeney, S. T. & Bate, M. Altered electrical properties in Drosophila neurons developing without synaptic transmission. J. Neurosci. 21, 1523–1531 (2001).

McGuire, S. E., Mao, Z. & Davis, R. L. Spatiotemporal gene expression targeting with the TARGET and gene-switch systems in Drosophila. Sci. STKE 2004, pl6 (2004).

Klapoetke, N. C. et al. Independent optical excitation of distinct neural populations. Nat. Methods 11, 338–346 (2014).

Akerboom, J. et al. Optimization of a GCaMP calcium indicator for neural activity imaging. J. Neurosci. 32, 13819–13840 (2012).

Weir, P. T. & Dickinson, M. H. Functional divisions for visual processing in the central brain of flying Drosophila. Proc. Natl Acad. Sci. USA. 112, E5523–E5532 (2015).

Savitzky, A. & Golay, M. J. E. Smoothing and differentiation of data by simplified least squares procedures. Anal. Chem. 36, 1627–1639 (1964).

Wobbrock, J. O., Findlater, L., Gergle, D. & Higgins, J. J. The aligned rank transform for nonparametric factorial analyses using only ANOVA procedures. In Proc. SIGCHI Conference on Human Factors in Computing Systems 143–146 (Association for Computing Machinery, 2011).
Acknowledgements
We thank F. Cardone and I. Freerkson for their assistance with designing and fabricating electronic and mechanical components; A. Calhoun, W. Joiner, M. Wu and V. Jayaraman for gifting fly stocks; T. Dawkins for advice and assistance with various experimental analyses; E. Huie for assistance with behavioural experiments; M. Nelson for assistance with in vivo imaging experiments; and T. Sejnowski for comments on the manuscript. This work was supported by the Air Force Office of Scientific Research grants FA9550-14-1-0211 and FA9550-19-1-0280 to D.G. and R.J.G.; awards from the Mathers Foundation 20154167 and National Science Foundation 1212778 to R.J.G.; and the European Union's Horizon 2020 Framework Programme for Research and Innovation under specific grant agreement no. 945539 (Human Brain Project SGA3) and Kavli Institute for Brain and Mind International Faculty award to J.-P.C.
Ethics declarations
Competing interests
The authors declare no competing interests.
Peer review
Peer review information
Nature thanks Ronald Davis and the other, anonymous, reviewer(s) for their contribution to the peer review of this work.
Additional information
Publisher's note Springer Nature remains neutral with regard to jurisdictional claims in published maps and institutional affiliations.
Extended data figures and tables
Supplementary information
About this article
Cite this article
Grover, D., Chen, JY., Xie, J. et al. Differential mechanisms underlie trace and delay conditioning in Drosophila. Nature 603, 302–308 (2022). https://doi.org/10.1038/s41586-022-04433-6
Received:

Accepted:

Published:

Issue Date:

DOI: https://doi.org/10.1038/s41586-022-04433-6
Comments
By submitting a comment you agree to abide by our Terms and Community Guidelines. If you find something abusive or that does not comply with our terms or guidelines please flag it as inappropriate.