Abstract
In vertebrates, stimulus-independent activity accompanies neural circuit maturation throughout the developing brain1,2. The recent discovery of similar activity in the developing Drosophila central nervous system suggests that developmental activity is fundamental to the assembly of complex brains3. How such activity is coordinated across disparate brain regions to influence synaptic development at the level of defined cell types is not well understood. Here we show that neurons expressing the cation channel transient receptor potential gamma (Trpγ) relay and pattern developmental activity throughout the Drosophila brain. In trpγ mutants, activity is attenuated globally, and both patterns of activity and synapse structure are altered in a cell-type-specific manner. Less than 2% of the neurons in the brain express Trpγ. These neurons arborize throughout the brain, and silencing or activating them leads to loss or gain of brain-wide activity. Together, these results indicate that this small population of neurons coordinates brain-wide developmental activity. We propose that stereotyped patterns of developmental activity are driven by a discrete, genetically specified network to instruct neural circuit assembly at the level of individual cells and synapses. This work establishes the fly brain as an experimentally tractable system for studying how activity contributes to synapse and circuit formation.
Access options
Access Nature and 54 other Nature Portfolio journals
Get Nature+, our best-value online-access subscription
$29.99 per month
cancel any time
Subscribe to this journal
Receive 51 print issues and online access
$199.00 per year
only $3.90 per issue
Rent or buy this article
Get just this article for as long as you need it
$39.95
Prices may be subject to local taxes which are calculated during checkout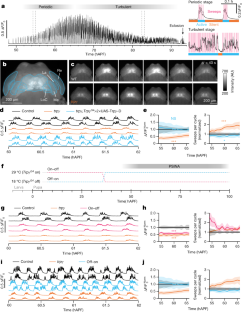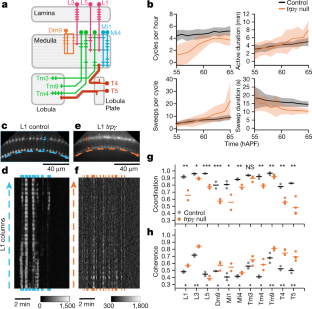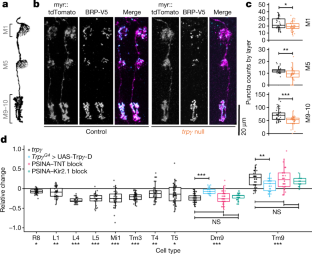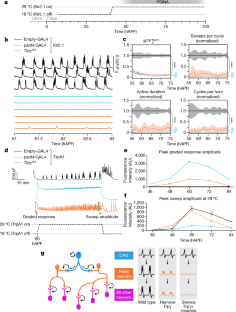 Data availability
The authors declare that all data supporting the findings of this study are available within the paper and its supplementary information files.
References
Blankenship, A. G. & Feller, M. B. Mechanisms underlying spontaneous patterned activity in developing neural circuits. Nat. Rev. Neurosci. 11, 18–29 (2010).

Ackman, J. B. & Crair, M. C. Role of emergent neural activity in visual map development. Curr. Opin. Neurobiol. 24, 166–175 (2014).

Akin, O., Bajar, B. T., Keles, M. F., Frye, M. A. & Zipursky, S. L. Cell-type-specific patterned stimulus-independent neuronal activity in the Drosophila visual system during synapse formation. Neuron 101, 894–904.e5 (2019).

Galli, L. & Maffei, L. Spontaneous impulse activity of rat retinal ganglion cells in prenatal life. Science 242, 90–91 (1988).

Meister, M., Wong, R. O., Baylor, D. A. & Shatz, C. J. Synchronous bursts of action potentials in ganglion cells of the developing mammalian retina. Science 252, 939–943 (1991).

Ackman, J. B., Burbridge, T. J. & Crair, M. C. Retinal waves coordinate patterned activity throughout the developing visual system. Nature 490, 219–225 (2012).

Bansal, A. et al. Mice lacking specific nicotinic acetylcholine receptor subunits exhibit dramatically altered spontaneous activity patterns and reveal a limited role for retinal waves in forming ON and OFF circuits in the inner retina. J. Neurosci. 20, 7672–7681 (2000).

Burbridge, T. J. et al. Visual circuit development requires patterned activity mediated by retinal acetylcholine receptors. Neuron 84, 1049–1064 (2014).

McLaughlin, T., Hindges, R. & O'Leary, D. D. Regulation of axial patterning of the retina and its topographic mapping in the brain. Curr. Opin. Neurobiol. 13, 57–69 (2003).

Sugie, A., Marchetti, G. & Tavosanis, G. Structural aspects of plasticity in the nervous system of Drosophila. Neural Dev. 13, 14 (2018).

Hiesinger, P. R. et al. Activity-independent prespecification of synaptic partners in the visual map of Drosophila. Curr. Biol. 16, 1835–1843 (2006).

Chen, Y. et al. Cell-type-specific labeling of synapses in vivo through synaptic tagging with recombination. Neuron 81, 280–293 (2014).

Muthukumar, A. K., Stork, T. & Freeman, M. R. Activity-dependent regulation of astrocyte GAT levels during synaptogenesis. Nat. Neurosci. 17, 1340–1350 (2014).

Takemura, S. Y. et al. A visual motion detection circuit suggested by Drosophila connectomics. Nature 500, 175–181 (2013).

Venkatachalam, K. & Montell, C. TRP channels. Annu. Rev. Biochem. 76, 387–417 (2007).

Chen, T. W. et al. Ultrasensitive fluorescent proteins for imaging neuronal activity. Nature 499, 295–300 (2013).

Akitake, B. et al. Coordination and fine motor control depend on Drosophila TRPγ. Nat. Commun. 6, 7288 (2015).

Kanca, O. et al. An efficient CRISPR-based strategy to insert small and large fragments of DNA using short homology arms. eLife 8, e51539 (2019).

Xu, X. Z., Chien, F., Butler, A., Salkoff, L. & Montell, C. TRPγ, a drosophila TRP-related subunit, forms a regulated cation channel with TRPL. Neuron 26, 647–657 (2000).

Batut, P. & Gingeras, T. R. RAMPAGE: promoter activity profiling by paired-end sequencing of 5'-complete cDNAs. Curr. Protoc. Mol. Biol. 104, Unit 25B.11 (2013).

McGuire, S. E., Le, P. T., Osborn, A. J., Matsumoto, K. & Davis, R. L. Spatiotemporal rescue of memory dysfunction in Drosophila. Science 302, 1765–1768 (2003).

Akin, O. & Zipursky, S. L. Frazzled promotes growth cone attachment at the source of a Netrin gradient in the. eLife 5, e20762 (2016).

Takemura, S. Y., Lu, Z. & Meinertzhagen, I. A. Synaptic circuits of the Drosophila optic lobe: the input terminals to the medulla. J. Comp. Neurol. 509, 493–513 (2008).

Lee, T. & Luo, L. Mosaic analysis with a repressible cell marker for studies of gene function in neuronal morphogenesis. Neuron 22, 451–461 (1999).

Kurmangaliyev, Y. Z., Yoo, J., Valdes-Aleman, J., Sanfilippo, P. & Zipursky, S. L. Transcriptional programs of circuit assembly in the Drosophila visual system. Neuron 108, 1045–1057.e6 (2020).

Baines, R. A., Uhler, J. P., Thompson, A., Sweeney, S. T. & Bate, M. Altered electrical properties in Drosophila neurons developing without synaptic transmission. J. Neurosci. 21, 1523–1531 (2001).

Peng, J. et al. Drosophila Fezf coordinates laminar-specific connectivity through cell-intrinsic and cell-extrinsic mechanisms. eLife 7, e33962 (2018).

Isaacman-Beck, J. et al. SPARC enables genetic manipulation of precise proportions of cells. Nat. Neurosci. 23, 1168–1175 (2020).

Chiang, A. S. et al. Three-dimensional reconstruction of brain-wide wiring networks in Drosophila at single-cell resolution. Curr. Biol. 21, 1–11 (2011).

Dana, H. et al. Sensitive red protein calcium indicators for imaging neural activity. eLife 5, e12727 (2016).

Pulver, S. R., Pashkovski, S. L., Hornstein, N. J., Garrity, P. A. & Griffith, L. C. Temporal dynamics of neuronal activation by channelrhodopsin-2 and TRPA1 determine behavioral output in Drosophila larvae. J. Neurophysiol. 101, 3075–3088 (2009).

Crair, M. C. Neuronal activity during development: permissive or instructive. Curr. Opin. Neurobiol. 9, 88–93 (1999).

Valdes-Aleman, J. et al. Comparative connectomics reveals how partner identity, location, and activity specify synaptic connectivity in Drosophila. Neuron 109, 105–122.e7 (2021).

Mulloney, B. & Smarandache, C. Fifty years of CPGs: two neuroethological papers that shaped the course of neuroscience. Front. Behav. Neurosci. 4, 45 (2010).

Tritsch, N. X., Yi, E., Gale, J. E., Glowatzki, E. & Bergles, D. E. The origin of spontaneous activity in the developing auditory system. Nature 450, 50–55 (2007).

Wang, H. C. et al. Spontaneous activity of cochlear hair cells triggered by fluid secretion mechanism in adjacent support cells. Cell 163, 1348–1359 (2015).

Luhmann, H. J. et al. Spontaneous neuronal activity in developing neocortical networks: from single cells to large-scale interactions. Front. Neural Circuits 10, 40 (2016).

Özel, M. N. et al. Neuronal diversity and convergence in a visual system developmental atlas. Nature 589, 88–95 (2021).

Helfrich-Förster, C. Development of pigment-dispersing hormone-immunoreactive neurons in the nervous system of Drosophila melanogaster. J. Comp. Neurol. 380, 335–354 (1997).

Leong, A. T. et al. Long-range projections coordinate distributed brain-wide neural activity with a specific spatiotemporal profile. Proc. Natl Acad. Sci. USA 113, E8306–E8315 (2016).

Fischbach, K. F. & Dittrich, A. P. M. The optic lobe of Drosophila melanogaster. 1. A Golgi analysis of wild-type structure. Cell Tissue Res. 258, 441–475 (1989).

Bainbridge, S. P. & Bownes, M. Staging the metamorphosis of Drosophila melanogaster. J. Embryol. Exp. Morphol. 66, 57–80 (1981).

Brand, A. H. & Perrimon, N. Targeted gene expression as a means of altering cell fates and generating dominant phenotypes. Development 118, 401–415 (1993).

Lai, S. L. & Lee, T. Genetic mosaic with dual binary transcriptional systems in Drosophila. Nat. Neurosci. 9, 703–709 (2006).

Piper, M. D. & Partridge, L. Protocols to study aging in Drosophila. Methods Mol. Biol. 1478, 291–302 (2016).

Schindelin, J. et al. Fiji: an open-source platform for biological-image analysis. Nat. Methods 9, 676–682 (2012).

Daniels, R. W. et al. Increased expression of the Drosophila vesicular glutamate transporter leads to excess glutamate release and a compensatory decrease in quantal content. J. Neurosci. 24, 10466–10474 (2004).

Fei, H. et al. Mutation of the Drosophila vesicular GABA transporter disrupts visual figure detection. J. Exp. Biol. 213, 1717–1730 (2010).

Park, D., Veenstra, J. A., Park, J. H. & Taghert, P. H. Mapping peptidergic cells in Drosophila: where DIMM fits in. PLoS ONE 3, e1896 (2008).

Cabrero, P. et al. The Dh gene of Drosophila melanogaster encodes a diuretic peptide that acts through cyclic AMP. J. Exp. Biol. 205, 3799–3807 (2002).

Terhzaz, S., Rosay, P., Goodwin, S. F. & Veenstra, J. A. The neuropeptide SIFamide modulates sexual behavior in Drosophila. Biochem. Biophys. Res. Commun. 352, 305–310 (2007).

Preibisch, S., Saalfeld, S. & Tomancak, P. Globally optimal stitching of tiled 3D microscopic image acquisitions. Bioinformatics 25, 1463–1465 (2009).

Peng, H., Ruan, Z., Long, F., Simpson, J. H. & Myers, E. W. V3D enables real-time 3D visualization and quantitative analysis of large-scale biological image data sets. Nat. Biotechnol. 28, 348–353 (2010).
Acknowledgements
We thank S. L. Zipursky for discussions, support and feedback on the manuscript; C. Montell for sharing fly lines and other reagents; T. R. Clandinin for support in generating the SPARC3-Out-GAL80 flies; J. M. Donlea, V. Hartenstein, D. E. Krantz and Y. Lin for sharing antibodies; J. A. Veenstra for sharing neuropeptide antibodies; D. Hattori for the Kir2.1 flies; A. Nern and G. M. Rubin for the 29C07-FLP flies; the Banerjee Laboratory at UCLA for the UAS-rpr,-hid flies; O. Kanca and H. J. Bellen for the TrpγDropIn-TG4 flies; S. Yamamoto and T. Takano-Shimizu for the UAS-TRPC4 and TRPC5 flies; and members of the Zipursky laboratory for feedback and discussion. B.T.B. is supported by NIH grants F30EY029952 and T32GM008042; OA is supported by NIH grant R01NS123376.
Ethics declarations
Competing interests
The authors declare no competing interests.
Peer review
Peer review information
Nature thanks Gerald Rubin and the other, anonymous reviewers for their contribution to the peer review of this work.
Additional information
Publisher's note Springer Nature remains neutral with regard to jurisdictional claims in published maps and institutional affiliations.
Extended data figures and tables
Supplementary information
About this article
Cite this article
Bajar, B.T., Phi, N.T., Isaacman-Beck, J. et al. A discrete neuronal population coordinates brain-wide developmental activity. Nature 602, 639–646 (2022). https://doi.org/10.1038/s41586-022-04406-9
Received:

Accepted:

Published:

Issue Date:

DOI: https://doi.org/10.1038/s41586-022-04406-9
This article is cited by
Nature Reviews Neuroscience (2022)

Christine Grienberger
Andrea Giovannucci
Carlos Portera-Cailliau

Nature Reviews Methods Primers (2022)
Comments
By submitting a comment you agree to abide by our Terms and Community Guidelines. If you find something abusive or that does not comply with our terms or guidelines please flag it as inappropriate.