Abstract
Metastable phases—kinetically favoured structures—are ubiquitous in nature1,2. Rather than forming thermodynamically stable ground-state structures, crystals grown from high-energy precursors often initially adopt metastable structures depending on the initial conditions, such as temperature, pressure or crystal size1,3,4. As the crystals grow further, they typically undergo a series of transformations from metastable phases to lower-energy and ultimately energetically stable phases1,3,4. Metastable phases sometimes exhibit superior physicochemical properties and, hence, the discovery and synthesis of new metastable phases are promising avenues for innovations in materials science1,5. However, the search for metastable materials has mainly been heuristic, performed on the basis of experiences, intuition or even speculative predictions, namely 'rules of thumb'. This limitation necessitates the advent of a new paradigm to discover new metastable phases based on rational design. Such a design rule is embodied in the discovery of a metastable hexagonal close-packed (hcp) palladium hydride (PdHx) synthesized in a liquid cell transmission electron microscope. The metastable hcp structure is stabilized through a unique interplay between the precursor concentrations in the solution: a sufficient supply of hydrogen (H) favours the hcp structure on the subnanometre scale, and an insufficient supply of Pd inhibits further growth and subsequent transition towards the thermodynamically stable face-centred cubic structure. These findings provide thermodynamic insights into metastability engineering strategies that can be deployed to discover new metastable phases.
Access options
Subscribe to Nature+
Get immediate online access to Nature and 55 other Nature journal
Subscribe to Journal
Get full journal access for 1 year
$199.00
only $3.90 per issue
All prices are NET prices.
VAT will be added later in the checkout.
Tax calculation will be finalised during checkout.
Buy article
Get time limited or full article access on ReadCube.
$32.00
All prices are NET prices.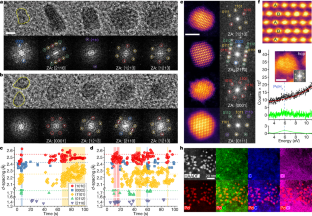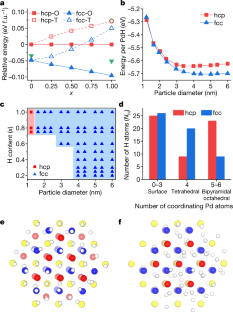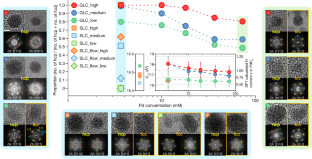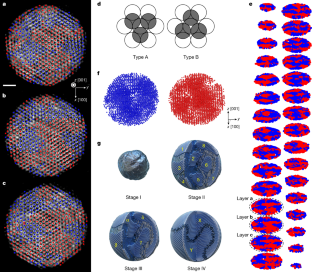 Data availability
The data that support the findings of this study are available from the corresponding author upon request.
References
Sun, W. et al. The thermodynamic scale of inorganic crystalline metastability. Sci. Adv. 2, e1600225 (2016).

Martinolich, A. J. & Neilson, J. R. Toward reaction-by-design: achieving kinetic control of solid state chemistry with metathesis. Chem. Mater. 29, 479–489 (2017).

Gopalakrishnan, J. Chimie douce approaches to the synthesis of metastable oxide materials. Chem. Mater. 7, 1265–1275 (1995).

Chen, B.-R. et al. Understanding crystallization pathways leading to manganese oxide polymorph formation. Nat. Commun. 9, 2553 (2018).

Aykol, M., Dwaraknath, S. S., Sun, W. & Persson, K. A. Thermodynamic limit for synthesis of metastable inorganic materials. Sci. Adv. 4, eaaq0148 (2018).

Baldi, A., Narayan, T. C., Koh, A. L. & Dionne, J. A. In situ detection of hydrogen-induced phase transitions in individual palladium nanocrystals. Nat. Mater. 13, 1143–1148 (2014).

Griessen, R., Strohfeldt, N. & Giessen, H. Thermodynamics of the hybrid interaction of hydrogen with palladium nanoparticles. Nat. Mater. 15, 311–317 (2016).

Yuk, J. M. et al. High-resolution EM of colloidal nanocrystal growth using graphene liquid cells. Science 336, 61–64 (2012).

Schneider, N. M. et al. Electron–water interactions and implications for liquid cell electron microscopy. J. Phys. Chem. C 118, 22373–22382 (2014).

Park, J. et al. 3D structure of individual nanocrystals in solution by electron microscopy. Science 349, 290–295 (2015).

Sachs, C. et al. Solubility of hydrogen in single-sized palladium clusters. Phys. Rev. B 64, 075408 (2001).

Moore, W. J. Jr & Pauling, L. The crystal structures of the tetragonal monoxides of lead, tin, palladium, and platinum. J. Am. Chem. Soc. 63, 1392–1394 (1941).

Zhou, X., Zimmerman, J. A., Wong, B. M. & Hoyt, J. J. An embedded-atom method interatomic potential for Pd–H alloys. J. Mater. Res. 23, 704–718 (2008).

Algara-Siller, G. et al. Square ice in graphene nanocapillaries. Nature 519, 443–445 (2015).

Yang, X., Li, H., Ahuja, R., Kang, T. & Luo, W. Formation and electronic properties of palladium hydrides and palladium-rhodium dihydride alloys under pressure. Sci. Rep. 7, 3520 (2017).

Walter, J., Heiermann, J., Dyker, G., Hara, S. & Shioyama, H. Hexagonal or quasi two-dimensional palladium nanoparticles—tested at the Heck reaction. J. Catal. 189, 449–455 (2000).

Park, J. H. et al. Control of electron beam-induced Au nanocrystal growth kinetics through solution chemistry. Nano Lett. 15, 5314–5320 (2015).

Ross, F. M. Liquid Cell Electron Microscopy (Cambridge Univ. Press, 2017).

Bakalis, E. et al. Complex nanoparticle diffusional motion in liquid-cell transmission electron microscopy. J. Phys. Chem. C 124, 14881–14890 (2020).

Loh, N. D. et al. Multistep nucleation of nanocrystals in aqueous solution. Nat. Chem. 9, 77–82 (2017).

Nielsen, M. H., Aloni, S. & De Yoreo, J. J. In situ TEM imaging of CaCO3 nucleation reveals coexistence of direct and indirect pathways. Science 345, 1158–1162 (2014).

Yang, Y. S. et al. Deciphering chemical order/disorder and material properties at the single-atom level. Nature 542, 75–79 (2017).

Zhou, J., Yang, Y., Ercius, P. & Miao, J. Atomic electron tomography in three and four dimensions. MRS Bull. 45, 290–297 (2020).

Pryor, A. Jr et al. GENFIRE: a generalized Fourier iterative reconstruction algorithm for high-resolution 3D imaging. Sci. Rep. 7, 10409 (2017).

Li, D. et al. Direction-specific interactions control crystal growth by oriented attachment. Science 336, 1014–1018 (2012).

Lange, A. P. et al. Dislocation mediated alignment during metal nanoparticle coalescence. Acta Mater. 120, 364–378 (2016).

Kim, B. H. et al. Critical differences in 3D atomic structure of individual ligand-protected nanocrystals in solution. Science 368, 60–67 (2020).

Zhang, T. H. & Liu, X. Y. How does a transient amorphous precursor template crystallization. J. Am. Chem. Soc. 129, 13520–13526 (2007).

Lee, J., Yang, J., Kwon, S. G. & Hyeon, T. Nonclassical nucleation and growth of inorganic nanoparticles. Nat. Rev. Mater. 1, 16034 (2016).

Guo, C., Wang, J., Li, J., Wang, Z. & Tang, S. Kinetic pathways and mechanisms of two-step nucleation in crystallization. J. Phys. Chem. Lett. 7, 5008–5014 (2016).

Lim, B., Xiong, Y. & Xia, Y. A water-based synthesis of octahedral, decahedral, and icosahedral Pd nanocrystals. Angew. Chem. Int. Edn 46, 9279–9282 (2007).

Buxton, G. V., Greenstock, C. L., Helman, W. P. & Ross, A. B. Critical review of rate constants for reactions of hydrated electrons, hydrogen atoms and hydroxyl radicals (⋅OH/⋅O−) in aqueous solution. J. Phys. Chem. Ref. Data 17, 513–886 (1988).

Jung, H. J. et al. Spatial variation of available electronic excitations within individual quantum dots. Nano Lett. 13, 716–721 (2013).

Egerton, R. F. Electron Energy-Loss Spectroscopy in the Electron Microscope (Springer Science & Business Media, 2011).

Woehl, T. J., Evans, J. E., Arslan, I., Ristenpart, W. D. & Browning, N. D. Direct in situ determination of the mechanisms controlling nanoparticle nucleation and growth. ACS Nano 6, 8599–8610 (2012).

Hammond, C. The Basics of Crystallography and Diffraction Vol. 214 (Oxford, 2001).

Duroy, H. & Fourquet, J. Ab-initio structure determination of LiSbWO6 by x-ray powder diffraction. Mat. Res. Bull. 23, 447–452 (1988).

Bruker AXS, TOPAS v5. General profile and structure analysis software for powder diffraction data—user's manual (Bruker AXS,Karlsruhe, Germany, 2014).

Dabov, K., Foi, A., Katkovnik, V. & Egiazarian, K. Image denoising by sparse 3-D transform-domain collaborative filtering. IEEE Trans. Image Process. 16, 2080–2095 (2007).

Tian, X. et al. Correlating the three-dimensional atomic defects and electronic properties of two-dimensional transition metal dichalcogenides. Nat. Mater. 19, 867–873 (2020).

Scott, M. C. et al. Electron tomography at 2.4-ångström resolution. Nature 483, 444–447 (2012).

Chen, C. C. et al. Three-dimensional imaging of dislocations in a nanoparticle at atomic resolution. Nature 496, 74–77 (2013).

Giannozzi, P. et al. QUANTUM ESPRESSO: a modular and open-source software project for quantum simulations of materials. J. Phys. Condens. Matter 21, 395502 (2009).

Giannozzi, P. et al. Advanced capabilities for materials modelling with QUANTUM ESPRESSO. J. Phys. Condens. Matter 29, 465901 (2017).

Perdew, J. P. et al. Restoring the density-gradient expansion for exchange in solids and surfaces. Phys. Rev. Lett. 100, 136406 (2008).

Blöchl, P. E. Projector augmented-wave method. Phys. Rev. B 50, 17953–17979 (1994).

Dal Corso, A. Pseudopotentials periodic table: from H to Pu. Comput. Mater. Sci. 95, 337–350 (2014).

Houari, A., Matar, S. F. & Eyert, V. Electronic structure and crystal phase stability of palladium hydrides. J. Appl. Phys. 116, 173706 (2014).

Marzari, N., Vanderbilt, D., De Vita, A. & Payne, M. C. Thermal contraction and disordering of the Al(110) surface. Phys. Rev. Lett. 82, 3296–3299 (1999).

Baroni, S., de Gironcoli, S., Dal Corso, A. & Giannozzi, P. Phonons and related crystal properties from density-functional perturbation theory. Rev. Mod. Phys. 73, 515–562 (2001).

Long, D. et al. Accounting for the thermo-stability of PdHx (x = 1–3) by density functional theory. Int. J. Hydrog. Energy 43, 18372–18381 (2018).

Arblaster, J. W. Crystallographic properties of palladium. Platin. Met. Rev. 56, 181–189 (2012).

Schirber, J. E. & Morosin, B. Lattice constants of β−PdHx and β−PdDx with x near 1.0. Phys. Rev. B 12, 117–118 (1975).

Errea, I., Calandra, M. & Mauri, F. First-principles theory of anharmonicity and the inverse isotope effect in superconducting palladium-hydride compounds. Phys. Rev. Lett. 111, 177002 (2013).

Kobayashi, K. et al. Discovery of hexagonal structured Pd-B nanocrystals. Angew. Chem. Int. Edn 56, 6578–6582 (2017).

Chen, L. et al. Metal boride better than Pt: HCP Pd2B as a superactive hydrogen evolution reaction catalyst. Energy Environ. Sci. 12, 3099–3105 (2019).

Politano, A., Chiarello, G. & Spinella, C. Plasmon spectroscopy of graphene and other two-dimensional materials with transmission electron microscopy. Mater. Sci. Semicond. Process. 65, 88–99 (2017).

Schneider, N. M. Radiolysis. GitHub https://github.com/NMSchneider/Radiolysis (2015).

Kwon, S. G. & Hyeon, T. Formation mechanisms of uniform nanocrystals via hot‐injection and heat‐up methods. Small 7, 2685–2702 (2011).
Acknowledgements
This research was supported by the National Research Foundation (grant nos. 2018M3D1A1058793, 2015M1A2A2074688, 2018M1A2A2061975, 2021M3H4A1A02042948, 2019R1F1A1058236, 2020R1C1C1006239, 2020R1F1A1060331 and 2019M3E6A1064877), the Korea Institute of Science and Technology (grant no. 2E30201), the KAIST-funded Global Singularity Research Program (M3I3) and the Institute for Basic Science (grant no. IBS-R006-D1).
Ethics declarations
Competing interests
The authors declare no competing interests.
Peer review
Peer review information
Nature thanks Damien Alloyeau and the other, anonymous, reviewer(s) for their contribution to the peer review of this work.
Additional information
Publisher's note Springer Nature remains neutral with regard to jurisdictional claims in published maps and institutional affiliations.
Extended data figures and tables
Supplementary information
About this article
Cite this article
Hong, J., Bae, JH., Jo, H. et al. Metastable hexagonal close-packed palladium hydride in liquid cell TEM. Nature 603, 631–636 (2022). https://doi.org/10.1038/s41586-021-04391-5
Received:

Accepted:

Published:

Issue Date:

DOI: https://doi.org/10.1038/s41586-021-04391-5
This article is cited by
Tingting Chao
Xuan Luo
Xun Hong

Nano Research (2022)
Comments
By submitting a comment you agree to abide by our Terms and Community Guidelines. If you find something abusive or that does not comply with our terms or guidelines please flag it as inappropriate.