Abstract
Ingested food and water stimulate sensory systems in the oropharyngeal and gastrointestinal areas before absorption1,2. These sensory signals modulate brain appetite circuits in a feed-forward manner3,4,5. Emerging evidence suggests that osmolality sensing in the gut rapidly inhibits thirst neurons upon water intake. Nevertheless, it remains unclear how peripheral sensory neurons detect visceral osmolality changes, and how they modulate thirst. Here we use optical and electrical recording combined with genetic approaches to visualize osmolality responses from sensory ganglion neurons. Gut hypotonic stimuli activate a dedicated vagal population distinct from mechanical-, hypertonic- or nutrient-sensitive neurons. We demonstrate that hypotonic responses are mediated by vagal afferents innervating the hepatic portal area (HPA), through which most water and nutrients are absorbed. Eliminating sensory inputs from this area selectively abolished hypotonic but not mechanical responses in vagal neurons. Recording from forebrain thirst neurons and behavioural analyses show that HPA-derived osmolality signals are required for feed-forward thirst satiation and drinking termination. Notably, HPA-innervating vagal afferents do not sense osmolality itself. Instead, these responses are mediated partly by vasoactive intestinal peptide secreted after water ingestion. Together, our results reveal visceral hypoosmolality as an important vagal sensory modality, and that intestinal osmolality change is translated into hormonal signals to regulate thirst circuit activity through the HPA pathway.
Relevant articles
Open Access articles citing this article.
David Dahlgren

,

Olof Nylander

&

Markus Sjöblom

Digestive Diseases and Sciences Open Access 27 November 2022

Mengtong Li

,

Hwei-Ee Tan

…

Charles S. Zuker

Nature Open Access 07 September 2022

Chen Ran

,

Jack C. Boettcher

…

Stephen D. Liberles

Nature Open Access 31 August 2022
Access options
Access Nature and 54 other Nature Portfolio journals
Get Nature+, our best-value online-access subscription
$29.99 / 30 days
cancel any time
Subscribe to this journal
Receive 51 print issues and online access
$199.00 per year
only $3.90 per issue
Rent or buy this article
Prices vary by article type
from$1.95
to$39.95
Prices may be subject to local taxes which are calculated during checkout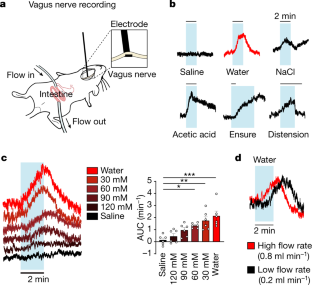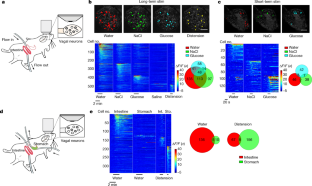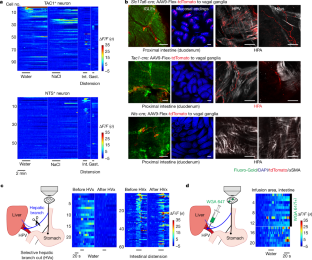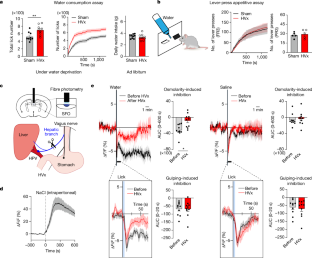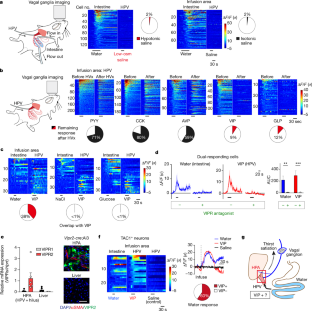 Data availability
Additional data that support the finding of this study are available from the corresponding author upon reasonable request. Source data are provided with this paper.
References
Browning, K. N., Verheijden, S. & Boeckxstaens, G. E. The vagus nerve in appetite regulation, mood, and intestinal inflammation. Gastroenterology 152, 730–744 (2017).

Kim, K. S., Seeley, R. J. & Sandoval, D. A. Signalling from the periphery to the brain that regulates energy homeostasis. Nat. Rev. Neurosci. 19, 185–196 (2018).

Andermann, M. L. & Lowell, B. B. Toward a wiring diagram understanding of appetite control. Neuron 95, 757–778 (2017).

Augustine, V., Lee, S. & Oka, Y. Neural control and modulation of thirst, sodium appetite, and hunger. Cell 180, 25–32 (2020).

Zimmerman, C. A., Leib, D. E. & Knight, Z. A. Neural circuits underlying thirst and fluid homeostasis. Nat. Rev. Neurosci. 18, 459–469 (2017).

Augustine, V. et al. Hierarchical neural architecture underlying thirst regulation. Nature 555, 204–209 (2018).

Ichiki, T., Augustine, V. & Oka, Y. Neural populations for maintaining body fluid balance. Curr. Opin. Neurobiol. 57, 134–140 (2019).

Zimmerman, C. A. & Knight, Z. A. Layers of signals that regulate appetite. Curr. Opin. Neurobiol. 64, 79–88 (2020).

Lowell, B. B. New neuroscience of homeostasis and drives for food, water, and salt. N. Engl. J. Med. 380, 459–471 (2019).

Augustine, V., Gokce, S. K. & Oka, Y. Peripheral and central nutrient sensing underlying appetite regulation. Trends Neurosci. 41, 526–539 (2018).

Thrasher, T. N., Nistal-Herrera, J. F., Keil, L. C. & Ramsay, D. J. Satiety and inhibition of vasopressin secretion after drinking in dehydrated dogs. Am. J. Physiol. 240, E394–E401 (1981).

Zimmerman, C. A. et al. A gut-to-brain signal of fluid osmolarity controls thirst satiation. Nature 568, 98–102 (2019).

Augustine, V. et al. Temporally and spatially distinct thirst satiation signals. Neuron 103, 242–249.e244 (2019).

Lechner, S. G. et al. The molecular and cellular identity of peripheral osmoreceptors. Neuron 69, 332–344 (2011).

Brierley, S. M. et al. Selective role for TRPV4 ion channels in visceral sensory pathways. Gastroenterology 134, 2059–2069 (2008).

Zimmer, L. J., Meliza, L. & Hsiao, S. Effects of cervical and subdiaphragmatic vagotomy on osmotic and volemic thirst. Physiol. Behav. 16, 665–670 (1976).

Smith, G. P. & Jerome, C. Effects of total and selective abdominal vagotomies on water intake in rats. J. Auton. Nerv. Syst. 9, 259–271 (1983).

Kim, D. Y. et al. A neural circuit mechanism for mechanosensory feedback control of ingestion. Nature 580, 376–380 (2020).

Williams, E. K. et al. Sensory neurons that detect stretch and nutrients in the digestive system. Cell 166, 209–221 (2016).

Kaelberer, M. M. et al. A gut–brain neural circuit for nutrient sensory transduction. Science 361, eaat523 (2018).

Tan, H. E. et al. The gut–brain axis mediates sugar preference. Nature 580, 511–516 (2020).

Kupari, J., Haring, M., Agirre, E., Castelo-Branco, G. & Ernfors, P. An atlas of vagal sensory neurons and their molecular specialization. Cell Rep. 27, 2508–2523.e2504 (2019).

Bai, L. et al. Genetic identification of vagal sensory neurons that control feeding. Cell 179, 1129–1143.e1123 (2019).

Prescott, S. L., Umans, B. D., Williams, E. K., Brust, R. D. & Liberles, S. D. An airway protection program revealed by sweeping genetic control of vagal afferents. Cell 181, 574–589.e514 (2020).

Adachi, A., Niijima, A. & Jacobs, H. L. An hepatic osmoreceptor mechanism in the rat: electrophysiological and behavioral studies. Am. J. Physiol. 231, 1043–1049 (1976).

Baertschi, A. J. & Vallet, P. G. Osmosensitivity of the hepatic portal vein area and vasopressin release in rats. J. Physiol. 315, 217–230 (1981).

Morita, H., Fujiki, N., Hagiike, M., Yamaguchi, O. & Lee, K. Functional evidence for involvement of bumetanide-sensitive Na+K+2Cl− cotransport in the hepatoportal Na+ receptor of the Sprague–Dawley rat. Neurosci. Lett. 264, 65–68 (1999).

Niijima, A. Glucose-sensitive afferent nerve fibres in the hepatic branch of the vagus nerve in the guinea-pig. J. Physiol. 332, 315–323 (1982).

McKinley, M. J. & Johnson, A. K. The physiological regulation of thirst and fluid intake. News Physiol Sci 19, 1–6 (2004).

Gribble, F. M. & Reimann, F. Function and mechanisms of enteroendocrine cells and gut hormones in metabolism. Nat. Rev. Endocrinol. 15, 226–237 (2019).

Christofides, N. D. et al. Release of gastrointestinal hormones following an oral water load. Experientia 35, 1521–1523 (1979).

Costa, M. & Furness, J. B. The origins, pathways and terminations of neurons with VIP-like immunoreactivity in the guinea-pig small intestine. Neuroscience 8, 665–676 (1983).

Talbot, J. et al. Feeding-dependent VIP neuron–ILC3 circuit regulates the intestinal barrier. Nature 579, 575–580 (2020).

Furness, J. B. The enteric nervous system and neurogastroenterology. Nat. Rev. Gastroenterol. Hepatol. 9, 286–294 (2012).

Giovannucci, A. et al. CaImAn an open source tool for scalable calcium imaging data analysis. eLife 8, e38173 (2019).

Kennedy, A. et al. Stimulus-specific hypothalamic encoding of a persistent defensive state. Nature 586, 730–734 (2020).

Zocchi, D., Wennemuth, G. & Oka, Y. The cellular mechanism for water detection in the mammalian taste system. Nat. Neurosci. 20, 927–933 (2017).

Xie, C., Wei, W., Zhang, T., Dirsch, O. & Dahmen, U. Monitoring of systemic and hepatic hemodynamic parameters in mice. J. Vis. Exp. 92, e51955 (2014).

McHugh, J. et al. Portal osmopressor mechanism linked to transient receptor potential vanilloid 4 and blood pressure control. Hypertension 55, 1438–1443 (2010).

Lerner, T. N. et al. Intact-brain analyses reveal distinct information carried by SNc dopamine subcircuits. Cell 162, 635–647 (2015).

Han, W. et al. A neural circuit for gut-induced reward. Cell 175, 665–678.e623 (2018).

Hama, H. et al. ScaleS: an optical clearing palette for biological imaging. Nat. Neurosci. 18, 1518–1529 (2015).

L'Heureux-Bouron, D. et al. Total subdiaphragmatic vagotomy does not suppress high protein diet-induced food intake depression in rats. J. Nutr. 133, 2639–2642 (2003).

Lee, S. et al. Chemosensory modulation of neural circuits for sodium appetite. Nature 568, 93–97 (2019).
Acknowledgements
We thank the members of the Oka laboratory, S. D. Liberles and C. S. Zuker for helpful discussion and comments; B. Ho and A. Koranne for maintaining and genotyping mouse lines; T. Zhang, W. Han and I. E. Araujo for technical advice on surgical techniques; L. Luebbert for initial imaging analysis; T. Karigo for technical help; X. Chen and V. Gradinaru for advice on virus development and tissue clearing; and J. Parker for sharing the qPCR machine. This work was supported by Startup funds from the President and Provost of California Institute of Technology and the Biology and Biological Engineering Division of California Institute of Technology. Y.O. is also supported by New York Stem Cell Foundation, NIH (R01NS109997, R01NS123918), Alfred P. Sloan Foundation, and Heritage Medical Research Institute. T.I. is supported by the Japan Society for the Promotion of Science.
Ethics declarations
Competing interests
The authors declare no competing interests.
Peer review information
Nature thanks Richard Palmiter and the other, anonymous reviewers for their contribution to the peer review of this work.
Additional information
Publisher's note Springer Nature remains neutral with regard to jurisdictional claims in published maps and institutional affiliations.
Extended data figures and tables
Supplementary information
About this article
Cite this article
Ichiki, T., Wang, T., Kennedy, A. et al. Sensory representation and detection mechanisms of gut osmolality change. Nature 602, 468–474 (2022). https://doi.org/10.1038/s41586-021-04359-5
Received:

Accepted:

Published:

Issue Date:

DOI: https://doi.org/10.1038/s41586-021-04359-5
Comments
By submitting a comment you agree to abide by our Terms and Community Guidelines. If you find something abusive or that does not comply with our terms or guidelines please flag it as inappropriate.