Abstract
The brain's remarkable ability to learn and execute various motor behaviours harnesses the capacity of neural populations to generate a variety of activity patterns. Here we explore systematic changes in preparatory activity in motor cortex that accompany motor learning. We trained rhesus monkeys to learn an arm-reaching task1 in a curl force field that elicited new muscle forces for some, but not all, movement directions2,3. We found that in a neural subspace predictive of hand forces, changes in preparatory activity tracked the learned behavioural modifications and reassociated4 existing activity patterns with updated movements. Along a neural population dimension orthogonal to the force-predictive subspace, we discovered that preparatory activity shifted uniformly for all movement directions, including those unaltered by learning. During a washout period when the curl field was removed, preparatory activity gradually reverted in the force-predictive subspace, but the uniform shift persisted. These persistent preparatory activity patterns may retain a motor memory of the learned field5,6 and support accelerated relearning of the same curl field. When a set of distinct curl fields was learned in sequence, we observed a corresponding set of field-specific uniform shifts which separated the associated motor memories in the neural state space7,8,9. The precise geometry of these uniform shifts in preparatory activity could serve to index motor memories, facilitating the acquisition, retention and retrieval of a broad motor repertoire.
This is a preview of subscription content
Access options
Subscribe to Nature+
Get immediate online access to the entire Nature family of 50+ journals
Subscribe to Journal
Get full journal access for 1 year
$199.00
only $3.90 per issue
All prices are NET prices.
VAT will be added later in the checkout.
Tax calculation will be finalised during checkout.
Buy article
Get time limited or full article access on ReadCube.
$32.00
All prices are NET prices.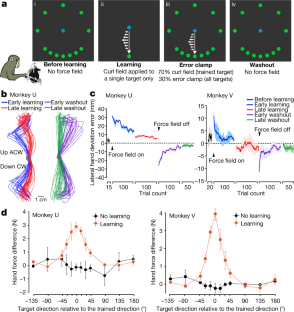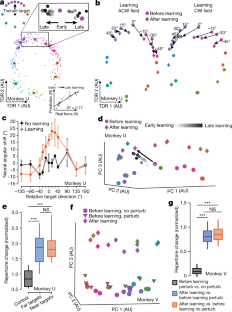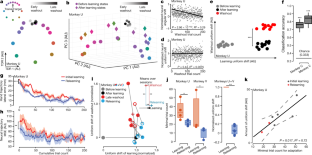 Data availability
The data that support the findings of the current study are available from the corresponding authors upon reasonable request. Source data are provided with this paper.
References
Shadmehr, R. & Mussa-Ivaldi, F. A. Adaptive representation of dynamics during learning of a motor task. J. Neurosci. 14, 3208–3224 (1994).

Shadmehr, R. Generalization as a behavioral window to the neural mechanisms of learning internal models. Hum. Mov. Sci. 23, 543–568 (2004).

Howard, I. S. & Franklin, D. W. Neural tuning functions underlie both generalization and interference. PLoS ONE 10, e0131268 (2015).

Golub, M. D. et al. Learning by neural reassociation. Nat. Neurosci. 21, 607–616 (2018).

Li, C. S., Padoa-Schioppa, C. & Bizzi, E. Neuronal correlates of motor performance and motor learning in the primary motor cortex of monkeys adapting to an external force field. Neuron 30, 593–607 (2001).

Xiao, J. Premotor neuronal plasticity in monkeys adapting to a new dynamic environment. Eur. J. Neurosci. 22, 3266–3280 (2005).

Sheahan, H. R., Franklin, D. W. & Wolpert, D. M. Motor planning, not execution, separates motor memories. Neuron 92, 773–779 (2016).

Sheahan, H. R., Ingram, J. N., Žalalytė, G. M. & Wolpert, D. M. Imagery of movements immediately following performance allows learning of motor skills that interfere. Sci. Rep. 8, 14330 (2018).

Schween, R., Langsdorf, L., Taylor, J. A. & Hegele, M. How different effectors and action effects modulate the formation of separate motor memories. Sci. Rep. 9, 17040 (2019).

Krakauer, J. W., Hadjiosif, A. M., Xu, J., Wong, A. L. & Haith, A. M. Motor learning. Compr. Physiol. 9, 613–663 (2019).

Thoroughman, K. A. & Shadmehr, R. Learning of action through adaptive combination of motor primitives. Nature 407, 742–747 (2000).

Herzfeld, D. J., Vaswani, P. A., Marko, M. K. & Shadmehr, R. A memory of errors in sensorimotor learning. Science 345, 1349–1353 (2014).

Howard, I. S., Wolpert, D. M. & Franklin, D. W. The effect of contextual cues on the encoding of motor memories. J. Neurophysiol. 109, 2632–2644 (2013).

Shenoy, K. V., Sahani, M. & Churchland, M. M. Cortical control of arm movements: a dynamical systems perspective. Annu. Rev. Neurosci. 36, 337–359 (2013).

Vyas, S., Golub, M. D., Sussillo, D. & Shenoy, K. V. Computation through neural population dynamics. Annu. Rev. Neurosci. 43, 249–275 (2020).

Sauerbrei, B. A. et al. Cortical pattern generation during dexterous movement is input-driven. Nature 577, 386–391 (2020).

Stavisky, S. D., Kao, J. C., Ryu, S. I. & Shenoy, K. V. Trial-by-trial motor cortical correlates of a rapidly adapting visuomotor internal model. J. Neurosci. 37, 1721–1732 (2017).

Vyas, S. et al. Neural population dynamics underlying motor learning transfer. Neuron 97, 11771186.e3 (2018).

Perich, M. G., Gallego, J. A. & Miller, L. E. A neural population mechanism for rapid learning. Neuron 100, 964–976.e7 (2018).

Vyas, S., O'Shea, D. J., Ryu, S. I. & Shenoy, K. V. Causal role of motor preparation during error-driven learning. Neuron 106, 329–339.e4 (2020).

Churchland, M. M. et al. Neural population dynamics during reaching. Nature 487, 51–56 (2012).

Mante, V., Sussillo, D., Shenoy, K. V. & Newsome, W. T. Context-dependent computation by recurrent dynamics in prefrontal cortex. Nature 503, 78–84 (2013).

Even-Chen, N., Sheffer, B., Vyas, S., Ryu, S. I. & Shenoy, K. V. Structure and variability of delay activity in premotor cortex. PLoS Comput. Biol. 15, e1006808 (2019).

Arce, F., Novick, I., Mandelblat-Cerf, Y. & Vaadia, E. Neuronal correlates of memory formation in motor cortex after adaptation to force field. J. Neurosci. 30, 9189–9198 (2010).

Donchin, O., Francis, J. T. & Shadmehr, R. Quantifying generalization from trial-by-trial behavior of adaptive systems that learn with basis functions: theory and experiments in human motor control. J. Neurosci. 23, 9032–9045 (2003).

Jarosiewicz, B. et al. Functional network reorganization during learning in a brain-computer interface paradigm. Proc. Natl Acad. Sci. USA 105, 19486–19491 (2008).

Chase, S. M., Kass, R. E. & Schwartz, A. B. Behavioral and neural correlates of visuomotor adaptation observed through a brain–computer interface in primary motor cortex. J. Neurophysiol. 108, 624–644 (2012).

Oby, E. R. et al. New neural activity patterns emerge with long-term learning. Proc. Natl Acad. Sci. USA 116, 15210–15215 (2019).

Sakellaridi, S. et al. Intrinsic variable learning for brain–machine interface control by human anterior intraparietal cortex. Neuron 102, 694–705.e3 (2019).

Hwang, E. J., Bailey, P. M. & Andersen, R. A. Volitional control of neural activity relies on the natural motor repertoire. Curr. Biol. 23, 353–361 (2013).

Rokni, U., Richardson, A. G., Bizzi, E. & Seung, H. S. Motor learning with unstable neural representations. Neuron 54, 653–666 (2007).

Franklin, D. W., Osu, R., Burdet, E., Kawato, M. & Milner, T. E. Adaptation to stable and unstable dynamics achieved by combined impedance control and inverse dynamics model. J. Neurophysiol. 90, 3270–3282 (2003).

Heald, J. B., Franklin, D. W. & Wolpert, D. M. Increasing muscle co-contraction speeds up internal model acquisition during dynamic motor learning. Sci. Rep. 8, 16355 (2018).

Richardson, A. G., Borghi, T. & Bizzi, E. Activity of the same motor cortex neurons during repeated experience with perturbed movement dynamics. J. Neurophysiol. 107, 3144–3154 (2012).

Churchland, M. M., Cunningham, J. P., Kaufman, M. T., Ryu, S. I. & Shenoy, K. V. Cortical preparatory activity: representation of movement or first cog in a dynamical machine? Neuron 68, 387–400 (2010).

Russo, A. A. et al. Motor cortex embeds muscle-like commands in an untangled population response. Neuron 97, 953–966.e8 (2018).

Ames, K. C., Ryu, S. I. & Shenoy, K. V. Neural dynamics of reaching following incorrect or absent motor preparation. Neuron 81, 438–451 (2014).
Acknowledgements
We thank the members of the Shenoy laboratory at Stanford University for comments and discussions on the methods and results; T. Fisher for help with experiments; M. Risch, M. Wechsler and R. Reeder for expert veterinary care; B. Davis for administrative support; and W. L. Gore for donating Preclude artificial dura used as part of the chronic electrode array implantation procedure. X.S. was supported by a Stanford Interdisciplinary Graduate Fellowship, a Stanford Bio-X Honorary Fellowship and Stanford Department of Biology Funding. D.J.O. was supported by a US National Science Foundation graduate research fellowship and a Stanford Graduate Fellowship. M.D.G. was supported by an NIH K99/R00 award NIMH-K99MH121533. E.M.T. was supported by an NIH NRSA grant 1F31NS089376-01, a Stanford Graduate Fellowship and an NSF IGERT grant 0734683. S.V. was supported by an NIH F31 Ruth L. Kirschstein National Research Service Award 1F31NS103409-01, an NSF Graduate Research Fellowship and a Ric Weiland Stanford Graduate Fellowship. K.V.S. was supported by the following awards: NIH Director's Pioneer Award 8DP1HD075623, Defense Advanced Research Projects Agency (DARPA) Biological Technology Office (BTO) 'NeuroFAST' award W911NF-14-2-0013, the Simons Foundation Collaboration on the Global Brain awards 543045, the Office of Naval Research N000141812158 and the Howard Hughes Medical Institute.
Ethics declarations
Competing interests
K.V.S. is a consultant to Neuralink Corp. and CTRL-Labs Inc., in the Reality Labs Division of Meta (formerly FaceBook). He is on the Scientific Advisory Boards of Inscopix Inc., Mind X Inc. and Heal Inc. These entities did not support or influence this work. The authors declare no other competing interests.
Peer review information
Nature thanks Aaron Batista, J. Andrew Pruszynski and the other, anonymous reviewers for their contribution to the peer review of this work. Peer review reports are available.
Additional information
Publisher's note Springer Nature remains neutral with regard to jurisdictional claims in published maps and institutional affiliations.
Extended data figures and tables
Supplementary information
About this article
Cite this article
Sun, X., O'Shea, D.J., Golub, M.D. et al. Cortical preparatory activity indexes learned motor memories. Nature 602, 274–279 (2022). https://doi.org/10.1038/s41586-021-04329-x
Received:

Accepted:

Published:

Issue Date:

DOI: https://doi.org/10.1038/s41586-021-04329-x
Comments
By submitting a comment you agree to abide by our Terms and Community Guidelines. If you find something abusive or that does not comply with our terms or guidelines please flag it as inappropriate.