Abstract
Solid-state nuclear spins surrounding individual, optically addressable qubits1,2 are a crucial resource for quantum networks3,4,5,6, computation7,8,9,10,11 and simulation12. Although hosts with sparse nuclear spin baths are typically chosen to mitigate qubit decoherence13, developing coherent quantum systems in nuclear-spin-rich hosts enables exploration of a much broader range of materials for quantum information applications. The collective modes of these dense nuclear spin ensembles provide a natural basis for quantum storage14; however, using them as a resource for single-spin qubits has thus far remained elusive. Here, by using a highly coherent, optically addressed 171Yb3+ qubit doped into a nuclear-spin-rich yttrium orthovanadate crystal15, we develop a robust quantum control protocol to manipulate the multi-level nuclear spin states of neighbouring 51V5+ lattice ions. Via a dynamically engineered spin-exchange interaction, we polarize this nuclear spin ensemble, generate collective spin excitations, and subsequently use them to implement a quantum memory. We additionally demonstrate preparation and measurement of maximally entangled 171Yb–51V Bell states. Unlike conventional, disordered nuclear-spin-based quantum memories16,17,18,19,20,21,22,23,24, our platform is deterministic and reproducible, ensuring identical quantum registers for all 171Yb3+ qubits. Our approach provides a framework for utilizing the complex structure of dense nuclear spin baths, paving the way towards building large-scale quantum networks using single rare-earth ion qubits15,25,26,27,28.
Your institute does not have access to this article
Relevant articles
Open Access articles citing this article.
George Gillard

,

Edmund Clarke

&

Evgeny A. Chekhovich

Nature Communications Open Access 13 July 2022
Access options
Subscribe to Nature+
Get immediate online access to the entire Nature family of 50+ journals
Subscribe to Journal
Get full journal access for 1 year
$199.00
only $3.90 per issue
All prices are NET prices.
VAT will be added later in the checkout.
Tax calculation will be finalised during checkout.
Buy article
Get time limited or full article access on ReadCube.
$32.00
All prices are NET prices.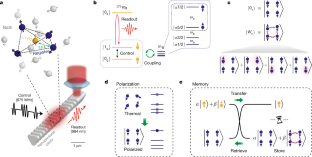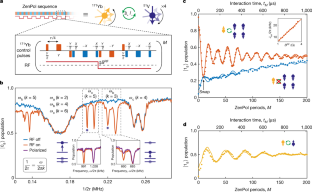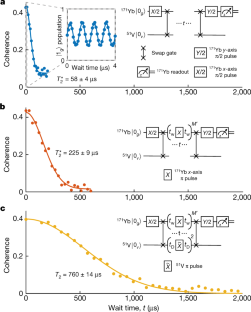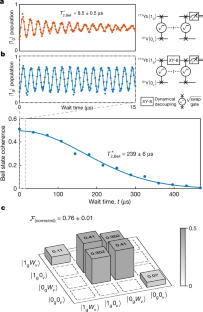 Data availability
The data that support the findings of this study are available from the corresponding authors upon request.
References
Awschalom, D. D., Hanson, R., Wrachtrup, J. & Zhou, B. B. Quantum technologies with optically interfaced solid-state spins. Nat. Photonics 12, 516–527 (2018).

Chatterjee, A. et al. Semiconductor qubits in practice. Nat. Rev. Phys. 3, 157–177 (2021).

Briegel, H.-J., Dür, W., Cirac, J. I. & Zoller, P. Quantum repeaters: the role of imperfect local operations in quantum communication. Phys. Rev. Lett. 81, 5932–5935 (1998).

Hensen, B. et al. Loophole-free Bell inequality violation using electron spins separated by 1.3 kilometres. Nature 526, 682–686 (2015).

Bhaskar, M. K. et al. Experimental demonstration of memory-enhanced quantum communication. Nature 580, 60–64 (2020).

Pompili, M. et al. Realization of a multinode quantum network of remote solid-state qubits. Science 372, 259–264 (2021).

Waldherr, G. et al. Quantum error correction in a solid-state hybrid spin register. Nature 506, 204–207 (2014).

Taminiau, T. H., Cramer, J., van der Sar, T., Dobrovitski, V. V. & Hanson, R. Universal control and error correction in multi-qubit spin registers in diamond. Nat. Nanotechnol. 9, 171–176 (2014).

Zhong, M., Ahlefeldt, R. L. & Sellars, M. J. Quantum information processing using frozen core Y3+ spins in Eu3+:Y2SiO5. New J. Phys. 21, 033019 (2019).

Bradley, C. E. et al. A ten-qubit solid-state spin register with quantum memory up to one minute. Phys. Rev. X 9, 031045 (2019).

Kinos, A. et al. Roadmap for rare-earth quantum computing. Preprint at https://arxiv.org/abs/2103.15743 (2021).

Randall, J. et al. Many-body–localized discrete time crystal with a programmable spin-based quantum simulator. Science 374, 1474–1478 (2021).

Wolfowicz, G. et al. Quantum guidelines for solid-state spin defects. Nat. Rev. Mater. 6, 906–925 (2021); correction 6, 1191 (2021).

Taylor, J. M., Marcus, C. M. & Lukin, M. D. Long-lived memory for mesoscopic quantum bits. Phys. Rev. Lett. 90, 206803 (2003).

Kindem, J. M. et al. Control and single-shot readout of an ion embedded in a nanophotonic cavity. Nature 580, 201–204 (2020).

Gurudev Dutt, M. V. et al. Quantum register based on individual electronic and nuclear spin qubits in diamond. Science 316, 1312–1316 (2007).

Kolkowitz, S., Unterreithmeier, Q. P., Bennett, S. D. & Lukin, M. D. Sensing distant nuclear spins with a single electron spin. Phys. Rev. Lett. 109, 137601 (2012).

Taminiau, T. H. et al. Detection and control of individual nuclear spins using a weakly coupled electron spin. Phys. Rev. Lett. 109, 137602 (2012).

Zhao, N. et al. Sensing single remote nuclear spins. Nat. Nanotechnol. 7, 657–662 (2012).

Metsch, M. H. et al. Initialization and readout of nuclear spins via a negatively charged silicon-vacancy center in diamond. Phys. Rev. Lett. 122, 190503 (2019).

Bourassa, A. et al. Entanglement and control of single nuclear spins in isotopically engineered silicon carbide. Nat. Mater. 19, 1319–1325 (2020).

Hensen, B. et al. A silicon quantum-dot-coupled nuclear spin qubit. Nat. Nanotechnol. 15, 13–17 (2020).

Kornher, T. et al. Sensing individual nuclear spins with a single rare-earth electron spin. Phys. Rev. Lett. 124, 170402 (2020).

Wolfowicz, G. et al. 29Si nuclear spins as a resource for donor spin qubits in silicon. New J. Phys. 18, 023021 (2016).

Utikal, T. et al. Spectroscopic detection and state preparation of a single praseodymium ion in a crystal. Nat. Commun. 5, 3627 (2014).

Siyushev, P. et al. Coherent properties of single rare-earth spin qubits. Nat. Commun. 5, 3895 (2014).

Zhong, T. et al. Optically addressing single rare-earth ions in a nanophotonic cavity. Phys. Rev. Lett. 121, 183603 (2018).

Chen, S., Raha, M., Phenicie, C. M., Ourari, S. & Thompson, J. D. Parallel single-shot measurement and coherent control of solid-state spins below the diffraction limit. Science 370, 592–595 (2020).

Gangloff, D. A. et al. Quantum interface of an electron and a nuclear ensemble. Science 364, 62–66 (2019).

Gangloff, D. A. et al. Witnessing quantum correlations in a nuclear ensemble via an electron spin qubit. Nat. Phys. 17, 1247–1253 (2021).

Kindem, J. M. et al. Characterization of 171Yb3+:YVO4 for photonic quantum technologies. Phys. Rev. B 98, 024404 (2018).

Bleaney, B., Gregg, J. F., de Oliveira, A. C. & Wells, M. R. Nuclear magnetic resonance of 51V (I = 7/2) in lanthanide vanadates: II. The nuclear electric quadrupole interaction. J. Phys. C 15, 5293–5303 (1982).

Weimer, H., Yao, N. Y. & Lukin, M. D. Collectively enhanced interactions in solid-state spin qubits. Phys. Rev. Lett. 110, 067601 (2013).

Hartmann, S. R. & Hahn, E. L. Nuclear double resonance in the rotating frame. Phys. Rev. 128, 2042–2053 (1962).

Schwartz, I. et al. Robust optical polarization of nuclear spin baths using Hamiltonian engineering of nitrogen-vacancy center quantum dynamics. Sci. Adv. 4, eaat8978 (2018).

Choi, J. et al. Robust dynamic Hamiltonian engineering of many-body spin systems. Phys. Rev. X 10, 031002 (2020).

Bauch, E. et al. Ultralong dephasing times in solid-state spin ensembles via quantum control. Phys. Rev. X 8, 031025 (2018).

Levine, H. et al. High-fidelity control and entanglement of Rydberg-atom qubits. Phys. Rev. Lett. 121, 123603 (2018).

Gullion, T., Baker, D. B. & Conradi, M. S. New, compensated Carr–Purcell sequences.J. Magn. Reson. 89, 479–484 (1990).

Kalb, N. et al. Entanglement distillation between solid-state quantum network nodes. Science 356, 928–932 (2017).

Zhong, T., Rochman, J., Kindem, J. M., Miyazono, E. & Faraon, A. High quality factor nanophotonic resonators in bulk rare-earth doped crystals. Opt. Express 24, 536–544 (2016).

Zhong, T. et al. Nanophotonic rare-earth quantum memory with optically controlled retrieval. Science 357, 1392–1395 (2017).

Drever, R. W. P. et al. Laser phase and frequency stabilization using an optical resonator. Appl. Phys. B 31, 97–105 (1983).

Slichter, C. P. Principles of Magnetic Resonance (Springer, 1990).

Degen, C. L., Reinhard, F. & Cappellaro, P. Quantum sensing. Rev. Mod. Phys. 89, 035002 (2017).

Bernien, H. et al. Heralded entanglement between solid-state qubits separated by three metres. Nature 497, 86–90 (2013).

Nguyen, C. T. et al. An integrated nanophotonic quantum register based on silicon-vacancy spins in diamond. Phys. Rev. B 100, 165428 (2019).
Acknowledgements
This work was funded by the Institute of Quantum Information and Matter, an NSF Physics Frontiers Center (PHY-1733907) with support from the Moore Foundation, NSF 1820790, Office of Naval Research award no. N00014-19-1-2182, Air Force Office of Scientific Research grant no. FA9550-18-1-0374 and no. FA9550-21-1-0055, Northrop Grumman, General Atomics, and Weston Havens Foundation. The device nanofabrication was performed in the Kavli Nanoscience Institute at the California Institute of Technology. J.R. acknowledges the support from the Natural Sciences and Engineering Research Council of Canada (NSERC) (PGSD3-502844-2017). A.R. acknowledges the support from the Eddleman Graduate Fellowship. J.C. acknowledges support from the IQIM postdoctoral fellowship. We thank J. Kindem, J. G. Bartholomew, N. Yao, A. Sipahigil, M. Lei and T. Xie for discussion, and M. Shaw for help with superconducting photon detectors.
Ethics declarations
Competing interests
The authors declare no competing interests.
Peer review
Peer review information
Nature thanks Fedor Jelezko and the other, anonymous, reviewer(s) for their contribution to the peer review of this work. Peer reviewer reports are available.
Additional information
Publisher's note Springer Nature remains neutral with regard to jurisdictional claims in published maps and institutional affiliations.
Extended data figures and tables
Supplementary information
This file contains Supplementary Text, Supplementary Equations 1–38 and Supplementary References.
About this article
Cite this article
Ruskuc, A., Wu, CJ., Rochman, J. et al. Nuclear spin-wave quantum register for a solid-state qubit. Nature 602, 408–413 (2022). https://doi.org/10.1038/s41586-021-04293-6
Received:

Accepted:

Published:

Issue Date:

DOI: https://doi.org/10.1038/s41586-021-04293-6
Further reading
George Gillard
Edmund Clarke
Evgeny A. Chekhovich

Nature Communications (2022)

Nature Physics (2022)
Comments
By submitting a comment you agree to abide by our Terms and Community Guidelines. If you find something abusive or that does not comply with our terms or guidelines please flag it as inappropriate.