Abstract
Transcriptional and proteomic profiling of individual cells have revolutionized interpretation of biological phenomena by providing cellular landscapes of healthy and diseased tissues1,2. These approaches, however, do not describe dynamic scenarios in which cells continuously change their biochemical properties and downstream 'behavioural' outputs3,4,5. Here we used 4D live imaging to record tens to hundreds of morpho-kinetic parameters describing the dynamics of individual leukocytes at sites of active inflammation. By analysing more than 100,000 reconstructions of cell shapes and tracks over time, we obtained behavioural descriptors of individual cells and used these high-dimensional datasets to build behavioural landscapes. These landscapes recognized leukocyte identities in the inflamed skin and trachea, and uncovered a continuum of neutrophil states inside blood vessels, including a large, sessile state that was embraced by the underlying endothelium and associated with pathogenic inflammation. Behavioural screening in 24 mouse mutants identified the kinase Fgr as a driver of this pathogenic state, and interference with Fgr protected mice from inflammatory injury. Thus, behavioural landscapes report distinct properties of dynamic environments at high cellular resolution.
Relevant articles
Open Access articles citing this article.
Amitava Mukherjee

,

Michael W. Epperly

…

Joel S. Greenberger

Cell Death Discovery Open Access 17 July 2023

Chunjiang Liu

,

Liming Tang

…

Yufei Zhou

European Journal of Medical Research Open Access 23 February 2023

Chloé Loyer

,

Arnaud Lapostolle

…

Carole Elbim

Critical Care Open Access 30 May 2022
Access options
Access Nature and 54 other Nature Portfolio journals
Get Nature+, our best-value online-access subscription
$29.99 / 30 days
cancel any time
Subscribe to this journal
Receive 51 print issues and online access
$199.00 per year
only $3.90 per issue
Rent or buy this article
Prices vary by article type
from$1.95
to$39.95
Prices may be subject to local taxes which are calculated during checkout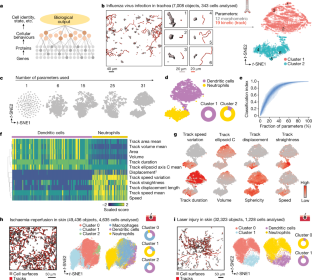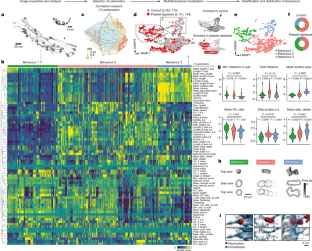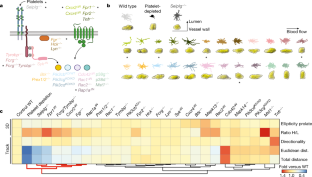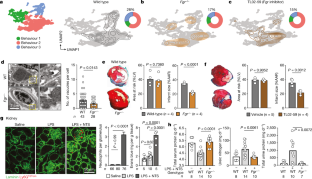 Data availability
All data and materials used in the study are available to any researcher for purposes of reproducing or extending these analyses. Source data are provided with this paper.
References
Kwok, I. et al. Combinatorial single-cell analyses of granulocyte–monocyte progenitor heterogeneity reveals an early uni-potent neutrophil progenitor. Immunity 53, 303–318.e5 (2020).

Amit, I., Regev, A. & Hacohen, N. Strategies to discover regulatory circuits of the mammalian immune system. Nat. Rev. Immunol. 11, 873–880 (2011).

Lämmermann, T. et al. Neutrophil swarms require LTB4 and integrins at sites of cell death in vivo. Nature 498, 371–375 (2013).

Sreeramkumar, V. et al. Neutrophils scan for activated platelets to initiate inflammation. Science 346, 1234–1238 (2014).

Woodfin, A. et al. The junctional adhesion molecule JAM-C regulates polarized transendothelial migration of neutrophils in vivo. Nat. Immunol. 12, 761–769 (2011).

Papalexi, E. & Satija, R. Single-cell RNA sequencing to explore immune cell heterogeneity. Nat. Rev. Immunol. 18, 35–45 (2018).

Sumen, C., Mempel, T. R., Bazo, I. B. & von Andrian, U. H. Intravital microscopy: visualizing immunity in context. Immunity 21, 315–329 (2004).

Lelkes, E., Headley, M. B., Thornton, E. E., Looney, M. R. & Krummel, M. F. The spatiotemporal cellular dynamics of lung immunity. Trends Immunol. 35, 379–386 (2014).

Yamada, K. M. & Sixt, M. Mechanisms of 3D cell migration. Nat. Rev. Mol. Cell Biol. 20, 738–752 (2019).

Goh, C. C. et al. Real-time imaging of dendritic cell responses to sterile tissue injury. J. Invest. Dermatol. 135, 1181–1184 (2015).

Goh, C. C. et al. The impact of ischemia–reperfusion injuries on skin resident murine dendritic cells. Eur. J. Immunol. 48, 1014–1019 (2018).

Adrover, J. M. et al. Programmed 'disarming' of the neutrophil proteome reduces the magnitude of inflammation. Nat. Immunol. 21, 135–144 (2020).

Adrover, J. M. et al. A neutrophil timer coordinates immune defense and vascular protection. Immunity 50, 390–402.e10 (2019).

Hasenberg, A. et al. Catchup: a mouse model for imaging-based tracking and modulation of neutrophil granulocytes. Nat. Methods 12, 445–452 (2015).

Hidalgo, A. et al. Heterotypic interactions enabled by polarized neutrophil microdomains mediate thromboinflammatory injury. Nat. Med. 15, 384–391 (2009).

Mócsai, A., Walzog, B. & Lowell, C. A. Intracellular signalling during neutrophil recruitment. Cardiovasc. Res. 107, 373–385 (2015).

Weir, M. C. et al. Selective inhibition of the myeloid Src-family kinase Fgr potently suppresses AML cell growth in vitro and in vivo. ACS Chem. Biol. 13, 1551–1559 (2018).

García-Prieto, J. et al. Neutrophil stunning by metoprolol reduces infarct size. Nat. Commun. 8, 14780 (2017).

Hirahashi, J. et al. Mac-1 (CD11b/CD18) links inflammation and thrombosis after glomerular injury. Circulation 120, 1255–1265 (2009).

McArdle, S. et al. Migratory and dancing macrophage subsets in atherosclerotic lesions. Circ. Res. 125, 1038–1051 (2019).

Mempel, T. R., Henrickson, S. E. & von Andrian, U. H. T-cell priming by dendritic cells in lymph nodes occurs in three distinct phases. Nature 427, 154–159 (2004).

Boulch, M. et al. A cross-talk between CAR T cell subsets and the tumor microenvironment is essential for sustained cytotoxic activity. Sci. Immunol. 6, eabd4344 (2021).

Ivanovitch, K., Temiño, S. & Torres, M. Live imaging of heart tube development in mouse reveals alternating phases of cardiac differentiation and morphogenesis. eLife 6, e30668 (2017).

Lindquist, R. L. et al. Visualizing dendritic cell networks in vivo. Nat. Immunol. 5, 1243–1250 (2004).

Faust, N., Varas, F., Kelly, L. M., Heck, S. & Graf, T. Insertion of enhanced green fluorescent protein into the lysozyme gene creates mice with green fluorescent granulocytes and macrophages. Blood 96, 719–726 (2000).

Palomino-Segura, M., Virgilio, T., Morone, D., Pizzagalli, D. U. & Gonzalez, S. F. Imaging cell interaction in tracheal mucosa during influenza virus infection using two-photon intravital microscopy. J. Vis. Exp. 58355 (2018).

Bauer, C. A. et al. Dynamic Treg interactions with intratumoral APCs promote local CTL dysfunction. J. Clin. Invest. 124, 2425–2440 (2014).

Tran Cao, H. S. et al. Development of the transgenic cyan fluorescent protein (CFP)-expressing nude mouse for 'technicolor' cancer imaging. J. Cell. Biochem. 107, 328–334 (2009).

Devi, S. et al. Neutrophil mobilization via plerixafor mediated CXCR4 inhibition arises from lung demargination and blockade of neutrophil homing to the bone marrow. J. Exp. Med. 210, 2321–2336 (2013).

Çiçek, Ö., Abdulkadir, A., Lienkamp, S. S., Brox, T. & Ronneberger, O. In MICCAI 2016. Lecture Notes in Computer Science Vol. 9901 (eds Ourselin, S. et al.) (Springer, 2016).

Welch, G. & Bishop, G. An introduction to the Kalman Filter. In Pract. (2006).

Hao, Y. et al. Integrated analysis of multimodal single-cell data. Cell 184, 3573–3587.e29 (2021).

Venables, W. N. & Ripley, B. D. Modern Applied Statistics with S 4th edn (Springer, 2002).

Bates, D., Mächler, M., Bolker, B. M. & Walker, S. C. Fitting linear mixed-effects models using lme4. J. Stat. Softw. 67, 1–48 (2015).

Lloyd, S. P. Least squares quantization in PCM. IEEE Trans. Inf. Theory 28, 129–137 (1982).

Henique, C. et al. Genetic and pharmacological inhibition of microRNA-92a maintains podocyte cell cycle quiescence and limits crescentic glomerulonephritis. Nat. Commun. 8, 1829 (2017).
Acknowledgements
We thank all members of the Hidalgo laboratory and M. Desco for discussion; P. Frenette for inspiring this study; C. C. Goh and E. Y. Kim for seeding imaging experiments; the electron microscopy unit from the faculty of Medicine of Universidad Autonoma de Madrid for help with experiments; E. Marín, L. Cabezuela, E. Santos, R. Mota and the animal facility at CNIC for animal husbandry, animal procedures and histology; J. Rossaint, M. Gunzer, J.A. Enriquez, A. Mocsai, R.W. Hendricks, G. Sabio, M. Sperandio, E. Hirsch and B. Walzog for the generous gift of mutant mice; and C. Torroja, D. Jiménez and M. Desco for technical advice. This study was supported by RTI2018-095497-B-I00 from Ministerio de Ciencia e Innovación (MCIN), HR17_00527 from Fundación La Caixa, Transatlantic Network of Excellence (TNE-18CVD04) from the Leducq Foundation, and FET-OPEN (no. 861878) from the European Commission to A.H. M.P-S. is supported by a Federation of European Biochemical Societies and the EMBO ALTF (no. 1142-2020) long-term fellowships. J.S. is supported by a fellowship (PRE2019-089130) from MICINN and A.A.-C. is supported by fellowship CF/BQ/DR19/11740022 from La Caixa Foundation. J.L.Y.L. was supported by A*STAR and a Juan de la Cierva JCI-2017-33136 Fellowship from MICINN. S.D.C. is a recipient of a Marie Sklodowska-Curie fellowship (749731). M.G. is supported by SAF2017-89116R-P from MCIN and HR18_00120 from la Fundación La Caixa. T.R.M. is supported by grant NIH AI163223, L.G.N. is supported by SIgN core funding from A*STAR, and G.F.C. is supported by MCIN/AEI/10.13039/501100011033 (grant PID2019-110895RB-I00) and by Junta de Comunidades de Castilla-La Mancha (SBPLY/19/180501/000211). F.S.-C. is supported by MCIN (grant RTI2018-102084-B-I00), O.S. is supported by the Leducq Foundation (TNE-18CVD04), F.D.-d.-M. is supported by MCIN (TEC2017-84395-P), and T.E.S. is supported by the National Cancer Institute, NIH grant CA233576. The CNIC is supported by the MCIN and the Pro-CNIC Foundation.
Ethics declarations
Competing interests
A.H. is a consultant for Flagship Pioneering. The other authors declare no competing interests.
Peer review information
Nature thanks Klaus Ley and the other, anonymous, reviewer(s) for their contribution to the peer review of this work.
Additional information
Publisher's note Springer Nature remains neutral with regard to jurisdictional claims in published maps and institutional affiliations.
Extended data figures and tables
Supplementary information
About this article
Cite this article
Crainiciuc, G., Palomino-Segura, M., Molina-Moreno, M. et al. Behavioural immune landscapes of inflammation. Nature 601, 415–421 (2022). https://doi.org/10.1038/s41586-021-04263-y
Received:

Accepted:

Published:

Issue Date:

DOI: https://doi.org/10.1038/s41586-021-04263-y
Comments
By submitting a comment you agree to abide by our Terms and Community Guidelines. If you find something abusive or that does not comply with our terms or guidelines please flag it as inappropriate.