Abstract
CD8 T cell-mediated autoimmune diseases result from the breakdown of self-tolerance mechanisms in autoreactive CD8 T cells1. How autoimmune T cell populations arise and are sustained, and the molecular programmes defining the autoimmune T cell state, are unknown. In type 1 diabetes, β-cell-specific CD8 T cells destroy insulin-producing β-cells. Here we followed the fate of β-cell-specific CD8 T cells in non-obese diabetic mice throughout the course of type 1 diabetes. We identified a stem-like autoimmune progenitor population in the pancreatic draining lymph node (pLN), which self-renews and gives rise to pLN autoimmune mediators. pLN autoimmune mediators migrate to the pancreas, where they differentiate further and destroy β-cells. Whereas transplantation of as few as 20 autoimmune progenitors induced type 1 diabetes, as many as 100,000 pancreatic autoimmune mediators did not. Pancreatic autoimmune mediators are short-lived, and stem-like autoimmune progenitors must continuously seed the pancreas to sustain β-cell destruction. Single-cell RNA sequencing and clonal analysis revealed that autoimmune CD8 T cells represent unique T cell differentiation states and identified features driving the transition from autoimmune progenitor to autoimmune mediator. Strategies aimed at targeting the stem-like autoimmune progenitor pool could emerge as novel and powerful immunotherapeutic interventions for type 1 diabetes.
Relevant articles
Open Access articles citing this article.
Fei Sun

,

Chun-Liang Yang

…

Shi-Wei Liu

Cell & Bioscience Open Access 28 August 2023

Lina Sun

,

Yanhong Su

…

Baojun Zhang

Signal Transduction and Targeted Therapy Open Access 19 June 2023

Kateryna Onyshchenko

,

Ren Luo

…

Gabriele Niedermann

Nature Communications Open Access 12 April 2023
Access options
Access Nature and 54 other Nature Portfolio journals
Get Nature+, our best-value online-access subscription
$29.99 / 30 days
cancel any time
Subscribe to this journal
Receive 51 print issues and online access
$199.00 per year
only $3.90 per issue
Rent or buy this article
Prices vary by article type
from$1.95
to$39.95
Prices may be subject to local taxes which are calculated during checkout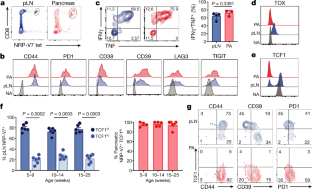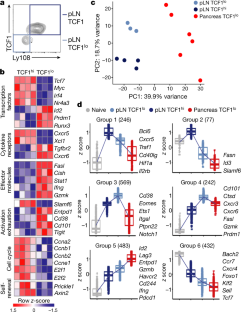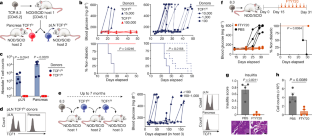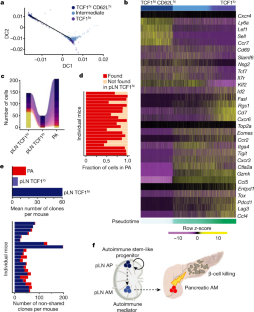 Data availability
The RNA-seq data have been deposited in the Gene Expression Omnibus under accession GSE151652. Comparisons to publicly available published data used the following datasets: GSE11994324, GSE13013025 and GSE7081356. Additional information and materials will be made available upon request. Source data are provided with this paper.
References
Bluestone, J. A., Bour-Jordan, H., Cheng, M. & Anderson, M. T cells in the control of organ-specific autoimmunity. J. Clin. Invest. 125, 2250–2260 (2015).

Kaech, S. M. & Cui, W. Transcriptional control of effector and memory CD8+ T cell differentiation. Nat. Rev. Immunol. 12, 749–761 (2012).

Philip, M. & Schietinger, A. CD8+ T cell differentiation and dysfunction in cancer. Nat. Rev. Immunol. https://doi.org/10.1038/s41577-021-00574-3 (2021).

Bluestone, J. A., Herold, K. & Eisenbarth, G. Genetics, pathogenesis and clinical interventions in type 1 diabetes. Nature 464, 1293–1300 (2010).

Herold, K. C., Vignali, D. A., Cooke, A. & Bluestone, J. A. Type 1 diabetes: translating mechanistic observations into effective clinical outcomes. Nat. Rev. Immunol. 13, 243–256 (2013).

Anderson, M. S. & Bluestone, J. A. The NOD mouse: a model of immune dysregulation. Annu. Rev. Immunol. 23, 447–485 (2005).

Unanue, E. R. Antigen presentation in the autoimmune diabetes of the NOD mouse. Annu. Rev. Immunol. 32, 579–608 (2014).

Tsai, S., Shameli, A. & Santamaria, P. CD8+ T cells in type 1 diabetes. Adv. Immunol. 100, 79–124 (2008).

Zakharov, P. N., Hu, H., Wan, X. & Unanue, E. R. Single-cell RNA sequencing of murine islets shows high cellular complexity at all stages of autoimmune diabetes. J. Exp. Med. 217, e20192362 (2020).

Coppieters, K. T. et al. Demonstration of islet-autoreactive CD8 T cells in insulitic lesions from recent onset and long-term type 1 diabetes patients. J. Exp. Med. 209, 51–60 (2012).

Ferris, S. T. et al. A minor subset of Batf3-dependent antigen-presenting cells in islets of Langerhans is essential for the development of autoimmune diabetes. Immunity 41, 657–669 (2014).

Lieberman, S. M. et al. Identification of the beta cell antigen targeted by a prevalent population of pathogenic CD8+ T cells in autoimmune diabetes. Proc. Natl Acad. Sci. USA 100, 8384–8388 (2003).

Escobar, G., Mangani, D. & Anderson, A. C. T cell factor 1: a master regulator of the T cell response in disease. Sci Immunol 5, eabb9726 (2020).

van Loosdregt, J. & Coffer, P. J. The role of WNT signaling in mature T cells: T cell factor is coming home. J. Immunol. 201, 2193–2200 (2018).

Reya, T. et al. A role for Wnt signalling in self-renewal of haematopoietic stem cells. Nature 423, 409–414 (2003).

Weissman, I. L., Anderson, D. J. & Gage, F. Stem and progenitor cells: origins, phenotypes, lineage commitments, and transdifferentiations. Annu. Rev. Cell Dev. Biol. 17, 387–403 (2001).

Christianson, S. W., Shultz, L. D. & Leiter, E. H. Adoptive transfer of diabetes into immunodeficient NOD-scid/scid mice. Relative contributions of CD4+ and CD8+ T-cells from diabetic versus prediabetic NOD.NON-Thy-1a donors. Diabetes 42, 44–55 (1993).

Verdaguer, J. et al. Spontaneous autoimmune diabetes in monoclonal T cell nonobese diabetic mice. J. Exp. Med. 186, 1663–1676 (1997).

Graef, P. et al. Serial transfer of single-cell-derived immunocompetence reveals stemness of CD8+ central memory T cells. Immunity 41, 116–126 (2014).

Lapidot, T. et al. A cell initiating human acute myeloid leukaemia after transplantation into SCID mice. Nature 367, 645–648 (1994).

Maki, T., Gottschalk, R., Ogawa, N. & Monaco, A. P. Prevention and cure of autoimmune diabetes in nonobese diabetic mice by continuous administration of FTY720. Transplantation 79, 1051–1055 (2005).

Brinkmann, V. et al. Fingolimod (FTY720): discovery and development of an oral drug to treat multiple sclerosis. Nat. Rev. Drug Discov. 9, 883–897 (2010).

Ehlers, M. R. & Rigby, M. R. Targeting memory T cells in type 1 diabetes. Curr. Diab. Rep. 15, 84 (2015).

Yao, C. et al. Single-cell RNA-seq reveals TOX as a key regulator of CD8+ T cell persistence in chronic infection. Nat. Immunol. 20, 890–901 (2019).

Schauder, D. M. et al. E2A-regulated epigenetic landscape promotes memory CD8 T cell differentiation. Proc. Natl Acad. Sci. USA 118, e2013452118 (2021).

Abdelsamed, H. A. et al. Beta cell-specific CD8+ T cells maintain stem cell memory-associated epigenetic programs during type 1 diabetes. Nat. Immunol.21, 578–587 (2020).

Culina, S. et al. Islet-reactive CD8+ T cell frequencies in the pancreas, but not in blood, distinguish type 1 diabetic patients from healthy donors. Sci Immunol 3, eaao4013 (2018).

Pelletier, D. & Hafler, D. A. Fingolimod for multiple sclerosis. N. Engl. J. Med. 366, 339–347 (2012).

Herold, K. C. et al. An anti-CD3 antibody, teplizumab, in relatives at risk for type 1 diabetes. N. Engl. J. Med. 381, 603–613 (2019).

Sims, E. K. et al. Teplizumab improves and stabilizes beta cell function in antibody-positive high-risk individuals. Sci. Transl. Med. 13, eabc8980 (2021).

Magnuson, A. M. et al. Population dynamics of islet-infiltrating cells in autoimmune diabetes. Proc. Natl Acad. Sci. USA 112, 1511–1516 (2015).

Thivolet, C., Bendelac, A., Bedossa, P., Bach, J. F. & Carnaud, C. CD8+ T cell homing to the pancreas in the nonobese diabetic mouse is CD4+ T cell-dependent. J. Immunol. 146, 85–88 (1991).

Sinnathamby, G. et al. Priming and activation of human ovarian and breast cancer-specific CD8+ T cells by polyvalent Listeria monocytogenes-based vaccines. J. Immunother. 32, 856–869 (2009).

Chee, J. et al. Effector-memory T cells develop in islets and report islet pathology in type 1 diabetes. J. Immunol. 192, 572–580 (2014).

Li, D. S., Yuan, Y. H., Tu, H. J., Liang, Q. L. & Dai, L. J. A protocol for islet isolation from mouse pancreas. Nat. Protoc. 4, 1649–1652 (2009).

Dobin, A. et al. STAR: ultrafast universal RNA-seq aligner. Bioinformatics 29, 15–21 (2013).

Liao, Y., Smyth, G. K. & Shi, W. featureCounts: an efficient general purpose program for assigning sequence reads to genomic features. Bioinformatics 30, 923–930 (2014).

Harrow, J. et al. GENCODE: the reference human genome annotation for the ENCODE project. Genome Res. 22, 1760–1774 (2012).

Love, M. I., Huber, W. & Anders, S. Moderated estimation of fold change and dispersion for RNA-seq data with DESeq2. Genome Biol. 15, 550 (2014).

Benjamini, Y. & Hochberg, Y. Controlling the false discovery rate: a practical and powerful approach to multiple testing. J. R. Stat. Soc. B 57, 289–300 (1995).

DEGreport: Report of DEG analysis (2020).

Sergushichev, A. An algorithm for fast preranked gene set enrichment analysis using cumulative statistic calculation. Preprint at https://doi.org/10.1101/060012 (2016).

Yu, G., Wang, L. G., Han, Y. & He, Q. Y. clusterProfiler: an R package for comparing biological themes among gene clusters. OMICS 16, 284–287 (2012).

Amezquita, R. A. et al. Orchestrating single-cell analysis with Bioconductor. Nat. Methods 17, 137–145 (2020).

McCarthy, D. J., Campbell, K. R., Lun, A. T. & Wills, Q. F. Scater: pre-processing, quality control, normalization and visualization of single-cell RNA-seq data in R. Bioinformatics 33, 1179–1186 (2017).

Kim, H. J., Lin, Y., Geddes, T. A., Yang, J. Y. H. & Yang, P. CiteFuse enables multi-modal analysis of CITE-seq data. Bioinformatics 36, 4137–4143 (2020).

Lun, A. T., Bach, K. & Marioni, J. C. Pooling across cells to normalize single-cell RNA sequencing data with many zero counts. Genome Biol. 17, 75 (2016).

Haghverdi, L., Lun, A. T. L., Morgan, M. D. & Marioni, J. C. Batch effects in single-cell RNA-sequencing data are corrected by matching mutual nearest neighbors. Nat. Biotechnol. 36, 421–427 (2018).

Lun, A. T., McCarthy, D. J. & Marioni, J. C. A step-by-step workflow for low-level analysis of single-cell RNA-seq data with Bioconductor. F1000Res 5, 2122 (2016).

Angerer, P. et al. destiny: diffusion maps for large-scale single-cell data in R. Bioinformatics 32, 1241–1243 (2016).

Ji, Z. & Ji, H. TSCAN: Pseudo-time reconstruction and evaluation in single-cell RNA-seq analysis. Nucleic Acids Res. 44, e117 (2016).

Robinson, M. D. & Oshlack, A. A scaling normalization method for differential expression analysis of RNA-seq data. Genome Biol. 11, R25 (2010).

Marini, F. & Binder, H. pcaExplorer: an R/Bioconductor package for interacting with RNA-seq principal components. BMC Bioinf. 20, 331 (2019).

Galili, T. dendextend: an R package for visualizing, adjusting and comparing trees of hierarchical clustering. Bioinformatics 31, 3718–3720 (2015).

Doench, J. G. et al. Optimized sgRNA design to maximize activity and minimize off-target effects of CRISPR–Cas9. Nat. Biotechnol. 34, 184–191 (2016).

Mackay, L. K. et al. Hobit and Blimp1 instruct a universal transcriptional program of tissue residency in lymphocytes. Science 352, 459–463 (2016).
Acknowledgements
We thank the members of the Schietinger laboratory, M. Li (MSKCC) and S. Reiner (Columbia University) for helpful discussions; K. Herold (Yale University) for reviewing data and discussion; H. Appleby and E. Bruno for technical support; S. Miakicheva for help with experiments; the MSKCC Flow Cytometry Core, especially R. Gardner; the Integrated Genomics Operation Core, especially A. Farina; M. Philip (Vanderbilt University) for critical feedback on the manuscript; and S. Monette (Tri-Institutional Laboratory of Comparative Pathology, MSKCC) for pathological evaluation of insulitis. This work was supported by the following funding sources: Medical Scientist Training Programme grant NIH T32GM007739 to the Weill Cornell/Rockefeller/Sloan Kettering Tri-Institutional MD-PhD Program (S.V.G.), NIH NIDDK F30DK122691 (S.V.G.), NIH NCI DP2CA225212 (A.S.), Lloyd Old STAR Award of the Cancer Research Institute (A.S.), Josie Robertson Foundation (A.S), the MSKCC Core Grant P30CA008748, Weill Cornell Medicine Core Laboratories Center (P.Z., F.D. and D.B.), NIH NIAID R01AI123730 (T.P.D.). F.J.S.-R. was partially supported by the MSKCC TROT programme (5T32CA160001), a GMTEC Postdoctoral Researcher Innovation Grant and is a HHMI Hanna Gray Fellow. The MSKCC Integrated Genomics Operation Core was supported by Cycle for Survival and the Marie-Josée and Henry R. Kravis Center for Molecular Oncology.
Ethics declarations
Competing interests
The authors declare no competing interests.
Peer review information
Nature thanks Stephen Turner and the other, anonymous, reviewer(s) for their contribution to the peer review of this work.
Additional information
Publisher's note Springer Nature remains neutral with regard to jurisdictional claims in published maps and institutional affiliations.
Extended data figures and tables
Supplementary information
Representative flow cytometry gating strategies.
About this article
Cite this article
Gearty, S.V., Dündar, F., Zumbo, P. et al. An autoimmune stem-like CD8 T cell population drives type 1 diabetes. Nature 602, 156–161 (2022). https://doi.org/10.1038/s41586-021-04248-x
Received:

Accepted:

Published:

Issue Date:

DOI: https://doi.org/10.1038/s41586-021-04248-x
Comments
By submitting a comment you agree to abide by our Terms and Community Guidelines. If you find something abusive or that does not comply with our terms or guidelines please flag it as inappropriate.