Abstract
Grafting is possible in both animals and plants. Although in animals the process requires surgery and is often associated with rejection of non-self, in plants grafting is widespread, and has been used since antiquity for crop improvement1. However, in the monocotyledons, which represent the second largest group of terrestrial plants and include many staple crops, the absence of vascular cambium is thought to preclude grafting2. Here we show that the embryonic hypocotyl allows intra- and inter-specific grafting in all three monocotyledon groups: the commelinids, lilioids and alismatids. We show functional graft unions through histology, application of exogenous fluorescent dyes, complementation assays for movement of endogenous hormones, and growth of plants to maturity. Expression profiling identifies genes that unify the molecular response associated with grafting in monocotyledons and dicotyledons, but also gene families that have not previously been associated with tissue union. Fusion of susceptible wheat scions to oat rootstocks confers resistance to the soil-borne pathogen Gaeumannomyces graminis. Collectively, these data overturn the consensus that monocotyledons cannot form graft unions, and identify the hypocotyl (mesocotyl in grasses) as a meristematic tissue that allows this process. We conclude that graft compatibility is a shared ability among seed-bearing plants.
Access options
Access Nature and 54 other Nature Portfolio journals
Get Nature+, our best-value online-access subscription
$29.99 per month
cancel any time
Subscribe to this journal
Receive 51 print issues and online access
$199.00 per year
only $3.90 per issue
Rent or buy this article
Get just this article for as long as you need it
$39.95
Prices may be subject to local taxes which are calculated during checkout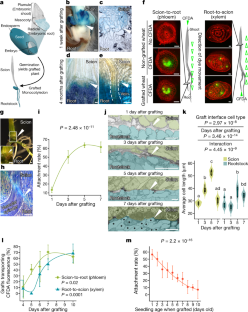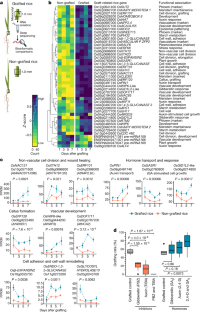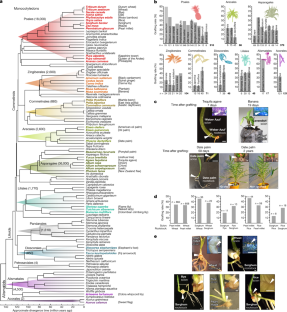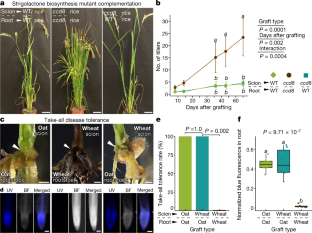 Data availability
All data are available in the manuscript, Extended Data and supplementary materials. Deep sequencing reads for grafted, non-grafted and wounded rice have been deposited into the NCBI Sequence Read Archive (SRA) with accession number PRJNA734117. Source data and custom coding scripts for plotting have been deposited into the GitHub repository: https://github.com/GregReeves/Reeves2021_MonocotGrafting. Source data are provided with this paper.
Code availability
Source data and custom R scripts used for individual plots and for browsing transcriptome results, as well as source data and Python scripts used for constructing monocotyledon phylogenies have been deposited at https://github.com/GregReeves/Reeves2021_MonocotGrafting. None of the custom code is central to conclusions of the manuscript.
References
Mudge, K., Janick, J., Scofield, S. & Goldschmidt, E. E. A history of grafting. Hortic. Rev. 35, 437–493 (2009).

Melnyk, C. W. & Meyerowitz, E. M. Plant grafting. Curr. Biol. 25, 183–188 (2015).

The Plant List v.1.1. http://www.theplantlist.org/ (2013).

Calderini, I. M. Essai d'expériences sur la graffe des graminées [Experimental trials on grafting grasses]. Ann. Sci. Nat. Bot. 1846, 131–133 (1846).

Muzik, T. J. & La Rue, C. D. The grafting of large monocotyledonous plants. Science 116, 589–591 (1952).

Obolensky, G. Grafting of plant embryos and the use of ultrasonics. Plant Food Hum. Nutr. 7, 273–288 (1960).

McCann, M. C. Chimeric plants—the best of both worlds. Science 369, 618–619 (2020).

Melnyk, C. W., Schuster, C., Leyser, O. & Meyerowitz, E. M. A developmental framework for graft formation and vascular reconnection in Arabidopsis thaliana. Curr. Biol. 25, 1306–1318 (2015).

Notaguchi, M. et al. Cell–cell adhesion in plant grafting is facilitated by β-1,4-glucanases. Science 369, 698–702 (2020).

Melnyk, C. W. et al. Transcriptome dynamics at Arabidopsis graft junctions reveal an intertissue recognition mechanism that activates vascular regeneration. Proc. Natl Acad. Sci. USA. 115, E2447–E2456 (2018).

Iwase, A. et al. The AP2/ERF transcription factor WIND1 controls cell dedifferentiation in Arabidopsis. Curr. Biol. 21, 508–514 (2011).

Pitaksaringkarn, W. et al. XTH20 and XTH19 regulated by ANAC071 under auxin flow are involved in cell proliferation in incised Arabidopsis inflorescence stems. Plant J. 80, 604–614 (2014).

Asahina, M. et al. Spatially selective hormonal control of RAP2.6L and ANAC071 transcription factors involved in tissue reunion in Arabidopsis. Proc. Natl Acad. Sci. USA 108, 16128–16132 (2011).

Matsuoka, K. et al. Wound-inducible ANAC071 and ANAC096 transcription factors promote cambial cell formation in incised Arabidopsis flowering stems. Commun. Biol. 4, 369 (2021).

Wu, Y. et al. Rice transcription factor OsDOF11 modulates sugar transport by promoting expression of Sucrose transporter and SWEET genes. Mol. Plant 11, 833–845 (2018).

Zhong, R., Lee, C., Hahighat, M. & Ye, Z.-H. Xylem vessel-specific SND5 and its homologs regulate secondary wall biosynthesis through activating secondary wall NAC binding elements. New Phytol. 4, 1496–1509 (2021).

Růžička, K., Ursache, R., Hejátko, J. & Helariutta, Y. Xylem development—from the cradle to the grave. New Phytol. 207, 519–535 (2015).

Zhao, B. et al. Members of miR-169 family are induced by high salinity and transiently inhibit the NF-YA transcription factor. BMC Mol. Biol. 10, 29 (2009).

Chan, P. L. et al. Early nodulin 93 protein gene: essential for induction of somatic embryogenesis in oil palm. Plant Cell Rep. 39, 1395–1413 (2020).

Schulze, S., Schäfer, B. N., Parizotto, E. A., Voinnet, O. & Theres, K. LOST MERISTEMS genes regulate cell differentiation of central zone descendants in Arabidopsis shoot meristems. Plant J. 64, 668–678 (2010).

Wang, B., Sang, Y., Song, J., Gao, X. Q. & Zhang, X. Expression of a rice OsARGOS gene in Arabidopsis promotes cell division and expansion and increases organ size. J. Genet. Genomics 36, 31–40 (2009).

Lee, S. C., Kim, S. J., Han, S. K., An, G. & Kim, S. R. A gibberellin-stimulated transcript, OsGASR1, controls seedling growth and α-amylase expression in rice. J. Plant Physiol. 214, 116–122 (2017).

Ueguchi-Tanaka, M. et al. GIBBERELLIN INSENSITIVE DWARF1 encodes a soluble receptor for gibberellin. Nature 437, 693–698 (2005).

Eguchi, S. & Tamura, M. N. Evolutionary timescale of monocots determined by the fossilized birth-death model using a large number of fossil records. Evolution 70, 1136–1144 (2016).

Melnyk, C. W. Plant grafting: insights into tissue regeneration. Regeneration 4, 3–14 (2017).

Umehara, M. et al. Inhibition of shoot branching by new terpenoid plant hormones. Nature 455, 195–200 (2008).

Mylona, P. et al. Sad3 and Sad4 are required for saponin biosynthesis and root development in oat. Plant Cell 20, 201–212 (2008).

Scarpella, E. & Meijer, A. H. Pattern formation in the vascular system of monocot and dicot plant species. New Phytol. 164, 209–242 (2004).

Jura-Morawiec, J., Tulik, M. & Iqbal, M. Lateral meristems responsible for secondary growth of the monocotyledons: a survey of the state of the art. Bot. Rev. 81, 150–161 (2015).

Steffens, B. & Rasmussen, A. The physiology of adventitious roots. Plant Physiol. 170, 603–617 (2016).

Tillich, H. J. in Monocots: Systematics and Evolution (eds Wilson, K. L. & Morrison, D.A.) 603–228 (CSIRO Publishing, 2000).

Burger, W. C. The question of cotyledon homology in angiosperms. Bot. Rev. 64, 356–371 (1998).

Strosse, H., Houwe, I. & Panis, B. in Banana Improvement: Cellular, Molecular Biology, and Induced Mutations (eds Mohan Jain, S. & Swennen, R.) 1–12 (Science Publishers, 2004).

Melnyk, C. W. in Xylem: Methods and Protocols (eds de Lucas, M. & Etchhells, J. P.) 91–102 (Humana Press, 2017).

Hollins, T. W., Scott, P. R. & Gregory, R. S. The relative resistance of wheat, rye and triticale to take‐all caused by Gaeumannomyces graminis. Plant Pathol. 35, 93–100 (1986).

Osbourn, A. E., Clarke, B. R., Lunness, P., Scott, P. R. & Daniels, M. J. An oat species lacking avenacin is susceptible to infection by Gaeumannomyces graminis var. tritici. Physiol. Mol. Plant Pathol. 45, 457–467 (1994).

Chng, S., Cromey, M. G. & Butler, R. C. Evaluation of the susceptibility of various grass species to Gaeumannomyces graminis var. tritici. N. Z. Plant Prot. 58, 261–267 (2005).

Löytynoja, A. & Goldman, N. Phylogeny-aware gap placement prevents errors in sequence alignment and evolutionary analysis. Science 320, 1632–1635 (2008).

Katoh, K. & Standley, D. M. MAFFT multiple sequence alignment software version 7: Improvements in performance and usability. Mol. Biol. Evol. 30, 772–780 (2013).

Brown, J. W., Walker, J. F. & Smith, S. A. Phyx: phylogenetic tools for unix. Bioinformatics 33, 1886–1888 (2017).

Kozlov, A. M., Darriba, D., Flouri, T., Morel, B. & Stamatakis, A. RAxML-NG: a fast, scalable and user-friendly tool for maximum likelihood phylogenetic inference. Bioinformatics 35, 4453–4455 (2019).

Smith, S. A. & O'Meara, B. C. TreePL: divergence time estimation using penalized likelihood for large phylogenies. Bioinformatics 28, 2689–2690 (2012).

Hedges, S. B., Dudley, J. & Kumar, S. TimeTree: a public knowledge-base of divergence times among organisms. Bioinformatics 22, 2971–2972 (2006).

Iwata, N. & Omura, T. Linkage analysis by reciprocal translocation method in rice plants (Oryza sativa L.) I. Linkage groups corresponding to the chromosome 1, 2, 3 and 4. Jpn. J. Breed. 21, 19–28 (1971).
Acknowledgements
We thank A. Greenland and E. Wallington for hosting G.R. at the National Institute of Agricultural Botany; F. Gallo and K. Müller for generating electron microscopy images; U. Paszkowski for providing ccd8 mutant rice; S. Holdgate for providing a culture of G. graminis var. tritici; M. Castle for statistical advice; M. Tester for supplying tetraploid wheat; R. Bates, R. Donald and K. Billakurthi for assistance; M. J. Grangé-Guermente, O. Murshudova and N. Elina for translating foreign language references into English; and D. C. Baulcombe and A. M. Jones for providing feedback on this manuscript. G.R. was supported by a Gates Cambridge Trust PhD Student Fellowship; G.R. and P.S. were supported by European Research Council (ERC) Grant 694733 Revolution and BB/P003117/1 awarded to J.M.H.; G.R., A.T. and M.R.W.J. were supported by a Ceres Agri-Tech Fund award; A.K.N. and C.W.M. were supported by a Wallenberg Academy Fellowship (KAW 2016.0274); and C.M. and C.W.M. were supported by an ERC Starting Grant (GRASP-805094).
Ethics declarations
Competing interests
Cambridge Enterprise has filed a patent with international application no. PCT/GB2019/053232 and publication no. WO/2020/099879, titled 'Perennial monocotyledon grafting' and published on 22 May 2020, which includes methods for grafting monocotyledons described in this manuscript. G.R. and J.M.H. are co-inventors on this patent. The other authors declare no competing interests.
Peer review information
Nature thanks Makoto Matsuoka, Colin Turnbull and the other, anonymous, reviewer(s) for their contribution to the peer review of this work. Peer reviewer reports are available.
Additional information
Publisher's note Springer Nature remains neutral with regard to jurisdictional claims in published maps and institutional affiliations.
Extended data figures and tables
Supplementary information
About this article
Cite this article
Reeves, G., Tripathi, A., Singh, P. et al. Monocotyledonous plants graft at the embryonic root–shoot interface. Nature 602, 280–286 (2022). https://doi.org/10.1038/s41586-021-04247-y
Received:

Accepted:

Published:

Issue Date:

DOI: https://doi.org/10.1038/s41586-021-04247-y
This article is cited by
Colin Turnbull
Sean Carrington

Nature (2022)

Aparna Nautiyal
A. Rashid
Ashish Agnihotri

In Vitro Cellular & Developmental Biology - Plant (2022)
Comments
By submitting a comment you agree to abide by our Terms and Community Guidelines. If you find something abusive or that does not comply with our terms or guidelines please flag it as inappropriate.