Abstract
Collective cell migration underlies morphogenesis, wound healing and cancer invasion1,2. Most directed migration in vivo has been attributed to chemotaxis, whereby cells follow a chemical gradient3,4,5. Cells can also follow a stiffness gradient in vitro, a process called durotaxis3,4,6,7,8, but evidence for durotaxis in vivo is lacking6. Here we show that in Xenopus laevis the neural crest—an embryonic cell population—self-generates a stiffness gradient in the adjacent placodal tissue, and follows this gradient by durotaxis. The gradient moves with the neural crest, which is continually pursuing a retreating region of high substrate stiffness. Mechanistically, the neural crest induces the gradient due to N-cadherin interactions with the placodes and senses the gradient through cell–matrix adhesions, resulting in polarized Rac activity and actomyosin contractility, which coordinates durotaxis. Durotaxis synergizes with chemotaxis, cooperatively polarizing actomyosin machinery of the cell group to prompt efficient directional collective cell migration in vivo. These results show that durotaxis and dynamic stiffness gradients exist in vivo, and gradients of chemical and mechanical signals cooperate to achieve efficient directional cell migration.
Relevant articles
Open Access articles citing this article.
Congcong Ji

&

Yuxing Huang

Communications Biology Open Access 16 November 2023

Vina D. L. Putra

,

Kristopher A. Kilian

&

Melissa L. Knothe Tate

Communications Biology Open Access 19 January 2023

Alessandro Mongera

,

Marie Pochitaloff

…

Otger Campàs

Nature Materials Open Access 28 December 2022
Access options
Access Nature and 54 other Nature Portfolio journals
Get Nature+, our best-value online-access subscription
$29.99 / 30 days
cancel any time
Subscribe to this journal
Receive 51 print issues and online access
$199.00 per year
only $3.90 per issue
Rent or buy this article
Prices vary by article type
from$1.95
to$39.95
Prices may be subject to local taxes which are calculated during checkout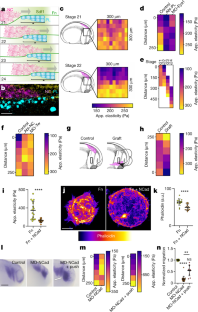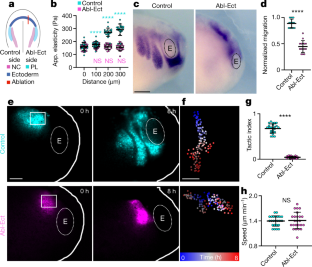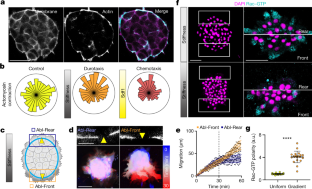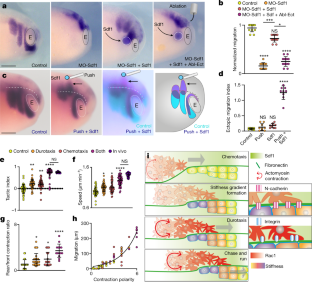 Data availability
The data supporting the findings of this study are available within the Article and its Supplementary Information. Source data are provided with the paper.
References
Yamada, K. M. & Sixt, M. Mechanisms of 3D cell migration. Nat. Rev. Mol. Cell Biol. 20, 738–752 (2019).

Friedl, P. & Gilmour, D. Collective cell migration in morphogenesis, regeneration and cancer. Nat. Rev. Mol. Cell Biol. 10, 445–457 (2009).

Shellard, A. & Mayor, R. All roads lead to directional cell migration. Trends Cell Biol. 30, 852–868 (2020).

SenGupta, S., Parent, C. A. & Bear, J. E. The principles of directed cell migration. Nat. Rev. Mol. Cell Biol. 22, 529–547 (2021).

Insall, R. H. Understanding eukaryotic chemotaxis: a pseudopod-centred view. Nat. Rev. Mol. Cell Biol. 11, 453–458 (2010).

Shellard, A. & Mayor, R. Durotaxis: the hard path from in vitro to in vivo. Dev. Cell 56, 227–239 (2021).

Lo, C. M., Wang, H. B., Dembo, M. & Wang, Y. L. Cell movement is guided by the rigidity of the substrate. Biophys. J. 79, 144–152 (2000).

Sunyer, R. et al. Collective cell durotaxis emerges from long-range intercellular force transmission. Science 353, 1157–1161 (2016).

Charras, G. & Sahai, E. Physical influences of the extracellular environment on cell migration. Nat. Rev. Mol. Cell Biol. 15, 813–824 (2014).

Guimaraes, C. F., Gasperini, L., Marques, A. P. & Reis, R. L. The stiffness of living tissues and its implications for tissue engineering. Nat. Rev. Mater. 5, 351–370 (2020).

Barriga, E. H., Franze, K., Charras, G. & Mayor, R. Tissue stiffening coordinates morphogenesis by triggering collective cell migration in vivo. Nature 554, 523–527 (2018).

Theveneau, E. et al. Chase-and-run between adjacent cell populations promotes directional collective migration. Nat. Cell Biol. 15, 763–772 (2013).

Szabo, A. & Mayor, R. Mechanisms of neural crest migration. Ann. Rev. Genet. 52, 43–63 (2018).

Shellard, A. & Mayor, R. Chemotaxis during neural crest migration. Semin. Cell Dev. Biol. 55, 111–118 (2016).

Alfandari, D., Cousin, H., Gaultier, A., Hoffstrom, B. G. & DeSimone, D. W. Integrin α5β1 supports the migration of Xenopus cranial neural crest on fibronectin. Dev. Biol. 260, 449–464 (2003).

Wang, S. J. et al. Tiam1 interaction with the PAR complex promotes talin-mediated Rac1 activation during polarized cell migration. J. Cell Biol. 199, 331–345 (2012).

Schiller, H. B. et al. β1- and αv-class integrins cooperate to regulate myosin II during rigidity sensing of fibronectin-based microenvironments. Nat. Cell Biol. 15, 625–636 (2013).

Shellard, A., Szabo, A., Trepat, X. & Mayor, R. Supracellular contraction at the rear of neural crest cell groups drives collective chemotaxis. Science 362, 339–343 (2018).

Guilluy, C., Garcia-Mata, R. & Burridge, K. Rho protein crosstalk: another social network? Trends Cell Biol. 21, 718–726 (2011).

Theveneau, E. et al. Collective chemotaxis requires contact-dependent cell polarity. Dev. Cell 19, 39–53 (2010).

Koser, D. E. et al. Mechanosensing is critical for axon growth in the developing brain. Nat. Neurosci. 19, 1592–1598 (2016).

Zhu, M. et al. Spatial mapping of tissue properties in vivo reveals a 3D stiffness gradient in the mouse limb bud. Proc. Natl Acad. Sci. USA 117, 4781–4791 (2020).

Tse, J. R. & Engler, A. J. Stiffness gradients mimicking in vivo tissue variation regulate mesenchymal stem cell fate. Plos ONE 6, e15978 (2011).

Tweedy, L. et al. Seeing around corners: cells solve mazes and respond at a distance using attractant breakdown. Science 369, eaay9792 (2020).

Dona, E. et al. Directional tissue migration through a self-generated chemokine gradient. Nature 503, 285–289 (2013).

Thompson, A. J. et al. Rapid changes in tissue mechanics regulate cell behaviour in the developing embryonic brain. eLife 8, e39356 (2019).

Plotnikov, S. V., Pasapera, A. M., Sabass, B. & Waterman, C. M. Force fluctuations within focal adhesions mediate ECM-rigidity sensing to guide directed cell migration. Cell 151, 1513–1527 (2012).

Nieuwkoop, P. & Faber, J. Normal Table of Xenopus laevis (Daudin): A Systematical and Chronological Survey of the Development from the Fertilized Egg Till the End of Metamorphosis 2nd edn (1967).

Shi, J. L., Severson, C., Yang, J. X., Wedlich, D. & Klymkowsky, M. W. Snail2 controls mesodermal BMP/Wnt induction of neural crest. Development 138, 3135–3145 (2011).

Tse, J. R. & Engler, A. J. in Current Protocols in Cell Biology Vol. 47 (Wiley Interscience, 2010).

Yue, L., Wang, S., Wulf, V. & Willner, I. Stiffness-switchable DNA-based constitutional dynamic network hydrogels for self-healing and matrix-guided controlled chemical processes. Nat. Commun. 10, 4774 (2019).

Giobbe, G. G. et al. Extracellular matrix hydrogel derived from decellularized tissues enables endodermal organoid culture. Nat. Commun. 10, 5658 (2019).

Karoutas, A. et al. The NSL complex maintains nuclear architecture stability via lamin A/C acetylation. Nat. Cell Biol. 21, 1248–1260 (2019).

Chen, C. Y. et al. Suppression of detyrosinated microtubules improves cardiomyocyte function in human heart failure. Nat. Med. 24, 1225–1233 (2018).

Ding, Y., Xu, G. K. & Wang, G. F. On the determination of elastic moduli of cells by AFM based indentation. Sci. Rep. 7, 45575 (2017).

Gouignard, N., Rouvière, C. & Theveneau, E. in The Epithelial-to Mesenchymal Transition Vol. 2179 (eds Campbell, K. & Theveneau, E.) 257–274 (2021).

Barriga, E. H., Shellard, A. & Mayor, R. in Neural Crest Cells Vol. 1976 (eds Schwarz, Q. & Wiszniak, S.) 135–152 (Humana, 2019).

Dubaissi, E. et al. A secretory cell type develops alongside multiciliated cells, ionocytes and goblet cells, and provides a protective, anti-infective function in the frog embryonic mucociliary epidermis. Development 141, 1514–1525 (2014).

Zhang, C., Basta, T., Jensen, E. D. & Klymkowsky, M. W. The beta-catenin/VegT-regulated early zygotic gene Xnr5 is a direct target of SOX3 regulation. Development 130, 5609–5624 (2003).

Schlosser, G. & Ahrens, K. Molecular anatomy of placode development in Xenopus laevis. Dev. Biol. 271, 439–466 (2004).

Schlosser, G. et al. Eya1 and Six1 promote neurogenesis in the cranial placodes in a SoxB1-dependent fashion. Dev. Biol. 320, 199–214 (2008).

Cao, X. et al. A phosphorylation switch controls the spatiotemporal activation of Rho GTPases in directional cell migration. Nat. Commun. 6, 7721 (2015).

Kanoldt, V. et al. Metavinculin modulates force transduction in cell adhesion sites. Nat. Commun. 11, 6403 (2020).

Karimi, K. et al. Xenbase: a genomic, epigenomic and transcriptomic model organism database. Nucleic Acids Res. 46, D861–D868 (2018).
Acknowledgements
We thank G. Charras for the PDMS and discussions; J. Hartmann for assistance with calculating synergy statistics; E. Theveneau for gifting the Eya1 and Foxi1c probes; M. Klymkowsky for gifting the anti-Sox3 antibody; E. Barriga for preliminary experiments; and G. Charras, B. Stramer and J. Hartmann for comments on the manuscipt. Work in R.M.'s laboratory is supported by grants from the Medical Research Council (MR/S007792/1), Biotechnology and Biological Sciences Research Council (M008517, BB/T013044) and Wellcome Trust (102489/Z/13/Z).
Ethics declarations
Competing interests
The authors declare no competing interests.
Additional information
Peer review information Nature thanks the anonymous reviewers for their contribution to the peer review of this work.
Publisher's note Springer Nature remains neutral with regard to jurisdictional claims in published maps and institutional affiliations.
Extended data figures and tables
Supplementary information
About this article
Cite this article
Shellard, A., Mayor, R. Collective durotaxis along a self-generated stiffness gradient in vivo. Nature 600, 690–694 (2021). https://doi.org/10.1038/s41586-021-04210-x
Received:

Accepted:

Published:

Issue Date:

DOI: https://doi.org/10.1038/s41586-021-04210-x
Comments
By submitting a comment you agree to abide by our Terms and Community Guidelines. If you find something abusive or that does not comply with our terms or guidelines please flag it as inappropriate.