Abstract
All cancers emerge after a period of clonal selection and subsequent clonal expansion. Although the evolutionary principles imparted by genetic intratumour heterogeneity are becoming increasingly clear1, little is known about the non-genetic mechanisms that contribute to intratumour heterogeneity and malignant clonal fitness2. Here, using single-cell profiling and lineage tracing (SPLINTR)—an expressed barcoding strategy—we trace isogenic clones in three clinically relevant mouse models of acute myeloid leukaemia. We find that malignant clonal dominance is a cell-intrinsic and heritable property that is facilitated by the repression of antigen presentation and increased expression of the secretory leukocyte peptidase inhibitor gene (Slpi), which we genetically validate as a regulator of acute myeloid leukaemia. Increased transcriptional heterogeneity is a feature that enables clonal fitness in diverse tissues and immune microenvironments and in the context of clonal competition between genetically distinct clones. Similar to haematopoietic stem cells3, leukaemia stem cells (LSCs) display heritable clone-intrinsic properties of high, and low clonal output that contribute to the overall tumour mass. We demonstrate that LSC clonal output dictates sensitivity to chemotherapy and, although high- and low-output clones adapt differently to therapeutic pressure, they coordinately emerge from minimal residual disease with increased expression of the LSC program. Together, these data provide fundamental insights into the non-genetic transcriptional processes that underpin malignant clonal fitness and may inform future therapeutic strategies.
Relevant articles
Open Access articles citing this article.
Kunal Jindal

,

Mohd Tayyab Adil

…

Samantha A. Morris

Nature Biotechnology Open Access 25 September 2023

Milo S. Johnson

,

Sandeep Venkataram

&

Sergey Kryazhimskiy

Journal of Molecular Evolution Open Access 18 January 2023

Anna Lieske

,

Eric Agyeman-Duah

…

Tobias Maetzig

Leukemia Open Access 14 December 2022
Access options
Access Nature and 54 other Nature Portfolio journals
Get Nature+, our best-value online-access subscription
$29.99 / 30 days
cancel any time
Subscribe to this journal
Receive 51 print issues and online access
$199.00 per year
only $3.90 per issue
Rent or buy this article
Prices vary by article type
from$1.95
to$39.95
Prices may be subject to local taxes which are calculated during checkout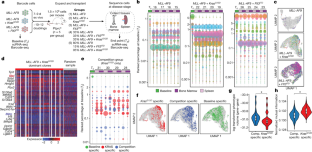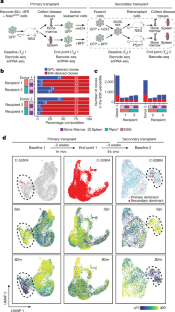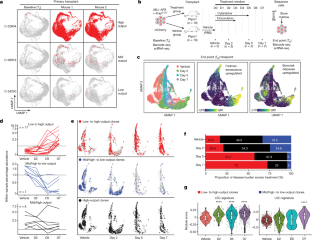 Data availability
All high-throughput sequencing data supporting the findings of this study have been deposited in the NCBI Gene Expression Omnibus under primary accession code GSE161676.
References
Turajlic, S., Sottoriva, A., Graham, T. & Swanton, C. Resolving genetic heterogeneity in cancer. Nat. Rev. Genet. 20, 404–416 (2019).

Marine, J. C., Dawson, S. J. & Dawson, M. A. Non-genetic mechanisms of therapeutic resistance in cancer. Nat. Rev. Cancer 20, 743–756 (2020).

Rodriguez-Fraticelli, A. E. et al. Single-cell lineage tracing unveils a role for TCF15 in haematopoiesis. Nature 583, 585–589 (2020).

Lin, D. S. et al. DiSNE movie visualization and assessment of clonal kinetics reveal multiple trajectories of dendritic cell development. Cell Rep. 22, 2557–2566 (2018).

Greaves, M. When one mutation is all it takes. Cancer Cell 27, 433–434 (2015).

Visvader, J. E. Cells of origin in cancer. Nature 469, 314–322 (2011).

Krivtsov, A. V. et al. Cell of origin determines clinically relevant subtypes of MLL-rearranged AML. Leukemia 27, 852–860 (2013).

Pendleton, M., Lindsey, R. H. Jr, Felix, C. A., Grimwade, D. & Osheroff, N. Topoisomerase II and leukemia. Ann. N. Y. Acad. Sci. 1310, 98–110 (2014).

Somervaille, T. C. & Cleary, M. L. Identification and characterization of leukemia stem cells in murine MLL-AF9 acute myeloid leukemia. Cancer Cell 10, 257–268 (2006).

Krivtsov, A. V. et al. Transformation from committed progenitor to leukaemia stem cell initiated by MLL-AF9. Nature 442, 818–822 (2006).

Dahlin, J. S. et al. A single-cell hematopoietic landscape resolves 8 lineage trajectories and defects in Kit mutant mice. Blood 131, e1–e11 (2018).

Matsuo, H. et al. Fusion partner-specific mutation profiles and KRAS mutations as adverse prognostic factors in MLL-rearranged AML. Blood Adv. 4, 4623–4631 (2020).

The Cancer Genome Atlas Research Network. Genomic and epigenomic landscapes of adult de novo acute myeloid leukemia. N. Engl. J. Med. 368, 2059–2074 (2013).

Shaffer, S. M. et al. Rare cell variability and drug-induced reprogramming as a mode of cancer drug resistance. Nature 546, 431–435 (2017).

Raj, A. & van Oudenaarden, A. Nature, nurture, or chance: stochastic gene expression and its consequences. Cell 135, 216–226 (2008).

Larsson, A. J. M. et al. Genomic encoding of transcriptional burst kinetics. Nature 565, 251–254 (2019).

MacPherson, L. et al. HBO1 is required for the maintenance of leukaemia stem cells. Nature 577, 266–270 (2020).

Coombs, C. C., Tavakkoli, M. & Tallman, M. S. Acute promyelocytic leukemia: where did we start, where are we now, and the future. Blood Cancer J. 5, e304 (2015).

Jones, C. L., Inguva, A. & Jordan, C. T. Targeting energy metabolism in cancer stem cells: progress and challenges in leukemia and solid tumors. Cell Stem Cell 28, 378–393 (2021).

Zuber, J. et al. Mouse models of human AML accurately predict chemotherapy response. Genes Dev. 23, 877–889 (2009).

Duy, C. et al. Chemotherapy induces senescence-like resilient cells capable of initiating AML recurrence. Cancer Discov. 11, 1542–1561 (2021).

Bell, C. C. et al. Targeting enhancer switching overcomes non-genetic drug resistance in acute myeloid leukaemia. Nat. Commun. 10, 2723 (2019).

Rambow, F. et al. Toward minimal residual disease-directed therapy in melanoma. Cell 174, 843–855 (2018).

Fong, C. Y. et al. BET inhibitor resistance emerges from leukaemia stem cells. Nature 525, 538–542 (2015).

Shlush, L. I. et al. Tracing the origins of relapse in acute myeloid leukaemia to stem cells. Nature 547, 104–108 (2017).

Zorita, E., Cusco, P. & Filion, G. J. Starcode: sequence clustering based on all-pairs search. Bioinformatics 31, 1913–1919 (2015).

Silver, D. P. & Livingston, D. M. Self-excising retroviral vectors encoding the Cre recombinase overcome Cre-mediated cellular toxicity. Mol. Cell 8, 233–243 (2001).

Kebschull, J. M. & Zador, A. M. Cellular barcoding: lineage tracing, screening and beyond. Nat. Methods 15, 871–879 (2018).

Naik, S. H., Schumacher, T. N. & Perie, L. Cellular barcoding: a technical appraisal. Exp. Hematol. 42, 598–608 (2014).

Ye, M. et al. Hematopoietic differentiation is required for initiation of acute myeloid leukemia. Cell Stem Cell 17, 611–623 (2015).

Naik, S. H. et al. Diverse and heritable lineage imprinting of early haematopoietic progenitors. Nature 496, 229–232 (2013).

Langmead, B. Aligning short sequencing reads with Bowtie. Curr. Protoc. Bioinform. 32, 11.7.1–11.7.14 (2010).

Li, H. et al. The Sequence Alignment/Map format and SAMtools. Bioinformatics 25, 2078–2079 (2009).

Scheinin, I. et al. DNA copy number analysis of fresh and formalin-fixed specimens by shallow whole-genome sequencing with identification and exclusion of problematic regions in the genome assembly. Genome Res. 24, 2022–2032 (2014).

McLaren, W. et al. The Ensembl variant effect predictor. Genome Biol. 17, 122 (2016).

Stuart, T. et al. Comprehensive integration of single-cell data. Cell 177, 1888–1902 (2019).

Butler, A., Hoffman, P., Smibert, P., Papalexi, E. & Satija, R. Integrating single-cell transcriptomic data across different conditions, technologies, and species. Nat. Biotechnol. 36, 411–420 (2018).

Stoeckius, M. et al. Cell hashing with barcoded antibodies enables multiplexing and doublet detection for single cell genomics. Genome Biol. 19, 224 (2018).

Hafemeister, C. & Satija, R. Normalization and variance stabilization of single-cell RNA-seq data using regularized negative binomial regression. Genome Biol. 20, 296 (2019).

Becht, E. et al. Dimensionality reduction for visualizing single-cell data using UMAP. Nat. Biotechnol. 37, 38–44 (2018).

Zappia, L. & Oshlack, A. Clustering trees: a visualization for evaluating clusterings at multiple resolutions. Gigascience 7, giy083 (2018).

Finak, G. et al. MAST: a flexible statistical framework for assessing transcriptional changes and characterizing heterogeneity in single-cell RNA sequencing data. Genome Biol. 16, 278, (2015).

Michailidou, K. et al. Association analysis identifies 65 new breast cancer risk loci. Nature 551, 92–94, (2017).

Marjanovic, N. D. et al. emergence of a high-plasticity cell state during lung cancer evolution. Cancer Cell 38, 229–246 (2020).

Azizi, E. et al. Single-cell map of diverse immune phenotypes in the breast tumor microenvironment. Cell 174, 1293–1308 (2018).
Acknowledgements
We thank members of the Dawson laboratory, particularly S. Jackson, O. Gilan and K. Knezevic for technical assistance with experiments; F. Rossello for advice and discussions related to data analysis and D. Zalcenstein and J. Gao for advice regarding lentiviral barcode design and cloning. We thank the following funders for fellowship and grant support: Peter MacCallum Foundation Grant (to D.V.), VCA mid-career fellowship (to E.Y.N.L.), CSIRO Future Science Fellowship in Synthetic Biology (to T.S.W.), NHMRC Early Career Fellowship grant (no. 1052195, to D.C.M.) NHMRC Investigator Grant (no. 1196749, to M.A.D.), Cancer Council Victoria Dunlop Fellowship (to M.A.D), Howard Hughes Medical Institute international research scholarship (no. 55008729, to M.A.D), NHMRC Investigator Grant (no. 1196755, to S.J.D.), CSL Centenary fellowship (to S.J.D.) and NHMRC Project Grant (no. 1128984, to S.J.D. and M.A.D.).
Ethics declarations
Competing interests
M.A.D. has been a member of advisory boards for CTX CRC, Storm Therapeutics, Celgene and Cambridge Epigenetix. S.-J.D. has been a member of advisory boards for AstraZeneca. S.-J.D. has received research funding from Genentech. M.A.D. and S.-J.D. receive research funding from CTx CRC. The other authors declare no competing interests.
Additional information
Peer review information Nature thanks Ross Levine and the other, anonymous, reviewer(s) for their contribution to the peer review of this work. Peer reviewer reports are available.
Publisher's note Springer Nature remains neutral with regard to jurisdictional claims in published maps and institutional affiliations.
Extended data figures and tables
Supplementary information
About this article
Cite this article
Fennell, K.A., Vassiliadis, D., Lam, E.Y.N. et al. Non-genetic determinants of malignant clonal fitness at single-cell resolution. Nature 601, 125–131 (2022). https://doi.org/10.1038/s41586-021-04206-7
Received:

Accepted:

Published:

Issue Date:

DOI: https://doi.org/10.1038/s41586-021-04206-7
Comments
By submitting a comment you agree to abide by our Terms and Community Guidelines. If you find something abusive or that does not comply with our terms or guidelines please flag it as inappropriate.