Abstract
Spin-ordered electronic states in hydrogen-terminated zigzag nanographene give rise to magnetic quantum phenomena1,2 that have sparked renewed interest in carbon-based spintronics3,4. Zigzag graphene nanoribbons (ZGNRs)—quasi one-dimensional semiconducting strips of graphene bounded by parallel zigzag edges—host intrinsic electronic edge states that are ferromagnetically ordered along the edges of the ribbon and antiferromagnetically coupled across its width1,2,5. Despite recent advances in the bottom-up synthesis of GNRs featuring symmetry protected topological phases6,7,8 and even metallic zero mode bands9, the unique magnetic edge structure of ZGNRs has long been obscured from direct observation by a strong hybridization of the zigzag edge states with the surface states of the underlying support10,11,12,13,14,15. Here, we present a general technique to thermodynamically stabilize and electronically decouple the highly reactive spin-polarized edge states by introducing a superlattice of substitutional N-atom dopants along the edges of a ZGNR. First-principles GW calculations and scanning tunnelling spectroscopy reveal a giant spin splitting of low-lying nitrogen lone-pair flat bands by an exchange field (~850 tesla) induced by the ferromagnetically ordered edge states of ZGNRs. Our findings directly corroborate the nature of the predicted emergent magnetic order in ZGNRs and provide a robust platform for their exploration and functional integration into nanoscale sensing and logic devices15,16,17,18,19,20,21.
Access options
Subscribe to Nature+
Get immediate online access to the entire Nature family of 50+ journals
Subscribe to Journal
Get full journal access for 1 year
$199.00
only $3.90 per issue
All prices are NET prices.
VAT will be added later in the checkout.
Tax calculation will be finalised during checkout.
Buy article
Get time limited or full article access on ReadCube.
$32.00
All prices are NET prices.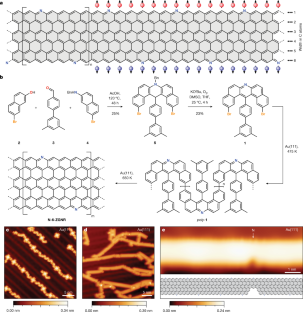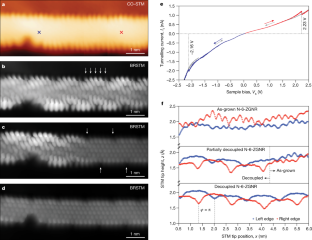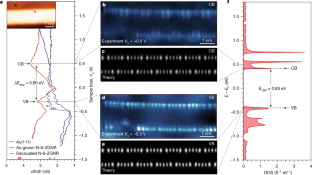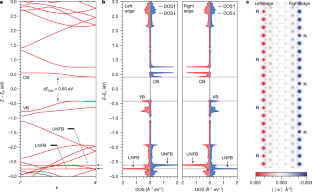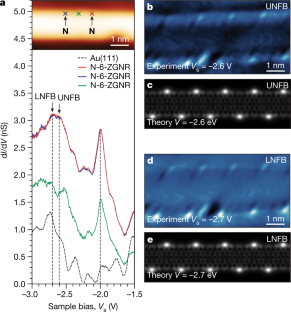 Data availability
DFT code with pseudopotentials and GW code can be downloaded from the Quantum Espresso (https://www.quantum-espresso.org) and the BerkeleyGW (https://www.berkeleygw.org) websites, respectively. We used Quantum Espresso version 6.4.1 and BerkeleyGW version 2.1 for the theoretical calculations. All data presented in the main text and the supplementary information are available from the corresponding authors upon reasonable request.
References
Fujita, M., Wakabayashi, K., Nakada, K. & Kusakabe, K. Peculiar localized state at zigzag graphite edge. J. Phys. Soc. Japan 65, 1920–1923 (1996).

Son, Y.-W., Cohen, M. L. & Louie, S. G. Half-metallic graphene nanoribbons. Nature 444, 347–349 (2006).

Han, W., Kawakami, R. K., Gmitra, M. & Fabian, J. Graphene spintronics. Nat. Nanotechnol. 9, 794–807 (2014).

Bullard, Z., Girao, E. C., Owens, J. R., Shelton, W. A. & Meunier, V. Improved all-carbon spintronic device design. Sci. Rep. 5, 7634 (2015).

Yang, L., Park, C. -H., Son, Y. -W., Cohen, M. L. & Louie, S. G. Quasiparticle energies and band gaps in graphene nanoribbons. Phys. Rev. Lett. 99, 186801 (2007).

Rizzo, D. J. et al. Topological band engineering of graphene nanoribbons. Nature 560, 204–208 (2018).

Groning, O. et al. Engineering of robust topological quantum phases in graphene nanoribbons. Nature 560, 209–213 (2018).

Cao, T., Zhao, F. Z. & Louie, S. G. Topological phases in graphene nanoribbons: junction states, spin centers, and quantum spin chains. Phys. Rev. Lett. 119, 076401 (2017).

Rizzo, D. J. et al. Inducing metallicity in graphene nanoribbons via zero-mode superlattices. Science 369, 1597–1603, (2020).

Lee, G. & Cho, K. Electronic structures of zigzag graphene nanoribbons with edge hydrogenation and oxidation. Phys. Rev. B 79, 165440 (2009).

Ritter, K. A. & Lyding, J.W. The influence of edge structure on the electronic properties of graphene quantum dots and nanoribbons. Nat. Mater. 8, 235–242 (2009).

Tao, C. et al. Spatially resolving edge states of chiral graphene nanoribbons. Nat. Phys. 7, 616–620 (2011).

Li, Y. Y., Chen, M. X., Weinert, M. & Li, L. Direct experimental determination of onset of electron-electron interactions in gap opening of zigzag graphene nanoribbons. Nat. Comm. 5, 4311 (2014).

Magda, G. Z. et al. Room-temperature magnetic order on zigzag edges of narrow graphene nanoribbons. Nature 514, 608–611 (2014).

Ruffieux, P. et al. On-surface synthesis of graphene nanoribbons with zigzag edge topology. Nature 531, 489–492 (2016).

Beyer, D. et al. Graphene nanoribbons derived from zigzag edge-encased poly(para-2,9-dibenzo[bc,kl]coronenylene) polymer chains. J. Am. Chem. Soc. 141, 2843–2846 (2019).

Fu, Y. et al. On-surface synthesis of NBN-doped zigzag-edged graphene nanoribbons. Angew. Chem. Int. Ed. 59, 8873–8879 (2020).

Li, Y., Zhou, Z., Cabrera, C. R. & Chen, Z. Preserving the edge magnetism of zigzag graphene nanoribbons by ethylene termination: insight by Clar's rule. Sci. Rep. 3, 2030 (2013).

Shinde, P. P. et al. Stability of edge magnetism in functionalized zigzag graphene nanoribbons. Carbon 124, 123–132 (2017).

Salemi, L., Lherbier, A. & Charlier, J. C. Spin-dependent properties in zigzag graphene nanoribbons with phenyl-edge defects. Phys. Rev. B 98, 214204 (2018).

Lopez-Urias, F et al. Spin-dependent band-gap driven by nitrogen and oxygen functional groups in zigzag graphene nanoribbons. Appl. Surf. Sci. 521, 146435 (2020).

Guo, G. -P. et al. Quantum computation with graphene nanoribbon. New J. Phys. 11, 123005 (2009).

Luis, F. & Coronado, E. Spinning on the edge of graphene. Nature 557, 645–647 (2018).

Mandal, B., Sarkar, S., Pramanik, A. & Sarkar, P. Doped defective graphene nanoribbons: a new class of materials with novel spin filtering properties. RSC Adv. 4, 49946–49952 (2014).

Dery, H., Dalal, P., Cywinski, L. & Sham, L. J. Spin-based logic in semiconductors for reconfigurable large-scale circuits. Nature 447, 573–576 (2007).

Dery, H. et al. Nanospintronics based on magnetologic gates. IEEE Trans. Electron Devices 59, 259–262 (2012).

Lin, X., Yang, W., Wang, K. L. & Zhao, W. Two-dimensional spintronics for low-power electronics. Nat. Electron. 2, 274–283 (2019).

Ahn, E. C., Wong, H. -S. P. & Pop, E. Carbon nanomaterials for non-volatile memories. Nat. Rev. Mater. 3, 18009 (2018).

Zhang, D. -B. & Wei, S. -H. Inhomogeneous strain-induced half-metallicity in bent zigzag graphene nanoribbons. NPJ Comput. Mater. 3, 32 (2017).

Berdonces-Layunta, A. et al. Chemical stability of (3,1)-chiral graphene nanoribbons. ACS Nano 15, 5610–5617 (2021).

Perdew, J. P. & Zunger, A. Self-interaction correction to density-functional approximations for many-electron systems. Phys. Rev. B 23, 5048–5079 (1981).

Hybertsen, M. S. & Louie, S. G. Electron correlation in semiconductors and insulators — band gaps and quasiparticle energies. Phys. Rev. B 34, 5390–5413 (1986).

Lieb, E. H. Two theorems on the Hubbard model. Phys. Rev. Lett. 62, 1201–1204 (1989).

Wang, S. K., Zhu, J. M., Blackwell, R. & Fischer, F. R. Automated tip conditioning for scanning tunnelling spectroscopy. J. Phys. Chem. A 125, 1384–1390 (2021).

Giannozzi, P et al. QUANTUM ESPRESSO: a modular and open-source software project for quantum simulations of materials. J. Phys. Condens. Mat. 21, 395502 (2009).

Deslippe, J et al. BerkeleyGW: a massively parallel computer package for the calculation of the quasiparticle and optical properties of materials and nanostructures. Comput. Phys. Commun. 183, 1269–1289 (2012).
Acknowledgements
This work was primarily funded by the US Department of Energy (DOE), Office of Science, Basic Energy Sciences (BES), Materials Sciences and Engineering Division under contract no. DE-AC02-05-CH11231 (Nanomachine program KC1203) (molecular design, surface growth, calculations and analyses of surface–GNR interactions). Research was also supported by the Office of Naval Research under award no. N00014-19-1-2503 (STM characterization), the National Science Foundation under grant nos. DMR-1839098 (image analysis) and DMR-1926004 (GW calculations), the Center for Energy Efficient Electronics Science ECCS-0939514 (magnetic modelling), and the Office of Naval Research MURI under award no. N00014-16-1-2921 (molecular synthesis, ab initio DFT calculations). This research used resources of the National Energy Research Scientific Computing Center (NERSC), a US Department of Energy Office of Science User Facility operated under Contract No. DE-AC02-05-CH11231. Computational resources were also provided by the National Science Foundation through XSEDE resources at the NICS. R.E.B. acknowledges support through a National Science Foundation Graduate Research Fellowship under grant DGE-11064000. We thank the College of Chemistry for use of resources at their NMR facility, and we thank their staff for assistance. Instruments in CoC-NMR are supported in part by NIH S10OD024998.
Ethics declarations
Competing interests
The authors declare no competing interests.
Additional information
Peer review information Nature thanks Rémy Pawlak, Levente Tapaszto and Daniel Sanchez-Portal for their contribution to the peer review of this work.
Publisher's note Springer Nature remains neutral with regard to jurisdictional claims in published maps and institutional affiliations.
Extended data figures and tables
Supplementary information
About this article
Cite this article
Blackwell, R.E., Zhao, F., Brooks, E. et al. Spin splitting of dopant edge state in magnetic zigzag graphene nanoribbons. Nature 600, 647–652 (2021). https://doi.org/10.1038/s41586-021-04201-y
Received:

Accepted:

Published:

Issue Date:

DOI: https://doi.org/10.1038/s41586-021-04201-y
This article is cited by
Hiroko Yamada
Hironobu Hayashi

Photochemical & Photobiological Sciences (2022)
Comments
By submitting a comment you agree to abide by our Terms and Community Guidelines. If you find something abusive or that does not comply with our terms or guidelines please flag it as inappropriate.