Abstract
More than a decade of research on the electrocaloric (EC) effect has resulted in EC materials and EC multilayer chips that satisfy a minimum EC temperature change of 5 K required for caloric heat pumps1,2,3. However, these EC temperature changes are generated through the application of high electric fields4,5,6,7,8 (close to their dielectric breakdown strengths), which result in rapid degradation and fatigue of EC performance. Here we report a class of EC polymer that exhibits an EC entropy change of 37.5 J kg−1 K−1 and a temperature change of 7.5 K under 50 MV m−1, a 275% enhancement over the state-of-the-art EC polymers under the same field strength. We show that converting a small number of the chlorofluoroethylene groups in poly(vinylidene fluoride-trifluoroethylene-chlorofluoroethylene) terpolymer into covalent double bonds markedly increases the number of the polar entities and enhances the polar–nonpolar interfacial areas of the polymer. The polar phases in the polymer adopt a loosely correlated, high-entropy state with a low energy barrier for electric-field-induced switching. The polymer maintains performance for more than one million cycles at the low fields necessary for practical EC cooling applications, suggesting that this strategy may yield materials suitable for use in caloric heat pumps.
Access options
Access Nature and 54 other Nature Portfolio journals
Get Nature+, our best-value online-access subscription
$29.99 / 30 days
cancel any time
Subscribe to this journal
Receive 51 print issues and online access
$199.00 per year
only $3.90 per issue
Rent or buy this article
Prices vary by article type
from$1.95
to$39.95
Prices may be subject to local taxes which are calculated during checkout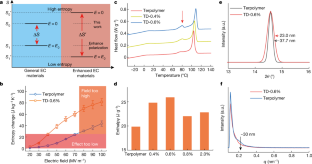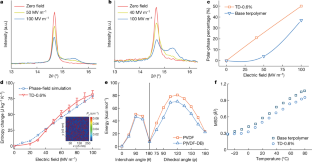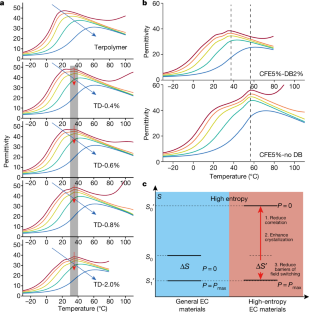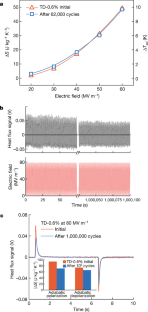 Similar content being viewed by others
Data availability
The datasets generated during and/or analysed during the current study are available from the corresponding authors on reasonable request.
Code availability
Access to the phase-field model and DFT model codes are available on request from H.H. (hbhuang@bit.edu.cn) and J.B. (bernholc@ncsu.edu), respectively.
References
Qian, S. et al. Not-in-kind cooling technologies: a quantitative comparison of refrigerants and system performance. Int. J. Refrig. 62, 177–192 (2016).

Shi, J. et al. Electrocaloric cooling materials and devices for zero-global-warming-potential, high-efficiency refrigeration. Joule 3, 1200–1225 (2019).

Nair, B. et al. Large electrocaloric effects in oxide multilayer capacitors over a wide temperature range. Nature 575, 468–472 (2019).

Gu, H. et al. A chip scale electrocaloric effect based cooling device. Appl. Phys. Lett. 102, 122904 (2013).

Ma, R. et al. Highly efficient electrocaloric cooling with electrostatic actuation. Science 357, 1130–1134 (2017).

Torelló, A. et al. Giant temperature span in electrocaloric regenerator. Science 370, 125–129 (2020).

Wang, Y. et al. A high-performance solid-state electrocaloric cooling system. Science 370, 129–133 (2020).

Meng, Y. et al. A cascade electrocaloric cooling device for large temperature lift. Nat. Energy 5, 996–1002 (2020).

Hawken, P. Drawdown: the Most Comprehensive Plan Ever Proposed to Reverse Global Warming 1st edn (Penguin, 2017).

Kitanovski, A. et al. in Magnetocaloric Energy Conversion: From Theory to Applications (eds Kitanovski, A. et al.) 97–166 (Springer, 2015).

Tušek, J. et al. A regenerative elastocaloric heat pump. Nat. Energy 1, 16134 (2016).

Li, B. et al. Colossal barocaloric effects in plastic crystals. Nature 567, 506–510 (2019).

Wang, R. et al. Torsional refrigeration by twisted, coiled, and supercoiled fibers. Science 366, 216–221 (2019).

Zhang, T., Qian, X.-S., Gu, H., Hou, Y. & Zhang, Q. M. An electrocaloric refrigerator with direct solid to solid regeneration. Appl. Phys. Lett. 110, 243503 (2017).

Defay, E. et al. Enhanced electrocaloric efficiency via energy recovery. Nat. Commun. 9, 1827 (2018).

Chen, Y. et al. An all-scale hierarchical architecture induces colossal room-temperature electrocaloric effect at ultralow electric field in polymer nanocomposites. Adv. Mater. 32, 1907927 (2020).

Neese, B. et al. Large electrocaloric effect in ferroelectric polymers near room temperature. Science 321, 821–823 (2008).

Li, X. et al. Tunable temperature dependence of electrocaloric effect in ferroelectric relaxor poly(vinylidene fluoride-trifluoroethylene-chlorofluoroethylene terpolymer. Appl. Phys. Lett. 99, 052907 (2011).

Zhang, G. et al. Ferroelectric polymer nanocomposites for room-temperature electrocaloric refrigeration. Adv. Mater. 27, 1450–1454 (2015).

Klein, R. J., Xia, F., Zhang, Q. M. & Bauer, F. Influence of composition on relaxor ferroelectric and electromechanical properties of poly(vinylidene fluoride-trifluoroethylene- chlorofluoroethylene). J. Appl. Phys. 97, 094105 (2005).

Zhu, G. et al. Self-similar mesocrystals form via interface-driven nucleation and assembly. Nature 590, 416–422 (2021).

Bai, G., Gao, D., Liu, Z., Zhou, X. & Wang, J. Probing the critical nucleus size for ice formation with graphene oxide nanosheets. Nature 576, 437–441 (2019).

Meiners, T., Frolov, T., Rudd, R. E., Dehm, G. & Liebscher, C. H. Observations of grain-boundary phase transformations in an elemental metal. Nature 579, 375–378 (2020).

Borgia, A. et al. Extreme disorder in an ultrahigh-affinity protein complex. Nature 555, 61–66 (2018).

Jaffe, B., Cook, W. R. & Jaffe, H. L. Piezoelectric Ceramics (Academic, 1971).

Katsouras, I. et al. The negative piezoelectric effect of the ferroelectric polymer poly(vinylidene fluoride). Nat. Mater. 15, 78–84 (2016).

Tan, S., Li, J., Gao, G., Li, H. & Zhang, Z. Synthesis of fluoropolymer containing tunable unsaturation by a controlled dehydrochlorination of P(VDF-co-CTFE) and its curing for high performance rubber applications. J. Mater. Chem. 22, 18496–18504 (2012).

Le Goupil, F. et al. Enhanced electrocaloric response of vinylidene fluoride–based polymers via one-step molecular engineering. Adv. Funct. Mater. 31, 2007043 (2021).

Kessler, H. Detection of hindered rotation and inversion by NMR spectroscopy. Angew. Chem. Int. Ed. Engl. 9, 219–235 (1970).

Hong, L. et al. Elastic and conformational softness of a globular protein. Phys. Rev. Lett. 110, 028104 (2013).

Pirc, R., Kutnjak, Z., Blinc, R. & Zhang, Q. M. Upper bounds on the electrocaloric effect in polar solids. Appl. Phys. Lett. 98, 021909 (2011).

Yang, L. et al. Novel polymer ferroelectric behavior via crystal isomorphism and the nanoconfinement effect. Polymer 54, 1709–1728 (2013).

Yang, L. et al. Graphene enabled percolative nanocomposites with large electrocaloric efficient under low electric fields over a broad temperature range. Nano Energy 22, 461–467 (2016).

Meyer, A., Dimeo, R. M., Gehring, P. M. & Neumann, D. A. The high-flux backscattering spectrometer at the NIST Center for Neutron Research. Rev. Sci. Instrum. 74, 2759–2777 (2003).

Klug, H. P. & Alexander, L. E. X-ray Diffraction Procedures for Polycrystalline and Amorphous Materials 2nd edn (Wiley, 1974).

Tosaka, M. et al. Orientation and crystallization of natural rubber network as revealed by WAXD using synchrotron radiation. Macromolecules 37, 3299–3309 (2004).

Ranjan, V., Nardelli, M. B. & Bernholc, J. Electric field induced phase transitions in polymers: a novel mechanism for high speed energy storage. Phys. Rev. Lett. 108, 087802 (2012).

Chen, X. Z. et al. A nanocomposite approach to tailor electrocaloric effect in ferroelectric polymer. Polymer 54, 5299–5302 (2013).

Lu, Y.-C. et al. Enhanced electrocaloric effect for refrigeration in lead-free polymer composite films with an optimal filler loading. Appl. Phys. Lett. 114, 233901 (2019).
Acknowledgements
This work was supported by the National Key R&D Program of China (2020YFA0711500 and 2020YFA0711503), the National Natural Science Foundation of China (52076127, 51776119, 11974239, 31630002, 51877132, 52003153 and 51972028), the Natural Science Foundation of Shanghai (20ZR1471700) and the China Postdoctoral Science Foundation-funded project 2019M661479. X.Q. acknowledges the support by the Prospective Research Program at Shanghai Jiao Tong University (19X160010008), the Oceanic Interdisciplinary Program of Shanghai Jiao Tong University (project number SL2020MS009), the Student Innovation Center and the Instrumental Analysis Center at Shanghai Jiao Tong University. X.C. and Q.M.Z. acknowledge the support of a seed grant from the Pennsylvania State University MRI-IEE, USA. L.-Q.C. acknowledges the support by the Donald W. Hamer Foundation through the Hamer professorship at Penn State. We thank L. Jiang and B. Zhu for assistance with measurements of energy-dispersive X-ray spectroscopy and attenuated total reflection Fourier-transform infrared spectroscopy. Access to the HFBS was provided by the Center for High Resolution Neutron Scattering, a partnership between the National Institute of Standards and Technology and the National Science Foundation under Agreement No. DMR-1508249. The DFT calculations were performed at the Oak Ridge Leadership Computing Facility, supported by DOE contract DE-AC05-00OR22725. We thank N. Li from the BL19U2 beamline, X. Miu from the BL16B1 beamline and Y. Yang at the BL14B beamline of Shanghai Synchrotron Radiation Facility for the help with synchrotron X-ray measurements. L.H. thanks the Innovation Program of the Shanghai Municipal Education Commission. H.Q. and J.B. thank B. Zhang and W. Lu for extensive discussions. X.Q. thanks S. Lin for support with simulation software, and X. Yao, Q. Wang and G. Meng for inspiring discussions. Certain commercial material suppliers are identified in this paper to foster understanding. Such identification does not imply recommendation or endorsement by the National Institute of Standards and Technology nor does it imply that the materials or equipment identified are necessarily the best available for the purpose.
Ethics declarations
Competing interests
 X.Q. and S. Zheng are inventors on a provisional patent application related to the described work. The other authors declare no competing interests.
Peer review information
Nature thanks Brahim Dkhil and the other, anonymous, reviewer(s) for their contribution to the peer review of this work.
Additional information
Publisher's note Springer Nature remains neutral with regard to jurisdictional claims in published maps and institutional affiliations.
Extended data figures and tables
Supplementary information
This file contains four sections and additional references, and includes Supplementary Figs. 1–28 and Tables 1–7. Section 1. Characterization of EC polymers; Section 2. Phase-field simulation; Section 3. DFT calculation of energy barriers in phase transitions; Section 4. Simulation of EC heat pumps using EC polymers.
About this article
Cite this article
Qian, X., Han, D., Zheng, L. et al. High-entropy polymer produces a giant electrocaloric effect at low fields. Nature 600, 664–669 (2021). https://doi.org/10.1038/s41586-021-04189-5
Received:

Accepted:

Published:

Issue Date:

DOI: https://doi.org/10.1038/s41586-021-04189-5
Comments
By submitting a comment you agree to abide by our Terms and Community Guidelines. If you find something abusive or that does not comply with our terms or guidelines please flag it as inappropriate.