Abstract
Local circuit architecture facilitates the emergence of feature selectivity in the cerebral cortex1. In the hippocampus, it remains unknown whether local computations supported by specific connectivity motifs2 regulate the spatial receptive fields of pyramidal cells3. Here we developed an in vivo electroporation method for monosynaptic retrograde tracing4 and optogenetics manipulation at single-cell resolution to interrogate the dynamic interaction of place cells with their microcircuitry during navigation. We found a local circuit mechanism in CA1 whereby the spatial tuning of an individual place cell can propagate to a functionally recurrent subnetwork5 to which it belongs. The emergence of place fields in individual neurons led to the development of inverse selectivity in a subset of their presynaptic interneurons, and recruited functionally coupled place cells at that location. Thus, the spatial selectivity of single CA1 neurons is amplified through local circuit plasticity to enable effective multi-neuronal representations that can flexibly scale environmental features locally without degrading the feedforward input structure.
Access options
Subscribe to Nature+
Get immediate online access to Nature and 55 other Nature journal
Subscribe to Journal
Get full journal access for 1 year
$199.00
only $3.90 per issue
All prices are NET prices.
VAT will be added later in the checkout.
Tax calculation will be finalised during checkout.
Buy article
Get time limited or full article access on ReadCube.
$32.00
All prices are NET prices.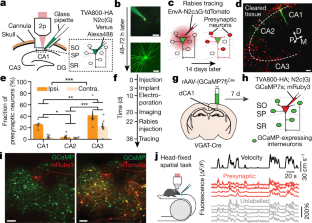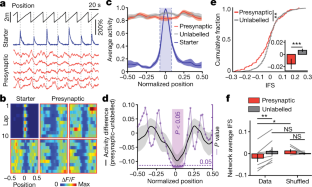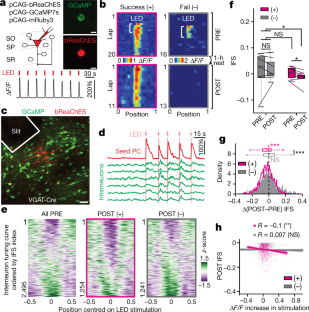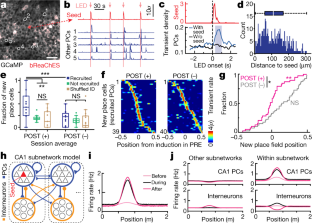 Data availability
All data are available from the corresponding authors upon reasonable request. Source data are provided with this paper.
Code availability
All custom codes are available from the corresponding authors upon reasonable request.
References
Miller, K. D. Canonical computations of cerebral cortex. Curr. Opin. Neurobiol. 37, 75–84 (2016).

Jiang, X. et al. Principles of connectivity among morphologically defined cell types in adult neocortex. Science 350, aac9462 (2015).

O'Keefe, J. & Dostrovsky, J. The hippocampus as a spatial map. Preliminary evidence from unit activity in the freely-moving rat. Brain Res. 34, 171–175 (1971).

Wertz, A. et al. Single-cell-initiated monosynaptic tracing reveals layer-specific cortical network modules. Science 349, 70–74 (2015).

Najafi, F. et al. Excitatory and inhibitory subnetworks are equally selective during decision-making and emerge simultaneously during learning. Neuron 105, 165–179 (2020).

Eichenbaum, H. A cortical–hippocampal system for declarative memory. Nat. Rev. Neurosci. 1, 41–50 (2000).

Epsztein, J., Brecht, M. & Lee, A. K. Intracellular determinants of hippocampal CA1 place and silent cell activity in a novel environment. Neuron 70, 109–120 (2011).

Stachenfeld, K. L., Botvinick, M. M. & Gershman, S. J. The hippocampus as a predictive map. Nat. Neurosci. 20, 1643–1653 (2017).

Rossi, L. F., Harris, K. D. & Carandini, M. Spatial connectivity matches direction selectivity in visual cortex. Nature 588, 648–652 (2020).

Sadeh, S. & Clopath, C. Inhibitory stabilization and cortical computation. Nat. Rev. Neurosci. 22, 21–37 (2021).

Houweling, A. R. & Brecht, M. Behavioural report of single neuron stimulation in somatosensory cortex. Nature 451, 65–68 (2008).

Cossell, L. et al. Functional organization of excitatory synaptic strength in primary visual cortex. Nature 518, 399–403 (2015).

Kesner, R. P. & Rolls, E. T. A computational theory of hippocampal function, and tests of the theory: new developments. Neurosci. Biobehav. Rev. 48, 92–147 (2015).

Reardon, T. R. et al. Rabies virus CVS-N2cδG strain enhances retrograde synaptic transfer and neuronal viability. Neuron 89, 711–724 (2016).

Geiller, T., Fattahi, M., Choi, J. S. & Royer, S. Place cells are more strongly tied to landmarks in deep than in superficial CA1. Nat. Commun. 8, 14531 (2017).

Geiller, T. et al. Large-scale 3D two-photon imaging of molecularly identified CA1 interneuron dynamics in behaving mice. Neuron 108, 968–983 (2020).

Bittner, K. C. et al. Conjunctive input processing drives feature selectivity in hippocampal CA1 neurons. Nat. Neurosci. 18, 1133–1142 (2015).

Kaufman, A. M., Geiller, T. & Losonczy, A. A role for the locus coeruleus in hippocampal CA1 place cell reorganization during spatial reward learning. Neuron 105, 1018–1026 (2020).

English, D. F. et al. Pyramidal cell–interneuron circuit architecture and dynamics in hippocampal networks. Neuron 96, 505–520 (2017).

Yang, S. et al. Interlamellar CA1 network in the hippocampus. Proc. Natl Acad. Sci. USA 111, 12919–12924 (2014).

Grienberger, C., Milstein, A. D., Bittner, K. C., Romani, S. & Magee, J. C. Inhibitory suppression of heterogeneously tuned excitation enhances spatial coding in CA1 place cells. Nat. Neurosci. 20, 417–426 (2017).

Guzman, S. J., Schlögl, A., Frotscher, M. & Jonas, P. Synaptic mechanisms of pattern completion in the hippocampal CA3 network. Science 353, 1117–1123 (2016).

Draguhn, A., Traub, R. D., Schmitz, D. & Jefferys, J. G. R. Electrical coupling underlies high-frequency oscillations in the hippocampus in vitro. Nature 394, 189–192 (1998).

Hefft, S. & Jonas, P. Asynchronous GABA release generates long-lasting inhibition at a hippocampal interneuron-principal neuron synapse. Nat. Neurosci. 8, 1319–1328 (2005).

Xu, H. T. et al. Distinct lineage-dependent structural and functional organization of the hippocampus. Cell 157, 1552–1564 (2014).

Picardo, M. A. et al. Pioneer GABA cells comprise a subpopulation of hub neurons in the developing hippocampus. Neuron 71, 695–709 (2011).

Caroni, P., Donato, F. & Muller, D. Structural plasticity upon learning: Regulation and functions. Nat. Rev. Neurosci. 13, 478–490 (2012).

Magee, J. C. & Grienberger, C. Synaptic plasticity forms and functions. Annu. Rev. Neurosci. 43, 95–117 (2020).

Mehta, M. R. From synaptic plasticity to spatial maps and sequence learning. Hippocampus 25, 756–762 (2015).

Kaifosh, P., Zaremba, J. D., Danielson, N. B. & Losonczy, A. SIMA: Python software for analysis of dynamic fluorescence imaging data. Front. Neuroinform. 8, 80 (2014).

Keemink, S. W. et al. FISSA: a neuropil decontamination toolbox for calcium imaging signals. Sci. Rep. 8, 3493 (2018).

Bezaire, M. J. & Soltesz, I. Quantitative assessment of CA1 local circuits: knowledge base for interneuron-pyramidal cell connectivity. Hippocampus 23, 751–785 (2013).
Acknowledgements
A.L. is supported by the National Institute of Mental Health (NIMH) 1R01MH124047 and 1R01MH124867; the National Institute of Neurological Disorders and Stroke (NINDS) 1U19NS104590 and 1U01NS115530; and the Kavli Foundation. B.V. is supported by (NIH) T32GN007367 and (NIMH) F30MH125628. A.J.M. is supported by the Gatsby Charitable Foundation (GAT3361) and the Wellcome Trust (090843/F/09/Z). S.V.R. is supported by (NIMH) F31MH117892. F.P. is supported by (NINDS) R01NS067557 and R21NS109753-442 01A1. H.B. is supported by (NINDS) K99NS115984-01. C.C. is supported by the Biotechnology and Biological Sciences Research Council (BB/N013956/1 and BB/N019008/1), the Wellcome Trust (200790/Z/16/Z), the Simons Foundation (564408) and the EPSRC (EP/R035806/1). We thank the Zuckerman Institute's Cellular Imaging platform for instrument use and technical advice. Imaging was performed with support from the Zuckerman Institute's Cellular Imaging platform and the NIH (1S10OD023587-01). We thank S. Siegelbaum and members of the Losonczy laboratory for comments on the manuscript.
Ethics declarations
Competing interests
The authors declare no competing interests.
Additional information
Peer review information Nature thanks Rosa Cossart and the other, anonymous, reviewers for their contribution to the peer review of this work.
Publisher's note Springer Nature remains neutral with regard to jurisdictional claims in published maps and institutional affiliations.
Extended data figures and tables
Supplementary information
This file contains Supplementary Tables 1–4.
About this article
Cite this article
Geiller, T., Sadeh, S., Rolotti, S.V. et al. Local circuit amplification of spatial selectivity in the hippocampus. Nature 601, 105–109 (2022). https://doi.org/10.1038/s41586-021-04169-9
Received:

Accepted:

Published:

Issue Date:

DOI: https://doi.org/10.1038/s41586-021-04169-9
This article is cited by
Christine Grienberger
Andrea Giovannucci
Carlos Portera-Cailliau

Nature Reviews Methods Primers (2022)

Lisa Topolnik
Suhel Tamboli

Nature Reviews Neuroscience (2022)
Comments
By submitting a comment you agree to abide by our Terms and Community Guidelines. If you find something abusive or that does not comply with our terms or guidelines please flag it as inappropriate.