Abstract
Gastrulation is the fundamental process in all multicellular animals through which the basic body plan is first laid down1,2,3,4. It is pivotal in generating cellular diversity coordinated with spatial patterning. In humans, gastrulation occurs in the third week after fertilization. Our understanding of this process in humans is relatively limited and based primarily on historical specimens5,6,7,8, experimental models9,10,11,12 or, more recently, in vitro cultured samples13,14,15,16. Here we characterize in a spatially resolved manner the single-cell transcriptional profile of an entire gastrulating human embryo, staged to be between 16 and 19 days after fertilization. We use these data to analyse the cell types present and to make comparisons with other model systems. In addition to pluripotent epiblast, we identified primordial germ cells, red blood cells and various mesodermal and endodermal cell types. This dataset offers a unique glimpse into a central but inaccessible stage of our development. This characterization provides new context for interpreting experiments in other model systems and represents a valuable resource for guiding directed differentiation of human cells in vitro.
Relevant articles
Open Access articles citing this article.
Anna Malkowska

,

Christopher Penfold

…

Thorsten E. Boroviak

Nature Communications Open Access 16 June 2022

Banushree Kumar

,

Carmen Navarro

…

Simon J. Elsässer

Nature Cell Biology Open Access 30 May 2022

Clara Alsinet

,

Maria Nascimento Primo

…

Roser Vento-Tormo

Nature Communications Open Access 24 May 2022
Access options
Subscribe to Nature+
Get immediate online access to the entire Nature family of 50+ journals
Subscribe to Journal
Get full journal access for 1 year
$199.00
only $3.90 per issue
All prices are NET prices.
VAT will be added later in the checkout.
Tax calculation will be finalised during checkout.
Buy article
Get time limited or full article access on ReadCube.
$32.00
All prices are NET prices.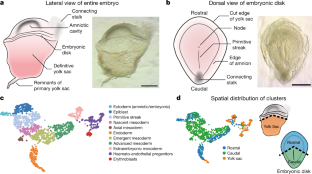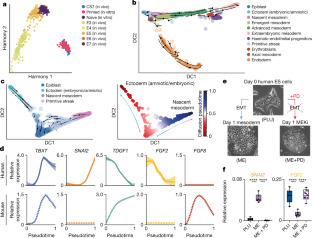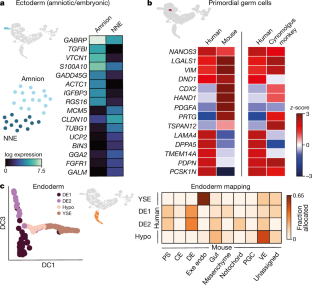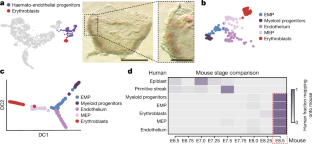 References
Stern, C. D. Gastrulation: From Cells to Embryo (CSHL Press, 2004).

Tam, P. P. L. & Loebel, D. A. F. Gene function in mouse embryogenesis: get set for gastrulation. Nat. Rev. Genet. 8, 368–381 (2007).

Bardot, E. S. & Hadjantonakis, A. K. Mouse gastrulation: coordination of tissue patterning, specification and diversification of cell fate. Mech. Dev. 163, 103617 (2020).

Arnold, S. J. & Robertson, E. J. Making a commitment: cell lineage allocation and axis patterning in the early mouse embryo. Nat. Rev. Mol. Cell Biol. 10, 91–103 (2009).

O'Rahilly, R. & Müller, F. Developmental stages in human embryos: Revised and new measurements. Cells Tissues Organs 192, 73–84 (2010).

Yamaguchi, Y. & Yamada, S. The Kyoto collection of human embryos and fetuses: History and recent advancements in modern methods. Cells Tissues Organs 205, 314–319 (2019).

Florian, J. & Hill, J. P. An early human embryo (no. 1285, Manchester Collection), with capsular attachment of the connecting stalk. J. Anat. 69, 399–411 (1935).

De Bakker, B. S. et al. An interactive three-dimensional digital atlas and quantitative database of human development. Science 354, aag0053 (2016).

Warmflash, A., Sorre, B., Etoc, F., Siggia, E. D. & Brivanlou, A. H. A method to recapitulate early embryonic spatial patterning in human embryonic stem cells. Nat. Methods 11, 847–854 (2014).

Martyn, I., Kanno, T. Y., Ruzo, A., Siggia, E. D. & Brivanlou, A. H. Self-organization of a human organizer by combined Wnt and Nodal signaling. Nature 558, 132–135 (2018).

Simunovic, M. et al. A 3D model of a human epiblast reveals BMP4-driven symmetry breaking. Nat. Cell Biol. 21, 900–910 (2019).

Moris, N. et al. An in vitro model of early anteroposterior organization during human development. Nature 582, 410–415 (2020).

Chen, D. et al. Human primordial germ cells are specified from lineage-primed progenitors. Cell Rep. 29, 4568–4582.e5 (2019).

Molè, M. A. et al. A single cell characterisation of human embryogenesis identifies pluripotency transitions and putative anterior hypoblast centre. Nat. Commun. 12, 3769 (2021).

Xiang, L. et al. A developmental landscape of 3D-cultured human pre-gastrulation embryos. Nature 577, 537–542 (2020).

Zhou, F. et al. Reconstituting the transcriptome and DNA methylome landscapes of human implantation. Nature 572, 660–664 (2019).

O'Rahilly, R. & Müller, F. eds. Developmental Stages in Human Embryos. (Carnegie Institute of Washington, 1987).

Pijuan-Sala, B. et al. A single-cell molecular map of mouse gastrulation and early organogenesis. Nature 566, 490–495 (2019).

Ma, H. et al. In vitro culture of cynomolgus monkey embryos beyond early gastrulation. Science 366, eaax7890 (2019).

Petropoulos, S. et al. Single-cell RNA-seq reveals lineage and X chromosome dynamics in human preimplantation embryos. Cell 165, 1012–1026 (2016).

Messmer, T. et al. Transcriptional heterogeneity in naive and primed human pluripotent stem cells at single-cell resolution. Cell Rep. 26, 815–824.e4 (2019).

Haghverdi, L., Büttner, M., Wolf, F. A., Buettner, F. & Theis, F. J. Diffusion pseudotime robustly reconstructs lineage branching. Nat. Methods 13, 845–848 (2016).

La Manno, G. et al. RNA velocity of single cells. Nature 560, 494–498 (2018).

Streit, A. The preplacodal region: an ectodermal domain with multipotential progenitors that contribute to sense organs and cranial sensory ganglia. Int. J. Dev. Biol. 51, 447–461 (2007).

Trevers, K. E. et al. Neural induction by the node and placode induction by head mesoderm share an initial state resembling neural plate border and ES cells. Proc. Natl Acad. Sci. USA 115, 355–360 (2017).

Delile, J. et al. Single cell transcriptomics reveals spatial and temporal dynamics of gene expression in the developing mouse spinal cord. Development 146, dev1738078 (2019).

Yang, L. et al. An early phase of embryonic Dlx5 expression defines the rostral boundary of the neural plate. J. Neurosci. 18, 8322–8330 (1998).

Roost, M. S. et al. KeyGenes, a tool to probe tissue differentiation using a human fetal transcriptional atlas. Stem Cell Rep. 4, 1112–1124 (2015).

Chiquoine, A. D. The identification, origin, and migration of the primordial germ cells in the mouse embryo. Anat. Rec. 118, 135–146 (1954).

Magnúsdóttir, E. & Surani, A. M. How to make a primordial germ cell. Development 141, 245–252 (2014).

Sasaki, K. et al. The germ cell fate of cynomolgus monkeys is specified in the nascent amnion. Dev. Cell 39, 169–185 (2016).

Picelli, S. et al. Full-length RNA-seq from single cells using Smart-seq2. Nat. Protoc. 9, 171–181 (2014).

Patro, R., Duggal, G., Love, M. I., Irizarry, R. A. & Kingsford, C. Salmon provides fast and bias-aware quantification of transcript expression. Nat. Methods 14, 417–419 (2017).

Lun, A. T. L., Bach, K. & Marioni, J. C. Pooling across cells to normalize single-cell RNA sequencing data with many zero counts. Genome Biol. 17, 75 (2016).

Wolf, F. A., Angerer, P. & Theis, F. J. SCANPY: Large-scale single-cell gene expression data analysis. Genome Biol. 19, 15 (2018).

McInnes, L., Healy, J., Saul, N. & Großberger, L. UMAP: uniform manifold approximation and projection. J. Open Source Softw. 3, 861 (2018).

Traag, V. A., Waltman, L. & van Eck, N. J. From Louvain to Leiden: guaranteeing well-connected communities. Sci. Rep. 9, 5233 (2019).

Patrick, E. A. Clustering using a similarity measure based on shared near neighbors. IEEE Trans. C-22, 1025–1034 (1973).

Froussios, K., Mourão, K., Simpson, G., Barton, G. & Schurch, N. Relative abundance of transcripts (RATs): identifying differential isoform abundance from RNA-seq. F1000Research 8, 213 (2019).

Dobin, A. et al. STAR: Ultrafast universal RNA-seq aligner. Bioinformatics 29, 15–21 (2013).

Bergen, V., Lange, M., Peidli, S., Wolf, F. A. & Theis, F. J. Generalizing RNA velocity to transient cell states through dynamical modeling. Nat. Biotechnol. 38, 1408–1414 (2020).

Durinck, S., Spellman, P. T., Birney, E. & Huber, W. Mapping identifiers for the integration of genomic datasets with the R/ Bioconductor package biomaRt. Nat. Protoc. 4, 1184–1191 (2009).

Efremova, M., Vento-Tormo, M., Teichmann, S. A. & Vento-Tormo, R. CellPhoneDB: inferring cell–cell communication from combined expression of multi-subunit ligand–receptor complexes. Nat. Protoc. 15, 1484–1506 (2020).

Kiselev, V. Y., Yiu, A. & Hemberg, M. scmap: Projection of single-cell RNA-seq data across data sets. Nat. Methods 15, 359–362 (2018).

Grün, D. et al. Single-cell messenger RNA sequencing reveals rare intestinal cell types. Nature 525, 251–255 (2015).

Subramanian, A. et al. Gene set enrichment analysis: a knowledge-based approach for interpreting genome-wide expression profiles. Proc. Natl Acad. Sci. USA 102, 15545–15550 (2005).

Scialdone, A. et al. Computational assignment of cell-cycle stage from single-cell transcriptome data. Methods 85, 54–61 (2015).

Leng, N. et al. Oscope identifies oscillatory genes in unsynchronized single-cell RNA-seq experiments. Nat. Methods 12, 947–950 (2015).

Segal, J. M. et al. Single cell analysis of human foetal liver captures the transcriptional profile of hepatobiliary hybrid progenitors. Nat. Commun. 10, 3350 (2019).

Li, H. Aligning sequence reads, clone sequences and assembly contigs with BWA-MEM. Preprint at https://arxiv.org/abs/1303.3997 (2013).

Yang, R., Van Etten, J. L. & Dehm, S. M. Indel detection from DNA and RNA sequencing data with transIndel. BMC Genomics 19, 270 (2018).

Love, M. I., Huber, W. & Anders, S. Moderated estimation of fold change and dispersion for RNA-seq data with DESeq2. Genome Biol. 15, 550 (2014).

Stuart, T. et al. Comprehensive integration of single-cell data. Cell 177, 1888–1902.e21 (2019).

Korsunsky, I. et al. Fast, sensitive and accurate integration of single-cell data with Harmony. Nat. Methods 16, 1289–1296 (2019).

Chen, G. et al. Chemically defined conditions for human iPSC derivation and culture. Nat. Methods 8, 424–429 (2011).

Johansson, B. M. & Wiles, M. V. Evidence for involvement of activin A and bone morphogenetic protein 4 in mammalian mesoderm and hematopoietic development. Mol. Cell. Biol. 15, 141–151 (1995).

Choi, H. M. T. et al. Third-generation in situ hybridization chain reaction: multiplexed, quantitative, sensitive, versatile, robust. Develpoment 145, dev165753 (2018).

Tyser, R. C. V. et al. Characterization of a common progenitor pool of the epicardium and myocardium. Science 371, eabb2986 (2021).
Acknowledgements
Human embryonic material was provided by the MRC–Wellcome Trust funded (grant no. 099175/Z/12/Z and MR/R006237/1) Human Developmental Biology Resource (www.hdbr.org). We thank N. Ashley (Oxford MRC single-cell facility) for help with sequencing, M. De Bruijn, B. Gottgens, J. Palis, L. Robertson, T. Rodriguez and M.-E. Torres-Padilla for helpful comments. This work was funded by British Heart Foundation Immediate Postdoctoral Basic Science Research Fellowship no. FS/18/24/33424 to R.C.V.T., JSPS Overseas Research Fellowship to S.N., European Research Council advanced grant ERC: 741707 to L.V., funding from the Helmholtz Association to A.S. and Wellcome Awards 105031/C/14/Z, 108438/Z/15/Z, 215116/Z/18/Z and 103788/Z/14/Z to S.S.
Ethics declarations
Competing interests
The authors declare no competing interests.
Additional information
Peer review information Nature thanks Joshua Welch and the other, anonymous, reviewer(s) for their contribution to the peer review of this work.
Publisher's note Springer Nature remains neutral with regard to jurisdictional claims in published maps and institutional affiliations.
Extended data figures and tables
Supplementary information
About this article
Cite this article
Tyser, R.C.V., Mahammadov, E., Nakanoh, S. et al. Single-cell transcriptomic characterization of a gastrulating human embryo. Nature 600, 285–289 (2021). https://doi.org/10.1038/s41586-021-04158-y
Received:

Accepted:

Published:

Issue Date:

DOI: https://doi.org/10.1038/s41586-021-04158-y
Comments
By submitting a comment you agree to abide by our Terms and Community Guidelines. If you find something abusive or that does not comply with our terms or guidelines please flag it as inappropriate.