Abstract
Activation-induced cytidine deaminase (AID) catalyses the deamination of deoxycytidines to deoxyuracils within immunoglobulin genes to induce somatic hypermutation and class-switch recombination1,2. AID-generated deoxyuracils are recognized and processed by subverted base-excision and mismatch repair pathways that ensure a mutagenic outcome in B cells3,4,5,6. However, why these DNA repair pathways do not accurately repair AID-induced lesions remains unknown. Here, using a genome-wide CRISPR screen, we show that FAM72A is a major determinant for the error-prone processing of deoxyuracils. Fam72a-deficient CH12F3-2 B cells and primary B cells from Fam72a−/− mice exhibit reduced class-switch recombination and somatic hypermutation frequencies at immunoglobulin and Bcl6 genes, and reduced genome-wide deoxyuracils. The somatic hypermutation spectrum in B cells from Fam72a−/− mice is opposite to that observed in mice deficient in uracil DNA glycosylase 2 (UNG2)7, which suggests that UNG2 is hyperactive in FAM72A-deficient cells. Indeed, FAM72A binds to UNG2, resulting in reduced levels of UNG2 protein in the G1 phase of the cell cycle, coinciding with peak AID activity. FAM72A therefore causes U·G mispairs to persist into S phase, leading to error-prone processing by mismatch repair. By disabling the DNA repair pathways that normally efficiently remove deoxyuracils from DNA, FAM72A enables AID to exert its full effects on antibody maturation. This work has implications in cancer, as the overexpression of FAM72A that is observed in many cancers8 could promote mutagenesis.
Your institute does not have access to this article
Access options
Subscribe to Nature+
Get immediate online access to the entire Nature family of 50+ journals
Subscribe to Journal
Get full journal access for 1 year
$199.00
only $3.90 per issue
All prices are NET prices.
VAT will be added later in the checkout.
Tax calculation will be finalised during checkout.
Buy article
Get time limited or full article access on ReadCube.
$32.00
All prices are NET prices.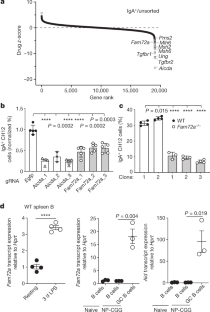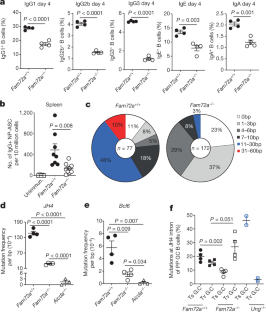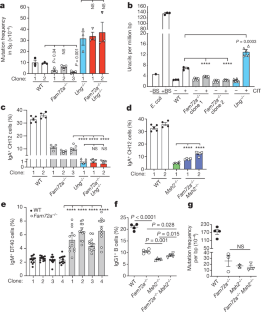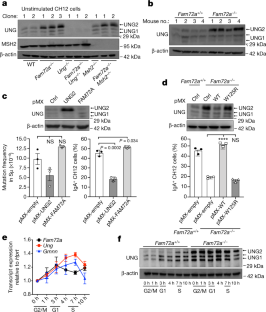 Data availability
The raw sequence reads from CRISPR screening have been deposited in the NCBI Gene Expression Omnibus under accession number GSE183706. Source data are provided with this paper.
References
Muramatsu, M. et al. Class switch recombination and hypermutation require activation-induced cytidine deaminase (AID), a potential RNA editing enzyme. Cell 102, 553–563 (2000).

Feng, Y., Seija, N., JM, D. I. N. & Martin, A. AID in antibody diversification: there and back again. Trends Immunol. 41, 586–600 (2020).

Cascalho, M., Wong, J., Steinberg, C. & Wabl, M. Mismatch repair co-opted by hypermutation. Science 279, 1207–1210 (1998).

Di Noia, J. & Neuberger, M. S. Altering the pathway of immunoglobulin hypermutation by inhibiting uracil-DNA glycosylase. Nature 419, 43–48 (2002).

Wiesendanger, M., Kneitz, B., Edelmann, W. & Scharff, M. D. Somatic hypermutation in MutS homologue (MSH)3-, MSH6-, and MSH3/MSH6-deficient mice reveals a role for the MSH2-MSH6 heterodimer in modulating the base substitution pattern. J. Exp. Med. 191, 579–584 (2000).

Rada, C., Di Noia, J. M. & Neuberger, M. S. Mismatch recognition and uracil excision provide complementary paths to both Ig switching and the A/T-focused phase of somatic mutation. Mol. Cell 16, 163–171 (2004).

Rada, C. et al. Immunoglobulin isotype switching is inhibited and somatic hypermutation perturbed in UNG-deficient mice. Curr. Biol. 12, 1748–1755 (2002).

Guo, C. et al. Ugene, a newly identified protein that is commonly overexpressed in cancer and binds uracil DNA glycosylase. Cancer Res. 68, 6118–6126 (2008).

Muramatsu, M. et al. Specific expression of activation-induced cytidine deaminase (AID), a novel member of the RNA-editing deaminase family in germinal center B cells. J. Biol. Chem. 274, 18470–18476 (1999).

Lawson, K. A. et al. Functional genomic landscape of cancer-intrinsic evasion of killing by T cells. Nature 586, 120–126 (2020).

Pan-Hammarstrom, Q. et al. Impact of DNA ligase IV on nonhomologous end joining pathways during class switch recombination in human cells. J. Exp. Med. 201, 189–194 (2005).

Ward, I. M. et al. 53BP1 is required for class switch recombination. J. Cell Biol. 165, 459–464 (2004).

Yan, C. T. et al. IgH class switching and translocations use a robust non-classical end-joining pathway. Nature 449, 478–482 (2007).

Perez-Duran, P. et al. UNG shapes the specificity of AID-induced somatic hypermutation. J. Exp. Med. 209, 1379–1389 (2012).

Frieder, D., Larijani, M., Collins, C., Shulman, M. & Martin, A. The concerted action of Msh2 and UNG stimulates somatic hypermutation at A.T base pairs. Mol. Cell. Biol. 29, 5148–5157 (2009).

Thientosapol, E. S. et al. Proximity to AGCT sequences dictates MMR-independent versus MMR-dependent mechanisms for AID-induced mutation via UNG2. Nucleic Acids Res. 45, 3146–3157 (2017).

Martin, A. et al. Msh2 ATPase activity is essential for somatic hypermutation at a-T basepairs and for efficient class switch recombination. J. Exp. Med. 198, 1171–1178 (2003).

Phung, Q. H. et al. Increased hypermutation at G and C nucleotides in immunoglobulin variable genes from mice deficient in the MSH2 mismatch repair protein. J. Exp. Med. 187, 1745–1751 (1998).

Delbos, F., Aoufouchi, S., Faili, A., Weill, J. C. & Reynaud, C. A. DNA polymerase eta is the sole contributor of A/T modifications during immunoglobulin gene hypermutation in the mouse. J. Exp. Med. 204, 17–23 (2007).

Arakawa, H., Saribasak, H. & Buerstedde, J. M. Activation-induced cytidine deaminase initiates immunoglobulin gene conversion and hypermutation by a common intermediate. PLoS Biol. 2, E179 (2004).

Di Noia, J. M. & Neuberger, M. S. Immunoglobulin gene conversion in chicken DT40 cells largely proceeds through an abasic site intermediate generated by excision of the uracil produced by AID-mediated deoxycytidine deamination. Eur. J. Immunol. 34, 504–508 (2004).

Campo, V. A. et al. MSH6- or PMS2-deficiency causes re-replication in DT40 B cells, but it has little effect on immunoglobulin gene conversion or on repair of AID-generated uracils. Nucleic Acids Res. 41, 3032–3046 (2013).

Di Noia, J. M., Rada, C. & Neuberger, M. S. SMUG1 is able to excise uracil from immunoglobulin genes: insight into mutation versus repair. EMBO J. 25, 585–595 (2006).

Wang, Q. et al. The cell cycle restricts activation-induced cytidine deaminase activity to early G1. J. Exp. Med. 214, 49–58 (2017).

Cappelli, E. et al. Rates of base excision repair are not solely dependent on levels of initiating enzymes. Carcinogenesis 22, 387–393 (2001).

Krusong, K., Carpenter, E. P., Bellamy, S. R., Savva, R. & Baldwin, G. S. A comparative study of uracil-DNA glycosylases from human and herpes simplex virus type 1. J. Biol. Chem. 281, 4983–4992 (2006).

Krokan, H. E. et al. Error-free versus mutagenic processing of genomic uracil–relevance to cancer. DNA Repair 19, 38–47 (2014).

Zeng, X. et al. DNA polymerase eta is an A–T mutator in somatic hypermutation of immunoglobulin variable genes. Nat. Immunol. 2, 537–541 (2001).

Belcheva, A. et al. Gut microbial metabolism drives transformation of MSH2-deficient colon epithelial cells. Cell 158, 288–299 (2014).

Ramachandran, S. et al. The SAGA deubiquitination module promotes DNA repair and class switch recombination through ATM and DNAPK-mediated γH2AX formation. Cell Rep. 15, 1554–1565 (2016).

Aregger, M., Chandrashekhar, M., Tong, A. H. Y., Chan, K. & Moffat, J. Pooled lentiviral CRISPR–Cas9 screens for functional genomics in mammalian cells. Methods Mol. Biol. 1869, 169–188 (2019).

Sarno, A. et al. Uracil–DNA glycosylase UNG1 isoform variant supports class switch recombination and repairs nuclear genomic uracil. Nucleic Acids Res. 47, 4569–4585 (2019).

Li, C. et al. The H2B deubiquitinase Usp22 promotes antibody class switch recombination by facilitating non-homologous end joining. Nat. Commun. 9, 1006 (2018).

Li, C. et al. Early-life programming of mesenteric lymph node stromal cell identity by the lymphotoxin pathway regulates adult mucosal immunity. Sci. Immunol. 4, aax1027 (2019).

Liu, M. et al. Two levels of protection for the B cell genome during somatic hypermutation. Nature 451, 841–845 (2008).

Siriwardena, S. U., Perera, M. L. W., Senevirathne, V., Stewart, J. & Bhagwat, A. S. A tumor-promoting phorbol ester causes a large increase in APOBEC3A expression and a moderate increase in APOBEC3B expression in a normal human keratinocyte cell line without increasing genomic uracils. Mol. Cell. Biol. 39, e00238-18 (2019).

So, C. C., Ramachandran, S. & Martin, A. E3 ubiquitin ligases RNF20 and RNF40 are required for double-stranded break (DSB) repair: evidence for monoubiquitination of histone H2B lysine 120 as a novel axis of DSB signaling and repair. Mol. Cell. Biol. 39, e00488-18 (2019).

Boulianne, B. et al. AID-expressing germinal center B cells cluster normally within lymph node follicles in the absence of FDC−M1+ CD35+ follicular dendritic cells but dissipate prematurely. J. Immunol. 191, 4521–4530 (2013).
Acknowledgements
We thank P. Poussier and M. Shulman for critical review of the manuscript. Y.F., C.L. and A.A.-Q. are recipients of the Canadian Institutes of Health Research Postdoctoral Fellowship. N.S.D. is the recipient of a doctoral award from the FRQ-S (Fonds de recherche Santé Québec). J.A.S. was supported by a competitive graduate research assistantship from the Wayne State University and R.M.-R. was supported by a Thomas C. Rumble fellowship. J.M.D.N. is a Merit scholar from the Fonds de recherche de Quebec–Santé and is supported by CIHR (PJT-155944). J.M. is supported from a CIHR project grant (CBT-438323) and holds a Canada Research Chair in Functional Genomics. D.D. is a Canada Research Chair (Tier I) and work in the D.D. laboratory was supported by a grant from the CIHR (FDN143343). A.S.B. was supported by a National Institutes of Health grant (1R21AI144708) and Bridge Funding grant from Wayne State University. A.M. is supported by grants from the CIHR (PJT-153307 and PJT-156330).
Ethics declarations
Competing interests
The authors declare no competing interests.
Additional information
Peer review information Nature thanks Uttiya Basu and the other, anonymous, reviewer(s) for their contribution to the peer review of this work. Peer reviewer reports are available.
Publisher's note Springer Nature remains neutral with regard to jurisdictional claims in published maps and institutional affiliations.
Extended data figures and tables
Supplementary information
This file contains Supplementary Tables 1, 2 and Supplementary Figs 1, 2.
About this article
Cite this article
Feng, Y., Li, C., Stewart, J.A. et al. FAM72A antagonizes UNG2 to promote mutagenic repair during antibody maturation. Nature 600, 324–328 (2021). https://doi.org/10.1038/s41586-021-04144-4
Received:

Accepted:

Published:

Issue Date:

DOI: https://doi.org/10.1038/s41586-021-04144-4
Further reading
Conglei Li
Lesley A. Ward
Jennifer L. Gommerman

Mucosal Immunology (2022)
Comments
By submitting a comment you agree to abide by our Terms and Community Guidelines. If you find something abusive or that does not comply with our terms or guidelines please flag it as inappropriate.