Abstract
Thermogenesis in brown and beige adipose tissue has important roles in maintaining body temperature and countering the development of metabolic disorders such as obesity and type 2 diabetes1,2. Although much is known about commitment and activation of brown and beige adipose tissue, its multiple and abundant immunological factors have not been well characterized3,4,5,6. Here we define a critical role of IL-27–IL-27Rα signalling in improving thermogenesis, protecting against diet-induced obesity and ameliorating insulin resistance. Mechanistic studies demonstrate that IL-27 directly targets adipocytes, activating p38 MAPK–PGC-1α signalling and stimulating the production of UCP1. Notably, therapeutic administration of IL-27 ameliorated metabolic morbidities in well-established mouse models of obesity. Consistently, individuals with obesity show significantly decreased levels of serum IL-27, which can be restored after bariatric surgery. Collectively, these findings show that IL-27 has an important role in orchestrating metabolic programs, and is a highly promising target for anti-obesity immunotherapy.
Relevant articles
Open Access articles citing this article.
Huanle Gong

,

Shoubao Ma

…

Depei Wu

Signal Transduction and Targeted Therapy Open Access 16 September 2022

Xue Wen

,

Bohan Zhang

…

Tao Li

Signal Transduction and Targeted Therapy Open Access 28 August 2022

Xiaohan Xu

,

Kyle L. Poulsen

…

Jinbo Yang

Signal Transduction and Targeted Therapy Open Access 13 August 2022
Access options
Subscribe to Nature+
Get immediate online access to the entire Nature family of 50+ journals
Subscribe to Journal
Get full journal access for 1 year
$199.00
only $3.90 per issue
All prices are NET prices.
VAT will be added later in the checkout.
Tax calculation will be finalised during checkout.
Buy article
Get time limited or full article access on ReadCube.
$32.00
All prices are NET prices.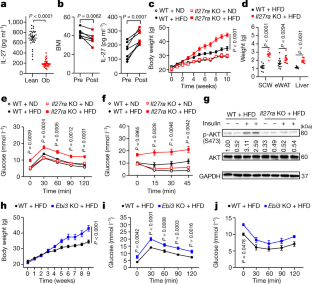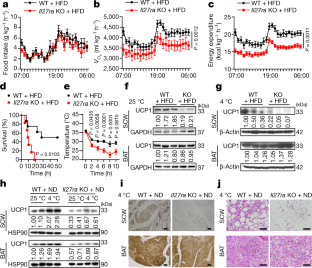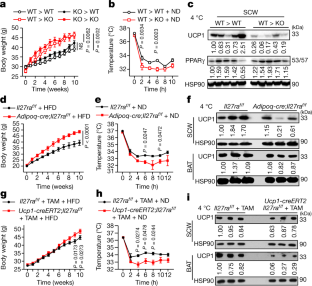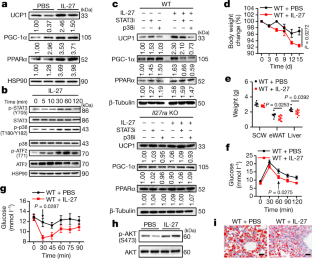 Data availability
Our RNA-seq data are available at the Sequence Read Archive (SRA) repository at NCBI under the accession numbers SRX10969398–SRX10969403. Source data are provided with this paper.
References
Betz, M. J. & Enerback, S. Human brown adipose tissue: what we have learned so far. Diabetes 64, 2352–2360 (2015).

Bartelt, A. & Heeren, J. Adipose tissue browning and metabolic health. Nat. Rev. Endocrinol. 10, 24–36 (2014).

Wang, W. & Seale, P. Control of brown and beige fat development. Nat. Rev. Mol. Cell Biol. 17, 691–702 (2016).

Odegaard, J. I. et al. Perinatal licensing of thermogenesis by IL-33 and ST2. Cell 166, 841–854 (2016).

Qiu, Y. et al. Eosinophils and type 2 cytokine signaling in macrophages orchestrate development of functional beige fat. Cell 157, 1292–1308 (2014).

Camell, C. D. et al. Inflammasome-driven catecholamine catabolism in macrophages blunts lipolysis during ageing. Nature 550, 119–123 (2017).

Reilly, S. M. & Saltiel, A. R. Adapting to obesity with adipose tissue inflammation. Nat. Rev. Endocrinol. 13, 633–643 (2017).

Lackey, D. E. & Olefsky, J. M. Regulation of metabolism by the innate immune system. Nat. Rev. Endocrinol. 12, 15–28 (2016).

Hoffmann, T. J. et al. A large multiethnic genome-wide association study of adult body mass index identifies novel loci. Genetics 210, 499–515 (2018).

Vargas-Alarcon, G. et al. Interleukin 27 polymorphisms, their association with insulin resistance and their contribution to subclinical atherosclerosis. The GEA Mexican study. Cytokine 114, 32–37 (2019).

Yoshida, H. & Hunter, C. A. The immunobiology of interleukin-27. Ann. Rev. Immunol. 33, 417–443 (2015).

Yang, B. et al. IL-27 facilitates skin wound healing through induction of epidermal proliferation and host defense. J. Invest. Dermatol. 137, 1166–1175 (2017).

Nam, H., Ferguson, B. S., Stephens, J. M. & Morrison, R. F. Modulation of IL-27 in adipocytes during inflammatory stress. Obesity 24, 157–166 (2016).

Wolfrum, C. & Straub, L. G. Lessons from Cre-mice and indicator mice. Handb. Exp. Pharmacol. 251, 37–54 (2019).

Kissig, M., Shapira, S. N. & Seale, P. SnapShot: brown and beige adipose thermogenesis. Cell 166, 258–258 (2016).

Kajimura, S. & Saito, M. A new era in brown adipose tissue biology: molecular control of brown fat development and energy homeostasis. Ann. Rev. Physiol. 76, 225–249 (2014).

Owaki, T., Asakawa, M., Fukai, F., Mizuguchi, J. & Yoshimoto, T. IL-27 induces Th1 differentiation via p38 MAPK/T-bet- and intercellular adhesion molecule-1/LFA-1/ERK1/2-dependent pathways. J. Immunol. 177, 7579–7587 (2006).

Cao, W. et al. p38 mitogen-activated protein kinase is the central regulator of cyclic AMP-dependent transcription of the brown fat uncoupling protein 1 gene. Mol. Cell. Biol. 24, 3057–3067 (2004).

Cao, W., Medvedev, A. V., Daniel, K. W. & Collins, S. β-Adrenergic activation of p38 MAP kinase in adipocytes: cAMP induction of the uncoupling protein 1 (UCP1) gene requires p38 MAP kinase. J. Biol. Chem. 276, 27077–27082 (2001).

Pirzgalska, R. M. et al. Sympathetic neuron-associated macrophages contribute to obesity by importing and metabolizing norepinephrine. Nat. Med. 23, 1309–1318 (2017).

Imai, T. et al. Identification and molecular characterization of fractalkine receptor CX3CR1, which mediates both leukocyte migration and adhesion. Cell 91, 521–530 (1997).

Rosenwald, M., Perdikari, A., Rulicke, T. & Wolfrum, C. Bi-directional interconversion of brite and white adipocytes. Nat. Cell Biol. 15, 659–667 (2013).

Zhang, S. et al. High susceptibility to liver injury in IL-27 p28 conditional knockout mice involves intrinsic interferon-gamma dysregulation of CD4+ T cells. Hepatology 57, 1620–1631 (2013).
Acknowledgements
We thank A. Xu from Hongkong University, L. Ye from the Third Military Medical University, B. Li from Shanghai Jiao Tong University, Y. Qiu from Peking University, Y. Huo from Guangzhou Medical University and J. Chen from Sun Yat-Sen University for discussion, comments and technical guidance; and C. Cote for English language editing of this manuscript. This work is supported by the National Key Research and Development Program of China (no. 2020YFA0803502 to Z.Y.; no. 2017YFA0205200 to L.L.), the National Natural Science Foundation of China (nos 31830021, 32030036 and 31420103901 to Z.Y.; no. 81771957 to L.L.; no. 32070121 to H.Y.; no. 31800721 to Q. Wang; and no. 31500742 to Q.S.), the 111 Project (no. B16021 to Z.Y.), the Incubating Program from the Science and Technology Department of Guangdong Province of China (no. 2014A030308003 to Z.Y.), China Postdoctoral Science Foundation (nos 2018M633278 and 2020M683159 to Q. Wang; no. 2020M673045 to H.Z.).
Ethics declarations
Competing interests
Z.Y., Q. Wang and H.Y. have applied a patent with China National Intellectual Property Administration, with Jinan University as the applicant, Z.Y., Q. Wang and H.Y. as the inventors. The application number is 202110986914.X, and the patent covers the screening of IL-27Rα agonists for promoting UCP1 production. The other authors (D.L., G.C., Q.S., J.Z., M.Z., H.C., Q. Wen, H.X., L. Zhu, H.Z., R.J.P., O.S., Y.Y., S.H., Y.C., B.W., G.L., Z.L., C.Y., X.W., L. Zhou, Q.Z., Z.J., H.L., Y.X., X.Y., C.W., Y.L., G.I.S., V.D.D., L.L. and R.A.F.) declare no competing interests.
Additional information
Peer review information Nature thanks the anonymous reviewers for their contribution to the peer review of this paper.
Publisher's note Springer Nature remains neutral with regard to jurisdictional claims in published maps and institutional affiliations.
Extended data figures and tables
Supplementary information
About this article
Cite this article
Wang, Q., Li, D., Cao, G. et al. IL-27 signalling promotes adipocyte thermogenesis and energy expenditure. Nature 600, 314–318 (2021). https://doi.org/10.1038/s41586-021-04127-5
Received:

Accepted:

Published:

Issue Date:

DOI: https://doi.org/10.1038/s41586-021-04127-5
Comments
By submitting a comment you agree to abide by our Terms and Community Guidelines. If you find something abusive or that does not comply with our terms or guidelines please flag it as inappropriate.